Biden's Disability Plan Could Close the Equal-Pay Loophole
The partisan divide on disability rights is bigger now than at any time in recent memory.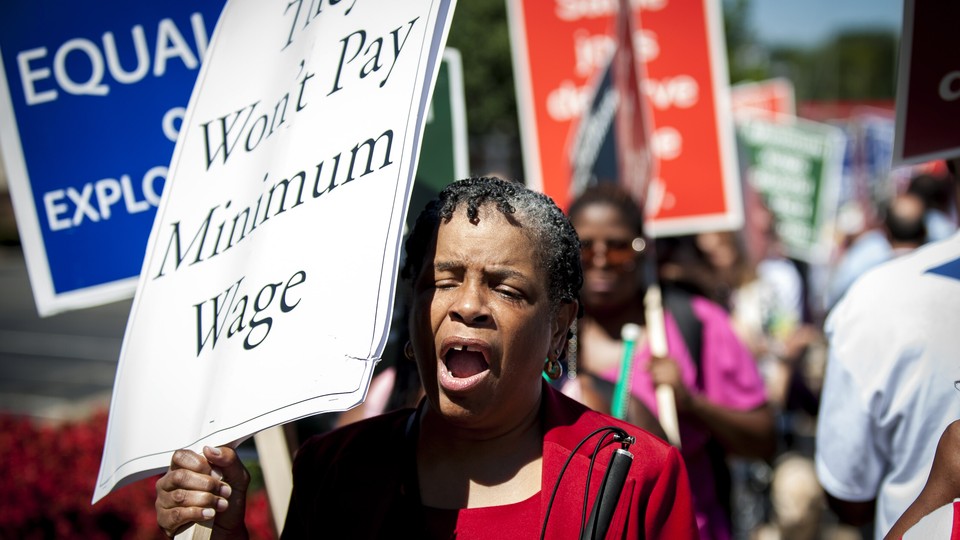 Updated at 6:11 p.m. ET on August 12, 2020.
For 15 years, Ross Ryan traveled an hour from his Oregon home to clean bathrooms, mop floors, and take out trash at noisy car dealerships and cavernous state buildings from 4 p.m. until midnight. His employer paid him about 60 cents per completed task—and it was legal.
Ryan's employer was a sheltered workshop, a program that exclusively employs people with disabilities for less than minimum wage. Ryan, 51, has a developmental disability called Russell-Silver syndrome and couldn't find a job after graduating from high school. Until his 40s, he believed that a sheltered workshop was his best option. But he didn't like it. "We were treated as second-class citizens," he told me. "They looked down on us like we didn't know what we were doing and we didn't know the value of money."
Although the Americans With Disabilities Act, passed 30 years ago this summer, protects people with disabilities from employment and pay discrimination, a little-known loophole allows employers that hold a special certificate to pay disabled workers less than the federal minimum wage of $7.25 an hour. These employers can even pay workers with disabilities according to how productive they are, or at a rate per piece. In other words, if the average nondisabled worker cleans 10 car-dealership bathrooms an hour for $7.25, and the employer can show that the disabled worker cleans one bathroom an hour, it can pay the disabled worker 72.5 cents an hour. This waiver program stipulates no minimum for wages paid to workers with disabilities. The same rules do not apply to nondisabled people: An employer cannot pay a nondisabled worker less for performing below peak productivity on an "off day," because they, unlike some disabled workers, are guaranteed a minimum wage.
Today, more than 1,200 employers nationwide employ more than 300,000 workers with disabilities in below-minimum-wage jobs, in which they often perform menial labor, such as shredding newspapers and counting bolts and nuts. These employers are supposed to transition workers with disabilities into the mainstream workforce, but many fail to do so. Only 5 percent of workers—most of whom have developmental and intellectual disabilities—ever find employment outside the workshop, according to a 2001 report to Congress by the U.S. Government Accountability Office.
But a Joe Biden presidency could mean the end of sheltered workshops and the subminimum wage.
Biden's disability plan, released in late May, includes a promise to work with Congress to pass the Transformation to Competitive Employment Act. The act would provide grants for which states can apply to help employers phase out the subminimum wage and integrate workers with disabilities into their community over a period of six years.
Introduced in 2019 by Bob Casey, the Democratic senator from Pennsylvania, and co-sponsored by 59 Democrats and seven Republicans in both houses, the legislation is the product of a yearslong effort. Since the civil-rights movement in the 1960s, disability-rights activists have decried the subminimum wage as discriminatory, and federal lawmakers have made several unsuccessful attempts to abolish it. Their efforts have been thwarted time and again by lobbyists for large subminimum-wage employers, such as Goodwill, who long argued that eliminating the subminimum wage would deprive people with disabilities of work opportunities (though Goodwill now says it is transitioning away from using the subminimum wage).* Neil Romano, the chair of the National Council on Disability, says these lobbyists often have the "single most important weapon" in tow: parents or guardians of someone in a workshop who fear for their loved one's prospects in the mainstream workforce.
But Biden and an increasing number of lawmakers today are resolute about getting rid of the submimimum wage, arguing that it conflicts with existing policy meant to protect people with disabilities from discrimination, including the ADA. Democratic Senator Tammy Duckworth of Illinois, for example, has been pushing federal legislation, including the bill Biden supports.
"The subminimum wage sends a message to the disability community that their work isn't as valuable as the work done by able-bodied people," Duckworth, the first woman with a disability elected to the Senate, told me in an email. "It traps disabled workers in low-end jobs, creates a stigma associated with their work, and makes them feel more isolated. Integration of our workforce should always be the goal, and we will never achieve that goal so long as we keep accepting this outdated, exploitative policy."
For these reasons, Duckworth said, she's a "proud" co-sponsor of the bill, as well as another: the Raise the Wage Act introduced by Democratic Senator Bernie Sanders of Vermont, which would raise the federal minimum wage to $15 an hour over six years for all workers, including workers with disabilities. Sanders's bill has no bipartisan support.
The fate of both bills may hinge on whether Biden takes office and Democrats take Congress, as disability rights have unprecedentedly become associated with the left. Until President Donald Trump's 2016 run, disability rights were largely uncontentious and not associated with a particular party. The ADA, for example, was enacted by a Republican president, George H. W. Bush. However, after Trump mocked the Pulitzer Prize–winning journalist Serge F. Kovaleski, who has a physical disability, and after reports that Trump has been repeatedly sued for violations of the ADA, disability issues entered the mainstream political conversation. For the first time in history, they became a focus of a major-party presidential nominee's campaign, as Hillary Clinton pledged to ban the subminimum wage.
Since then—because of the efforts of activists such as Andrew Pulrang, Gregg Beratan, and Alice Wong, who together co-founded the nonpartisan movement #CripTheVote—all 2020 Democratic presidential candidates have emphasized their relationship with voters with disabilities. Many held Twitter town halls to answer questions from the community and, like Biden, released disability plans. Biden's advisers are also vetting Duckworth to be his running mate, which excites some members of the disability community, given her strong attention to disability rights.
Movement on the issue could happen without legislation. Since June 2018, the U.S. Commission on Civil Rights has been investigating whether the subminimum-wage program violates the civil rights of people with disabilities. It expects to publish its findings in September.
Some states have also already ended or begun phasing out the subminimum wage and sheltered workshops. In 2002, Vermont became the first state to abolish the subminimum wage—and, data show, has been the most successful at integrating people with disabilities into the mainstream workforce. Within three years of sheltered workshops' closure, 80 percent of former workshop workers found employment. Today, the state's integrated employment rate for people with intellectual and developmental disabilities is twice the national average: 38 percent, compared with a rate of 19 percent nationally.
At least six states have followed Vermont, including New Hampshire, Maryland, Alaska, Oregon, Nevada, and Maine. In 2019, Texas mandated that all state contractors increase their wages for workers with disabilities to the federal minimum wage by 2022. To date, 40 states have adopted "Employment First" legislation or state policy aimed at integrating workers with disabilities into the community.
Maine has transitioned less successfully. According to two studies prepared by George Washington University, Maine has seen the number of disabled people employed after the policy shift decline. The latest study showed that 24.9 percent of people with an intellectual disability were employed in 2009, compared with 17.2 percent in 2015.
For Ross Ryan, leaving the workshop has made a huge difference. A couple of years before a class-action lawsuit shut down his workshop for violations of the ADA and other civil-rights legislation, Ryan found work as a community advocate at the Oregon Self Advocacy Coalition, providing testimony to state lawmakers on legislation that affects people with disabilities. He earns about $16 an hour—more than double the federal minimum wage.
The wage increase has transformed the way Ryan lives, he told me. "It allows me to buy stuff I couldn't before. I was able to go to a NASCAR race in California and a KISS concert," he said, adding, "It makes me happy to be able to pay taxes and contribute to my community."
Ryan says it's time for the rest of the country to catch up. He envisions a future where people with disabilities aren't just gainfully employed, but community leaders. He wants to see those "more successful than me … helping younger people with disabilities to stand up for themselves," he said.
---
*
This article previously misstated that Goodwill currently lobbies for the subminimum wage. In fact, the company now says it is transitioning away from the practice.