The Latest Catastrophe at the VA
The VA's federal watchdog has uncovered filthy conditions at facilities across the country. Yet some 40 percent of all VA hospitals recently suffered from severe shortages of housekeeping staff.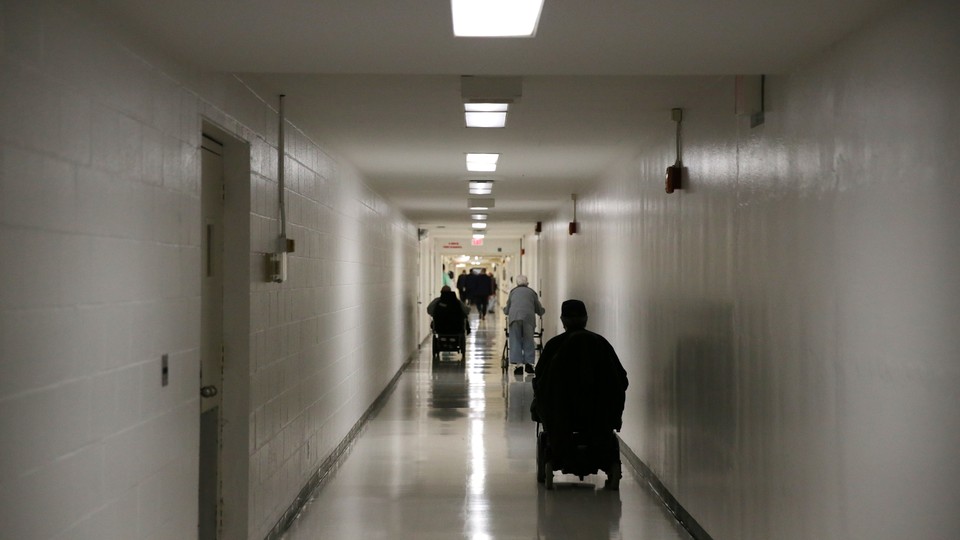 On a warm November day in 2017, Representative Mark Takano, a California Democrat, met with a whistleblower who had serious concerns about the 270-bed Veterans Affairs facility in Loma Linda. Later that day, Takano took a tour of the hospital, and was shocked by what he saw. Grime encrusted the water fountains; the floors of the operating room were noticeably dirty. Takano called for the VA's inspector general to launch an investigation, which found "inconsistent levels of cleanliness" in the main hospital building, and unwashed floors, dusty cabinets, and a sterile instrument resting on a dirty rack in the inpatient dental unit. The rate of infection among Loma Linda's patients was higher than the agency average, and the housekeeping department was largely incapacitated by high turnover, poor pay, and shaky management. A separate investigation found the bacteria Legionella pneumophila, which causes Legionnaires' disease, in the water supply—a discovery that the facility had failed to communicate to clinicians.
Today, in the midst of a pandemic that threatens everyone, but especially people with preexisting conditions, including the many veterans who suffer respiratory illnesses likely brought on by exposure to Agent Orange and burn pits, problems with cleanliness at VA facilities endure. For nearly two decades, the agency's federal watchdog has uncovered filthy conditions at facilities across the country. The problem is due, at least in part, to the fact that 40 percent of all VA hospitals suffered from severe shortages of housekeeping staff in fiscal year 2019—the most recent data available. More than 2,000 cleaning positions are vacant across the VA's national network, according to granular workforce data released by the agency in late May. And despite Takano's spotlighting of issues in Loma Linda, the facility still has 21 unfilled housekeeper positions.
"The way many think of custodial staff does not reflect the value that they provide to hospitals," Takano told me recently. "They are critical to infection control; we need to see these employees as skilled workers."
In the VA, housekeeping positions are generally reserved for those who served. Retired service members struggling with mental illness or physical impairments fill many of those slots. As of 2015, roughly 65 percent of VA housekeepers were people of color; currently 85 percent are veterans. Unlike clinical hospital staff, who are less likely to be veterans or minorities, housekeepers aren't required to have advanced degrees, and they rarely win public accolades. But the VA's 257-page COVID-19 battle plan relies heavily on housekeepers, and requires sanitizing everything from hospital chapels to body bags holding the remains of those who succumbed to the coronavirus. The VA, however, lacked enough cleaning staff to fully execute that plan. Ten days after its release, agency officials announced they needed to quickly hire housekeepers.
In an impressive feat, the department hired 1,126 cleaning staff over the next month. But it's unclear how quickly these employees were onboarded and whether this boost meaningfully shrunk the vacancy number or simply replaced some of the staff lost to attrition each quarter. The VA did not respond to a request for comment for this story.
President Donald Trump earned historic support from veterans in 2016, in part by promising to fix the VA. Yet one of his signature legislative achievements, the Department of Veterans Affairs Accountability and Whistleblower Protection Act of 2017, has disproportionately targeted lower-level employees, who are typically veterans. Many of them are housekeepers.
From 2017 to 2018, nearly 900 cleaning workers were suspended or fired as a result of the bill, many of them for specious reasons or minor mistakes. The president, however, boasted of the office's firing spree just a few weeks ago, in Memorial Day comments dedicated to America's fallen. "They don't take care of our vets, we fire them," Trump said. He enthusiastically estimated 8,000 employee terminations—many of them veterans—calling the fired staffers "sadists" and "thieves."
"They didn't take care of our vets," Trump said. "Now they're gone. We got 'em out." Those no longer in the agency include housekeepers, yes, but also clinical staff crucial to COVID-19 care. Although an analysis by the American Federation of Government Employees showed housekeeping as the top position targeted by the Office of Accountability and Whistleblower Protection, nursing came second.
The necessity of VA housekeepers—and the story of their mistreatment—is vividly illustrated on the grounds of the Pittsburgh VA's University Drive campus, a sprawling, 14-acre system built on top of an abandoned mine shaft. When the virus reached the Steel City in March, it circulated on the third floor of the Pittsburgh VA's mental-health ward. Four housekeepers manned the floor in good times, but staff fluctuations in recent years had brought that number to as low as two. Just before the pandemic, the Pittsburgh VA acknowledged 36 custodial vacancies, and had three housekeepers on the third floor, all of whom were veterans. The oldest was in his 70s. The virus moved throughout the floor quickly. Soon most of its patients were sick.
None of the rooms in the mental ward were negatively pressurized, which heightened the chances of virus transmission. Staff witnessed dust spilling out of the building's air ducts, and housekeepers spent precious time running water faucets—supposedly to prevent the spread of contaminants. Another puzzling policy that raised eyebrows on the third floor: COVID-19-positive patients were allowed to freely walk about, in and out of their rooms. This added stress to already-demanding eight-hour cleaning shifts. A VA Pittsburgh spokesperson did not respond to a detailed list of questions concerning conditions and policies on the floor.
"In that situation, you're constantly having to disinfect," one housekeeper, who requested anonymity because of a fear of retaliation from management, told me. "Even if [patients] were wearing a mask, anything they touched you had to bleach clean. But not knowing exactly what they touched or didn't touch, we were constantly wiping. That's your whole day. And after a while, that bleach gets to your head."
In the early days of the pandemic, housekeeping staff lacked access to preferred cleaning supplies and nurses had to reuse protective gowns. N95 masks were also in short supply and seemed to come last for cleaners. "If they did have them, we weren't the priority," the housekeeper said. "We are the ugly stepchild." As housekeepers shoulder additional risks related to COVID-19, only a few are receiving additional pay.
As of April, at least half a dozen Pittsburgh VA employees had caught the virus, including the oldest housekeeper, who fought in Vietnam. Reached by phone, he confirmed that he had been diagnosed with COVID-19, but declined to speak on the record. More than 24,000 VA patients and employees have been diagnosed, and nearly 1,700 have died, including at least 40 VA employees.
As the Pittsburgh VA's housekeeping staff contended with COVID-19, they surely could have used the hands of Kevin Patterson, a feisty Marine veteran who, for 16 years, cleaned many of the hospital's nooks and crannies. I first met Patterson more than two years ago when on a reporting trip to assess the immediate impacts of the VA's Office of Accountability and Whistleblower Protection. The office was created under Trump's 2017 law and was responsible for the VA purge. At the time, Patterson was busy fighting an overwhelming number of proposed terminations as part of his work as the local vice president of the Pittsburgh chapter of the American Federation for Government Employees. Speaking in his cramped union office in 2018, Patterson warned that the purge was "getting the guppies instead of the trout."
The VA's leadership has long undervalued housekeepers, and the federal Office of Personnel Management hasn't updated the job description for VA housekeepers since the Vietnam War. As a result, many earn a lower hourly wage than their private-sector colleagues, which puts them on the edge of poverty. Their firing can be catastrophic to their personal finances.
The AFGE warned that the 2017 law's provisions could be exploited to fire employees without cause and crack down on union activity, but few lawmakers took their warnings seriously. Although the OAWP no longer releases adverse action reports to the public, data from 2017 to 2018 show thousands of frontline employees were demoted, suspended, or fired, including the housekeepers.
Although some OAWP terminations were surely justified, many others relied on issues as minor as narrowly missing performance metrics or arriving late to work. Last October, the VA's inspector general found that the OAWP "did not consistently conduct procedurally sound, accurate, thorough, and unbiased investigations." In March, the Project on Government Oversight came to a similar conclusion, and found repeated instances of retaliation against employees who raised concerns about office dysfunction. (As of late last year, the OAWP's current director had targeted just one department leader for punishment.)
In our 2018 interview, Patterson bluntly warned that the widespread termination of employees would cripple hospital services and hit veteran households hardest. He and other sources also pointed me to a Pittsburgh VA administrator untouched by the accountability office despite his work to cover up the 2011–2012 Legionnaires' outbreak and other accusations of misconduct. (He has denied any wrongdoing.)
Shortly after my story was published, Patterson was fired under Trump's accountability statutes. The official justification for his departure cited a shouting match between him and a colleague, though multiple VA employees described the incident as a minor dispute.
During arbitration, Patterson argued that he was slapped with the charge as retaliation for his union activity, including his cooperation with my story. (In the course of his case, then-AFGE local president Colleen Evans, who also spoke with me on record, testified that after my piece went live, she was "approached by somebody from public affairs, who basically told me to watch my back.") In May, a federal arbitrator overturned Patterson's firing and ordered the department to reinstate him with back pay. (The arbitrator found no evidence that the firing was retaliatory.)
Patterson is eager to return to work, both to help out his fellow union members and to come back from the brink of his financial collapse. After being fired from the VA, he found a job at an Amazon warehouse. Within a few weeks, a colleague injured Patterson with a pallet jack.
As he healed and sought employment elsewhere, Patterson said his job history made it virtually impossible to secure a steady position. "My wife told me to stop saying I had been fired, but that was the truth; I couldn't lie about it," he told me. "Plus, some employers just don't like to hear that word, union."
Despite a couple years off the job, Patterson can still quickly run through a housekeepers' best-practices list and can tick off specific uses for the cleaning chemicals tucked away in broom closets throughout the Pittsburgh VA. "You have to pay attention to detail," he told me, "because cleanliness in a hospital is not just wanted—it's necessary and needed."
Many veterans face an untenable economic future. The veteran unemployment rate has nearly tripled since January, to 8.6 percent, only slightly lower than it was in the aftermath of the 2008 financial crisis. At the same time, the VA is grappling with roughly 50,000 vacancies across a host of departments. Hiring qualified veterans into these positions would not only improve agency functionality but also provide security for struggling veteran families. Patterson and his wife, Crystal, face foreclosure on their home and pressure to pay their daughter's college bills. Even though he won his arbitration case, he noted the VA could still appeal the decision, preventing his return to work for months.
Takano told me he had reservations about the VA bill that led to so many terminations, but he voted for it, citing its statutes as strengthening whistleblower protections. He told me he now sees the OAWP's work as "classist" and "galling."
"They fired a lot of cleaning staff to prove accountability came to the VA," he said, "only to create a situation where cleanliness during a pandemic is difficult."