America's Cities Are Staggeringly Unequal
New data show how in every major metropolitan area, massive gaps still separate white people and people of color.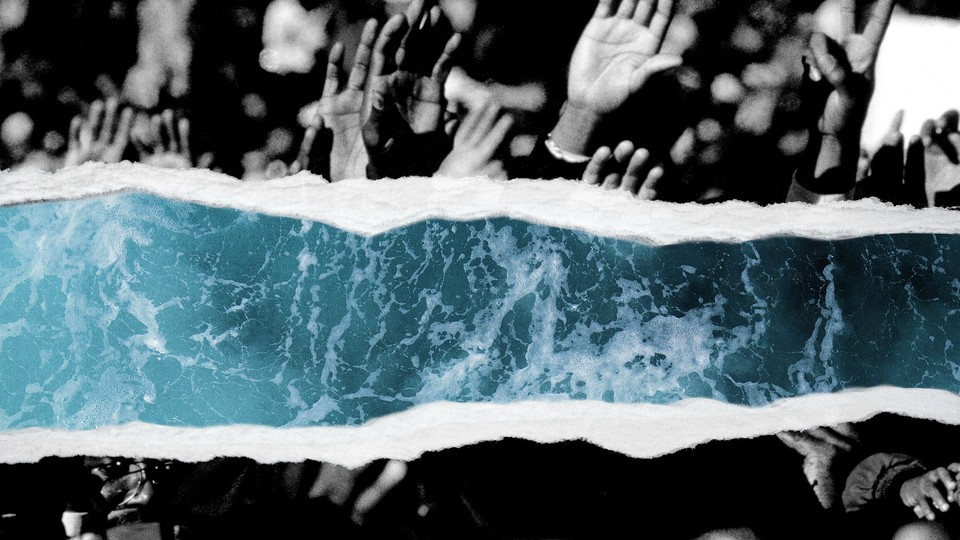 The rising tide of economic revival in many of the nation's largest urban centers has definitively not lifted all boats. And that may help explain why so many cities have faced waves of protest this year.
In every major American metropolitan area, including many of those that have prospered most since the 2008 financial crash, huge gaps still separate white people and people of color—not only in terms of average hourly wages, but in terms of educational attainment too.
"No place is actually doing well. Even the best performers … have racial inequities that are unconscionable," says Sarah Treuhaft, the vice president of research at PolicyLink, an Oakland-based research-and-advocacy group. "Economic growth is not enough. Many prosperous places are not doing well on sharing that prosperity."
These sobering findings are contained in today's new release of the National Equity Atlas, a massive online compendium of census and other federal data about cities and metropolitan areas. The Atlas, based mostly on data through 2017, is produced by PolicyLink and the Equity Research Institute at the University of Southern California. It allows users to assess different areas' performance along dozens of indicators, including wages, education, and housing costs, and then compare the standing of different racial groups.
Taken together, the new findings highlight the underlying inequities, beyond the immediate questions of police reform, that brought thousands of Americans to the streets after the killing of George Floyd in Minneapolis. They map the central internal fissure—racial inequality—that's dividing the nation's largest metropolitan areas, even as those areas come under intensifying external pressure from President Donald Trump and other Republicans.
The Atlas's architects say the data all point to the same conclusion: Growth alone won't eliminate racial disparities. No city anywhere in the country, no matter how prosperous, stands out for achieving both rapid growth and effective racial inclusion, Treuhaft told me. That underscores the need for education, housing, and wage policies—among others—specifically targeted at closing these gaps, the authors argue. "What that means for me is the need to even more consciously center racial equity in our economic policies," says Manuel Pastor, a USC sociology professor and the director of the Equity Research Institute.
Among the key disparities:
In all of the 150 largest metropolitan areas, white workers earn higher median wages than workers of color. The widest gap exists outside New York City in the affluent Connecticut suburbs of Bridgeport, Stamford, and Norwalk, where white people earn almost $16 an hour more than people of color. The gap exceeds $10 an hour in 12 more metropolitan areas (including Los Angeles and Houston) and stands at $5 an hour or more in over 100 metros.
In all but one of the 150 largest metros, the share of white adults holding at least a four-year college degree exceeds the share among people of color. (The sole exception is in the Manchester and Nashua area in southern New Hampshire, which has a small minority population.) In many places, these gaps are enormous: The share of college-educated white people is at least 25 percentage points higher than the share of college-educated minorities in Washington, D.C.; Los Angeles; Denver; and Durham, North Carolina, among other places. Even that comparison can understate the divergence, because Asian Americans achieve advanced education at high rates. Looking directly at the gap between white people and Black people or white people and Latinos produces even starker contrasts. In San Francisco, the share of white adults with a bachelor's degree is more than double the share of Black adults, and more than triple the share of Latino adults.
In each of the nearly 140 metropolitan areas for which data are available, students of color are more likely than white students to attend K–12 schools where at least three-fourths of the kids are poor or low-income. Again, these differences can be enormous: In more than 50 metropolitan areas, the share of minority kids who attend high-poverty schools is at least 30 percentage points higher than the share of white kids who do. Studies have consistently found that students in high-poverty schools are less likely to succeed academically.
Two crosscutting trends in the results underscore the magnitude and durability of these racial disparities. One is that they persist in cities from the most to the least affluent. Neither weathered urban centers in the Rust Belt trying to emerge from post-industrial decline nor the high-flying "superstar cities" along the coasts and through the Sun Belt are exempt from these inequities.
In fact, because Sun Belt cities have created so many high-paying information-age jobs, which are filled mostly by white people, the gaps tend to be wider in those places. In Cleveland, Detroit, and St. Louis, for instance, the median wage for white residents is about $6 an hour greater than that for people of color. That white advantage is more than $8 an hour in Denver and Dallas, nearly $10 an hour in San Francisco, and more than $14 an hour in San Jose. Additionally, the education gap between white and nonwhite adults tends to be wider in the cities that are thriving than in those that are struggling, largely because many more white people in prosperous cities hold degrees.
Pastor says the performance of the leading information-economy cities (which include traditional powerhouses such as Boston and New York) signals a departure from the urban experience of the previous few decades. Through the late 20th century and into the early 21st, overall economic growth was greatest in the metro areas that did best on measures of racial inclusion. Not now.
"The new economy, [which] emerged out of the Great Recession being so information-driven and oriented to higher-educated individuals, may be changing our metropolitan areas" in a way that produces greater inequality, Pastor told me. "In the past, we could say that as a region was more equitable, it might grow more sustainably over time … But what we can see here with this data is that you can have robust economic growth and still be falling pretty short on racial equity and inclusion."
The second ominous trend in the new results is that even with steady growth from 2009 until the onset of the coronavirus pandemic this spring, many of these disparities are wider than they were 10, 20, or even 30 years ago.
In 65 of the 150 metropolitan areas, the gap in the median hourly wage between white workers and workers of color has widened since 2000 by at least $1 an hour; the gap has narrowed by at least $1 an hour in only six of the metros. (The rest saw small changes in either direction.) The trend in adults' educational attainment is only slightly more optimistic: Since 2000, the college-degree gap between white people and people of color has widened substantially in 50 of the metros, narrowed appreciably in just 15 of them, and changed little in the other 85.
The persistence of these disparities underscores how local trends reflect changes in the larger economy, particularly the increase in inequality that's tilted gains toward the wealthy, and the low wages that still define the service sector, "where people of color are concentrated," Treuhaft said.
Perhaps even more daunting is the endurance—and, in many instances, the exacerbation—of racial and economic segregation in schools. In several metro areas—including Boston, Charlotte, Houston, and Los Angeles—the gap between the share of white children and and the share of children of color attending high-poverty schools is wider than it was in 2010. Even in the few big metros that have narrowed this gap since 2010, a huge racial chasm still remains. In Chicago, about half of kids of color attend high-poverty schools. Just one in 20 white kids attends such schools.
Justin Scoggins, the data manager for the Equity Research Institute, says the durability of school segregation is one of the most formidable barriers to creating more equitable cities. "It is really disheartening to see that is where we have some of the largest racial gaps," he told me. "In terms of actual economic outcomes, it's very important."
As daunting as they are, these results may not even capture the full dimensions of the challenge today. Most of the data in the Equity Atlas, as I noted, run through 2017, when the economy was still growing steadily. But now, as the coronavirus burns through the country, the economy faces a potentially prolonged recession. And historically, low-income, Black, and Latino workers have suffered the most during extended downturns. Which means that absent a specific policy focus on closing these gaps, the disparities that helped fuel this year's protests may widen, not narrow, in the months ahead.
"Through the recovery period, we did see that people were doing better in terms of employment and wages, but it was taking way too long for Black and Latinx workers to catch up," Treuhaft said. "And now we are in a new recession and we face the same challenge of inclusive recovery."