The Chaos in New York Is a Warning
The first large-scale test of mail-in voting in the pandemic has left one in five New Yorkers with their votes tossed out.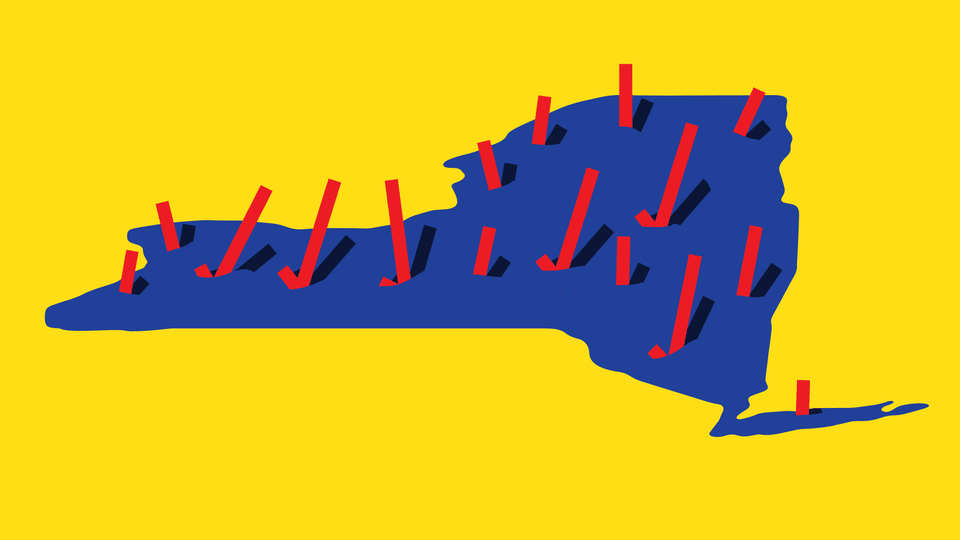 More than a month after New York's June 23 primary elections, state election officials are still counting votes. In some legislative districts, they haven't even started counting absentee votes. In the best-case scenario, election officials hope to declare winners by the first Tuesday in August—six weeks after Election Day. It might take a lot longer than that. Election officials in New York City have already invalidated upwards of 100,000 absentee ballots—about one of every five that were mailed in from the five boroughs. And furious candidates are already filing lawsuits charging discrimination and disenfranchisement.
The chaos in New York is a warning about November's elections: Voting is being transformed by the pandemic. But no state has built new election infrastructure. No state has the time or the money to make sure vote-counting will go smoothly in November. And just about every state is about to be hit with a massive surge of absentee ballots.
"This is what happens," a New York election official told me over the phone last week, "when you jury-rig a system that hasn't been designed or implemented or tested before."
In New York, the election infrastructure was overwhelmed by a massive increase in voters requesting absentee ballots rather than risking voting in person. Ballot-printing firms couldn't keep up with demand, and the already rickety U.S. Postal Service didn't move the ballots to and from voters quickly enough. Election officials, meanwhile, have seemed more interested in pointing fingers than in solving the problems.
"It's a nightmare in an age of political paranoia," says Ritchie Torres, a city councilman who is currently in the lead for an open congressional seat in the Bronx—the bluest district in the country—but who is still waiting on the final result.
Every election in the past few months has provided more evidence of a system that isn't able to keep up with the coronavirus. Wisconsinites waited to vote for hours in the rain wearing makeshift masks. A police officer in Washington, D.C., reportedly tried to disperse a crowd waiting to vote, because the people in line were breaking a curfew established in response to the George Floyd protests. More people than ever are voting by mail, and election officials are invalidating more votes than ever because of technical errors. In Georgia, 943,000 primary voters turned in absentee ballots, a 2,500 percent increase from the 2016 primary.
New York's June elections were primaries for local races—assembly and state Senate and Congress—with no partisan change in power at stake and a much smaller pool of voters than a general election. New York is a solidly Democratic state, with a Democratic governor, and all the officials who matter said they were committed to expanding voting by mail and other options. And it was a disaster.
Imagine what happens when the results matter more. Imagine it's December 5, a month after the national elections in the fall. Is President Donald Trump ahead, or Joe Biden? Who's ahead in close House races? Senate races? Local races for mayor or state legislature? Are votes still coming in? Are they being contested? Who's making the decisions? Which courts are getting involved? Recounts, if they're needed, would be in … January? February? When is the presidential election going to be called? When will every seat be filled for the next session of Congress?
Trump isn't likely to patiently and calmly wait as more votes are counted—especially if he's behind. In an interview on Fox News that aired on Sunday, he already refused to commit to accepting the results.
"In the world where the election tightens, if there are swing states for the Senate, or certainly the Electoral College, that have an absentee process that's as poor as what happened here in New York City, it could be catastrophically bad for the future of American democracy," says Brad Lander, a city councilman from Brooklyn who's been trying to call attention to the disproportionately high rate of absentee ballots officials have invalidated in his borough.
Elections in New York have always taken place against a backdrop of corruption and incompetence, patronage and piddling, whereby democracy runs up against bureaucracy and usually gets a concussion. The New York City Board of Elections has a central office, but also five borough offices that run semi-independently, overseen by 10 commissioners appointed by the Republican and Democratic Party chairs of each borough. Forget about administering elections—officials can't even place a letter of reprimand in an employee's file without at least six votes from the board.
And the mess goes far beyond the Board of Elections, which has figures showing that 767,000 people requested absentee ballots, and that 403,000 returned them. The state canceled its Democratic presidential primary in late April after the race effectively ended, but then the courts heard a lawsuit brought by the former presidential candidate Andrew Yang and ultimately reinstated the presidential primary. The state didn't start printing ballots until the decision came down, in mid-May. No information about when the ballots were mailed has been made public, but the two vendors the state hired to print and mail the ballots have told officials they couldn't keep up with the requests, because the demand was so much higher than normal. Thousands of ballots weren't returned in time, and thousands more arrived without any postmark; the board ruled that those votes couldn't be counted. The board also moved polling sites, which meant that tens of thousands of people were forced to use what's called an affidavit ballot, by filling out a form declaring that they're eligible to vote but weren't showing up in the official system.
Among the people who actually received their absentee ballot, thousands made mistakes like not signing in the right spot on the back of the envelope or mistakenly putting the voting instructions in the mail with their ballot. The people who got that far did better than many others. Plenty of New Yorkers never received the ballots they requested, or received them only on Election Day. The summer heat broke the glue on some sealed envelopes; post offices didn't postmark them properly.
The dysfunction is too inane to be called Kafka-esque.
"There are tens of thousands of New Yorkers, and unfortunately it may be hundreds of thousands, who genuinely believe that their vote has been counted—for reasons that are absolutely appalling and egregious," says Michael Blake, an assemblyman from the Bronx who is hoping to take the lead against Torres for an open congressional seat in the Bronx. As more ballots have been counted, Torres's lead of 4,516 votes on Election Day has grown to 7,803 votes, according to a readout Torres tweeted on Wednesday.
About 19,000 absentee ballots were submitted in that race, but Blake says he can't get the Board of Elections to tell him how many of these votes are left to count, or how many have already been invalidated. He sent me photos of stacks of affidavit ballots that the Board of Elections isn't counting even though they've confirmed the voters as Democrats and residents of the district. The board tossed them because the voters didn't check a box noting the reason why they needed an affidavit ballot.
When elections go this wrong, suspicion takes root. Blake, for example, says that there have been intentional efforts to stand in his way as a Black man trying to represent the Bronx, and has filed a lawsuit alleging racism. "Suppression doesn't just happen in the South; it's happening in the South Bronx," he told me. (Torres identifies as Afro-Latino himself.)
Torres told me the problems and delays are "cause for concern when it can change the outcome of the election. If there is an election where a candidate is ahead by only a few votes, then the invalidated ballots should be examined with the highest possible scrutiny." But he's confident he'll hold his lead, so he's trying to be more patient. "I would rather the Board of Elections get it right than get it done hastily," he said, though on Wednesday morning he declared victory, tweeting, "The counting is all but over … Even if our nearest rival were to win every single [remaining vote], we would remain ahead by a wide margin."
There's not much guilt or regret at the Board of Elections. The country is in the middle of a pandemic, officials there reminded me. There were a lot of ballots to count. Taking two months to figure out who won an election is nothing to be ashamed of. The candidates and campaigns that are complaining, they argue, are just sore losers looking to blame the system instead of themselves. "We adhere to the rules set forth by the state board of elections and the legislature," the board's spokesperson, Valerie Vazquez, said.
Suraj Patel, who's hoping to take the lead against Representative Carolyn Maloney in a district that covers parts of Manhattan and Queens and a sliver of Brooklyn, would probably count as one of the candidates being dismissed as a sore loser. He agrees with the Board of Elections' general assessment of itself. "There's no malice in this three-week delay. It's just disorganization and incompetence," he told me. About 40,000 people voted in person in his district. About 65,000 people returned absentee ballots. There was a 648-vote difference between the two candidates on Election Day. The Board has already thrown out 13,000 absentee ballots. But the numbers I obtained show major disparities in the percentage of absentee ballots invalidated in each of the three boroughs.
Patel said his campaign is looking at thousands of other votes that seem to be missing postmarks entirely—a post-office error, but one that the Board of Elections can cite to throw out ballots—but which seem to have arrived on time. His campaign aides are objecting to all ballots like that being rejected, but he said they've been told by the Board of Elections that it has clear instructions from its lawyers not to count those votes, even if both campaigns were to agree to count them. He sent me a photo of a box of 3,000 absentee ballots from just one part of the district that have been ruled invalid because they lack a postmark. Last Friday, he sued the governor and the Board of Elections over the ballots being thrown out because of this. "This is election theft," he told me.
Rules are rules, is the counterargument. No one wants an unsecured election, right? If the people wanted their votes counted, they should have voted properly—requested the ballots, filled them out properly, returned them in time. That's basically the line Maloney took in a statement her campaign emailed to me. "While everyone wants the results to be certified, we can't sacrifice accuracy for speed when it comes to something as critical as people's vote," she said. "Elections workers who are putting everything they have into getting ballots processed as quickly and accurately as possible. Registered voters went to great lengths to participate in this primary, and we owe it to them to ensure that this process is handled with patience and integrity."
Maloney's argument doesn't hold up, counters Zohran Mamdani, who spent weeks waiting to hear if he'd won a primary for an assembly seat in Queens before his opponent conceded on Wednesday. Mamdani's district has a large South Asian population, with many residents who immigrated from countries where elections are farces—and this is now what they've seen of American elections.
"In many ways, it confirms the biggest fears of so many people who don't get engaged: How can I trust the results? How can I know if my voice means anything?" Mamdani told me. "I'm not here to say the Board of Elections is tampering with these votes, but three and a half weeks without results, it doesn't help build trust in elections."
On Wednesday, the New York state legislature passed bills extending the period in which absentee ballots can be accepted. But with 101 days until the general election, there's not enough time to make substantive, tested improvements to the voting process in New York—or anywhere else.