The World John Lewis Helped Create
Black leaders pause to reflect on the civil-rights icon and representative from Georgia, who spent decades calling for activism and "good trouble."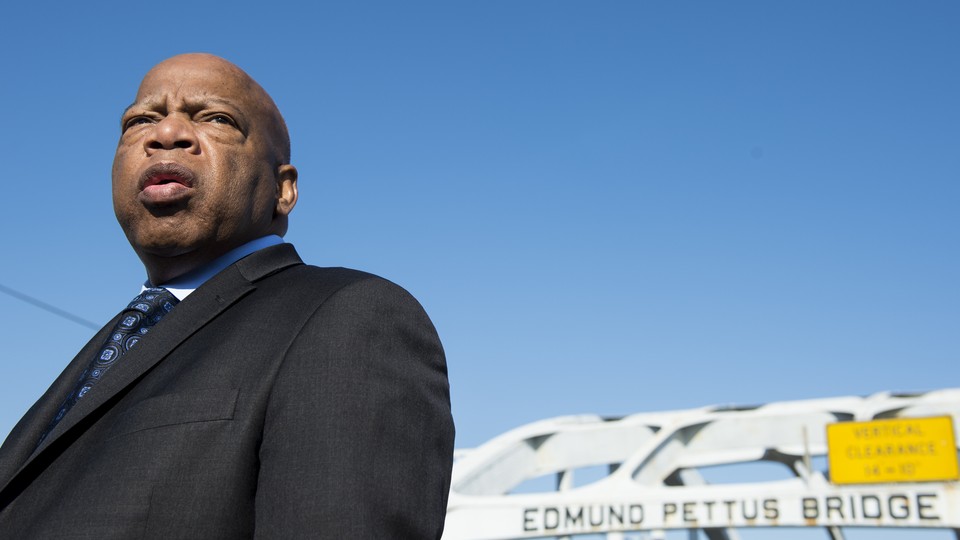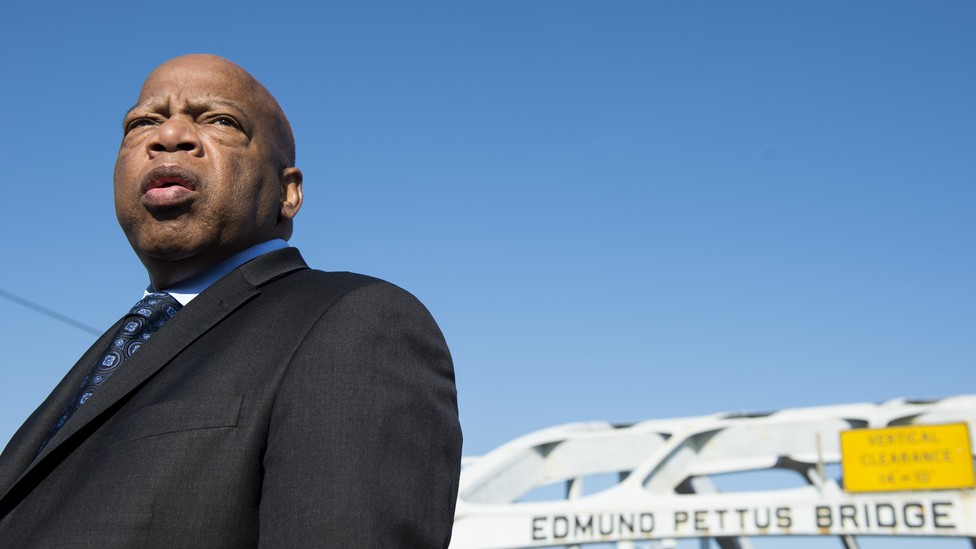 Updated at 5:38 p.m. ET on July 18, 2020.
John Lewis believed in the American project and wanted to perfect it.
On August 28, 1963, Lewis stood on the steps of the Lincoln Memorial before hundreds of thousands of people, but his mind was on those who could not be there. He thought of the Black people in Danville, Virginia, living under the heavy baton of a police state; of the sharecroppers in the Mississippi Delta, working for starvation wages; of the three young men facing the death penalty in Georgia for protesting. "We will go to jail if this is the price we must pay for love, brotherhood, and true peace," Lewis told the crowd. "I appeal to all of you to get into this great revolution that is sweeping this nation. Get in the streets and stay in the streets of every city, every village and hamlet of this nation until true freedom comes, until the revolution of 1776 is complete." Lewis was just 23 years old. Shortly after he said those words, Martin Luther King Jr. delivered his "I Have a Dream" speech.
Lewis, whose death from pancreatic cancer at age 80 was announced late last night, lived a revolutionary life as an activist, organizer, and representative who became known to many as the "soul" of Congress. "There were moments when we had the votes [to pass legislation] in terms of sheer Democratic majority, but the will was not there to get things done," Jaime Harrison, who worked with Lewis as the majority floor director in the House, told me. "It was always John Lewis who would step up. And when John Lewis got up to speak, everybody listened." Harrison is now running to unseat South Carolina's Lindsey Graham in the Senate, on a platform of registering disenfranchised Black voters across the state.
The "moral clarity" with which Lewis lived his life served as both an inspiration and a model for the generations of leaders who came after him. He showed what patriotism looked like, the Reverend Jesse Jackson told me by phone this afternoon. On March 7, 1965, Lewis led more than 600 protesters across the Edmund Pettus Bridge, in Selma, Alabama. The marchers were bludgeoned and teargassed by police—Lewis's skull was fractured. Americans watched the brutality on national television and saw how Black people were being treated in the quest for civil rights. "Our modern democracy was born in front of that bridge—it should be named after John Lewis instead of Edmund Pettus, by the way," Jackson said.
Lewis placed the right to vote at the center of his mission—a cause picked up by leaders such as Stacey Abrams, whose election-reform organization, Fair Fight, has advocated, lobbied, and sued for access to the ballot. He lived to see historic voting legislation—the Voting Rights Act of 1965—signed into law. He also lived to see it gutted.
"It had to be frustrating for him to literally be engaged in the activism that led to the Voting Rights Act, and then see a generation that wasn't vigilant in preserving the gains that he made," Senator Cory Booker of New Jersey told me. "I get a little angry because I know this will be a period where people will laud him with praise" but won't "join in his purpose." Senator Mitch McConnell, who honored Lewis in a statement, has had a bill that would modernize the Voting Rights Act sitting on his desk for more than 200 days.
Lewis's moral authority was expansive, and he addressed iterations of injustice as they presented themselves: from police brutality to poverty to limits on same-sex marriage. He challenged not only his enemies, but also his allies—those who broadly supported the movement for rights and equality but did not go far enough in eradicating inequities. "We must be bold, brave, courageous, and push and pull until we redeem the soul of America and move closer to a community at peace with itself, where no one will be left out because of race, color, or nationality," Lewis said last month during a virtual roundtable with Barack Obama, speaking of this summer's nationwide protests against police violence.
"Today ought to be a great day of mourning not just for John Lewis, but for the nation that didn't really listen to him," the Reverend William Barber II, the civil-rights activist and a co-chair of the Poor People's Campaign, told me. "Imagine if we had really listened to John Lewis?" What if, instead of simply mourning, Barber added, people chose to live the life that he lived? "It's time we start to emulate their lives, not just in some memorial fashion, but in actual policy and political evolution and transformation."
America would benefit if it showed courage in the face of injustice, Lewis wrote in The Atlantic in 2014. Six years later, he expressed pride as he watched his legacy in action: a new generation of activists fighting for equality. "They had learned from his example, even if they didn't know it. They had understood through him what American citizenship requires, even if they had heard of his courage only through history books," President Obama said in a statement today. Obama himself was a beneficiary of that legacy. On the day the former president took the oath of office, Lewis asked him to sign a commemorative photo. "Because of you, John," Obama wrote.
For Americans to honor Lewis—Harrison, Barber, and others I spoke with told me—would be to pass voting-rights legislation, to fight for fair wages, and to uproot the inequality baked into American systems. "There are lots of ways to honor him. And I will be very frustrated if we stop it with words, and not with real legislative action," Booker said.
Lewis was more than an activist or a statesman, Sherrilyn Ifill, the president of the NAACP Legal Defense and Educational Fund, told me. "I think of him as a founding father."