The Florida Democrat Who's Been Warning About a Pandemic for Decades
Long before Donna Shalala got to Congress, she was America's longest-serving secretary of health and human services—and Anthony Fauci's boss.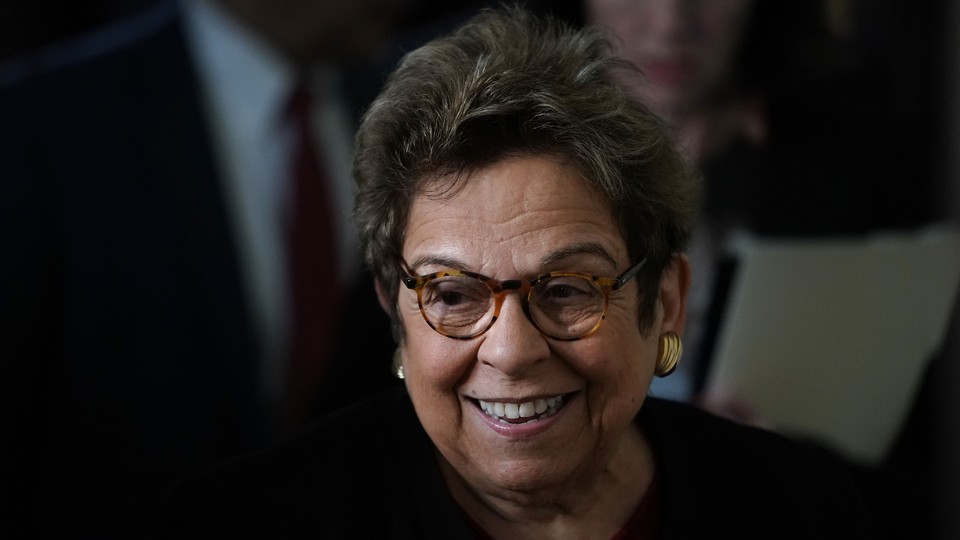 Donna Shalala has a new dog named Fauci. He's a rescue dog, maybe part Yorkie, she figures. The name seemed right: He was found running into an Italian restaurant in Miami, where she lives, so the animal-shelter staff suggested that she give him an Italian name. And like everyone else, she's been thinking a lot about Anthony Fauci for the past few months.
Shalala, a first-term congresswoman representing Florida, has been in politics for five decades, but she told me that watching how President Donald Trump and Florida Governor Ron DeSantis have been unable to stop the spread of the coronavirus—which is spiking in the state—has made her "terrified" for the first time in her career. DeSantis "is personally responsible for a number of unnecessary deaths and sickness in our state because he hasn't exerted strong leadership," she said in a conversation that can be heard on the latest episode of The Ticket.
Shalala, who served as the secretary of health and human services during Bill Clinton's presidency—with Fauci (the doctor) working for her—worries that whenever a coronavirus vaccine is developed, the government won't be able to adequately distribute it. So she has a suggestion born from her experience figuring out how to put the federal government into action: Start with a major campaign about flu shots in the fall, to give everyone what she calls "a dry run."
She's trying to persuade her colleagues in Congress to sign on to the idea, and she's sometimes bringing along her dog to help. When Shalala flies to Washington, D.C., she lets Fauci sit in the extra seat she buys to ensure that she's socially distanced. "Everybody laughs when I walk around the Capitol and I say 'Here, Fauci,'" she said.
---
Listen to the interview here:
Subscribe to The Ticket on Apple Podcasts, Spotify, or another podcast platform to receive new episodes as soon as they're published.
---
What follows is an edited and condensed transcript:
Edward-Isaac Dovere: You're 79. You live in Florida. Are you scared day-to-day with what's going on?
Donna Shalala: I'm terrified for my community and for the country. I'm not personally scared, but I'm just terrified that we haven't gotten control of this virus because of the lack of leadership at the national level and state level. This balance between opening up and knocking out the virus is not a fair balance, because first you have to knock out the virus before you can open up. Miami Beach has 90,000 residents, and last year they had 10 million visitors. You can't sustain an economy on 90,000 residents.
Dovere: What do you make of your governor, Ron DeSantis, who downplayed the pandemic when it first hit? In the past few weeks, the numbers from Florida are just astounding.
Shalala: He just follows the president, and he's a weak governor. I said the other day, "Why do people run for office if they're not prepared to make tough decisions?" He's meek. He's just not prepared to do what's necessary. He is personally responsible for a number of unnecessary deaths and sickness in our state because he hasn't exerted strong leadership.
Dovere: You have had an extensive career in public service. Then in 2018, you decide that what you really want to do is be a member of Congress. Can you explain that decision?
Shalala: It was irrational. I just got pissed off at what was going on in Washington. It was March 2018. There were already five or six candidates in the race that had been in the race for a year. And I simply decided they could not flip the seat. We had a chance because my predecessor, a Republican, had stepped down after 30 years, and I didn't think they were going to be able to flip the seat. The chance of getting the House back depended a lot on people that were willing to step up and flip seats, so I decided to do it.
Dovere: And since you got to Washington, have you been encouraged by what's been going on there?
Shalala: I've been encouraged by my [Democratic] colleagues. I've been encouraged by our leadership. I'm not encouraged by the president or the Republicans who constantly do not have an independent voice. There was one day during the CARES Act [deliberation] in which we were ready to vote. But the Republicans wouldn't vote until they got a tweet from the president telling them that he would sign the bill. Well, he tweeted at midnight. We sat around until midnight. It was absolutely ridiculous. I must say, my Republican colleagues thought it was ridiculous as well.
Dovere: They were saying that to you at the time?
Shalala: Yes. They said so privately, that they were as frustrated as we were. We had done our job. We had the bill. We had the votes. As long as the president agreed to sign it. But the Republicans would not vote until they saw the president's thumbs-up in a tweet. They're fearful of the president. They're afraid the president will campaign against them and they'll lose their seats.
Dovere: What do you say to them?
Shalala: I said, 'You've got to be kidding. What is worth a seat? Life or death?' Because that's what we're facing now.
Dovere: When you were HHS secretary in the 1990s, were you thinking about preparing for a pandemic?
Shalala: We developed the stockpile [of medical equipment]. But it wasn't maintained by subsequent administrations. We also developed a strategy in which we never let political appointees talk about public health. In fact, Tony [Fauci] will tell you that I made [the government scientists] all put their white coats on for press conferences, because the public trusts docs in white coats, and they were the only people that spoke. I might introduce them, but I never said any substance.
Dovere: Did you ever think a pandemic would really hit?
Shalala: We did think, like everybody else, that it was going to be a flu pandemic. And I went around and saw all the appropriations chairs [in Congress] on the defense side before we left [in the Clinton administration], warning them that an outbreak could be bioterrorism as well. In fact, the only way we got any money was by suggesting that the pandemic would also be connected with bioterrorism, because otherwise their eyes would glaze over.
Dovere: If you got a call from current Health and Human Services Secretary Alex Azar, looking for advice about vaccine distribution, what would you say?
Shalala: I would tell him that in September and October, we need to do a dry run with the flu vaccine. We now inoculate about 45 percent of the population. To really get control of the virus, this year, once you have a [coronavirus] vaccine, you need to inoculate probably 70 percent of the population. So I would tell him, get ready now for a huge effort to get everybody their flu shot … We need a dry run to make sure we have the infrastructure for distributing the new COVID-19 vaccine, because we know how we now distribute the flu vaccine. One of the reasons to get people their flu vaccines is that we don't want people dying from the flu and mixing them up with COVID-19 patients in the hospitals.
Dovere: You are the second-oldest freshman member of Congress ever elected. The presidential election is a choice between two men in their mid-to-late 70s. Should people be concerned about age?
Shalala: No. I think we just need a leader, and not just a leader that tells us how bad it is, but a leader that tells us what we can do.
Dovere: Both Joe Biden and Trump have thrown accusations at each other for not being fully there mentally. Trump especially has really pushed on accusing Biden of dementia. There is an age component of that, obviously. Is that offensive when you hear that?
Shalala: Sure. It's ageism. But it's offensive to me when people are dying in nursing homes unnecessarily because we haven't put the resources in to save a whole generation of people. It's offensive to me when the president beats up or tries to beat up Tony Fauci and is trying to destroy the Centers for Disease Control, the great public-health agency of the world.