Why the Iowa Senate Race Is Suddenly Competitive
Theresa Greenfield's strategy to defeat Joni Ernst could show Democrats how to swing rural America away from the GOP.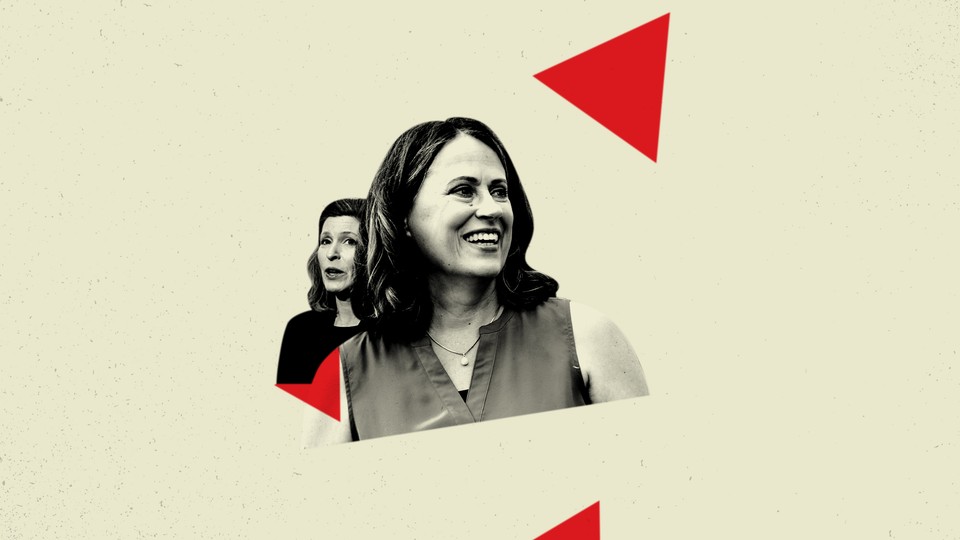 Theresa Greenfield was 24 years old and four months pregnant with her second child when a priest rang her doorbell with terrible news: Her husband, Rod, a lineman at the local power company, had been killed in an accident at work. Greenfield, a Democrat who is challenging Senator Joni Ernst in Iowa this year, tells the story at every virtual campaign event she holds, but she generally leaves out the smaller details: how, just hours before, she'd packed a Snickers bar in Rod's lunch box as a treat. How the clergyman sat with her on the sofa and held her hands as he explained that Rod had been electrocuted. The way that the panic, in those first few days, consumed her: As a single parent with no income, how would she survive?
Greenfield's answer came in the form of Social Security survivor's benefits, a regular check that she and her sons subsisted on for many months, along with Rod's union benefits. Her family didn't get rich, she is careful to note, but they survived. Greenfield went on to get a degree in urban planning, and became the president of a Des Moines-based commercial real-estate firm. The story provides the foundational message of her Senate campaign: She argues that she will protect Social Security, organized labor, and the social safety net, even as Republicans like Ernst try to tear them apart. "Social Security gave me the ability to pay the rent and put milk in the refrigerator and fall asleep at night," Greenfield told me in a Zoom interview this week from her kitchen in Des Moines, a slight glare bouncing off her plastic-rimmed cat-eye glasses. "It gave me that second chance."
In emphasizing these core Democratic tenets, Greenfield is trying to convince Iowans—especially rural, older white ones—that her party has had their back all along. They may be starting to believe her. Just a few months ago, Ernst, the popular incumbent of "Make 'em squeal" fame, seemed like a lock for reelection. But all of a sudden, the sleepy Iowa Senate race has become one to watch: A poll taken in early June showed Greenfield three points ahead of the Republican senator, albeit within the margin of error.
In a Democratic Party that is moving ever leftward—latching on to big ideas like Medicare for All, the Green New Deal, and defunding police—Greenfield's focus on Social Security can seem a little retro. But if she unseats Ernst in November, her campaign may offer a lesson for the broader Democratic Party about how it can regain ground from Republicans in rural America, and transcend its reputation as the party of city dwellers.
Ernst and Greenfield are bizarro-world versions of each other. Both are middle-aged, self-professed "farm girls." But the Harley-riding Ernst, with her ruck marching and her tightly fixed hair, is spirited and blunt. Greenfield, soft-spoken with an Upper Midwest lilt, comes across, somehow, as both whimsical and unexciting—like one of the more humdrum episodes of The Great British Bake Off.
Greenfield also wants Iowans to view the two women as opposites on Social Security, the 84-year-old social-insurance program that's supported by a healthy majority of Americans. Although Ernst has not directly proposed the program's privatization—a longtime Republican goal—she has expressed openness to the idea. During her first Senate campaign, in 2014, she suggested that young workers could put some portion of their Social Security payroll taxes into personal savings accounts for retirement. In a town-hall meeting last year, Ernst submitted that lawmakers should go "behind closed doors" to negotiate changes to the New Deal program.
Greenfield made those comments central to her campaign from the beginning. In her debut ad last year, she wears blue jeans and a flannel shirt, and walks like a cowpoke through a small family farm. "Joni Ernst said she'd be different," Greenfield says. Ernst's 2014 "Make 'em squeal" ad—in which she explains how her experience castrating hogs will inform her tough approach to D.C.—plays on the screen. "Listen, folks, she didn't castrate anyone," Greenfield adds.
Greenfield's approach could be a savvy one, not just because of Social Security's popularity, but also because of Iowa's demographics. One in five Iowans received Social Security benefits as of December 2018, and one in four Iowans over the age of 65 depends on the program as their main source of income, according to the American Association of Retired Persons. These voters are the most reliable ones in Iowa: Senior citizens cast one-third of all votes there in the 2018 midterm elections.
Other statewide Democratic candidates, like the former gubernatorial contender Fred Hubbell, who lost his challenge to the Republican Kim Reynolds in 2018, have failed miserably at winning over the Iowans who live in the rural and ruby-red parts of the state. But Dave Peterson, a political-science professor at Iowa State University, predicts that Greenfield's prioritization of Social Security and other safety-net programs will likely give her a boost. "Hubbell wasn't able to connect to rural Iowa; she's clearly able to do that better," Peterson told me, pointing to her farming roots. "The way she defines herself and her campaign is not geared at winning Des Moines," by far Iowa's biggest city, but at winning the rest of the state.
"I view Iowans as independent voters and independent thinkers," Greenfield told me in our Zoom interview, when I asked how she planned on attracting voters in the state's more conservative parts. She has reason to: You can't swing a piglet in Iowa without hitting someone who proudly calls themselves "independent." There are nearly the same number of active, independent voters as there are registered Democrats and Republicans. "I don't approach anyone asking about who they voted for in the past," Greenfield said.
John Adams, an 80-year-old retired newspaperman from Arnolds Park, has voted for Republican candidates all his life, including for Ernst six years ago. But Adams watched with disgust as she and other Republicans attempted to repeal the Affordable Care Act in 2017, and later as the president proposed limiting Medicare spending and cutting Social Security disability benefits, despite promising to protect both programs. In 2018, Adams changed his party registration to Democrat, and plans to vote for Greenfield in November. Ernst has become "a lackey of Donald Trump," Adams told me. "The way the national Republican Party is acting, [this] is a darn good issue for Greenfield."
Other congressional candidates talk about defending Social Security—it's part of basically every Democratic campaign. But few candidates have made it the centerpiece of their bid in the same way that Greenfield has, says Alex Lawson, the executive director of Social Security Works, a nonprofit focused on strengthening the program. The only one that came to mind for him is Conor Lamb, the Democrat whose 2018 campaign flipped a western Pennsylvania district that had voted for Trump two years before. "This is how you win," Lawson told me. "He literally ran one of the best ads I've seen on Social Security." (Greenfield ran for the House in Iowa the same year, but she dropped out during the Third District's Democratic primary.)
Ernst's team strongly contests Democrats' characterization of her goals. "Joni Ernst has never once voted to cut benefits for seniors on Social Security, and never will," Brendan Conley, a campaign spokesperson, told me. "Her own parents count on Social Security every month. Greenfield and Washington Democrats' false attacks are just lies meant to scare seniors." When I asked David Kochel, a GOP strategist originally from Iowa, about whether Greenfield's attacks are overblown, he scoffed. Ernst has "never offered any legislation" to cut benefits. "She's concerned about being able to maintain a safety net that is viable in the long term," he said.
Bruce Braley, a former U.S. representative from the state's First District, promised to protect Social Security in his Senate campaign against Ernst herself in 2014, and got crushed in the general election. The strategy didn't work then, and it won't work now, Kochel argues.
But the times are different now than they were six years ago. The unusual pressures of 2020—an economic crisis triggered by a global pandemic—are heightening people's concerns about retirement and their long-term survival, say the politics experts and strategists I spoke with for this story. The pandemic's effects on Iowa's farming industry, in particular, have been devastating. "When there's so much uncertainty and insecurity," Greenfield's message "resonates tremendously," Steffen Schmidt, another Iowa State political-science professor, told me.
Senator Sherrod Brown of Ohio, who has rooted his three successful campaigns in a full-throated defense of organized labor and the social safety net, told me that the pandemic has demonstrated exactly how the government should intervene to improve Americans' daily lives. "The congressional response with the stimulus check kept people from devastation," Brown said, citing recent studies showing that federal coronavirus aid has prevented millions of Americans from falling into poverty.
Brown is the only statewide elected Democratic official in Ohio, a mostly red state that, like Iowa, voted overwhelmingly for Trump in 2016. As Democrats try to figure out how they're going to beat the president in these places—and in the even more crucial battleground states of Wisconsin and Michigan—Brown believes that the strategy for doing so is obvious. He cited Joe Biden's stated commitment to preserve and expand Social Security benefits, and his consolidation of support from many union leaders. "It's things like that that will help Biden carry Ohio," Brown said. In Iowa, Greenfield's emphasis on Social Security could redouble to Biden's benefit, too.
So this is the new candidate meet and greet. I'm sitting on a Zoom call, in a virtual room full of virtual Democrats—tiny faces in boxes glowing yellow on the screen. Ten or 11 have people signed on; they are white and mostly older, with names like Ron and Nancy and Jan. This group, the Warren County Democrats, usually has its annual summer picnic outdoors, with hot dogs and ice-cold drinks. Instead, they're on this video call buying time rating local pizza joints. (Fong's, in Des Moines, offers more creative options, they say, but Ames's Great Plains Sauce and Dough has the tastiest crust.)
Fifteen minutes into the meeting, Greenfield pops up in a new square, smiling widely in front of a brick wall. I turn up the volume to hear her better. "Hi, folks," she says cheerfully, before launching into her life story. She grew up in southern Minnesota, she says, just a few minutes north of the Iowa border (which helps explain all the "soh-rrys" and "ya knows"). Her father was a farmer and a crop duster, and she was a "scrappy farm kid," fond of riding pigs and getting into trouble. In the 1980s farm crisis, she explains, her family was forced to sell everything, and they never farmed again. When she arrives at the story of her husband's death, in 1988, Greenfield pauses to emphasize her main point: "I'll tell ya," she says, "I wouldn't be here today in this fight without the helping hand of Social Security and union benefits."
The Warren County Democrats were an easy audience for her pitch. "The issues I deal with now are issues that are protected more by Democrats than Republicans," Dan Corsair, a 72-year-old retired home builder from Indianola, told me after the call, adding that he currently receives Social Security benefits. He and his wife, Mary, were nodding along vigorously with Greenfield as she warned about cuts to the program. "If Republicans hold enough control in the next cycle, Social Security and Medicare are going to be gone," Corsair said.
Iowa Republicans, though, say that notion is hogwash. "The reality is, Greenfield is completely unprepared to lead and she will do anything to distract from that fact," Conley, the Ernst campaign spokesperson, said. They're hoping that Iowans will see Greenfield as out of touch and amateurish. New ads from the National Republican Senatorial Committee portray the Democrat as a failed and heartless businesswoman, citing her record overseeing real-estate-development projects in Des Moines. In an email responding to my requests for comment, the Ernst campaign linked a YouTube video of Greenfield stumbling over a foreign-policy question.
Democrats shouldn't overestimate Greenfield's standing in the race. The latest poll showing her ahead could represent a peak for her campaign. At the time the survey was conducted, she'd just won a four-way primary, and received an influx of attention and donations from Democrats and left-leaning groups nationwide. "This is probably the low point of Republican polling this campaign," Peterson, the Iowa State professor, said.
But Greenfield could be buoyed by a general-election landscape that's looking more and more favorable to Democrats. In 2016, more than half of adults 65 and older voted for Trump, and among older white voters specifically, Trump outperformed Hillary Clinton by 20 points. Retaining the support of senior voters is absolutely crucial to the president's reelection, but recent polls have shown his favorability among them slipping, due in part to his handling of the coronavirus crisis and his response to the nationwide protests after the killing of George Floyd. Trump is currently two points behind Biden nationally among voters 65 and over, according to new polling from The New York Times and Siena College. In Michigan, Pennsylvania, and Wisconsin, he is trailing the former vice president by double digits with the same group. No Democratic presidential candidate has won seniors since Al Gore's bid in 2000.
Another shift that could portend good things for Greenfield: At this point in the 2018 cycle, there were roughly 25,000 more registered Republicans in Iowa than Democrats, but in the two years since, Greenfield's party has almost entirely closed that gap.
If you look closely, you can see these trends playing out in real time. Adams, the 80-year-old former Republican, explained that he's spent the past year "working on" other Republicans in his community—encouraging them to abandon the GOP. Arnolds Park, where he lives, situated on the shores of West Okoboji Lake in the northern part of the state, is full of conservative retirees. Already, he told me, his efforts have been successful: He's managed to persuade three of his Republican friends to support Greenfield. "They think she's the right person at the right time, and she really is," Adams said. To win in November, though, Greenfield will need a whole lot more of Iowa's "independent thinkers" to feel the same.