Real Reform Comes From Civic Stamina
For these social-justice groups, Americans' protests against systemic racism represent the arrival of the cavalry.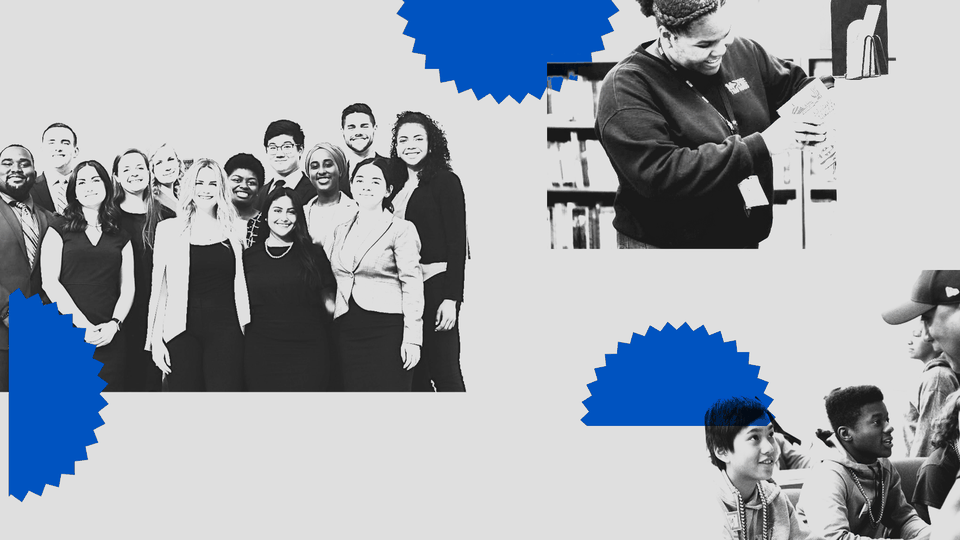 The fierce national debate over structural racism in the criminal-justice system and other core American institutions isn't new terrain for Sean Goode, the charismatic executive director of Choose 180, an organization that works with at-risk young people in Seattle.
Nor is it a novel subject for Naomi Parker at More Than Words in Boston; Audrey Henson at College to Congress in Washington, D.C.; Sloane Davidson at Hello Neighbor in Pittsburgh; or Aditi Gupta at the BLOCK Project in Seattle.
Each of them plays a leadership role in an organization that promotes greater opportunity for marginalized groups: refugees, the unhoused, and young people who are from low-income families or enmeshed in the criminal-justice, foster-care, or school-disciplinary systems. In those roles, each of them walks the tightrope between working within governmental and legal systems as they now exist and pushing for fundamental changes in how those systems operate. They spend their days trying to bridge the daunting gap between even the good intentions of individuals in positions of authority and the damaging outcomes that these systems nonetheless produce so routinely.
"We've got allies within every system, people who are doing everything they can to advance justice and equity, and our young people are still being failed by these systems," says Parker, the chief advancement officer for More Than Words, which provides employment, training, and counseling for young people through a pair of used bookstores. "There is something fundamentally wrong and discriminatory about the way [these] systems perpetually fail our youth."
The recent protests following the killing of George Floyd in Minneapolis are forcing the nation to grapple with big questions about equity, racial discrimination, and how the U.S. is adapting to the tidal demographic change that will likely result in young people of color representing a majority of America's under-18 population by as soon as the 2020 census.
Those questions also inform the daily work of the five organizations honored today as the winners of the fifth annual Renewal Awards. The awards, supervised by The Atlantic and sponsored by Allstate, honor grassroots innovators tackling the nation's toughest problems.
This year's winners are bound by a common thread: a focus on inclusion at a moment of national division and polarization. All of them combine a sweeping passion for social justice with a commitment to local action that engages the community and changes lives every day. "We are using community to help end homelessness and work on the issue of individual apathy and individual contribution, as opposed to big solutions or complex solutions that other people are working on," says Gupta of The BLOCK Project, which designs, builds, and places small cottages to house people experiencing homelessness in Seattle. "That's very valuable. [But] our focus is on a very individual level, and that's why I think it's powerful."
The five winners each received a grant of $40,000 from The Atlantic and Allstate, to be distributed over the next two years. They were chosen from nearly 13,000 organizations around the country nominated by the public, a record for the competition. A team of Atlantic researchers and editors narrowed down the selections to 15 finalists. From that list, four general-category winners were selected by a 10-member panel of judges, including former Republican and Democratic elected officials, previous Renewal winners, and other civic groups. Allstate selected a fifth winner for its Youth Empowerment Award, aimed specifically at groups that work with young people; Choose 180 won that prize this year.
In some respects, the Renewal winners view the searing national conversation on racial inequity as the arrival of the cavalry. For years they have worked, often with little attention, with constituencies that remained economically and socially marginalized even during periods of economic growth. "I do think there is a real opportunity in what's happening in the country right now for us to see our similarities in a way we haven't before, and also to speak up for one another in a way we haven't before," says Davidson, the founder and CEO of Hello Neighbor, which connects refugee families with local sponsors.
Henson, the College to Congress founder and CEO, agrees: "I really think that the swell in political engagement and excitement is not going to be a quick flame." Henson's organization funds Capitol Hill internships for students from families of modest income. "This feels different. I think it is going to be long-lasting, and we are going to see people dedicate their careers to fixing these problems that plague our country."
Yet although these groups cheer the new outside pressure for structural change, they mostly see a different role for themselves. Goode, of Choose 180, expressed a broad consensus among the winners when he told me he believes that the protests might trigger a complementary process: Bottom-up, community-based groups could help design and implement the reforms that outside pressure demands.
"Everybody is needed in this," he said. "I think the protest is imperative. When pressure is applied, folks are always looking for a way to release the pressure. That's how the steam engine works. Apply pressure, release pressure, the thing moves forward … And that's where organizations like ours can help to create that path."
Choose 180 highlights how engagement within a recalcitrant system can create tangible change. The group began in 2011 as a partnership between Doug Wheeler, a prominent Black minister in Seattle, and the prosecutor's office in King County to provide an alternative to incarceration for teenagers charged with misdemeanors. Instead of appearing in court, young people were diverted into a four-hour seminar that offered them counseling from mentors who may have struggled with similar circumstances. One local journalist who attended a session wrote that it "moved me in a way that is hard to put into words."
The group's operation expanded significantly after it added Goode as executive director in 2016. In addition to its work with the King County prosecutor (who handles juvenile offenses and adult felonies), it now partners with four schools in the Seattle area to provide services for students trending toward disciplinary trouble, with plans to add four more schools in the coming academic year. It also works with the Seattle city attorney (who has jurisdiction over adult misdemeanors) in cases involving young-adult offenders. Its trademark intensive sessions focus on helping young people identify goals and a pathway to achieving them; then it provides extended counseling for up to a year that connects young people with the services they need to progress.
"We operate much like an emergency room," Goode said. "After triaging young people and helping them get well enough, we are actively connecting them with primary-care and specialty practitioners."
Creating connections for groups that too often are isolated animates the work of all the 2020 Renewal winners. Davidson founded Hello Neighbor in April 2017. She'd returned to her native Pittsburgh after years of doing nonprofit work elsewhere in the United States and in more than half a dozen other countries. She realized that "there was so much that could be done right here in my backyard … This is a moment we're living in: hyperlocal. There is a feeling you can make change wherever you are."
Davidson quickly focused on the challenges that refugees face when trying to decipher an unfamiliar city (and country)—and doing so at a moment of heightened political tension over immigration. After volunteering at a refugee-resettlement agency and sharing Thanksgiving dinner in 2016 at a friend's house with a Syrian refugee family, she had the idea to match new refugees with local families who could help them navigate their new community.
Pittsburgh today is a city with a much smaller immigrant population than the nation overall. But as Davidson explained the idea to local groups, she recognized that the concept reflected the city's roots, as a hub for European immigrants during the steel industry's heyday in the late 19th and early 20th centuries. When she speaks about the program in public, Davidson says, senior citizens will come up to her and say: "When I was growing up in Pittsburgh, someone from the old country moved into the neighborhood, and my mom made sure they had a casserole and the local church made sure the kids got in school."
Hello Neighbor now pairs refugee families from 13 countries (including Afghanistan, Syria, the Democratic Republic of Congo, Bhutan, and Myanmar) with up to 50 Pittsburgh families a year. Hosts are expected to spend at least 10 hours a week with their assigned family for at least six months. Davidson has also added new initiatives aimed at young mothers, as well as another that encourages refugee families to sell sweets and crafts from their native countries around Thanksgiving, Christmas, and Valentine's Day.
Each of these programs provides practical help and guidance to the refugees. But Davidson says it's the companionship and community that move the refugee families the most. "I know that what it really is, at its core, is that they don't feel alone anymore," she says.
More Than Words started in Massachusetts in 2004, after Jodi Rosenbaum, a former teacher and attorney's assistant within the juvenile-justice system, drove past a pile of books left on the side of the road. In a flash of insight, she has said, she saw the books as a means to provide opportunity for young people who'd been failed by the systems in which she'd served. Over time, Rosenbaum established a used bookstore in Waltham, near Cambridge, where young people who are without housing, out of school, or in the court system can work and even manage the business. In 2018, she added a second bookstore in Boston's South End; the operation has grown into a $3.3 million annual operation that serves almost 400 young people each year.
Typically, the young people who join the program work in the bookstores for six to 12 months, earning paychecks for two to three shifts a week and gradually taking on additional responsibility as managers. But the group's leaders recognized early on that job training alone would not enable these young people to overcome all the hurdles they faced. So More Than Words added a second track, in which the participants are paid to work on advancing their personal goals. They're given mentors to help them take concrete steps, including opening a bank account, reenrolling in school, and finding housing. "Very few are going to work in a bookstore" as a career, Parker says. "Really, what we are teaching is those fundamental skills … Young people are learning, how do you show up on time, in dress code, ready to be engaged and professional? How do you give and receive feedback? How do you ask questions? How do you train others? How do you communicate?"
More Than Words also enlists volunteer lawyers to help if participants need legal representation. Within the program, "we see far too often young people who are doing everything in their power" to work hard, "and they are still getting derailed by the systems that are set up to protect them," Parker says. "We see young people who turn 18 and transition out of foster care and become homeless because they don't have anywhere to go … We see young people criminalized when they need to be supported."
Systemic reform on an even longer timeline is the vision that animated Henson to establish College to Congress. When Henson, the daughter of a single mother, served as a summer intern for Republican Representative Joe Barton in 2012, she could not keep up financially with fellow interns who thought nothing of ending their day with expensive restaurant dinners. Ultimately, she had to take out student loans to cover her costs over the summer. The investment proved a good one: "After I graduated, it was very easy to move back and parlay that into a job, because I was able to make the connections," she recalls. But as Henson advanced in her career, first on Capitol Hill, then as a political consultant, she found herself wondering about all the young people who couldn't afford to spend a summer working for free, however much it lifted their long-term prospects.
In spring 2016, she founded College to Congress to cover expenses and provide stipends for young people who could not otherwise afford to pursue congressional internships; within a few years, she was supporting up to 20 each summer. Her overriding goal is to widen the circle of young people from low-income families who are on track for good jobs in Congress. Too often, Henson says, she's watched staffers from elite backgrounds write laws with no real sense of how they affect families of lesser means. "There are so many moments in my political experience that said there is a real disconnect between how the laws are being written and the people living them out," she says.
Seattle's BLOCK Project, the final winner, aims to help the unhoused, perhaps the most excluded group of all. The effort began with a local architect, Rex Hohlbein, who founded a nonprofit about 10 years ago to encourage more engagement with people living on the streets. Then, in 2017, Hohlbein and his daughter Jenn LaFreniere launched the BLOCK Project, which installs small houses for people experiencing homelessness in the backyards of willing families around the city. The organization placed one house in 2017, two more the next year, and six in 2019. This year, despite the pandemic, it's planning on placing three more, while completing work on three others in a workshop it has opened to speed construction. The BLOCK Project, which Gupta directs as part of the larger Facing Homelessness organization that Hohlbein founded, also works with social-services agencies to help their formerly homeless residents set and advance toward life goals that they define for themselves.
The BLOCK Project asks a level of commitment from its participants—allowing another person to enter their life and reside on their property, perhaps permanently—that extends far beyond the engagement usually asked of volunteers. But it has a dozen Seattle families on its waiting list to host a dwelling. "At the minimum basic level, it is about giving back a little bit of your backyard for this home to be built, but it is also about opening your heart to a stranger," Gupta says. "I am amazed at the amount of trust they put in us as an organization."
Many of the 2020 Renewal winners are now looking to replicate their own successes elsewhere. Davidson hosted a gathering in Pittsburgh for groups pursuing similar refugee-assistance programs; Henson has launched C2C University, an online portal that provides guidance and mentors for a much bigger pool of potential interns than her core Capitol Hill program and helps place them in public-policy positions beyond Congress; and the BLOCK Project is exploring expanding to other cities in Washington State.
All believe that this moment of intense national focus on racial bias could loosen the grip of entrenched inequities. Yet each of these groups also testifies to the persistence—the civic stamina—that is required to turn energy and outrage into durable change. Goode eloquently expressed the tenacity that the 2020 Renewal winners exemplify—and that today's movements will likely need to match to leave a lasting mark.
"The opportunity that I see here" is to "never again … turn away from systemic racism," he said. "Justice is a journey. And we have to all be bought into traveling that together. That's what people have to understand: What you are signing up for has no end. That's where the power, and the pathos, of this moment lives."