Trump Could Still Break Democracy's Biggest Norm
Some of the president's opponents fear that he'll refuse to leave the White House if he loses the election. Here's why.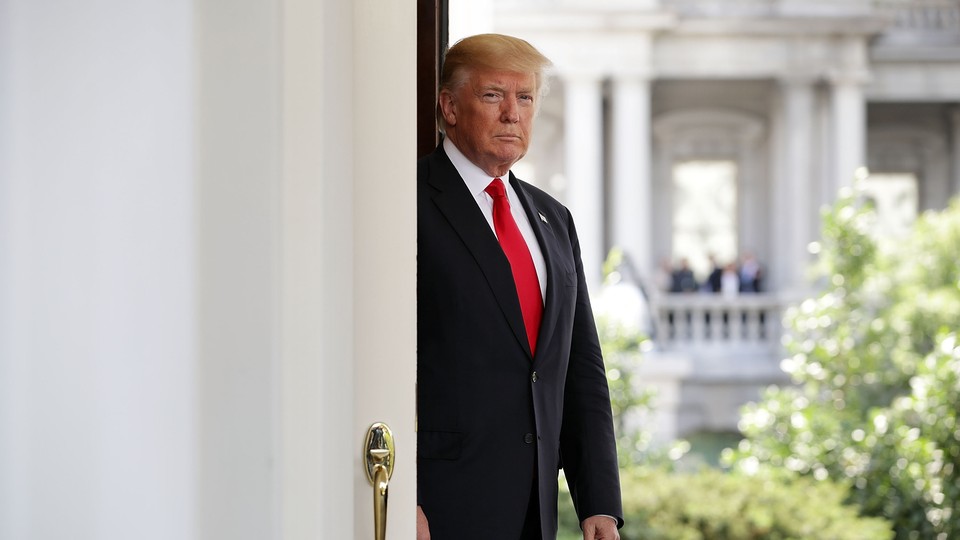 Say Joe Biden wins the presidential election in November. On the morning of January 20, Donald Trump will enter the Oval Office and leave a handwritten letter to Biden on the Resolute desk. Later, Trump and his wife, Melania, will stand in the White House's North Portico to await a visit from the president-elect and his wife, Jill. After the armored limousine glides up the driveway, the couples will exchange pleasantries and maybe gifts before heading inside for coffee.
Trump's pictures would already have been slipped from oversize frames that, for the moment, hang empty on the walls. Workers will pull down drapes and roll up carpets that don't suit the incoming family's aesthetic. Sometime before noon, the couples will leave the White House in separate cars and meet again on the Capitol's west portico. Trump will be in the front row, watching as Biden places his hand on the Bible and takes the oath of office. Back at the White House, Trump's senior aides will pack up and leave. After the ceremony, the 45th and 46th presidents will walk side by side to a waiting helicopter on the Capitol plaza for a final goodbye. Trump will salute, board, and fly away.
Or maybe not.
Every four or eight years, the clock hits noon on January 20 and the nation learns whether the old president accepts the legitimacy of the new.
"The current presidential term ends at noon on January 20. Full stop," Joshua Geltzer, a Georgetown Law professor, told me. If Biden wins, that's the precise moment when his term would start. It's democracy's most dangerous instant: the interval when power changes hands, testing whether the nation stays moored to self-governance.
That tradition's endurance depends on Trump's cooperation—or the resiliency of the country's democratic institutions should he withhold it. There's no assurance that Trump will accept the validity of the election results. He's already described mail-in voting as a plot to steal the election. And he's trolled critics with the tongue-in-cheek suggestion that, by popular demand, he might stay in office beyond the Constitution's eight-year limit.
.....news is that at the end of 6 years, after America has been made GREAT again and I leave the beautiful White House (do you think the people would demand that I stay longer? KEEP AMERICA GREAT), both of these horrible papers will quickly go out of business & be forever gone!

— Donald J. Trump (@realDonaldTrump) June 16, 2019
Trump could win, of course. But if Biden sweeps enough battleground states in convincing fashion, any claim that Trump was robbed of victory would be ludicrous on its face. At noon on January 20 he'd no longer be president, and if he boycotted the rituals surrounding the presidential handoff and holed up inside the White House, he'd be squatting. "He can sit in the Oval Office and put his hands together and say, 'I'm not going to leave,' but … the transfer of power will occur with him or without him," Jonathan Wackrow, a former Secret Service agent who was a member of the presidential protection detail and was at work the day Barack Obama took over from George W. Bush, told me. In an interview with Fox News on Friday, Trump said that he would accept defeat, that if he lost, he'd leave. "Certainly, if I don't win, I don't win," he said, adding that he would "go on, do other things."
Senator Lindsey Graham, a South Carolina Republican and Trump confidant, told me that he does not believe Trump would defy the electoral verdict: "I'm not buying into that nutty stuff. I'm not worried about that."
Trump's opponent isn't so sure. Speaking with Trevor Noah on Wednesday, Biden predicted that the military might be called on to evict Trump if it came to that—and that it would willingly comply. "I am absolutely convinced they will escort him from the White House with great dispatch," Biden said.
Making the moment more harrowing might be an election that is both close and contested—a more plausible scenario than a Trump wipeout. In Michigan, the outcome could hinge on mail-in balloting, which Trump has sought to discredit. He's already previewed his objections to postelection recounts that don't go in Republicans' favor.
The Florida Election should be called in favor of Rick Scott and Ron DeSantis in that large numbers of new ballots showed up out of nowhere, and many ballots are missing or forged. An honest vote count is no longer possible-ballots massively infected. Must go with Election Night!

— Donald J. Trump (@realDonaldTrump) November 12, 2018
If Biden were to notch a narrow victory, Trump could look to contest the results and claim he'd actually won. He could put the military and other tools of presidential power in an awkward spot, pressuring them to pick sides and untangle competing claims about who won. A supine Justice Department led by Attorney General William Barr might bolster Trump's claims by putting out statements that the vote was tainted.
"It's really hard for anyone in the military, at any level, to say anything other than 'Yes, sir.' They're not lawyers," Rosa Brooks, a former Pentagon official in the Obama administration and a professor at Georgetown Law, told me.
The potential for chaos exposes the frailties of an electoral tradition that depends on the goodwill of the two candidates involved. If one won't cooperate, the system seizes up. The nation survived a couple of scares, but only because the loser was willing to fold. In 2000, Al Gore conceded the race when a divided Supreme Court stopped a recount in Florida, locking in George W. Bush's narrow victory. When he bowed out, Gore ended his career in elective politics, a gesture that Trump might not be so quick to emulate.

Lawrence Douglas, an Amherst College professor, published a book this year called Will He Go? that lays out nightmare scenarios arising from a contested election: dueling claims about who won, with Congress and the courts unable to resolve the dispute. "In 2020, we have no Al Gore to save us from a complete electoral meltdown and the unrest and violence it could unleash," Douglas wrote.
In an interview, Douglas told me: "If people really prepare to engage in constitutional brinkmanship, the system isn't particularly designed to deal with that type of person … It depends on people having internalized the norms that make a constitutional democracy work."
Trump's political career is the story of norms upended. He's denigrated war heroes and sparred with Gold Star families. Would he honor one of the nation's most precious norms—the peaceful transfer of power—if it meant admitting failure?
When the fateful moment arrives, Trump would need to accept the same sobering reality that Gore absorbed: He lost. What some in Washington ask is whether he'd be in denial.
Representative Adam Smith, the Democratic chairman of the House Armed Services Committee, told me that he once spoke with a senior White House official and asked about Trump's intentions in the event of a defeat. "I said, 'There's a lot of concern that if your boss loses he's not going to leave,'" Smith said. "And he said, 'No, that's ridiculous. Of course he would.'" Smith wasn't reassured. "There's a zero percent chance that he would gracefully transfer power," he told me. "The best we can hope for is that he would ungracefully transfer power."
Brooks, the Georgetown Law professor and former Obama official, is helping lead an informal bipartisan group called the Transition Integrity Project that is looking to ensure the election and potential transition go smoothly. More than 60 people are involved, including former governors and Cabinet secretaries. They're planning to meet on Zoom in the next few weeks and hold "tabletop" exercises meant to think through various scenarios: a narrow Trump defeat, a clear Trump victory, and a resounding Biden victory among them. They'll game out what might happen if Trump and his supporters use social media to intimidate the election workers tallying votes, or if he refuses to leave in the event of defeat, among other possibilities, participants told me.
Abroad, some are watching uneasily to see if the two-century-old American experiment wobbles. "I care about that, because over the years the United States and its allies have been able to draw on their moral authority to call out autocrats and dictators who steal elections, and say, 'That is not okay,'" Peter Westmacott, the former British ambassador to the United States, told me. "If we can't do that anymore, both our values and our moral leadership are in jeopardy." Arturo Sarukhán, the former Mexican ambassador to the United States, told me that the election "could be a domino setting off a chain of events around the world. It will be used by autocratic regimes, by rivals of the U.S., and by countries that are chipping away at the democratic foundations of nations as show-and-tell."
All the polite Inauguration Day niceties serve a purpose: hardening those foundations. Even the letter counts for something. Obama began his note to Trump with three words accepting a result he'd labored to prevent: "Dear Mr. President."
Watching from his front-row seat while Biden takes the oath of office would be a powerful signal to Trump's disappointed voters that he's freely ceding power to his legitimate successor. Would he attend, or would he decamp to Mar-a-Lago? Images of a White House makeover might be too painful for a fragile ego to bear. Everywhere he looked, he'd find signs of his repudiation. Peering out the north-facing windows, he'd see the special viewing stand for Biden to watch the inaugural parade march down Pennsylvania Avenue. "I don't see him leaving willingly, based on what I've seen of how he's used his position," William Cohen, a former Republican senator from Maine and the defense secretary in Bill Clinton's administration, told me. "He does not believe he's subject to any constraint."
Or Trump could win. Then a transfer-of-power crisis would be averted at least until 2025, when the nation would discover whether Trump is indeed joking when he says he'll stay in office into the next decade.