Donald Trump's Other Bunker
The Tulsa rally will be a safe space for the president—physically, psychologically, and politically.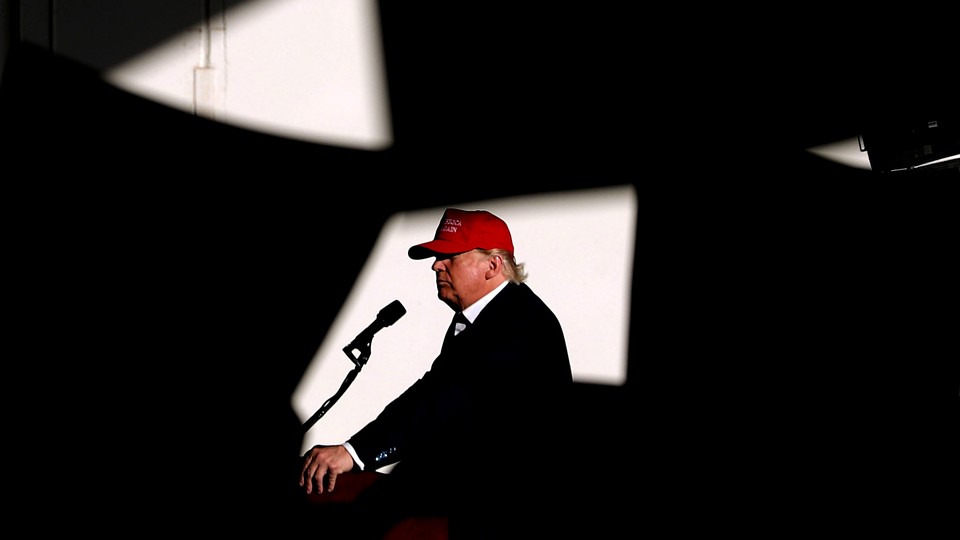 One person who's unlikely to fall ill at Donald Trump's Tulsa rally is Donald Trump. When jubilant supporters peel off their masks and whoop their approval as he torches Joe Biden, rest assured that the president will be a safe distance from any pathogens spat into the air. It's the crowd that's at the most risk.
Trump's arrival at the BOK Center on Saturday plunks him into the safest of spaces. Security measures will minimize his exposure to the coronavirus. Adoring crowds will gratify a craving for recognition. Attention paid to his first rally in three months could give his flagging campaign a needed jolt. Tulsa, then, amounts to a salve for a president who needs one.
Someone's bound to get sick, as Trump knows. Rallies posed public-health dangers when he called them off in March, and not much has changed since. At least two members of his coronavirus task force, Anthony Fauci and Deborah Birx, have privately cautioned him that large crowds are a vehicle for transmitting the disease, said an administration official who, like others I talked with for this story, requested anonymity in order to speak candidly. Even Trump conceded in an interview with The Wall Street Journal that some people watching his performance might contract the virus—"a very small percentage."
Anyone who catches the disease will have sacrificed their health for the televised illusion that Trump is in control, the virus is in retreat, and the country is back to normal, when in fact cases are hitting record highs in Oklahoma and elsewhere and millions of people are out of work. Trump's team is expecting the 19,000-seat arena to be full, a campaign spokesperson told me, with attendees packed shoulder to shoulder. They'll be getting temperature checks at the door, and the campaign will offer masks. But many will likely decline, taking cues from a president who refuses to wear a mask in public or acknowledge either his own vulnerability or the epic crisis that happened on his watch.
Of course, Trump has that luxury. He lives in an artificial bubble built for his safety: He's tested regularly for the virus, and no one gets near him without first getting a nasal swab of their own. Invisible to the public, these sorts of precautions maintain the tough-guy image Trump tries to sell to his followers. But that persona is getting harder to sustain. His own frailties and fears are becoming more conspicuous, the incongruity between image and reality more glaring. Speaking at a commencement ceremony at West Point last weekend, Trump seemed to struggle to lift a water glass to his lips and then shuffled down a ramp on his way out, apparently worried that he'd fall. As I wrote last month, he seemed rattled by the protesters amassed outside the White House gates, taking the unusual step of broadcasting to the public the specific ways he's guarded and shielded from the crowds. At one point, he was rushed to an underground bunker for his protection, the disclosure of which angered him enough that he tried to explain the incident away as an "inspection" of his fortified hideaway.
Rallies soothe a president who craves validation. For a couple of uninterrupted hours, he's bathed in the adoration of his base. Even his allies describe the events as affirming moments important to Trump's psyche. "He personally needs to have those big rallies," Dan Quayle, who was vice president under Republican President George H. W. Bush, told me. "He believes—and I think he's right—that he won the election in 2016 because of the rallies. You look at those swing states and the small amounts he won by—I think he's correct."
"The rallies are oxygen for him and the attendees psychologically—to feel the love," Ralph Reed, the founder of the Faith and Freedom Coalition, told me. "Being tied down for months on end in Washington is never good for any president, but especially not this president."
The events are also a way to divert attention from the grinding troubles Trump faces back in Washington: double-digit unemployment, smoldering racial tensions, and a rolling pandemic. Trump now trails Biden by about nine points in the RealClearPolitics average of national polls, compared with five points a month ago. Surveys show the former vice president leading in the trio of battleground states that propelled the president to victory in 2016: Wisconsin, Pennsylvania, and Michigan. Internal polling in recent weeks has also shown Trump struggling against Biden in swing states, two people close to his campaign told me.
Some supporters I've spoken with believe Trump's message needs work if he wants to regain lost ground. "The president has to communicate more effectively that he's the president of all the people," Newt Gingrich, the former Republican speaker of the House, told me. "And also that there are serious problems that have to be solved, including issues of African Americans and the inner cities." (Quayle, meanwhile, wants to see Trump surrender his phone. "I wish he would stop tweeting," he said. "Governing by tweet is not the way I would govern. But he's not going to change.")
Trump doesn't seem likely to roll out a new message. But even if he wanted to, Tulsa doesn't seem a natural place for it. By picking Oklahoma, Trump isn't making a courageous choice; he's making what for him is the safest choice. He's not venturing into a battleground state, whose voters he needs. He's avoiding states led by Democratic governors who might insist on public-health protocols that dampen turnout (think Michigan). Instead, he's hosting the rally in a bright-red state that he won by 36 percentage points in 2016—almost guaranteeing a huge crowd and fewer protesters than he'd have in a bluer state.
Oklahoma is also led by a Republican governor who's thrilled to have him in town. Tulsa Mayor G. T. Bynum, one of comparatively few Republicans running a major American city, has called Trump's visit an "honor." (Tulsa health officials aren't as enthusiastic. In a statement, the city health department said that it is "concerned about any large gathering of people in enclosed spaces where social distancing is difficult to maintain." Another reason Trump skeptics criticize the event: The city is the site of the 1921 massacre of hundreds of African Americans, and Trump was originally scheduled to hold it today, on Juneteenth.)
Having Oklahoma play host signals to Trump's core supporters that he's still loyal to the reliably Republican heartland states that got him elected the first time, one of the people close to the campaign told me. A bonus is that it borders Texas, where Trump's race with Biden is proving closer than anticipated. Yet Oklahoma isn't where the 2020 election will be won or lost.
A few months back, Trump's trade-off seemed to be that he'd hunker down in the White House and accept a dip in the polls. Now the calculus looks to have changed. Self-preservation is what matters—his own. So Saturday will find him in Tulsa: a new bunker of sorts, where he's insulated from critics and from disease.