This Is How Trump Wants to Be Seen
Amid protests around the country, the president deployed the federal government's firepower to try to rehabilitate his image.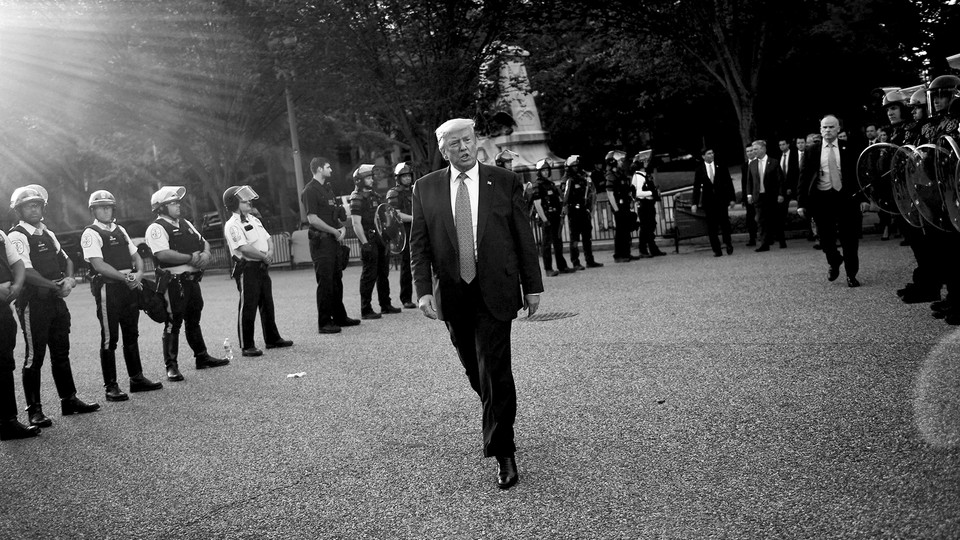 In the span of 20 minutes, President Donald Trump manufactured a moment meant to showcase two qualities he's never really displayed: physical courage and religious feeling.
Americans have seen little of Trump in recent days as protests over the killing of George Floyd have erupted in the nation's cities. A president who's cultivated a tough-guy image seemed to be intimidated, cowering inside the White House compound.
Unhappy with that narrative, Trump tried to swap in another. He wanted to signal to his core voters that he'd protect their values and keep them safe. He wanted to be seen as strong, ruthless, and pious. And he was willing to deploy the federal government's firepower to make it happen.
So he commandeered the nation's attention with the choreographed precision of a onetime TV showman. Late in the afternoon, Trump tweeted that he'd be making a public statement. Minutes before he began, police converged on the peaceful protesters massed outside Lafayette Square, just north of the White House, pumping tear gas at them and pushing them back with an imposing line of officers on horseback. Nothing the crowd had done provoked the show of force, but the reason for it soon became evident.
Trump strode to a Rose Garden lectern set against a backdrop of four flags. Between explosions audible on news broadcasts, Trump proclaimed himself the president of "law and order," calling on mayors and governors to use decisive force to defend residents and announcing he'd deploy the military to assist. He vowed to keep Americans safe while showing respect for "the righteous cries of peaceful protesters." But the speech was just part of the spectacle. After he finished, he said he wanted to pay homage to a "very special place." He left the White House's north entrance and headed on foot toward St. John's Episcopal Church, which had been damaged by a fire set the previous night. He passed the park and crossed H Street, as the noxious gas caused some in his entourage to gasp.
The peaceful protesters whose rights Trump had championed just minutes earlier had stood in the way of his walk. For that, they became a casualty of what Trump may hope will be the enduring photo op of his presidency.
"I imposed a curfew at 7 p.m.," Washington D.C. Mayor Muriel Bowser tweeted afterward. "A full 25 minutes before the curfew & [without] provocation, federal police used munitions on peaceful protesters in front of the White House, an act that will make the job of [city police] officers more difficult. Shameful!"
Trump's stop at the church was brief, but suited his purpose. Arriving outside, the president stood straight and held up a Bible. "Greatest country in the world," he said. Photographers took pictures; cable news covered it live. Perhaps voters would see him as a president in command, reclaiming streets that had been flooded with protesters minutes before.
Trump doesn't regularly attend church services. He drew ridicule during the 2016 campaign when he referred to a Bible verse from "Two Corinthians," instead of "Second Corinthians." But Christian conservatives are among his most loyal supporters, and he's cultivated them for years, especially during the ongoing coronavirus pandemic. Last month, Trump called on governors to consider places of worship "essential services" and keep them open during the pandemic, and he threatened to "override" those who refused. (The Constitution doesn't grant him such powers.) With his calls for order, he may have had other constituencies in mind too.
"The president wants to make it a reality-TV show of God and country: Call out the military, and then I go to church and hold up the Bible," New York Governor Andrew Cuomo told CNN in an interview afterward.
Having gotten the images he wanted, Trump left and walked straight back to the White House. Earlier in the day, he had held a conference call with governors and said that some had been "weak" in quelling the protests. Trump's own brand, though, was built on celebrity, not bravery. He skipped the Vietnam War and lived the pampered life of a wealthy businessman and, later, a reality-TV star.
As I wrote earlier this week, one of his predecessors, Richard Nixon, once waded into a crowd of anti-war protesters at the Lincoln Memorial. He hadn't given his staff advance notice and had a minimal security presence. By contrast, Trump's outing today never put him at any real risk. He was surrounded by Secret Service and never far from police in riot gear.
Trump may feel he quashed talk that he's isolated in a White House bunker. If that was the idea, though, it came at considerable cost, forcibly disbanding the sort of peaceful demonstration the Constitution protects. The stunt was a reminder, too, of the power of the presidency. In Washington tonight, protesters were fleeing up 16th Street, blinking tear gas from their eyes, because one man wanted a picture of himself holding a Bible at a church.