Trump's Blank Vision for a Second Term
Strip out the hyperbole and insults, and not much is left in the president's campaign messaging for undecided voters.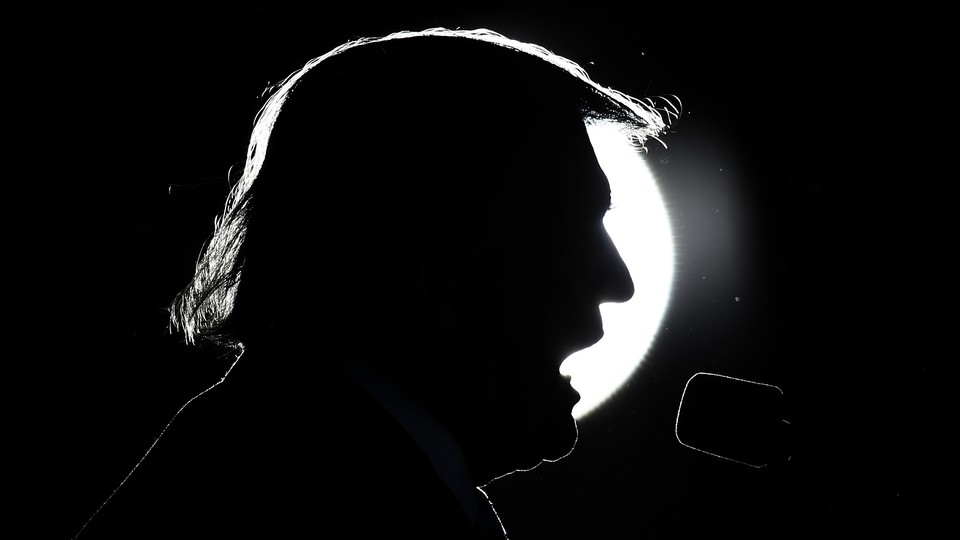 For a president who narrates his fleeting thoughts, Donald Trump has been conspicuously silent about one looming question: what he might do in a second term. There's civic value, of course, in telling voters how he might dig out of the current economic calamity or end a pandemic that's worsening by the day. But the emptiness of Trump's message is an important reason his reelection prospects have soured. Trump has one imperative in the November election, really only one way to win. He needs to make the race a choice between himself and Joe Biden, rather than an up-or-down verdict on his own performance and persona. And he's not doing that.
Strip out the hyperbole and boasts, the theatrics and insults, and not much is left in Trump's campaign messaging to guide the undecided voter who might wonder how the president's second term would stack up to Biden's first. This week, a friendly interviewer asked in the gentlest of terms what Trump has in mind for America if he wins. He gave no real answer.
Trump is, at some primal level, a showman who takes pride in giving his audience the performance they came to see. But some of his own advisers are dubious that his incessant focus on self is enough to carry him in November. He needs something to talk about other than Donald Trump, if for no other reason than a majority of the population seems fed up with the act. Over the past three and a half years, he's never hit 50 percent in Gallup's job-approval rating, and he now stands at 39 percent, an alarming number, given how no president since Harry Truman has won reelection with an approval rating lower than 40 percent.
Devoting a full 14 minutes at last week's Tulsa, Oklahoma, rally to reliving his bout with a water glass and a ramp at the recent West Point graduation ceremony may have fed his ego, but it isn't a substitute for a policy blueprint. It's filler that exposes the vacuity of the second-term planning, said one of Trump's political advisers, who like others I talked with for this story spoke on the condition of anonymity to speak frankly. "I guess if I don't have a message of why to reelect me, I'll go and give you the story about how tricky the ramp was," this person said, channeling the president.
Every day brings fresh signs that Trump's path to reelection is narrowing. COVID-19 cases are spiking throughout the country, including in states he won four years ago that are crucial to his reelection. With unemployment at levels not seen since the Great Depression, he trails Biden by a full 10 points in the RealClearPolitics average of national polls. He's behind in not only the three battleground states that propelled his victory in 2016—Wisconsin, Pennsylvania, and Michigan—but even Arizona, a state where Republicans won 11 of the past 12 presidential races, dating back to 1972. Another warning sign was the thousands of people who stayed away from the much-hyped Tulsa rally. "It was a personal embarrassment to him," a senior Trump-administration official told me. "Someone's head is going to have to roll."
Even some voters sympathetic to Trump are losing patience. Kate Harper is the sort of Republican voter Trump should have locked in by now, living in a part of the country where he's bleeding support. A former state representative from the Philadelphia suburbs, Harper voted for him in 2016 and might do so again. But her conviction has waned as she's seen his tweets and watched his handling of the ongoing protests against police violence and systemic racism. Harper, 62, is now looking to see who Biden chooses as his running mate as she weighs her choice. "Like everyone else, I wish life would return to normal, and that would require us to be able to go back to work, and to get people in the Black Lives Matter movement to believe something positive is happening," she told me. "I don't think that Trump is leading correctly … I wish he would just stop tweeting."
Yet the race is still salvageable if Trump can manage to draw a more distinct contrast with Biden's record and ability, Peter Hart, a longtime Democratic pollster, told me. "There's no way he wins if voters say, 'Well, do I want Trump for another four years or don't I?'" Citing Trump's consistently low approval rating, he said, "They've already answered that, and answered it definitively."
"But can he win a choice election?" Hart continued. "The answer is yes."
One obstacle is that Trump is up against a candidate who will never be quite the same foil he found in Hillary Clinton. Over decades in public life, she was a magnet for critics, who rehashed her role in assorted controversies with obsessive attention. Shadowing her throughout the 2016 race were inquiries into her use of a private email account as secretary of state during Barack Obama's first term.
Biden just doesn't inspire the same sort of animus. No one is screaming "Lock him up!" at the mention of Biden's name. "Meh" is more like it. Biden's negative rating was 38 percent in a Wall Street Journal/NBC News survey this month. At the same point in the 2016 race, 55 percent held a negative view of Clinton.
Trump has tried to draw distinctions between himself and Biden, but his attacks thus far have fallen flat or boomeranged. His focus on Hunter Biden's business dealings in Ukraine resulted in his own impeachment. Trump has sought to portray the former vice president as a stooge of China, while also accusing him of botching the Obama administration's response to the H1N1 swine flu years ago. (Joe Biden's role was small, and after-action reports showed that the administration's handling of the crisis was largely effective.) Neither argument seems to have caught on. Lately, he's been trying to cast Biden as befuddled and feeble. A new Facebook ad released by the Trump campaign calls Biden "clearly diminished" and says that he, at 77 years old, lacks the "strength, stamina, and mental fortitude" that the presidency demands.
Yet that line of attack exposes Trump, 74, to criticism that he suffers from the same disqualifying infirmities he's hung on Biden. (One of Trump's habits, as I've written, is that he projects his own vulnerabilities onto rivals.) At the Tulsa rally, he said Biden often botches the name of the state he's in. Minutes later, he mispronounced Minneapolis. He called the 2020 election the "220" election. Though he says Biden doesn't have the needed vigor for the job, he complained that he was hot and worn out from saluting hundreds of cadets during the ceremony at West Point. "He's exhausted from saluting 600 guys who are going to war for us? Whew," the Trump political adviser told me, incredulous.
No one will ever mistake Trump for a wonk. But there were moments during his 2016 race when he did spend time laying out concrete policy ideas. He said he would drain the swamp, unveiling a five-point plan for ethics reform in two campaign speeches; circulated a list of judges he'd consider for the Supreme Court; and pledged to restore manufacturing jobs by reworking foreign-trade deals. Whether he stuck to them is another issue, but at least he set a benchmark for evaluating his first-term record.
On Thursday night, Fox News aired an interview in which Sean Hannity asked the president what his "top priorities" would be in a second term. Hannity teed up the question in helpful fashion, inviting Trump to explicitly distinguish himself from Biden and define the choice voters face in November. Instead, Trump talked vaguely about "experience" and how he now knows many people in Washington (the same could be said of Biden), before segueing into an attack on former National Security Adviser John Bolton, who wrote a tell-all book depicting Trump as incompetent.
If he chose to, Trump could clarify how exactly he'd restore the economy ravaged by the coronavirus, beyond repeating over and over that he'd pull it off. He could sketch how a post-COVID-19 America might look, and describe the federal government's role in reviving moribund industries. He'll no doubt face such questions in the three presidential debates this fall. But he seems to have concluded that the answers don't count for much. He's what matters, not the ideas.
His allies seem skeptical. Karl Rove, a senior campaign and White House adviser to George W. Bush who informally advises the Trump campaign from time to time, told me that the economic downturn triggered by the pandemic "does require him to have a second act. He's going to have to not only say, 'Trust me, I'll get us back to where we were,' but also, 'Here are the new things that I'm going to do.'"
Senator Lindsey Graham, a South Carolina Republican who ran against Trump in the 2016 primary and then became one of his confidants, told me that "the only thing I know about Trump on the ballot is, I don't know much about Trump on the ballot."
Even if the economy recovers, Trump could be in trouble, depending on voters' calculus, Graham said. "Is it going to be, How am I doing and how is my business doing? Or is there so much fatigue with Trump that they're willing to turn the page even if things seem to be getting better? Democrats want to make this a referendum on the personality of Trump."
They do, indeed. Two campaigns, with two different missions. Biden's would seem the easier one. All he may need to do is recede and let Trump, with his knack for self-sabotage, command the attention he craves anyway.