'If You're Still Comfortable, You're Not Doing Enough'
Jumaane Williams, New York City's second-highest elected official, shares advice for protesters and his hope for change.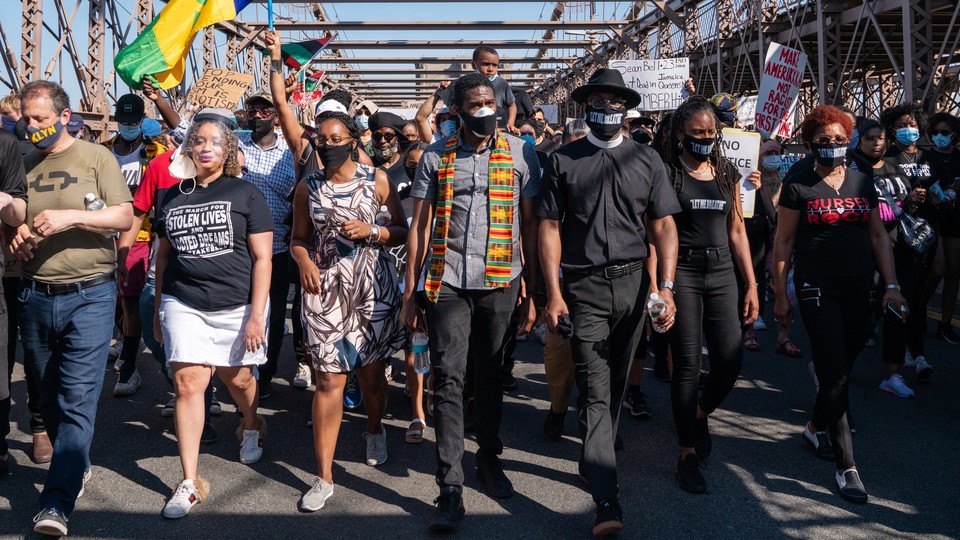 Jumaane Williams is a progressive activist who's worked to change policing for years. He's also New York City's public advocate, its highest elected official after Mayor Bill de Blasio. He's been a fixture at New York protests for years—from Occupy Wall Street to Ferguson to Eric Garner—and he thinks this moment could be different, if Americans are willing to have an honest conversation.
Listen to his interview with Edward-Isaac Dovere here:
Subscribe to The Ticket on Apple Podcasts, Spotify, or another podcast platform to receive new episodes as soon as they're published.
---
What follows is an edited and condensed transcript:
Edward-Isaac Dovere: So you refer to yourself as an "activist elected official." Can you explain what that means?
Jumaane Williams: I very intentionally didn't want to drop my "activist" title. I was told very often that I was too much of an activist. That I had to change when I got to the council, that I had to be different. And I always said the best elected officials are activists.
Dovere: You have been arrested in protests. You went to trial. That is not the usual thing that we get out of politicians.
Williams: I believe in using every tool in the toolbox. I've always been a believer in Kingian nonviolence. I believe that civil disobedience is a tool that is necessary at times. I believe I have some privilege. I'm a cisgendered straight male. I'm an elected official. And I believe the more privilege you have, you have a responsibility to try to protect folks. And I use every tool. Particularly in a time like this, if you're still comfortable, you're not doing enough. And we have to make ourselves uncomfortable in a time like this.
Dovere: You have been part of the protests at all sorts of moments. And it seems like we get to these explosive moments after Ferguson, Occupy Wall Street, Eric Garner. Does what's happening now really feel different?
Williams: I feel like this time is for several reasons. One indication is when NASCAR said they'll no longer fly the Confederate flag. That was to me like: All right, there may be something a little different happening. On top of that, the rainbow of colors that are now screaming "Black Lives Matter" is a lot different than even just a few years ago. We've always said: If we're going to attack the systems of privilege, the people who feel the privilege the most need to be out there.
Dovere: It took New York more than five years to fire the officer whose choke hold killed Eric Garner. Minneapolis fired the four officers who were responsible for George Floyd's death the next day. They are now facing charges. Is that progress?
Williams: I would say it took Bill de Blasio five years to do this. And I want to point out that there are officers who are responsible for Eric Garner's death that have never been brought to account. There are officers who killed Delrawn Small and others who were never brought to account, so there are a lot of things that we have to get done.
If you want to say things in certain areas are better, you have to say that. But when people say we've made progress, it's usually to pacify, to say "Stop pushing for more," as if people are simply not deserving of equity and justice. The police department I came in with as a city-council member is different than the one that we have now. And I have to admit, there are some things that are better. But the parts that we haven't moved much on are really bad: transparency and accountability.
Dovere: You have pushed through police reforms in some measure, and it's obviously not to the extent that you want them to be. If you were to give advice to people around the country who are now starting this process, what would you say to them about how to actually go about getting reform done?
Williams: I try to not use the word reform as much as possible. We need an entirely new system because the system laid out now is working how it was designed to work. You look at how the system of policing was born in this country, you look at how this country was formed, and it's not coincidental that these problems are going on. If the forefathers woke up, they might ask, "Why did we have a black president?" or, "Why are the women voting?" But other than that, they would say, "Pretty good job of pushing forward the system that we began way back when."
And so we need an entirely new system. We have to rethink what public safety is. "Reforms" are great and we have to have accountability and transparency. But if we're not rethinking fully and totally what public safety is, then it's going to manifest some other way, because we have to address the issues that we keep sending police to deal with. Sending police to solve everything in a society is not fair to the police officers and certainly not fair to the communities that the police officers go into, because they're not equipped to solve everything. If we keep equating public safety with policing, we're not doing that great.
Dovere: What do you do about police unions? Because they're the ones that are usually aligning very strongly against any changes.
Williams: Police union heads, at least in New York City, would make great police chiefs in the Jim Crow South. They have been terrible in trying to have discussions for better policing and safety. Just horrific. They've just never wanted to come to the table. This is the first time, after weeks, I've heard somebody in the police union mention that this was not a good showing. They're usually just defending police officers. They have played a very bad role here. But I believe workers should have unions and they should organize. And so my hope is that members organize for better leaders and a better voice, because they're not doing a good job. Unions have way too much power. I'm happy to see them scrambling now, as many people are, really, for the first time I've seen, saying: "We're not going to be bullied by your power."
Dovere: You're talking about this from the perspective of somebody in New York. New York is one of the most Democratic states in the country. I came up covering New York politics. There are not a lot of Republicans around. In 2013, when Bill de Blasio won as mayor, saying that he was the great progressive champion, there were a lot of other progressives who were elected then. You were already on the city council, but you got a lot of new colleagues who were progressive. I wrote a story then with people saying that maybe this is going to be the great progressive experiment for the country to see. And obviously, that's not the way the last seven years has played out.
If you can't get the kind of change that you think needs to be there in such a Democratic state, in such a Democratic city, how do you tell anybody else around the country to look at this and say there's going to be the progressive change you want it to see?
Williams: Democrats have been part of the problem. Democrats like Andrew Cuomo. Sadly, the Bill de Blasio that interviewed for the job seven years ago turned out to be a totally different Bill de Blasio. Democrats have suffered from the same status-quo protection program that Republicans have suffered from, and that's been a problem. If your response to the pandemic and to the protests have the same impact … to the same communities, what's the difference if you're a Democrat or a Republican?
Democrats have now risked the entire country on Joe Biden, on more of the same, who has said that we want to go back to a time before Donald Trump. And most of us are saying "No the hell we don't." Because that time didn't work for a lot of folks.
Dovere: We started off talking about you being an activist elected official. You were at the front end of people who were more activist getting into politics. When you look at it from the vantage you have, of a decade of trying to do this, what would you say to the progressive candidates entering office now?
Williams: I just want people to know it's more difficult than they'd think. Two things there have always surprised me: how hard it is just to do the right thing—the thing that everybody agrees with—and what people will not do it for. That has always just been amazing to me, how little you won't do it for … a title … a couple of dollars that don't even go that far. And look, I'm a human being. I can't act like I'm above reproach on everything, but I feel like my batting average is pretty good. I want folks to understand that our seats are not more important than the people we represent. They're just not.
And there are points where you have to risk it. I didn't get elected to get reelected, and I didn't get elected to go to higher office. I got elected to do a job for the people of my district. And I hope the people will come in and understand that, because it is hard to do the right thing. It's hard when the mayor, the governor, or the speaker calls. And they promise you this. And they promise you that. You just got to block it out and stay focused. And sometimes if you're by yourself, but it's the right thing to do, it's okay.
Ten years ago, I was "crazy lefty Jumaane," who was an activist fighting against a billionaire mayor and a very powerful police commissioner. Ten years later, I'm the second-highest elected official in the city of New York. That's wild.