What Really Brought Down Steve King
The primary campaign against the Iowa Republican wasn't about his racism.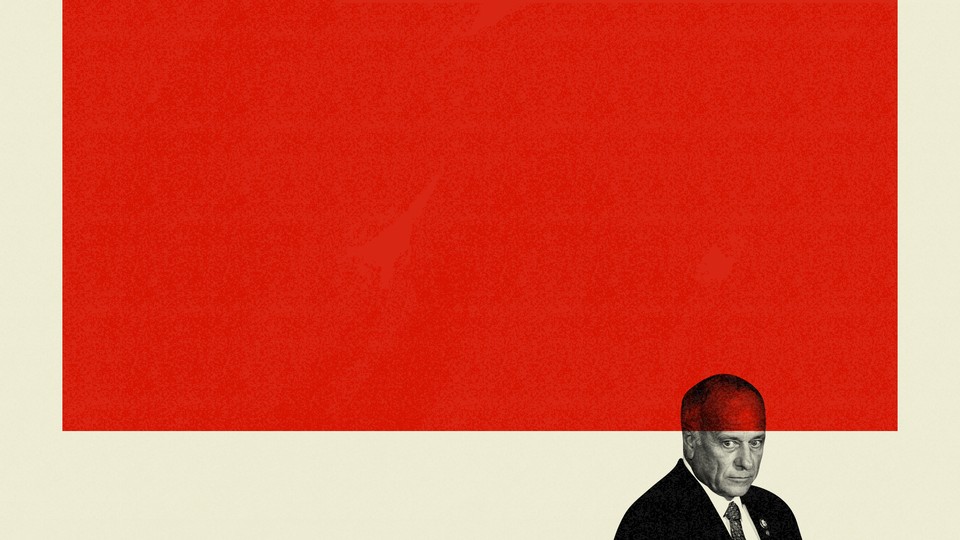 In the 24 years he's been in politics, Steve King, the Iowa Republican who has spoken of immigrants with "calves the size of cantaloupes" and cautioned that Americans cannot "restore our civilization with somebody else's babies," had never lost an election. Last night, as Americans across the country continue to march in the streets, protesting racism and police brutality, that changed.
The 71-year-old, who faced a slew of well-qualified candidates in the state's GOP primary, lost to State Senator Randy Feenstra by more than nine points, with almost all districts reporting. "I am truly humbled," Feenstra wrote on Twitter. "Thank you to each and every person who supported us on this journey against all odds."
The campaign may have been the fight of King's political life, but it didn't actually involve much talk of his racism. Throughout the past few months, King's Republican opponents chose not to focus on King's rhetoric; instead, they endeavored to portray the congressman, who has been removed from three committee positions, as just another ineffective, complacent career politician. Which is to say that the message Republicans sent to King was not a condemnation of his racist comments, but rather a broader denunciation for an even graver political sin: putting a safe seat in danger. That concern has now decreased significantly. Many Republicans I talked with believed that any other nominee would have a better chance to beat the Democrat.
King first flew onto the nation's radar back in 2013, when he made the "cantaloupes" comment during an interview with Newsmax. Three years later, he warned on Twitter that "cultural suicide by demographic transformation must end." In 2018, he met with a member of a Nazi-linked party in Austria, just after 11 worshippers were killed in an attack on a Pittsburgh, Pennsylvania, synagogue. That year, King attracted a formidable challenge from the Democrat J. D. Scholten, a former Minor League baseball player from the area who's running for the seat again this year. King defeated Scholten in the November midterm election—but only by three points, his closest margin of victory ever, and in a heavily Republican district.
The closeness of the race alarmed Republicans nationwide, and spurred King's opponents in Iowa to action. Four Republicans announced challenges to King: Feenstra; Jeremy Taylor, a former state legislator; Bret Richards, a local businessman and former mayor; and Steve Reeder, a real-estate developer. Feenstra, who outraised King in the first quarter of the year by nearly $400,000, earned the endorsement of party leaders such as former Iowa Governor Terry Branstad and the National Right to Life Committee, and by the end of the campaign he had caught up to King in the polls.
Another fear for many Iowa Republicans: Scholten is better known now than he was two years ago. "King is a boogeyman and a fundraising motivator," Douglas Burns, an Iowa columnist and a co-owner of Herald Publishing House, told me last week. "If King is the candidate for the Republicans, there will be a massive amount of outside money that comes in to support Scholten." Tuesday's contest was about more than the Fourth Congressional District too. Some GOP strategists worried that a King nomination would increase Democratic turnout, jeopardizing Donald Trump's chances of winning the state in November—and the reelection of Senator Joni Ernst, who is facing a strong challenge from the Democratic real-estate developer Theresa Greenfield.
But unseating an incumbent, even one like King, is a struggle. Back home in Northwest Iowa, he still has many loyal supporters—people who feel devoted to him in much the same way that President Trump's supporters have remained faithful through wave after wave of controversy. They view King as a victim of baseless media smears and political-correctness culture run amok. It's just Steve being Steve, I heard over and over in August, during a reporting trip to the district. "What is a racist anymore?" one Woodbury County man told me then. "Racist in the liberal logic is just somebody that doesn't agree with what you say."
Since his narrow victory over Scholten, though, King has seen much of his political power wash away like Iowa topsoil. Republican leadership removed him from his posts on the House Judiciary, Agriculture, and Small Business Committees in January 2019, after King questioned the offensiveness of the term white supremacist in an interview with The New York Times. Representative Cindy Axne, the freshman Democrat from Iowa's Third District, was appointed to the Agriculture Committee in his place. (In a dustup last month, King claimed to have reached an agreement with House Minority Leader Kevin McCarthy to be reinstated to those committees, but McCarthy has denied making any such agreement.)
King's declining influence in Washington gave his GOP foes an opening. The campaign against him was "not about relitigating the controversial things he said," David Kochel, a GOP strategist originally from Iowa, told me last week. It was easier for his opponents to make the case "that it doesn't do any good for the district if he can't get things into legislation or be on the committees that have the biggest impact on our communities."
Many high-profile Republicans abandoned their long-held support for King to embrace Feenstra in the past year, including Bob Vander Plaats, the Iowa-based head of the Family Leader, a social-conservative umbrella organization. "Not only should a person be a respected representative in D.C., but they should have a leadership position in D.C.," Vander Plaats told me.
Even the U.S. Chamber of Commerce, which rarely endorses against Republican incumbents, backed Feenstra, spending $200,000 in advertising on the race and airing an ad to remind voters that King was kicked off the Agriculture Committee in the middle of a farming crisis. It chose to altogether avoid King's past comments. "We like to stick to our lane," Scott Reed, the chamber's senior political strategist, told me.
King's primary opponents, too, chose to lean into their conservative bona fides rather than delve into the fraught territory of the congressman's social-media posts and rhetoric. Feenstra spent the campaign touting his A+ rating from the National Rifle Association (compared with King's A–) while condemning King for failing to deliver for the district. Taylor, another King opponent, demurred when I asked last week why he didn't talk about King's rhetoric on the trail: "He's a decent man," he said, but "we'll lose this seat if he's the nominee." Richards, the former businessman, said that he made a conscious choice to avoid condemning King's comments during the campaign. "Congressman King's granddaughter and my daughter will play volleyball and softball against each other," he told me. "I'm not going to say anything bad where I can't sit in the gym and look at his granddaughter at the end of the day."
The candidates, in other words, were engaging in a form of triangulation—attempting to endear themselves to King's supporters while positioning themselves as a safe and preferable alternative. Nathan Lichter and Mark Saunders, two Feenstra supporters who work as feed-truck drivers in the district, told me they understood that strategy. "A lot of King supporters have no problem with his racist comments, so it's more trying to get them on board with I can do a better job," Saunders told me.
The approach clearly ended up working for Feenstra. Nearly 60,000 Republicans in the district mailed in absentee ballots, according to the Iowa secretary of state's office. An additional 19,000 people voted in person. Compare that with the 2018 GOP primary, when a total of just 39,000 votes were cast. But while Democrats may cast King's defeat as a small victory over racism, they may have just lost an opportunity to flip a House seat.