RIP Summer Camp
As the country begins to reopen, some American traditions are still in jeopardy.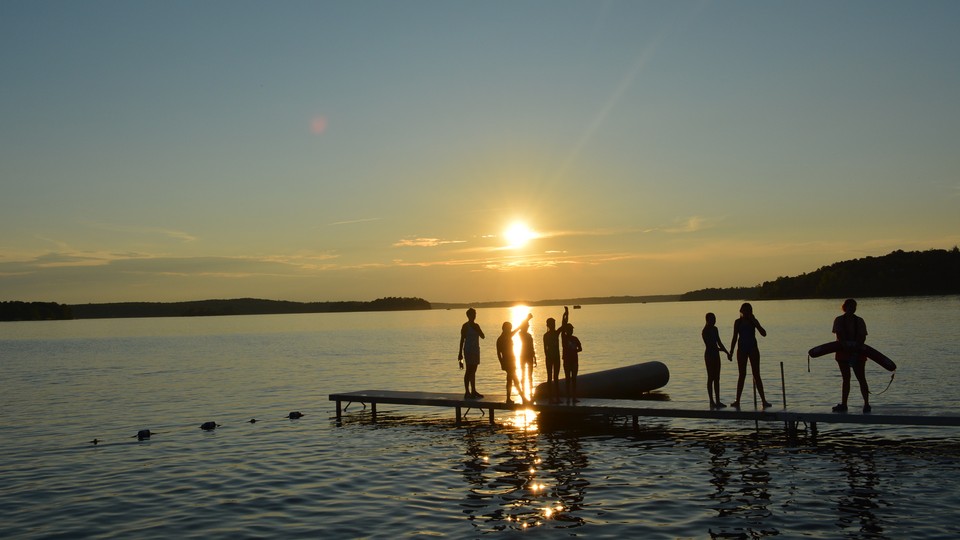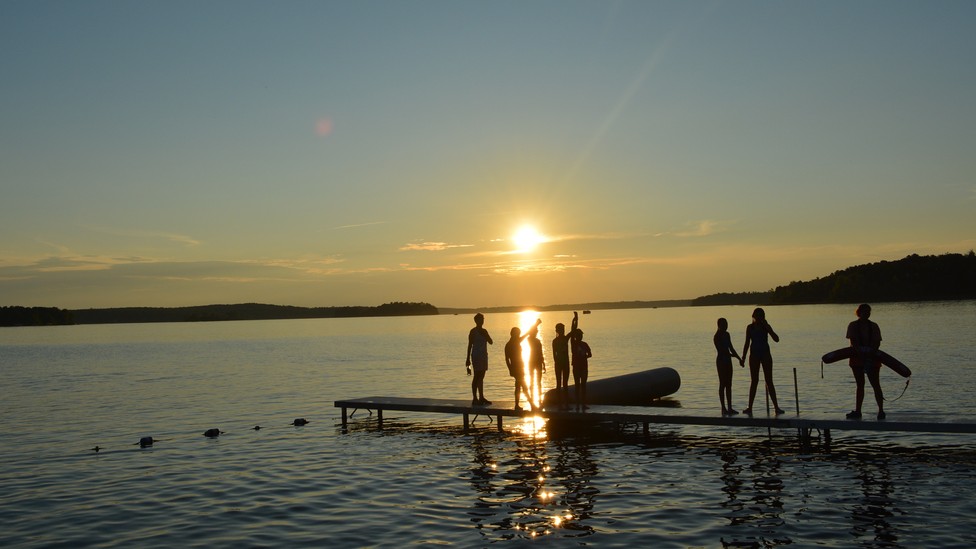 Camp Mishawaka was founded in 1910 in Grand Rapids, Minnesota, and its motto is "Safety, health, happiness." Last month, my younger brother, Steve Purdum, who has run the camp for three decades, made the pained and reluctant decision that, for the first time in 110 years—through two world wars, the 1918 flu, tuberculosis, and polio—there was no clear way to guarantee safety, health, or happiness for his usual complement of 300 campers this summer, and not just because a raucous chorus of "Three Jolly Fishermen" might spray droplets of a deadly pathogen into the clear Northwoods air.
How do you play Capture the Flag and stay six feet apart? What happens if a harried college-age counselor forgets to clean a bow and arrow with sanitizing wipes after each use? How can 12-year-old girls mentor and (literally) hold the hands of their 9-year-old sisters if all campers are supposed to spend the summer clumped in 20-person pods and not commingle with others outside their cabin group (as the American Camp Association's draft guidelines recommend)?
Absent clear-cut directives from the Centers for Disease Control and Prevention, and in the face of a broad patchwork of approaches by state health departments from Maine to California, camp directors across the country are confronting the quandary my brother faced. The paradox: The need for camp has perhaps never been greater—and the practicability of it never more in doubt.
For Steve the aha! coronavirus moment came this spring, when he heard through the grapevine that if the state health department allowed overnight camps to open at all in the Land of 10,000 Lakes, there could be no … singing.
"It wouldn't be camp without singing," he told me with a sigh the other day.
Tom Rosenberg, the president and chief executive of the American Camp Association, which represents more than 3,100 camps around the country, told me that it would be "irresponsible to speculate" about just how many camps might be able to open this summer, "because right now there are so many camps that are trying to possibly operate in some form or fashion."
Summer camp is a refuge in an overscheduled, over-connected world, a place where kids not only can but must go off the grid, taking supported risks, making choices, experiencing agency, living independently from their parents for the first time, and navigating peer relationships in a setting often far from home. They can capsize a canoe and learn how to right it; take a three-day backpacking trip; loft a sail; hear the sound of a loon, the crackle of a campfire, the wail of "Taps" at lights out; and, if they're lucky, see the astral fireworks show of the northern lights.

Mishawaka is a small, family-owned camp on the birch-ringed shores of Pokegama Lake, not far from the headwaters of the Mississippi River, at the gateway to the Chippewa National Forest, three hours north of the Twin Cities by bus. It offers sessions from two to eight weeks, with separate programs for boys and girls ages 8 to 16, and shared meals and joint activities on Sundays. The curriculum includes swimming, sailing, canoeing, horseback riding, fishing, rock climbing, tennis, archery, riflery, crafts, nature study, drama—and there is a wood-burning sauna for restorative warmth at the end of the day. Until just a few years ago, the only bathhouse for the boys' camp was the cold lake itself. Among the alumni are the actors Bruce Dern and McLean Stevenson and the CBS News journalist John Dickerson. In the 1940s, one of the counselors was a young Nebraskan named Ted Sorensen, the future presidential speechwriter, who would credit his experience there with honing his narrative skills.
"When a violent storm blew down the camp's flagpole, lifeguard tower, several trees, and the one and only electric power line," Sorensen would recall in his 2008 memoir, Counselor, he was left with the job of "telling a story to 130 boys huddled in a darkened mess hall to keep them safe, quiet and calm. I no longer remember what story I told, but I was touched to learn from a recent letter that at least one of those campers still remembers that dramatic night roughly sixty years ago." Dern's experience was less romantic. "From nine on, I was forced to camp every summer," he told Interview magazine years ago. "Not a volunteer. I played with the wrong kids so they made me go to camp to straighten me out." (Steve told me that venerable parental motive is now mostly a tired stereotype.)
Except for two emergency-room doctors who'd seen the effects of the coronavirus firsthand, "any doctor I consulted felt that camp was the safest place for kids," Steve told me. "And I think they saw that the alternative was, My kid's gonna be home; they're gonna get bored and go out to Starbucks and run into everybody else. And they're also just probably at wits' end with keeping their kids. A lot of kids look forward to this so much; it's what keeps them in the game the rest of the year."
A university virologist told Steve that the biggest risk would be for counselors and staffers older than 20. Indeed, some camps that are choosing to operate are mandating strict pre-arrival 14-day quarantines for counselors and requiring them never to leave campus all summer. "We figured that'd last about six weeks before staff lost their mind," Steve said.
Camp sessions typically run from mid-June to mid-August, and they can't start much earlier or run much later because of school schedules. Minnesota has already ruled that overnight camps cannot open until at least July, and Steve didn't feel he could string campers, parents, and his staff of 50 along, then give them maybe two weeks' notice to show up. (The camp draws from 27 states and five countries.) By running for half the summer, he'd lose just slightly less money than he will by closing altogether.
"The whole industry's falling into two camps, if you will," Steve said. "One, create a bubble. Let no one in, let no one out. Which sounds good, but wait until some guy breaks down in his boat on the lake and wanders in, or your UPS driver makes a mistake. You couldn't guarantee a bubble, fully. And then the other one is to treat everybody like they're shedding the virus, which is not conducive to camp."
If a flood or tornado had destroyed Mishawaka's buildings or made the road to camp impassable, insurance would cover the loss of revenue, but the pandemic is excluded under Steve's policy. With the help of his longtime local banker ("Oh my God, they're the frontline heroes of the economy!"), he got a modest five-figure loan under the Paycheck Protection Program, which will allow him to bring some staffers to Grand Rapids this summer to brainstorm what "Camp 2.0," as he calls it, might look like.
"I would really have liked to have a year under my belt to figure this out, because the virus might not be going anywhere," he said. "I think, logistically, there's an answer for how it could be done. I just couldn't promise that we could do it in six weeks on the fly."
As of now, the government guidelines are pretty general—"promote healthy hygiene practices," one CDC flowchart recommends. They are also potentially unworkable: How do you send a suddenly sick kid home to Mexico from rural Minnesota on short notice? Taking more time to think things through seemed the only sensible option for Steve.
He agonized over his decision to close this summer, and doesn't pretend it's the only right one. Camps with less-diverse populations, or those closer to major hospitals, might well balance different interests.
"I just don't want to appear to be that one guy in Minnesota who thinks he's smarter than everybody else and everybody else is stupid for opening," he said. "There are people who have the ability to run their programs, and I wish them nothing but success. And they're providing a vital service." But, he added, "everybody's scared shitless, no matter what they're saying."
So I asked my brother, what would camp be like without singing?
"It would be a helluva lot quieter," he said with a chuckle, before adding more poignantly, "the other thing, though, is that even the tone-deaf camper has a place in the camp choir. Boys who would never join a choir at school, or girls who would never join a choir at home, sing freely and loudly at camp."