The Wedding That Started a Republican Civil War
In a church parking lot Saturday, Virginia Republicans decided the future of their party.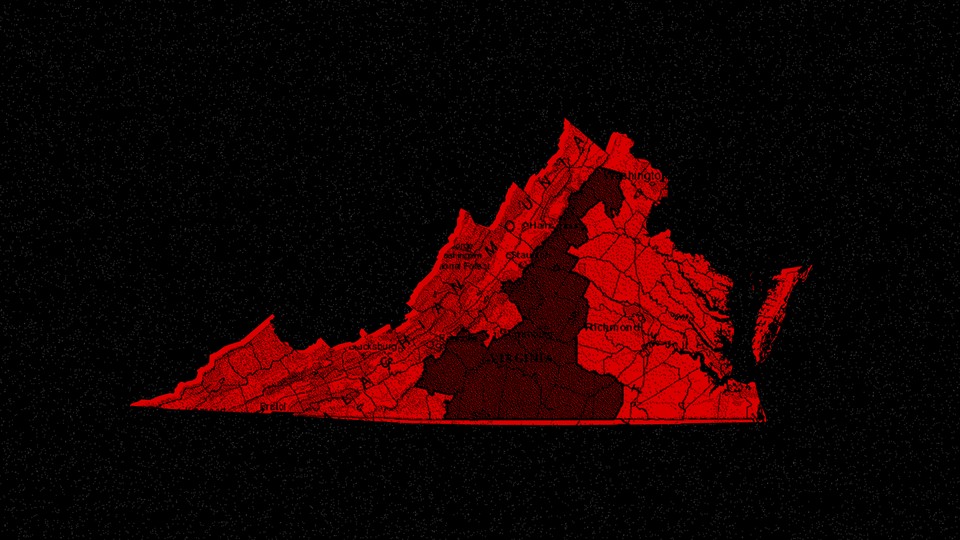 Updated at 4:50 pm ET on June 14, 2020.
Virginia Republicans have spent the past decade getting routed in elections. They lost three U.S. congressional seats and control of both chambers of the state legislature in the last two years alone.* Yesterday, with another tough election less than five months away, Republicans in Virginia's Fifth District gathered in a church parking lot and kicked out their incumbent congressman, Denver Riggleman, largely because he officiated a same-sex wedding last summer. The grooms, Alex Pisciarino and Anthony "Rek" LeCounte, earned a distinction in their first year of marriage that most people never achieve in a lifetime: They started a Republican civil war.
Virginia's Fifth is a district where Bible Belt activists, suburban moderates, and college-town free-market types mix together in one massively gerrymandered area larger than New Jersey, stretching from the state's southern border almost all the way to D.C. Yesterday's winner, Bob Good, who declined to speak with me, is a former athletics director at the evangelical Liberty University who described himself in interviews as a "strong, bright-red," "biblical," and "constitutional conservative."
Riggleman, who owns a distillery outside of Charlottesville, was one of the few rookie Virginia Republicans to win a competitive district amid the Democrats' 2018 wave. But Riggleman's success, and even an endorsement from President Donald Trump, could not save his job: The idiosyncrasies of Virginia election law enabled his own party to take him down. As Virginia turns blue, this race is a sign that the GOP is moving away from the center as it shrinks.
"We don't want a party so small that it just fits in the bedroom," Riggleman told me by phone recently. He's an Air Force veteran who favors the legalization of marijuana, takes a libertarian view on social issues, and mainly got into politics to counter regulations on small businesses.
After Good was elected to the Campbell County Board of Supervisors in 2015, one of his first acts was signing on to a resolution declaring the U.S. Supreme Court "lawless" for legalizing same-sex marriage in Obergefell v. Hodges, comparing the decision to that of Dred Scott.
Riggleman is no liberal, and he's not even particularly moderate: He's voted with Trump 94 percent of the time over the past year and a half, according to FiveThirtyEight. Good's campaign against him was about something else entirely. "We've played the 'Who's the bigger Christian?' game in the Republican Party for a long time," says Matt Hall, a conservative commentator who writes for Bearing Drift, a website focused on Virginia politics. "Bob comes from that minority—that small group of people that says you have to be this way or that way to be a Republican." Riggleman's liability, at least in this district, was that he was unwilling to conform to a culture-wars strategy. "Bob Good doesn't get to define what's Christian and what's not Christian," he told me. "You can say you're a Christian conservative all day long. What I'm going to say is that I'm going to protect your right to be a Christian conservative. But I'm also going to protect your right to follow any religion that you want to."
If not for the same-sex wedding, Riggleman's tenure would be most memorable for a kerfuffle over his alleged interest in Bigfoot erotica, which he insists is a joke. But the wedding happened, and it changed everything. When Pisciarino and LeCounte moved to Charlottesville for graduate school in the summer of 2018, they wanted to get involved in local politics. Pisciarino, who is white, and LeCounte, who is black, were impressed by Riggleman's record on LGBTQ issues. After Riggleman won, they figured it would be fun to ask him to officiate their wedding, a way of "celebrating the fact that we had a congressman we liked and wanted to elect," LeCounte told me. Pictures from the day are idyllic scenes from the distant time before the coronavirus outbreak: The couple wear matching yellow bowties and coordinated window-pane blazers, and Riggleman is grinning in the background as they pose at a sprawling vineyard near the Blue Ridge Mountains. Although they expected that local papers might write a story or two about the congressman's involvement in their ceremony, LeCounte said, "we were not remotely expecting it to become the kind of story where we're giving interviews about it almost a year later."
The backlash was immediate. Melvin Adams, the district committee chair, wrote a post on the district's website about "inclusiveness," emphasizing that the Republican Party is committed to recognizing marriage "as the union of one man and one woman." One Republican group after another in the Fifth District voted to censure or condemn Riggleman: Cumberland County's committee, then Rappahannock's. "The sanctity of marriage does not need to be redefined because it has been defined for thousands of years as one man and one woman. That's a standard that I don't think you can change, because that's the standard that I believe the God of creation established in the very first chapters of the Book of Genesis," Travis Witt, a Bob Good supporter and pastor who serves on the Fifth District committee and the Republican Party of Virginia's state central committee, told me. "I believe that the constituents within the Fifth District would be more than likely suggesting to Denver Riggleman that [he should go] in and attend the service, but not [be] out on the very front lines performing the service."
Jerry Falwell Jr., a vocal Trump supporter and heir to his father's religious-right empire at Liberty University, mostly located in the Fifth District, endorsed Riggleman: Last fall, the congressman tweeted a letter from Falwell, in which he wrote that "excluding other conservatives over issues that have already been decided by the U.S. Supreme Court does nothing but help the liberals gain more power." The White House didn't seem to care about Riggleman's support for same-sex marriage, either: Trump endorsed the congressman, and Donald Trump Jr. recorded a robocall pitch on Riggleman's behalf. When it comes to accepting same-sex marriage, "I think they think that's the future," Riggleman told me. "President Trump has had no issue with LGBTQ rights."
By contrast, Falwell Jr.'s brother, Jonathan Falwell, who leads Thomas Road Baptist Church right outside of Liberty's campus, endorsed Good. Although Good wrote on Facebook in 2016 that Trump was "about my 17th choice out of 17 or so running in the Republican primary field," he eagerly supports the president now. But Good made social issues a central part of his campaign. "Homosexuality is a very complex subject that medical science has confirmed is psychological moreso than genetic," supporters recently wrote in an article posted on Good's campaign website. Riggleman showed "a lack of integrity when, after elected, he repeatedly acted against & betrayed the very Republican Party Platform he swore to uphold."
Riggleman may have had an easier time securing his seat in a primary election; he pitched his campaign as one of broad, conservative coalition appeal. But the GOP's Fifth District congressional candidate was instead chosen by the party's most ardent activists. Virginia election law allows districts to hold nominating conventions rather than primaries. Out of the roughly 3,500 people pre-registered as delegates, some had to drive several hours to cast their ballot yesterday morning in the parking lot of Tree of Life Ministries in Lynchburg—Good's home turf—remaining in their cars to prevent the spread of COVID-19. The whole process was set up to encourage participation from the people with the strongest views. "We have an old saying that liberals and conservatives have passion. Moderates have lives," Tom Davis, a former congressman in Virginia's Eleventh District, told me.
All of this may end up putting a relatively safe Republican seat in jeopardy in the general election. While Virginia's Fifth leans Republican, Tom Perriello, a Democrat, won the seat in 2008 in a race against Virgil Goode, who went on to run for president for the Tea Party–aligned Constitution Party. Several political consultants in the state said they saw that election as a warning shot for Republicans. Choosing the more socially conservative candidate may end being an expensive form of purity: "It will cost the party a lot of money to defend a seat, and possibly lose a seat, that otherwise they'd walk into," Davis said.
As Republicans face some seven dozen competitive House races in 2020, including four in Virginia, they have a choice: build coalitions, or pursue tribal politics. Roughly 44 percent of Republicans nationwide and 60 percent of Virginians support same-sex marriage, according to data from Pew Research Center and the Public Religion Research Institute. But even those figures may be underestimates: With every passing year, those percentages are steadily growing. The social conservatives in the Fifth District may get revenge on the congressman who openly defied them, at least in the short-term. But in the long-term, the future of the party may belong to people like LeCounte and Pisciarino. Last November, Pisciarino was unanimously chosen by the Young Republican Federation of Virginia to join the Fifth District committee. The couple don't think LGBTQ people should have to vote for Democrats just because of their identity. And they don't think Good and his allies should get to claim they're the true representatives of Christianity. "It's an argument, frankly, that I find offensive," LeCounte said.  "A lot of us on Denver's side are Christians. A lot of us take our faith very seriously, myself included. The idea that they have a monopoly on a rigorous or sensible or conservative interpretation of the Bible and our faith is ridiculous."
The drumbeat of commentary about the couple's wedding has never really stopped over the last year, they said. People post about them on Facebook or talk about the controversy in group chats. When Bob Good came to Charlottesville, Pisciarino and LeCounte attended one of his campaign events. They wanted to hear for themselves how their wedding had become part of his stump speech. Good moved through that section quickly, presumably because they were there, LeCounte said, but the experience was surreal. "It's extremely bizarre to watch people argue about what they consider an abstract issue, which is our lives." Pisciarino and LeCounte haven't particularly enjoyed receiving calls from reporters to talk about the wedding that might unseat their friend and congressman. But they wanted "to take control of a narrative that was going to include us, one way or another," LeCounte said. When the couple loaded up their blue sedan, with its Riggleman and UVA bumper stickers, and drove to Lynchburg on Saturday, they weren't just going to support Riggleman. They were voting for a different kind of Republican Party.
---
* This article previously misstated when Virginia Republicans lost control of the state legislature.