The Enormous Scale of This Movement
The nationwide demonstrations could carry on for days or weeks—maybe even through November.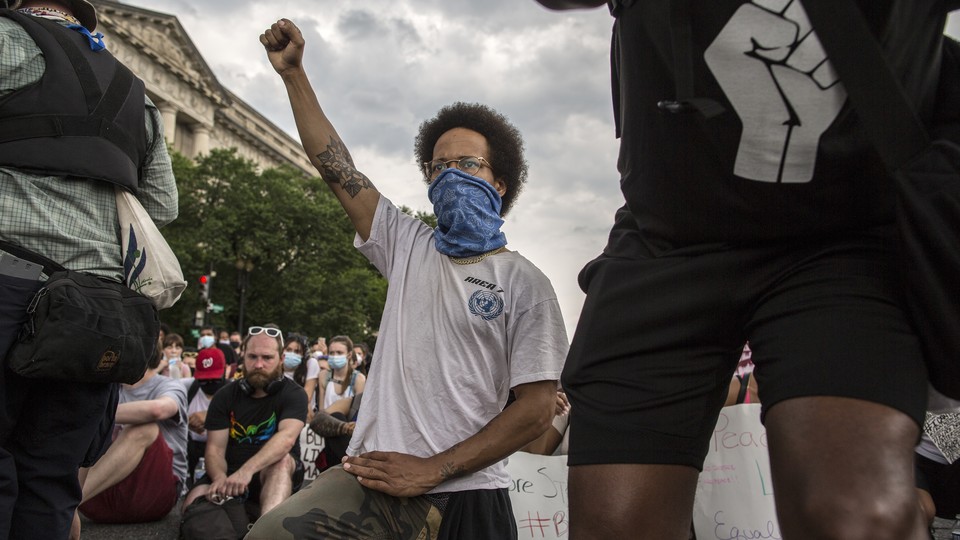 A child sat on her father's shoulders, squinted through layers of new fencing separating the White House from protesters, and asked, "Where's Trump?" Demonstrators chanted "George Floyd!" in the tunnel under K Street so loudly that the name echoed through the length of the underpass. Streams of sign-carriers seemed to arrive at the White House from every direction, all day, and kept coming, coming, coming.
The demonstrations that have seized America's cities, towns, and villages, including the nation's capital, have no national leader. There are only people, hundreds of thousands of them, spilling into streets, clogging bridges, and filling parks. Nor does the movement have a single objective. The demonstrations are in the service of a constellation of hyperlocal and national goals, from small, material targets like tearing down statues of racist men that literally loom large over communities, to a whole-scale reimagining of how law enforcement is conducted in this country, including divesting from police departments and eliminating special legal protections for officers. "The demands all come together to stop the war on black people," said YahNé Ndgo, an organizer with Black Lives Matter Philadelphia. "The ultimate demand is the end to violence, to end the war against black life."
These reforms would require the work of thousands of political actors at the local level, aggressive maneuvering from lawmakers on Capitol Hill, and, very likely, a president willing to offer support. Not all of them will come to pass. But the scale of this movement is enormous. The nationwide demonstrations could carry on for days or weeks—maybe even through November, organizers told me. And yesterday's protest in Washington may have just been a dress rehearsal for a massive March on Washington in August.
Thousands converged on D.C. yesterday, their ranks filling the hot concrete expanse before the Capitol building, and surrounding the reflecting pool near the Lincoln Memorial. In front of Lafayette Square, as close as protesters could get to the highly fortified White House, the atmosphere wasn't nearly as tense as it had been earlier in the week, when peaceful demonstrators were teargassed and fired upon with rubber bullets to make way for President Donald Trump's photo op outside St. John's Church.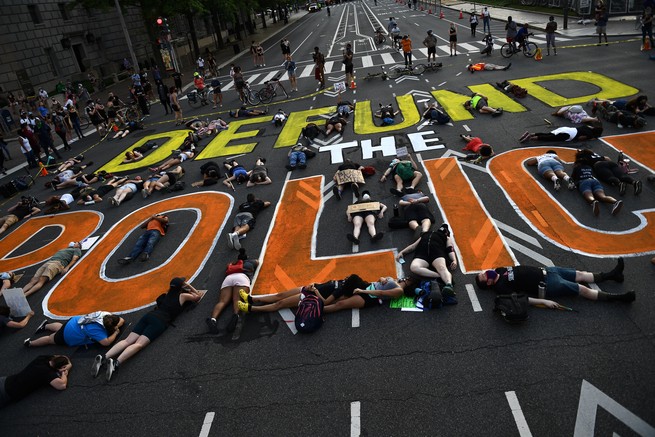 Instead of police in riot gear lining 16th Street, a fleet of ice-cream trucks played jangly tunes. Volunteers pulled wagons carrying ice-cold bottled water, Welch's Fruit Snacks, and Chipotle quesadillas wrapped in foil. Seemingly unending rows of sweaty people held up homemade signs reading SAY THEIR NAMES, I CAN'T BREATHE, and CHARGE THE COPS. Others danced the Macarena in a circle outside the St. Regis hotel, their feet pounding over the electric-yellow letters spelling out BLACK LIVES MATTER that Mayor Muriel Bowser had had painted along 16th Street the day before. (She also renamed the street Black Lives Matter Plaza.) When a few minutes of cool rain interrupted the 90-degree heat in the early afternoon, it felt as though the sky and the city were letting out a long, deep sigh.
"With the coronavirus and all the changes that have happened in 2020, it's forced our world to change," Marilyn Neale, a 28-year-old from nearby Prince George's County, Maryland, told me, while she passed out water and Bomb Pops that she and a few friends had bought that morning at Costco. "Change for equality, for black people in America. Everyone has been woken up by 2020."
Others I met felt less hopeful. James Gilmore, a recent graduate of Georgetown Law School, told me he was 20 years old the first time he had an encounter with police. After receiving a report of a stolen vehicle, officers in Kansas City, Missouri, pulled Gilmore over and forced him out of his brand-new car, holding a gun to his head, he told me. Because of his race, Gilmore explained, police assumed that the vehicle, with its temporary tags, was the stolen one. "It seems like more and more white people are using their influence and privilege to fight against these issues," which means the country is making progress, Gilmore said. But this "doesn't feel like a turning point; it just seems like a continuum to me."
D.C. was the site of just one of more than 400 American protests yesterday, with dozens more overseas. In Minneapolis, where the demonstrations began on May 26 after the killing of George Floyd at the hands of police, protesters are demanding a total overhaul—perhaps even a dismantling—of the police department. In Louisville, Kentucky, demonstrators are pushing for the arrest and conviction of the officers involved in the death of Breonna Taylor, a 26-year-old black woman who was shot and killed by police in a botched no-knock raid. In Philadelphia, organizers want a recent $23 million budget increase for law enforcement to be converted into more funding for public schools and community programs. In Washington, activists painted the words DEFUND THE POLICE on 14th and 16th streets, in response to the mayor's message.*
Calls for police divestment are a dominant theme of protesters' policy demands. The radical idea is a product of how increased policing "has eaten up so much state and national resources at the expense of investment in black and brown communities," says Vanita Gupta, the president and CEO of the Leadership Conference on Civil and Human Rights, who worked to overhaul departments in Cleveland, Baltimore, Chicago, and Ferguson, Missouri, as the former head of the Justice Department's Civil Rights Division.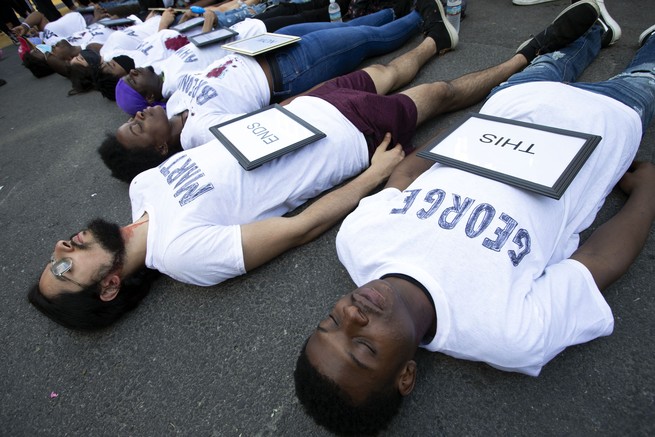 At the federal level, protesters and civil-rights groups are urging Congress to pass, among other reforms, a national prohibition on chokeholds; the elimination of federal programs that offer military equipment to local law enforcement; the creation of a national public database of abusive police officers; and an end to qualified immunity, a doctrine that prevents police from being held liable in certain cases for breaking the law.
Such an expansive range of local and national demands "is consistent with the way every protest movement in history has worked ... We have a system that's set up to disappoint and keep you in the game at the same time," David Meyer, a sociology professor at UC Irvine who studies social movements and public policy, told me. "Moments of passion pass and then you have to have people who are still at the table pushing."
But the protests aren't all about politics or policy goals, organizers and protesters told me. They've been an outlet for black Americans to express their hurt and fury that 400 years after the start of slavery, five decades after the passage of the Civil Rights Act, and six years after the police shot and killed Michael Brown in Ferguson, black Americans are still two and a half times more likely to be killed by police than white people. They are dying of COVID-19 at three times the rate of white people. And they're more likely than white Americans to have lost jobs in the economic catastrophe spawned by the pandemic. "There is true and genuine fatigue and rage over the weight that black people have to live under," Ndgo, the Philly organizer, told me. "The anger and the pain that is being expressed is its own end as well."
The protests, in other words, are also a show of strength. Less than two miles north of the White House, on a hill where Union troops once gathered during the Civil War, in a park informally named after Malcolm X, hundreds of demonstrators held a 5 p.m. sing-along before beginning their 30-minute march to the White House. First up was Michael Jackson's "Man in the Mirror." Then, a happy-but-chaotic rendition of the gospel song "Joyful, Joyful We Adore Thee."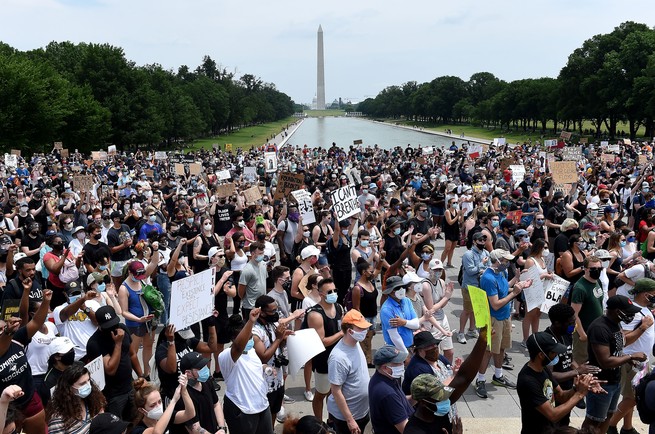 Near the back of the masked-up and mostly young crowd stood 71-year-old Yolanda Fleming. "I remember a movie called Network. I remember [the news anchor] going to the window and saying 'I'm mad as hell, and I'm not going to take it anymore!'" she told me. That's how she says she felt when she saw the video of Floyd's arrest. Fleming, a lifelong Washingtonian, said she remembers white people pelting objects at her during her walk home from school as a child. Seeing the size and diversity of the protest was heartening, but "what I want to see is this turn into action," she said, gesturing to the people around her on the lawn. "I want to see people at the polls in November."
Around 6 p.m., when the first line of marchers from the park finally reached the mass already gathered in front of the White House, the two groups merged and became a giant, buzzing blob. Bongos and bells filled the gaps between their chants. For a few moments, there was one continuous line of people stretching between the two landmarks, a one-and-a-half-mile procession cutting through the city's core.
---
* This article has been updated to clarify where activists painted DEFUND THE POLICE on the streets of Washington, D.C.