Why Obama Stepped In
As Americans continue to protest and Trump calls for "domination," the former president felt compelled to intervene.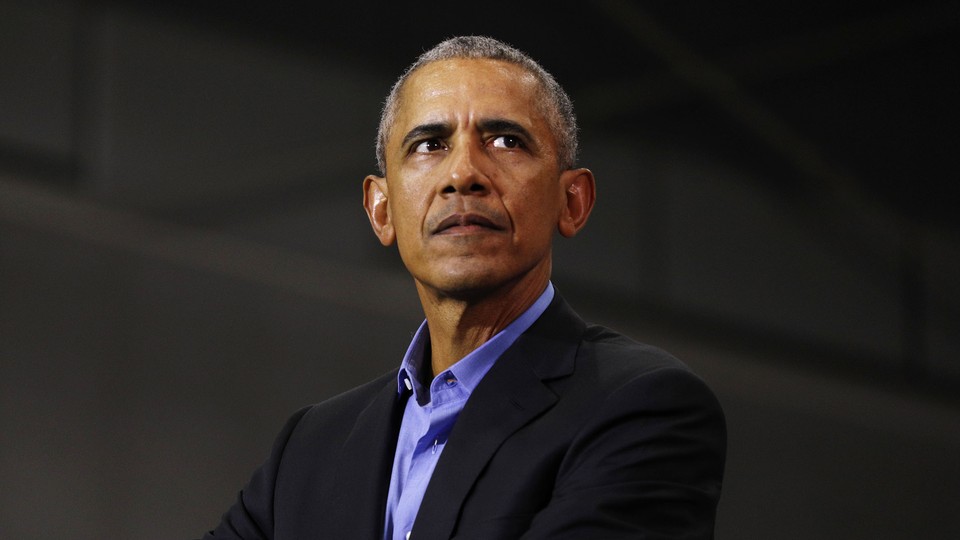 Updated at 9:26 a.m. ET on June 4, 2020.
Barack Obama didn't want to outshine Joe Biden. He never wants to be seen as speaking for all black Americans.
But the former president was too worried about the condition of the country to stay silent about George Floyd's death and the protests that have followed. It was going to take more than the statement he put out on Friday, writing that Floyd's killing "shouldn't be 'normal' in America in 2020," for him to feel that he'd done his duty. The essay he published on Monday, urging reforms? One hundred and ninety-four thousand "claps" on Medium, for whatever that's worth. The tweet he sent as the sun went down on Monday night, a few minutes after Donald Trump returned from gassing protesters to make way for his Bible photo op, with a video of Floyd's brother saying, "Let's do this another way"? It has 650,000 likes and counting. He still had more to say, and his closest advisers believed that he needed to say it. Tuesday morning, the former president and his aides started scrambling to set up an event for him to host yesterday afternoon—and to arrange the sit-down Zoom speech that CNN and MSNBC carried live.
Speaking out about controversial political issues, even in the measured way he did yesterday, is extremely unusual for Obama. He went into his post-presidency reluctant to let Trump change him, or force him to abandon the presidential tradition, which he took seriously, of giving deference to one's successors. He knows that, as the first black president, his words on race carry extra weight and attract extra attention—and, often, harsher judgment. But watching a president attempt to turn the firepower of the federal government against the American people helped him overcome his reluctance to intervene.
"He's always said he's going to speak out when (a) American values are threatened and (b) he can have impact," an Obama adviser, who requested anonymity because they were not authorized to speak on the record, told me in an email. "This moment is both."
As the event began, another Washington, D.C., curfew notice went out from the mayor's office. Down the block from the White House, men with military equipment and military vehicles but no announced authority were massing on the streets. Obama was not looking to address that directly. He didn't mention Trump—not even in the not-so-subtle way he did a few weeks ago, when he slipped references to the government's incompetent response to the pandemic into his college-graduation speeches. He thanked the protesters, but he also praised the police who he said are committed to making policing better.
"I want you to know that you matter. I want you to know that your lives matter. That your dreams matter," Obama said yesterday, speaking to the young people of color watching. "You should be able to learn and make mistakes and live a life of joy without having to worry about what's going to happen when you walk to the store or go for a jog or are driving down the street or looking at some birds in a park."
And if Trump was watching, and if he's going to tweet about it, then Obama is done caring.
"It did not give him pause. We are in a political season, but our country that he loves is also at a critical inflection point," Valerie Jarrett, his close adviser, told me. "At this moment, we need as many constructive voices speaking up in support of the peaceful protesters and calling for the implementation of evidence-based strategies for policing reforms."
The speech wasn't everything that some Democrats had hoped for. When the Obama Foundation announced in the morning that Obama would speak, some committed supporters expected that he would finally let loose on Trump, and express the outrage that they were all feeling and hoped he was too. George W. Bush put out a statement calling for justice on Tuesday.* Bill Clinton said that Americans need to ask themselves hard questions about why black Americans keep getting killed by police. Jimmy Carter put out a statement yesterday demanding that the government do better. Even former Secretary of Defense James Mattis has now spoken up, writing about Trump making "a mockery of our Constitution."
But since the day Trump won the presidency, Obama has been cautious about speaking out against him. Beneath what has largely been silence in public is deep anxiety about where Trump's leadership was taking America—anxiety that has been heightened by the public-health and economic crises brought on by the pandemic. But even as Obama expressed his worries privately, he'd say the country doesn't need a second president, so he'd keep his objections mostly to himself. "Obviously, there's no more sacred democratic value than addressing injustice. And channeling today's outrage/anger/sadness/worry into action exemplifies the mission of his post-presidency's Foundation," the Obama adviser told me.
Obama's hesitance to speak out on issues of race goes back to his own time in the White House, when his every utterance on the subject became something for pundits to yell about, from when he said the police officer who'd arrested Henry Louis Gates Jr. at his own home had been "acting stupidly" to when he said that if he had a son, "he'd look like Trayvon" Martin. In 2014, when another police killing prompted violent protests in Ferguson, Missouri, Obama took several days to respond. West Wing aides at the time defended the decision, bemoaning that everyone was turning to him because he was the first black president, insistent that he be able to just be the president—as in, the president for everyone. Obama was reluctant to let the polarization that followed everything he did make the situation worse. When he did speak, he denounced violence, spoke up for the police, and called for reforms. As he reminded those watching yesterday, he had a commission that studied police reforms.
Jarrett also reminded me of that commission when I asked her about what's happening on the streets of Washington, the city where Obama still lives and was speaking from by Zoom call: "When he was president, he stopped the routine practice of the federal government giving military-grade equipment to local law enforcement," she said. Since then, Trump has restarted the practice. During the current protests, Trump has been urging governors to come down hard on protesters, and has even considered invoking the Insurrection Act, an 1807 law that would allow the military to be deployed as police on American streets.
In his comments, Obama also took care to remember that his foundation and the My Brother's Keeper mentoring initiative he started after yet another young black man was killed during his presidency are supposed to be nonpartisan. He's been speaking regularly with Biden—who gave his own speech denouncing Trump on Tuesday. He'll be headlining Biden-campaign events soon. But he wanted to avoid politicizing the protests and the Trump administration's crackdown.
"It's an issue he cares deeply about. It's an opportunity for him to speak to young people, which is fundamental for the Obama Foundation and to President Obama himself, and it's in keeping with what he said days before he left office, that he was going to speak out on important issues," Andrew Weinstein, a longtime Obama supporter and top fundraiser for his campaigns and his foundation, told me. This week was a "convergence of those factors," Weinstein added.
Obama was optimistic, as he always tries to be. He acknowledged that this moment "reminds people of the '60s and the chaos, discord, and distrust throughout the country," but pointed to polls showing how many people now support the protests, and how diverse the crowds at the protests are. "There is a change in mindset that's taking place, a greater recognition that we can do better," he said.
That said, he's also been rereading The Fire Next Time, the seminal 1963 book on race in America. "It's frightening," he said, "how James Baldwin can lay out a reality 50 years ago that sounds like it was written yesterday."
---
* This story originally misstated the date that George W. Bush issued a statement in response to the killing of George Floyd. It was Tuesday, not Wednesday.