New York Does Not Welcome You
Once the epicenter of the global pandemic, the Empire State is trying to discourage visitors from new coronavirus hot spots.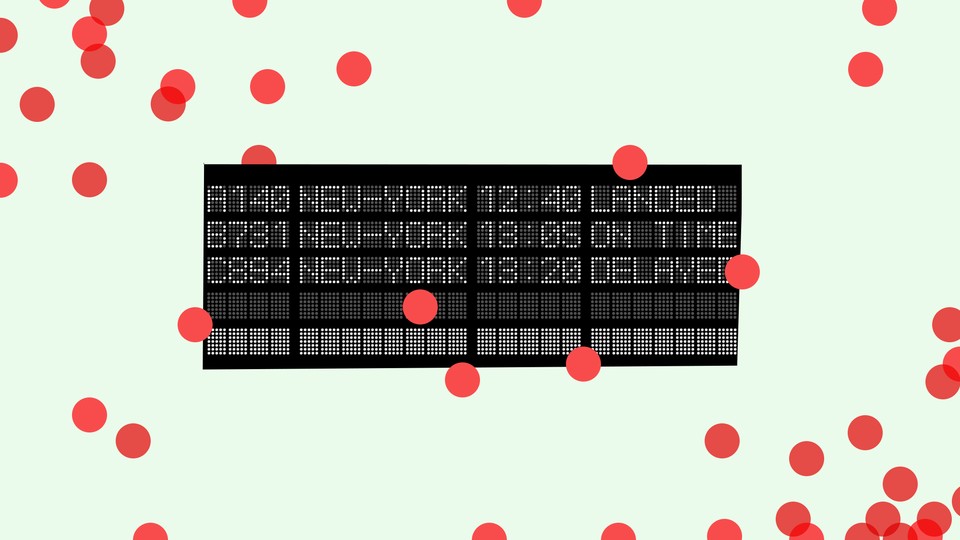 The celebration of New York City's long-awaited reopening has yet to reach its most hated airport. Were it not for the sunlight streaming through the sparkling floor-to-ceiling windows at LaGuardia Airport's newest baggage claim on Tuesday morning, you would have sworn it was the middle of the night. Not one of the nine conveyor belts was delivering luggage, and not a single traveler was waiting to be reunited with their Samsonite.
It was 10:30 a.m. on the day after New York City had allowed offices to reopen and outdoor dining to resume—the second step in the city's long, tentative journey back from the depths of coronavirus hell. I had gone to LaGuardia to see whether people were returning to the city now that it was reopening, and in particular from those places, such as Florida, where the coronavirus is resurgent.
"It's kind of scary," said Joe Depalo, a 70-year-old man who was waiting to pick up his parents, arriving from Florida. Both are in their 90s and had left New York in late January for some mid-winter sun. "They were going to go for a month," Depalo told me. "They got stuck for five." Depalo and his wife were planning to drop them off at their home and then get tested for COVID-19 just in case.
Normally, the airport would be bustling at this hour, with business travelers and tourists landing from early-morning flights. But LaGuardia's return has been slow: The volume of flights and passengers has ticked up since April, but the airport's June numbers remain a staggering 92 percent lower than they were a year ago.
Governor Andrew Cuomo would rather things stay that way a while longer. On Wednesday, he announced that travelers to New York from any of the several states where COVID-19 is spreading rampantly would be required to self-quarantine for 14 days upon their arrival. Violators will be subject to potentially thousands of dollars in fines and "mandatory quarantine," wherein government agents check on you at home. It's not clear how well New York can enforce the policy, but it will likely dissuade travel from those states—forcing Floridians, Texans, and Arizonans, among others, to think twice about trying to escape their epidemics by seeking refuge in a state that only recently beat back its own. "We have to make sure the virus doesn't come in on a plane again," Cuomo said on Wednesday. "We learned that lesson. Been there, done that."
The governor—famously competitive and reluctant to let go of a grudge—would probably be lying if he said he took no pleasure in his new order. In the early spring, when the pandemic overwhelmed New York's hospitals and filled its morgues, Rhode Island briefly tried to block New Yorkers from fleeing across its border, and Donald Trump said he was considering a blockade of the tristate area. Florida implemented a mandatory self-quarantine for travelers from New York; the order doesn't expire until July 7, so a New Yorker who lands in Florida tomorrow technically must still self-isolate, even though the virus's spread is now far worse in the Sunshine State.
New York, the state that was once the international hot spot for the coronavirus, is suddenly a relative safe harbor. Florida reported a record 5,511 cases on Wednesday, twice the number it reported a week earlier; at its peak, New York was reporting more than 10,000 cases a day, but that has dropped steadily to fewer than 600 per day this week.
At LaGuardia on Tuesday morning, the first two flights of the day from Florida landed just before 11:30 a.m., depositing a few dozen passengers into a brand-new terminal that Cuomo opened just two weeks ago. The project is part of a $8 billion overhaul of LaGuardia that was inspired, in part, by Joe Biden, who infamously compared the long-maligned, 80-year-old airport to "a third-world country" in 2014.
The coronavirus outbreak and a corresponding plunge in traffic helped officials speed up construction of new roadways surrounding LaGuardia—part of a broader infrastructure boost aided by stay-at-home orders. Inside, the pandemic has turned the new terminal's debut into something of a soft launch, but the result is an airport that feels like it was designed from the get-go with a pandemic in mind. Hand-sanitizer stations are accompanied by antibacterial-wipe dispensers so that passengers can clean their luggage as soon as it comes off the baggage belt (or hoard them for their homes). The plexiglass barriers protecting clerks at the information desk look like permanent features, not ad hoc additions. Elevators have footprint icons affixed to the floor, guiding riders to space out as much as possible; a sticker on the console assures you that the buttons are on an "antimicrobial protected surface." Even the pet-relief area—fence-enclosed, with artificial grass and doggy-doo receptacles—looks pristine.
LaGuardia requires anyone in the terminal to wear a mask, and of the passengers I saw, most had complied. They were landing right under the wire—among the final people from Florida who could travel freely in the state once they left the airport. Cuomo had been floating the new quarantine order for a few days, and most of the dozen or so people I spoke with were aware of the possibility. "Honestly, I'm really glad I got here before he announced any of that," Dylan, a 22-year-old law student from Sarasota who declined to give his last name, told me. "Florida wasn't great, so I wasn't sad leaving there."
The governors of New Jersey and Connecticut joined Cuomo in issuing similar self-quarantine orders for travelers, creating something of a regional bubble. The directives could complicate the plans of New Yorkers who have been riding out the pandemic down south and waiting until the situation back home has stabilized to return. David Meister, a 28-year-old medical resident, flew back from Miami on Tuesday and is scheduled to start a new job at a Manhattan hospital next week. He had received no guidance from the hospital on whether he was supposed to quarantine or get tested, although he told me that he was hoping to take a test for COVID-19 antibodies. When I asked him what he'd do if Cuomo ordered a quarantine, Meister paused. "I think I'd have to discuss that with my bosses," he replied.
Shaun Harris, 25, was waiting to board a flight to Miami to assist in a photo shoot that had already been postponed twice because of the pandemic. "I'm not happy about it, but it's for work," she told me.
Neither Florida nor New York is actively tracking travelers after they arrive (although Cuomo said Thursday there would be "random checks), and none of the passengers returning from Florida whom I interviewed at LaGuardia said they were restricted once they arrived. But because they knew that the COVID-19 outbreak was worsening in the state, they decided to lay low anyway. Baindu Massaquoi, 29, a surgical technician at New York–Presbyterian, had just come back from a five-day vacation to visit her cousin and a few friends. They mostly hung out at her cousin's home because of the virus. "I did think I would be going out more," she told me.
Cuomo acknowledged that his self-quarantine order would be difficult if not impossible to fully enforce. He compared it to speeding. "You can argue that every law is an honor system until you get caught," the governor said. "You can violate the quarantine until you get caught, and then when you get caught, you're in mandatory quarantine and you're fined thousands of dollars."
The governor doesn't have the power to stop flights from other states, and he didn't say whether other measures, such as temperature checks for arriving passengers, were being considered. Temperature checks would "do very little," Tom Frieden, the former director of the Centers for Disease Control and Prevention, told me. "Because so many infections spread by people who have been infected but are not showing symptoms …  it would have limited impact."
Some of the travelers I interviewed had been most anxious about the flight itself, fearful of how quickly the airborne virus can spread inside a cramped airplane cabin. Both flights arriving Tuesday morning were not full but still crowded, even though airlines have, for the most part, kept middle seats empty to aid in distancing.
Fortunately for Cuomo, many of the passengers I spoke with weren't heading anywhere other than home, to reunite with family they hadn't seen in months. Crystal Faroqi, 30, was wiping down her suitcase after hauling it off the conveyor belt. She told me that she had returned from Mississippi—where cases are also increasing—to care for her mother, who is having surgery in July. But Faroqi flew back earlier than she had initially planned partly out of fear that the governor would order a traveler quarantine. "I'm going to stay from her for 12 days," she said.
Katrina Gonzalez, 19, was returning to New York for the first time in months. She'll be staying with her family in the Bronx, which has been hit harder, per capita, than any of the city's other four boroughs. More Bronx residents have died from the coronavirus—at least 3,732, according to the city's count—than in the entire state of Florida. Gonzalez wasn't fazed by the possibility of a self-quarantine order. "We were already planning to not go anywhere," she told me. "Probably a month, just in case."