How the Mayor of New York Lost His City
Bill de Blasio's turn from campaigning against racist police tactics to defending the NYPD's crackdown on protests has disillusioned the constituents who twice elected him.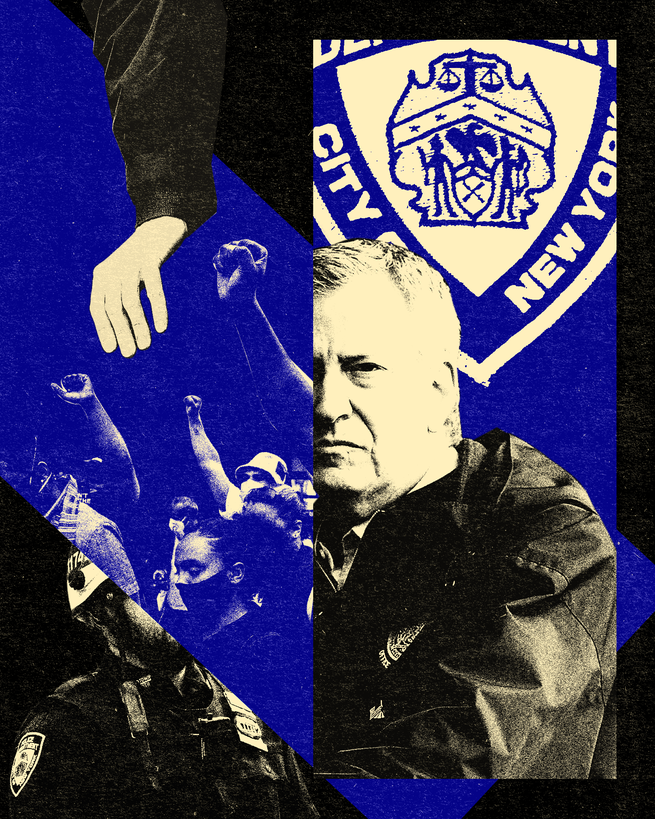 The clash between police and protesters that, once and for all, seemed to sever Bill de Blasio from the city that twice elected him mayor occurred on a Brooklyn street corner just over a mile from where he used to live.
No one died at the intersection of Flatbush and Saint Marks Avenues on the evening of May 31; there are no memorials to the frightening moment when a pair of police cruisers lurched into a crowd of protesters and sent them hurtling onto the pavement. It was a shocking act of aggression more reminiscent of terrorism in recent years than law enforcement. And yet it was a move that de Blasio—a progressive mayor elected on a promise to reduce the very police racism that the demonstrators were protesting—initially saw fit to defend.
"I do believe the NYPD has acted appropriately," the mayor said that night, after blaming protesters for surrounding and throwing objects at the police cruisers.
Ten days later, the only remnant of the incident at Flatbush and Saint Marks was a metal barricade lying overturned on the sidewalk. Cars whizzed by, Black Lives Matter placards hung on nearby windows, and masked New Yorkers waited for COVID-19 tests in a line outside an urgent-care clinic a couple of blocks away. But as I walked around the intersection Tuesday, I found Devin Khan and his sister taking photos. Khan, 22, had been a restaurant server before the pandemic hit. He told me he was among the protesters knocked down when one of the cruisers barreled into a yellow barricade they were using as makeshift protection from the police. He showed me the red welts on his calf from when he recalls hitting the ground. (A friend of his got it worse, he said, and had his arm gashed so deeply, it needed to be stapled shut at the hospital.)
What Khan remembered first was the sound of the police cruiser's engine revving before its driver accelerated into the crowd. Khan pulled out his cellphone to point himself out to me in the viral video: a man in a white shirt taking photographs a second before he's sent flying several feet in the air, landing hard on his back.
I asked him what he thought of de Blasio's defense of the police. "I was enraged," Khan told me, calling the mayor's reaction "forcefully oblivious" to the facts. "It really fuels that fire of being against the department, against the government," he said.
Khan's sentiments seemed to sum up all of New York's: Although de Blasio recalibrated his comments the next morning, the uproar that ensued has been unlike any of the myriad controversies that have ensnared the mayor during his six and a half years leading the nation's largest city. Hundreds of current and former de Blasio–administration employees—including some who worked in senior roles at City Hall— published an open letter railing against the mayor's abandonment of police reform and warning that he was "on the brink of losing all legitimacy in the eyes of New Yorkers." When de Blasio spoke later that week at a memorial for George Floyd, the unarmed black man killed by Minneapolis police, the crowd drowned him out with boos and chants of "Resign!" Twisting the political knife, Governor Andrew Cuomo, a fellow Democrat but longtime tormentor of the mayor, mused about using his authority to remove de Blasio from office after the city saw a night of heavy looting.
Under pressure, de Blasio has moved in recent days to embrace shifting funding away from the police department, and he has at times adopted a tougher line in response to specific instances of police violence. But the mayor's continued defense of the NYPD's overall handling of the protests has infuriated his onetime allies, leading them to wonder what, exactly, happened to the man who campaigned as a police reformer, as a father who spoke movingly about "raising a black son" and the enemy of stop-and-frisk, only to follow his more conservative predecessors in reflexively defending the cops in a moment of crisis.
"I do not know," Jumaane Williams, who as public advocate is New York's only citywide black elected leader, told me when I asked him what had happened to de Blasio earlier this week. "I know at times of crisis you sometimes see who people really are. Maybe that's what's happening. Maybe he was sufficiently frightened about the unions that he retreated from what he [campaigned on]."
"Maybe he just doesn't want to do this job anymore; that's another theory," Williams added. "I just know the results are really bad."
Catherine Almonte served literally at de Blasio's side as his personal aide, or "body person," for more than a year and then in a senior role in his 2017 reelection campaign. She returned to the administration just recently, but after de Blasio's response to the protests, she helped circulate the letter that hundreds of her current and former colleagues in city government have signed.
"I don't recognize the mayor that I saw in the last 10 days," Almonte told me. "It feels like he's just in this NYPD fog."
De Blasio's tenure in New York began with great promise in 2014. After defeating better-known Democrats to win the mayoralty, he delivered on early promises to enact universal pre-K and make changes to NYPD practices and oversight. He styled himself as a national progressive leader on income inequality, an early champion of the ideas that would later animate the Democratic Party. A profile in this magazine touted him as the "Equalizer."
Yet the death of Eric Garner at the hands of police on Staten Island six months into de Blasio's first term set in motion events that would prove to be a turning point in his relationship with the police. In December, hundreds of police officers turned their back on the mayor as he walked through a hospital following the shooting deaths of two officers in their patrol car in an ambush attack. Publicly and privately, people who have worked closely with de Blasio say the incident had a searing effect on him.
"I just remember him being very upset," Almonte said. "Exactly what the cops wanted to do, they did. He was hurt. He felt very, very hurt by it."
Others have noted that de Blasio's efforts to challenge the NYPD largely slowed after that. The mayor had already annoyed activists by appointing William Bratton as his first police commissioner—the man who had made famous the "broken windows" theory of policing during his first stint in the job under former Mayor Rudy Giuliani. He disappointed them again in refusing to fire the police officer who choked Garner to death, and by resisting calls to end solitary confinement in the city's jails.
Williams and others have suggested that de Blasio buckled to New York's powerful police unions, which have aggressively fought reform efforts and continue to do so in the aftermath of the recent protests. But Almonte said his shift might have been more organic, a result of the deep relationships and trust he's built with police leaders and rank-and-file officers over the years. De Blasio may have entered office as a critic of the NYPD, but the department's leaders are now his principal intelligence advisers, and its officers provide security for him and his family day and night. "The one group of people the mayor spends the most time with are cops," Almonte noted.
A spokesperson for the mayor referred to his comments at a press briefing Wednesday morning, when de Blasio said he "respected the heartfelt views" of members of his administration but defended his record in office. He cited the ending of stop-and-frisk (which had already been substantially reduced by the time he took office) and the elimination of arrests for marijuana possession, as well as other police reforms, such as the requirement that officers wear body cameras. "We're going to do a lot more, and we are going to relentlessly change this city and this police department over the next 18 months," de Blasio said.
Yet even the mayor now acknowledges that on a signature promise he made to voters seven years ago, he has fallen short. "We simply have not gone far enough," he told reporters last week. "This status quo is still broken. It must change."
To say the past year has been a bad one for de Blasio would be an almost comical understatement. In the spring of 2019, he launched a late-entry presidential bid that was pilloried from the start, went nowhere, and ended just four months later. Allies and critics alike have savaged his handling of the coronavirus pandemic, when de Blasio and Cuomo were late to shut down the city while confirmed cases multiplied—a delay that epidemiologists say likely contributed to thousands more deaths. (On the day after he somberly announced the closure of city schools and implored New Yorkers to stay inside to slow the virus's spread, de Blasio insisted on making one last 30-minute, chauffeured trip to his Park Slope gym.)
"Their leadership led to us having some of the worst rates on planet Earth and actually made the United States worse," Williams told me.
The protests against George Floyd's murder and police racism have swelled just as New York City was beginning to emerge from the pandemic's horrific toll and preparing to reopen. The result is a twin set of crises that might be impossible for any mayor to adequately manage. "I'm not sure there's any other elected leader that's doing much better, quite frankly," said Eric Phillips, a former de Blasio spokesperson. "That's why people are so understandably upset, and they're right to be."
Phillips told me that although the mayor got the initial response to the police-cruiser incident in Brooklyn "wrong," his overall record on police issues is not as bad as his critics have said. "You've got to evaluate his work for the last seven years," Phillips said, "and I think any objective, fair evaluation of that work would have you believe he's done a lot. Has he done enough? No. And it's okay for people to call that out, and they should. But he's done a lot."
Patrick Gaspard, a former top aide and diplomat in the Obama administration, has known de Blasio for 30 years—the two men met helping David Dinkins become New York City's first black mayor. De Blasio remains Gaspard's best friend, and Gaspard is a leader on the mayor's recovery task force. He told me that were it not for the pandemic, the mayor's response to the protests would have been different. "I believe strongly that without the cratering of the New York economy because of COVID, we don't have the same kind of response to the looting that took place," Gaspard said.
"I can understand the response to the looting, to the anarchy, that says, 'This has to end,' because it's exacerbating problems that we already had."
But even with that caveat, Gaspard, too, has been a critic of the city's handling of the unrest. While looters hit high-end stores in Manhattan and small businesses in the Bronx and elsewhere, Gaspard said the scale of the damage did not compare with that of riots the city had experienced in the tumultuous 1970s and '80s.
"This was not unprecedented," he said. "It should have been managed in a way that didn't curtail rights, that didn't lead to the police abusing their authority over average citizens. It shouldn't have been managed in a way that led the mayor to impose a curfew on all New Yorkers."
I asked Gaspard what his reaction was when he saw his dear friend respond to the cruiser incident at Flatbush and Saint Marks—and other examples of police violence toward protesters that night—by defending the police. The former diplomat started with a, well, diplomatic answer that tried to contextualize the events of the past few months. But he then returned to the question. "My first instinct," Gaspard told me, "was that I needed to join the demonstrations."