Facing a COVID-19 Resurgence and Unable to Act
Coronavirus cases are going up, but lockdowns seem less realistic than ever.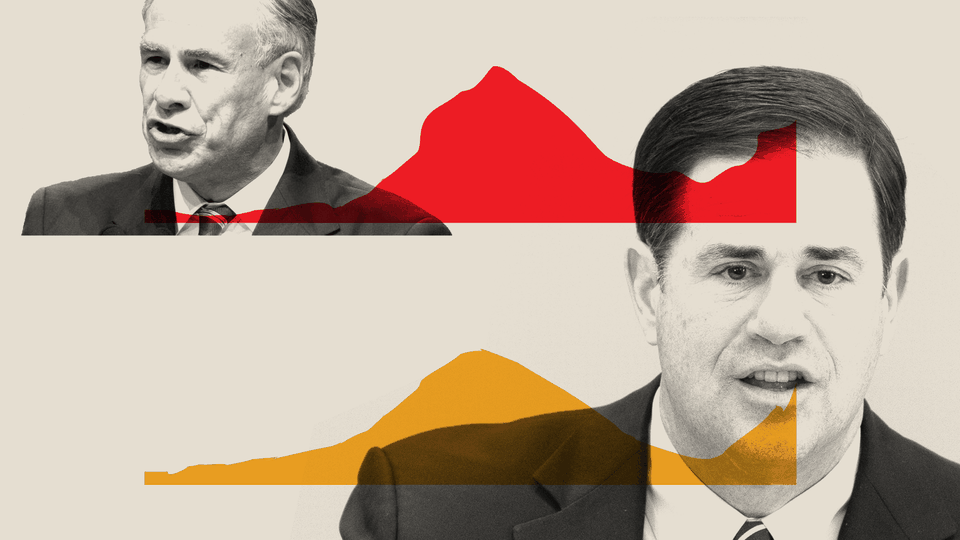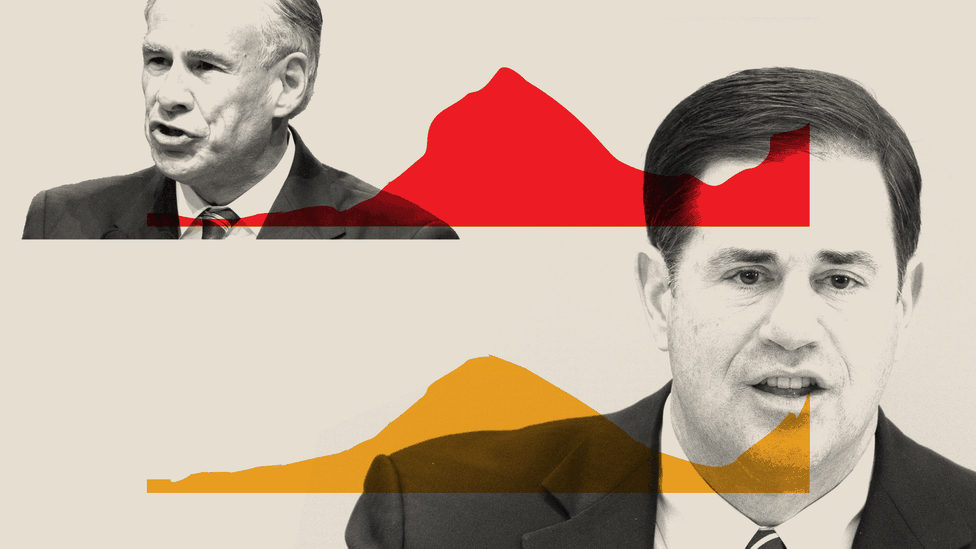 An alarming resurgence of the coronavirus is threatening to overwhelm America's fifth-largest city, and its leaders aren't allowed to do much about it.
"We've had elected officials who've not wanted to use the word crisis," Phoenix, Arizona, Mayor Kate Gallego told me by phone earlier this week. "I am very comfortable telling the people of Phoenix, 'We are in a crisis and you have to take this seriously.'"
Gallego, the Democrat who's led Phoenix for the past year and a half, was being polite: She was referring to Arizona's Republican governor, Doug Ducey, who has downplayed a recent surge in COVID-19 cases that has made his state the new national hot spot for the pandemic. Arizona is now reporting an average of more than 1,500 cases a day, with rampant spread both in its urban centers, including Phoenix, and in rural areas.
It's one of several states in the South and West, including Texas, Florida, and Oregon, that are seeing a record number of coronavirus cases in recent weeks. But there's a wide gap in how governors are reacting to the resurgence. Oregon Governor Kate Brown, a Democrat, and Utah Governor Gary Herbert, a Republican, have each paused their state's phased reopening plans in response to the increases. But other Republican governors—Ducey in Arizona, Greg Abbott in Texas, and Ron DeSantis in Florida among them—have refused to reimpose economic restrictions or social-distancing mandates, in many cases frustrating local leaders, whose hands are tied.
In Arizona, the spike is evident in a rapidly increasing rate of positive test results. The state is seeing about triple the number of daily cases it was reporting a month ago, when Ducey lifted a stay-at-home order and removed virtually all restrictions on businesses and large gatherings. Hospitalizations are rising too.
"We are reopening too much, too quickly, and without sufficient safety protocols such as masking," Gallego said. If she could, she said, she would shut down bars and nightclubs, and require all residents to wear a mask outside their home. But Gallego can't do that: When Ducey first issued his stay-at-home order, in late March, he simultaneously preempted cities and counties in Arizona from acting on their own. "I will continue to believe that government closest to the people is best—except in a global pandemic," Ducey explained last week. "We want to have clarity and consistency for our citizens." (The governor partially reversed course yesterday, declaring that local officials would be allowed to require masks—but not restrict businesses—in their communities.)
The same dynamic is happening in Texas, another state that reopened early and is now seeing a corresponding increase in COVID-19 cases. Abbott has scolded 20-somethings for letting "down their guard," while refusing pleas from mayors and county officials to require masks in their communities. "If we don't do something now, we're going to be in an untenable situation," Judge Lina Hidalgo, the chief executive of Harris County, which includes Houston, told me in a phone interview on Monday. A week ago, the county saw a record number of people hospitalized for COVID-19. "Since then," she told me, "the numbers have only grown."
Hidalgo implemented a public alert system to warn residents about the recent spread of the virus. It's now at orange, one tier below red. Even though bars and indoor dining are open in Houston, Hidalgo is urging residents to stay away and "minimize contact." Like Gallego in Phoenix, however, she doesn't have the power to close down businesses. "I'm doing all I can, you know?" she said, with a hint of exhaustion in her voice.
In late May, Oregon was averaging just a few dozen new coronavirus cases a day. But when that daily average began climbing to well over 100 in early June, Governor Brown decided to act.
Oregon's numbers were still just a fraction of the surge in Arizona—even accounting for its smaller population—but Brown paused the state's reopening for at least a week to give public-health officials time to analyze the data. Many of the cases were tied to specific outbreaks, she told me in a phone interview on Tuesday, but there were also cases in the state's metro areas where officials couldn't determine a source. "So that was very concerning," Brown said. "We just didn't know where the cases were coming from."
The message to residents, she said, was that this pause represents "a yellow light." "This means caution. Proceed carefully," she said.
Brown said the new cases were not coming from business sectors that had recently reopened, such as restaurants, hair salons, and gyms. Nor was there an obvious connection to the protests against racism and police brutality that took place in late May and early June. (In one striking demonstration, thousands of closely packed protesters laid down on Portland's Burnside Bridge for nearly nine minutes to mark the police killing of George Floyd.) "Some of it we just don't know," Brown said.
I asked Brown if she thought Oregonians would stomach another shutdown of the state's economy, if it came to that. "Yes, I do," she replied. "That is obviously a situation of last resort. But I believe that folks are willing to stay home to save lives, even at this point in time."
In Arizona and Texas, the reopenings are so far along, and the cultural "return to normal" is so deeply ingrained, that even epidemiologists there are reluctant to broach the possibility of another lockdown. Ducey "has basically taken it off the table as an option, and I think it at least needs to be put back on the table," Kristen Pogreba-Brown, an epidemiologist at the University of Arizona's College of Public Health, told me. She said that "at a minimum," Arizona should have a mandatory mask order. "From a purely empirical public-health perspective," Pogreba-Brown said, "given that our cases are far higher than they were when we actually did have a stay-at-home order, you should probably be looking at shutting things back down. But from a political and a pragmatic point of view, I also just want to do what we can actually accomplish."
Governors such as Ducey and Abbott seem to have a different attitude entirely.
Following the lead of President Donald Trump, the Arizona and Texas governors are treating mask wearing and social distancing as matters of personal responsibility, or even choices. The simple act of wearing a mask—or a "face diaper," as some conservatives derisively call it—is a new front in the culture war. Mandates for businesses are out, and "guidelines" are in. In Arizona and Texas, the governmental efforts to fight the coronavirus are now focused entirely on preparing hospital systems to meet an inevitable surge. Containment may have been a goal in the spring, but not anymore.
"We are not going to be able to stop the spread," Cara Christ, Arizona's public-health director, said last week, "so we can't stop living as well."
That quote alarmed local officials and epidemiologists alike. "It came off as a little callous," Pogreba-Brown said. But it appeared to convey the sentiments not only of Ducey and his top advisers, but of Arizonans more generally, who have flocked to bars and restaurants and crowded into nightclubs as the state has reopened over the past month. Because Arizona and Texas did not experience initial outbreaks nearly as severe as those in the Northeast earlier this year, officials suspect that people there had less trepidation about returning to crowded spaces once they reopened—and were less inclined to wear a mask. "People assumed that since things were open, they could just get back to life as normal, and I think we're seeing the consequences of that," Pogreba-Brown said.
In Arizona, at least, the rapid spread of the virus in recent days might be prompting Ducey to rethink his approach. Yesterday, he referred to the situation as a "crisis" in declaring that local governments could require citizens to wear masks. And while he did not change any statewide mandates, he suggested that more action could be coming.
In both Arizona and Texas, the aggressive reopening and hands-off policy since haven't made things easier on businesses, which now have the freedom to reopen but also the burden to police themselves. Some are stringent about requiring masks and social distancing. "There are other places that really aren't even giving it a nod," Austin Mayor Steve Adler told me.
Restaurant owners say they've received little guidance on how best to manage the situation. To their pleasant surprise, customers returned quickly. But so too did the virus: Several restaurants in Phoenix, Houston, and elsewhere reopened only to have to close again because their employees tested positive for COVID-19.
"We didn't necessarily reopen too quickly. There just needed to be more mandates as opposed to guidelines," Jason Mok, a Houston restaurateur, told me. Mok, 35, closed his three-year-old restaurant, FM Kitchen and Bar, for six weeks during the height of the pandemic, before reopening for curbside pickup and delivery. Once Texas allowed dine-in service, he said, he stayed one step behind the state mandates throughout most of May, keeping his dining room at only 25 or 50 percent capacity. "At the time, it just didn't feel right," he said. Customers showed up, but at the end of May a part-time kitchen employee tested positive, and Mok closed the restaurant for a week.
Ken Bridge, 52, hadn't even fully opened Millie's Kitchen and Cocktail, the newest of the five restaurants he owns in the Houston area, when one of his employees tested positive in late May. His staff members had been having their temperature checked twice a day, with anyone registering above 99 degrees sent home. Bridge had been doing takeout and delivery only, and he told me that he's now looking to open his dining room for the first time at the beginning of July. "We just have to be 100 percent confident," he said.
Bridge is an optimist by nature, but out and about in Houston, he told me by phone, he sees people not wearing masks, not "taking it as seriously as it could be taken." Bridge added that his restaurant couldn't survive on curbside service alone. "I'm so torn," he said. "In a lot of ways, I wish we were able to be more cautious. The other side of it is—shit, man, it's unsustainable."