The Nightmare That Colleges Face This Fall
University presidents are scrambling for answers on everything from on-campus housing to revenue-generating sports.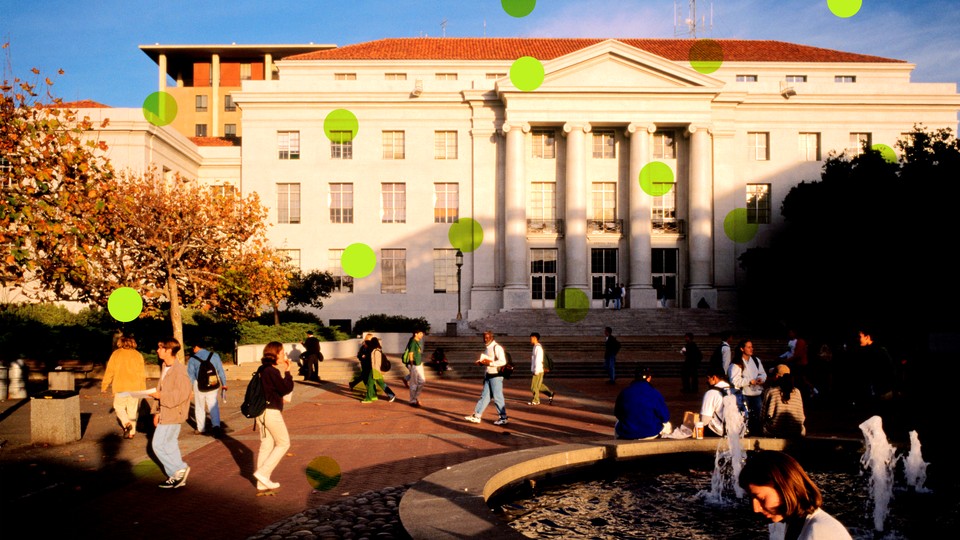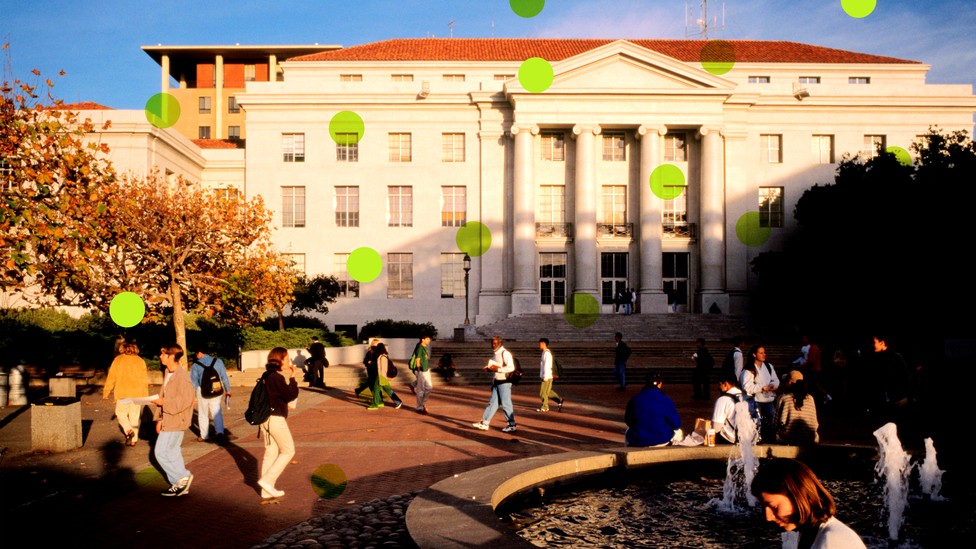 Classes will take place in the fall—but how? There's still no consensus on what next semester will be like. Not even close.
This spring's university closures have bought school leaders time to figure out how to introduce social distance into spaces designed to bring people together—classrooms, dining facilities, study lounges, and campus housing, to name a few. And although pivoting to online learning has likely helped slow the spread of the coronavirus in college towns, a meaningful solution to the crisis appears far off. Colleges cannot keep students away forever; their bottom lines can't handle that financial pressure. Residence halls are scheduled to reopen for the fall semester three months from now. Nearly everyone with an eye on higher education is asking one question: How can schools pull this off?
Eleven weeks ago, Jonathan Alger, the president of James Madison University, in Virginia, thought that all of this might be temporary. On March 11, JMU officials extended spring break and suspended most in-person classes until April 5. They updated their emergency plan to include travel and event restrictions. Under guidance from public-health experts, Alger created an infectious-disease-response team made up of staff from all parts of campus, from facilities management to academic affairs. But Alger quickly realized that he was only at the starting line. By March 18, spring classes had moved totally online and graduation was postponed. College officials issued housing, food, and parking refunds. The university lost $30 million in nine weeks.
The University of Notre Dame announced yesterday that it plans to reopen its campus on August 10, two weeks earlier than normal, and to forego fall break so that students finish the term before Thanksgiving. The California State University system has said that it will keep most classes, outside of courses like nursing clinicals which require in-person learning, online this fall. But for most universities, such as JMU, a contingency plan is the most they can offer right now. "We all recognize that this is a disease that none of us control and nobody even completely understands, and so we're planning for all contingencies," Alger told me.
College leaders are considering a few key questions: How do you regularly test a 20,000-student campus? How do you police student movement on campus to help with contact-tracing efforts? And will students and their families even want to pay thousands of dollars to risk their lives?
The most important factor in the reopening decision is the safety of students and faculty members. As Michael Sorrell, the president of Paul Quinn College, recently wrote in The Atlantic, "Rushing to reopen our society and our schools is a mistake that will ultimately result in hundreds of thousands of citizens falling sick and worse. We should not let our own financial and reputational worries cloud our judgment about matters of life and death."
At JMU, Alger's contingency-planning task force is thinking about a nation with a vaccine and one without, a nation with robust testing and one with the lackluster capacity the United States has now. But university officials will also be relying on data and health experts to decide how to reopen, Alger said. College presidents across the country have offered a version of this same statement. Unfortunately, the data sets are unreliable. The official numbers from the Centers for Disease Control and Prevention and individual states often don't match up. The CDC counts every individual test—whether or not a person has been tested multiple times—whereas many states count only the raw number of people tested, but that alone does not explain the difference. The discrepancies in testing data make it difficult to truly know the scale of the crisis.
If there is an outbreak on campus, many large research universities have their own hospitals to lean on. But some colleges—public regional colleges, small liberal-arts colleges, and community colleges in far-flung areas—will have a more difficult time handling even a small surge of cases. These same colleges are also the least likely to have the financial stability to weather the crisis, and no amount of pandemic planning can fix that.
Some data can reassure leaders, though. For example, Alger and others at JMU have been in constant contact with their local hospital, Sentara RMH Medical Center, to check on bed capacity and ventilator numbers. "Part of the [reopening] conversation is about making sure that the local public-health system can handle whatever we're dealing with," Alger said. So far, the facility has been able to handle hospitalizations related to the coronavirus. As of this writing, Virginia has had 30,388 positive cases and more than 1,000 deaths; Harrisonburg, where JMU is located, has had 583 cases.
If campuses reopen in the fall, return dates could be staggered. The University of Kentucky is considering having freshmen and sophomores come to campus while juniors and seniors take their classes online. The goal, university officials explained, would be to make sure that the students who need the in-person experience the most would get it, such as first- and second-year students who might have experiential lab requirements or other such course prerequisites. In this scenario, administrators would make exceptions for upperclassmen who also had classes that could not be completed online.
There's also the question of how to quickly and adequately clean any shared space. On May 13, Alger and JMU officials sent a letter to Virginia's education secretary requesting permission to hire additional facilities-maintenance staff to ramp up cleaning efforts. (The state has implemented a hiring freeze on certain employees.) The workers would wipe down door knobs and desks and spray rooms with a disinfectant spray known as a germ fog between each class period. Staff would also be required to deep-clean residence halls, and schools might even turn to local hotels to introduce more social distance into the campus housing apparatus. This spring, JMU relocated some international students who were not able to go home to on-campus apartment-style housing so that students could have their own bathrooms.
Institutions are planning to test students and staff regularly—but the nation has been remarkably slow to increase its testing capacity. As my colleague Robinson Meyer has written, the United States will likely need 1 million tests a day to contain the current outbreak, but the federal government has made little to no effort to ramp up capacity. In the event that colleges are able to regularly screen for COVID-19, some schools, such as JMU, already have dedicated quarantine facilities, rooms where the building airflow is controlled to reduce the likelihood of cross-infection. But space is at a premium on a lot of residential campuses, and at commuter schools, enforcing a quarantine on a student who already lives off campus could be difficult.
There's also the possibility of asymptomatic students going to large parties and spreading the virus. "We have to recognize that a certain percentage of students come to college precisely to socialize," Kevin McClure, an associate professor of higher education at the University of North Carolina at Wilmington, told me. "If you bring them back to campus, where they are around friends and there is even a small opportunity for them to get together, they're going to do it."
On May 7, the American College Health Association, an organization for health specialists on campuses, issued a 19-page document of points that universities should consider when deciding to reopen: Have campuses eliminated reusable kitchen items in dining halls? Is the number of students and faculty in each class limited? Are there special facilities for at-risk individuals? But the ACHA document does not take money into account.
Ed Orgeron, the head football coach at Louisiana State University, fresh off a national championship, recently spoke about "the light at the end of the tunnel." The school plans to welcome football players back on June 1 to begin training for the fall season. At colleges such as LSU, where football and basketball programs can generate tens of millions of dollars in revenue, presidents and chancellors have been thinking about what they would do without that money should the NCAA suspend upcoming seasons. (They also may be considering liabilities if they don't fulfill their end of lucrative television contracts.) The rush to reopen highlights Americans' sports-obsessed culture, and it has reinvigorated the debate over whether NCAA athletes should be compensated. If college campuses aren't safe enough for most students to return in June but college-football players come back, should they receive hazard pay? "We are going to play football in the fall, I really do believe that—even if I have to suit up," E. Gordon Gee, the president of West Virginia University, said last week during an interview with a local television station. But other college leaders, such as those at St. Edward's University, Sonoma State University, and Bowling Green State University, have decided that preemptively getting rid of several of their sports programs makes more financial sense.
While many institutions have been able to weather one semester online, a prolonged spell without on-campus fees could be a financial death knell for some colleges. Missouri Western State University, for example, has already announced its plans to ax a quarter of its full-time faculty and eliminate dozens of majors and minors, including English, history, and economics, by 2021. Federal stimulus money from the CARES Act will help alleviate some financial pressure on schools. But those funds often don't even make up for colleges' basic expenses related to COVID-19. At JMU, the $12 million it received—half of which must go directly to students as emergency aid—does not cover half of the $30 million the university has already lost.
Finances alone should not be a prime motivation for students returning in the fall. If campus officials bring students back and then have to send them home again in the event of an outbreak, will students be willing to pay for this on-again, off-again college experience? If not, how will colleges cover the cost for all the things they have to do to keep students safe?
"If I'm a leader," McClure told me, "I better be prepared to have a really good explanation for why it is that I brought people back to campus—understanding the risks—if somebody falls ill and dies."