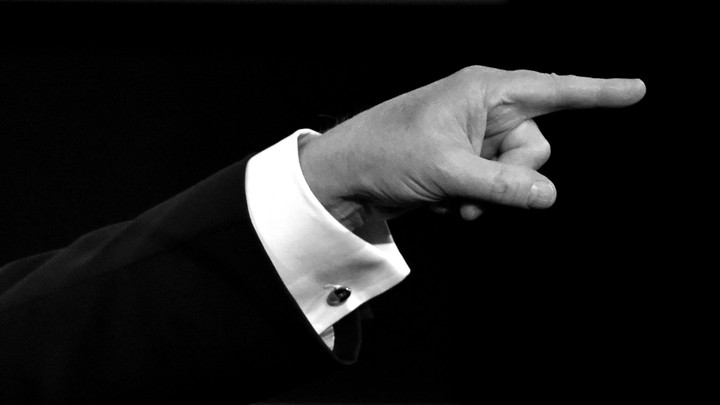 COVID-19 has shattered the basic economic rationale President Donald Trump had put forward in running for reelection and forced him to come up with another: Joe Biden's handling of the catastrophe would be worse.
Trump and his allies are working to graft his own vulnerabilities onto Biden, painting him as a feeble alternative to a president tested by the coronavirus pandemic and the economic tailspin it's caused. In TV ads and public statements, they're arguing that Biden couldn't revive the economy, defeat the virus, or stand up to Chinese leaders, whom Trump now blames for the outbreak. The message sets up a conspicuous irony: Trump is president during a pandemic that is raging without end, while Biden was vice president amid lesser public-health threats that were contained; Trump is presiding over historic job losses, while Biden oversaw an effective stimulus program that helped stanch job losses.
Yet Trump is betting that he can stoke enough doubts about Biden's leadership that his own record looks preferable by comparison. Trump wins if voters view the race as a clear choice between Biden and him, but if "the election becomes a referendum on Trump, it's a much closer call," one senior Trump-administration official told me. "This race has to be a contrast," says John McLaughlin, a Trump pollster.
Deflecting attention to Biden mirrors a tactic that Trump has long deployed when he's under pressure: He seizes accusations against him and flings them back. Democrats who led the impeachment fight against him committed "treason"; Russia actually wanted Hillary Clinton to be president.
Read: The voters Trump needs most right now
A race that hinges on whether the COVID-19 outbreak was competently managed could find Trump exiled to Mar-a-Lago come January. Tens of thousands have died from the disease; tens of millions have been thrown out of work. A vaccine might not arrive until 2023, Anthony Fauci, the director of the National Institute of Allergy and Infectious Diseases, told me. ("Vaccines fail as often—or more often—than they succeed," he said.) If the economy remains dormant a month from now, there's likely to be a high jobless rate "maybe through the end of 2020," says Stephen Moore, an outside economic adviser to the White House and one of the most prominent voices calling for a return to work. Fresh disclosures are emerging about how the Trump administration bungled the response at crucial stages.
"As the response drags on, Trump is going to be graded on how quickly people are getting their [relief] checks, how the virus is being dealt with, and how voters who might be unemployed on Election Day are feeling," Ryan Williams, a Republican strategist who served as spokesperson for Mitt Romney's 2012 campaign, told me.
Unless Trump can pull Biden into the saga. The challenge is that he needs voters to be thinking about an opponent who has largely confined himself to his Delaware home. Although polling shows that voters overall are dissatisfied with how Trump has managed the pandemic, at least one recent survey showed Trump holding a small lead over his Democratic opponent.
He's looking to widen the gap.
A devastating jobs report Friday showed that unemployment had jumped to nearly 15 percent, the highest level since the Great Depression. Trump's campaign quickly sent out a statement saying that when Biden was in power, he "presided over the slowest economic recovery since World War II." Fact checkers note that the Obama administration inherited an economy stricken by the 2008 financial collapse, while Trump took office eight years later amid an improving economy whose upward trend continued through his first three years in office. As vice president, Biden oversaw the $800 billion stimulus package passed in 2009 to help the economy rebound, encompassing more than 100,000 projects. In his book about the program, The New New Deal, Michael Grunwald praised the stimulus for helping avert a second depression.
In framing Biden as inadequate to manage the public-health response to the pandemic, Trump is similarly reaching back to the early days of Biden's eight-year stint as vice president. In a televised interview at the Lincoln Memorial earlier this month, he faulted Biden's response to the H1N1 swine flu during the first year of the Obama administration. "Look how badly they did on that," Trump told his Fox News interviewers.
It's doubtful that's how most Americans remember the outbreak. A few historic moments from the past half century are seared into the nation's collective consciousness: John F. Kennedy's assassination. The Vietnam War. Watergate. September 11.
COVID-19 will be part of that dark roll call. The swine flu will not.
Read: This is how Donald Trump will be remembered
A total of 12,500 Americans died from the disease in 2009 and 2010, fewer people than the number who perished from the seasonal flu in the same period. After-action reports show that the Obama administration's handling of the swine flu was largely effective. Testing devised by the Centers for Disease Control and Prevention proved accurate—unlike the early tests produced to detect the coronavirus. A vaccine was available just six months after the first infections were reported.
Biden didn't play a lead role in the administration's response, though he used his congressional ties to win $8 billion in funding from lawmakers for vaccines and medical supplies, a recent Politico review found. His main misstep was going off script at one point by saying he wouldn't want his family flying on planes for fear of contagion. An Obama spokesman later apologized for any unnecessary alarm Biden's remarks had caused.
Nonetheless, Trump is trying to convince voters that the swine flu was at least a dry run, and Biden stumbled. "The most notable thing he did was to erroneously tell the country not to fly on airplanes, and the Obama administration had to run around to clean up the mess," Tim Murtaugh, a Trump-campaign spokesperson, told me.
Trump has had less to say about Biden's response to the far more dangerous epidemic the Obama administration confronted, the Ebola outbreak in West Africa in 2014. Biden's former chief of staff, Ron Klain, who advises his campaign, led the administration's efforts to contain the outbreak as the White House's Ebola czar. Here, too, Biden wasn't a central player, though he helped arrange medical assistance to West Africa and gave advice on how best to contain the outbreak. Despite widespread public fears about Ebola, the response was successful: Only 11 people were treated for the disease in the U.S. from 2014 to 2016, according to the CDC.
Perhaps the most enthusiastic argument Trump's political advisers have made lately about Biden is that he is too close to China, a relationship they argue could compromise America's national security and public health. Tying Biden to China fits within a larger strategy of demonizing that country and reviving the economic-nationalist argument that Trump successfully invoked in the 2016 race.
Last week, Trump's team released a new ad that portrays Biden as overly credulous when it comes to China, suggesting that he wouldn't hold its leaders accountable for failing to extinguish the virus. "Biden has no demonstrated history of ever standing firm against China on anything," Bryan Lanza, who worked on Trump's 2016 campaign and presidential transition team, told me.
Read: Trump's plan to save his presidency
The deflection is obvious: Facing criticism that he gave China cover while Americans fell ill, Trump wants to depict his opponent as enthralled with China's leadership. Earlier this year, Trump made repeated statements praising China and its president, Xi Jinping, for working diligently to contain the disease, though more recently, his tone has darkened. Trump praised Xi "before he knew China's role," McLaughlin told me. "He was told one thing by China and it turned out not to be true. The president wanted to believe China and rely on them, but found out that he could not." (One Biden aide said his campaign won't let voters forget Trump's encomiums to Xi. "As the coronavirus outbreak was spreading like wildfire, Trump downplayed the historic threat and failed to prepare our nation while promising us that China was handling the outbreak 'really well' and 'transparently,'" Andrew Bates, a Biden-campaign spokesperson, told me. "We're going to blast him for that unprecedented malfeasance.")
It's too early to say whether Trump will successfully redirect the blame he's now absorbing. Despite the damage wrought by the pandemic, Trump allies believe the race remains competitive. Internal polling shows that if the election were held today, Trump would be on the cusp of picking up the 270 electoral votes needed to win, one person close to the campaign told me. Yet inside GOP circles, some are finding Trump's routine exhausting. When I spoke with a Senate aide about Trump's methods, he described the attacks on Biden as "revisionist history."
"I don't think anyone was really paying attention to Biden's role in the H1N1 stuff," said the aide, who, like others, spoke with me on the condition of anonymity to talk more candidly. "Nor did people really associate Biden with the economic recovery. He was VP. Most of the attention was on Obama and his economic team's performance."
I asked whether Republican lawmakers are worried that the pandemic made Trump's campaign unwinnable. "I don't think people are freaking out that it's the end of Trump," the Senate aide said. "They're freaking out about [whether] it's the end of their majority or their career. If Trump goes down and goes down big, that means you lose a lot of congressional seats and Senate races. But if you had Biden elected and a Republican Senate, I'm not sure you'd have a lot of complaints." The aide laughed. "They'd be able to adapt to that world."
We want to hear what you think about this article. Submit a letter to the editor or write to letters@theatlantic.com.
Peter Nicholas
is a staff writer at
The Atlantic,
where he covers the White House.