Joe Biden's Invisible Pandemic Expert
Ron Klain was a chief of staff to two vice presidents before leading the Obama administration's response to Ebola. Why isn't he a bigger figure in Biden's campaign?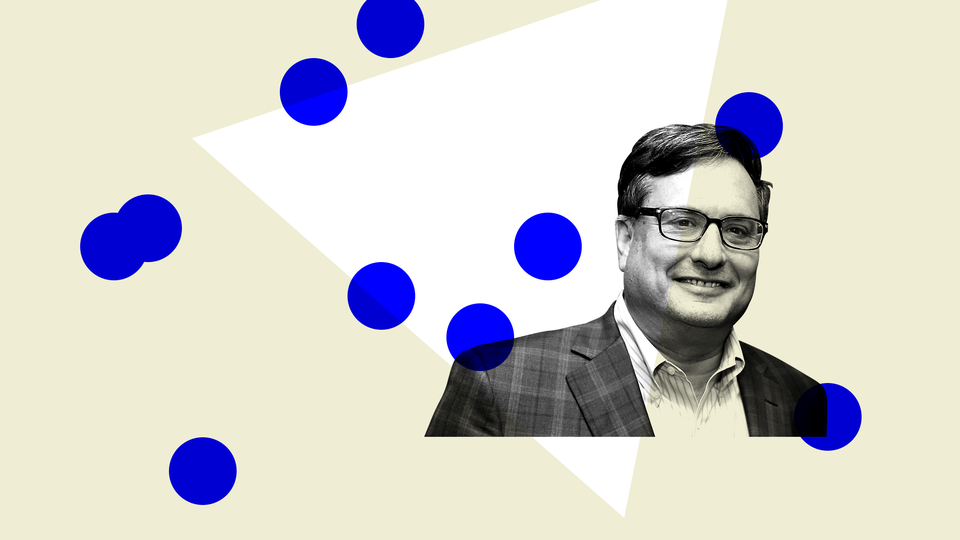 You'd have to be paying pretty close attention to know that one of Joe Biden's top advisers is the person who spearheaded America's response to the last major public-health crisis and ran the last major economic recovery.
The Democrats' presumptive presidential nominee complains about being stuck in his basement. Well before he faced Tara Reade's allegations that he sexually assaulted her in the 1990s (which he denies), Biden supporters all over the country were anxiously texting and emailing each other, wondering why he's not taking on Donald Trump more directly over the pandemic. Even now, Ron Klain, Biden's former chief of staff and Barack Obama's former Ebola czar, remains on the outside.
Klain's main integration into Biden's public campaign strategy was via a video ripping into the Trump administration's initial response to the coronavirus pandemic. Millions of people watched. That was March 21. He appeared as Biden's first guest on the campaign's podcast. That was March 29.
A lot has happened since. Even as he has stayed close with Biden (so much so that some of Biden's other top advisers grumble occasionally about his direct line to the candidate) and been all over TV (so much so that some of those same aides also grumble about how often they see him on camera), there hasn't been anything official from Klain since that podcast appearance in March.
"You can't prove the counterfactual. But Ron Klain is a lot of the reason why we didn't have an Ebola epidemic here," Valerie Jarrett, Obama's closest adviser, told me. She recalled being impressed by the morning briefings he ran in the White House at the height of that panic, in 2014. "There is nobody I can imagine who's better situated to advise Vice President Biden on COVID-19 right now than Ron Klain."
Some people on the outside of the campaign are confused about why Biden isn't making more use of Klain. But Klain told me that he never wanted to be the shadow czar.
"I don't consider myself the shadow anything," he said. "I'm trying to offer my opinions about what it would take to do this better, based on my experience of having done it." He argued that governors around the country are the real shadow coronavirus czars, running the day-to-day response all day, every day, though he noted that, like Biden, several have been checking in with him. "I'm opining. Whatever that's worth, it's worth. I don't hold this out as any great task."
It's worth a lot, says Jake Sullivan, another outside Biden adviser, who has been the regular quarterback of the campaign's strategy on the pandemic. "He's the ultimate resource to the campaign for gut checks, for strategic guidance, for key moments, for briefing the VP before he does a town hall, and for being the person who we all look to for what to say on the critical decisions," Sullivan told me. Klain tells Biden and his aides where he thinks the crisis is headed next, and how he thinks the candidate needs to get ahead of it.
Of course, there is an actual shadow coronavirus czar, and he's working in the White House, crowdsourcing early advice from his brother's father-in-law, handing out government contracts to friends and campaign donors. Compare Klain to Jared Kushner, and the differences stack up: one man's main qualifications are being born into a rich family, then marrying into another. The other man's qualifications are being the former chief of staff to two vice presidents (Klain worked for Al Gore before Biden). Kushner went to law school after his family leased a building and donated a pile of cash to NYU, then spent a few years sinking millions into the most expensive real-estate deal in American history and a failed newspaper revival. Klain made his way from Supreme Court clerk to Senate Judiciary Committee counsel, shepherded Justice Ruth Bader Ginsburg through her confirmation hearings, and worked in top positions in Congress and the White House.
Kushner, who declared more than 10,000 American deaths ago that the White House's response to the pandemic is "a great success story," would've been hard-pressed to land a job in any White House not run by his father-in-law; Klain is exactly the kind of person who'd land a job in the White House under any Democratic president.
When Obama picked Klain as his Ebola czar in 2014, it wasn't because he was a doctor or knew much about public health, but because he knew how government works. "There was a little skepticism from some corners at the selection of Ron to fulfill this function," Obama would say later, "but, the background noise notwithstanding, I chose Ron for a reason: I have known him to be nothing less than an effective, dedicated, and tireless manager and leader." Klain was in and out in six months, which was enough time for America to go from a full cable-news freak-out to Obama giving a nurse who'd gotten infected a hug in the Oval Office. Just one person, a Liberian who'd traveled to Texas, died in the United States during the outbreak. "He took on a challenge that many called insurmountable, and, in leading the team responsible for the tremendous progress, helped remind the world what makes America so exceptional," Obama said at the time. On his way out, Klain recommended the creation of a pandemic-response office within the National Security Council—the office the Trump White House later disbanded.
Klain has kept his day jobs, teaching what became an online class for Harvard Law School, and as the executive vice president and general counsel at Revolution, an investment firm for digital start-ups. He started his own podcast. (Epidemic, co-hosted with Dr. Celine Gounder, is up to 11 episodes.) And he's been running his own personal rapid-response operation, tweeting his frustration with Trump and every Trump ally who's claimed that no one could have seen the pandemic coming by citing news report after news report of … people seeing it coming. He's up to about 250 examples.
This is a comfortable space for him. He'd been such a frequent guest on cable over the past few years that he inspired a fan account, @Klainiac, by a Boston-based woman named Lisa Allen, who has never met him but uses a big-chinned caricature of him as her avatar. She told me she "was simply smitten by his smarts and biting wit at a time when I was thinking of starting a Twitter account."
He still isn't part of Biden's daily conference calls with staff or with his coronavirus advisers. But he remains one of the most important voices in Biden's ear, as he's been for decades. (In 2015, when he signed up early to run Hillary Clinton's debate prep, some of her campaign aides would cite Klain's involvement as proof that Biden was never serious about running against her. Other Biden loyalists were upset to see him leave the boss in that period of intense emotions and political frenzy.)
Klain does not tend to watch the president's briefings or other appearances, but he keeps up with what happens in them. He's not impressed. He's also tracking how his comments about the response have made him a target of both the president's fans on social media and the Republican National Committee. He's not impressed with what they've produced either. "They should worry a lot more about getting [the pandemic response] right than trying to make attack videos or whatever they're doing," Klain told me.
But Jason Miller, the former Trump-campaign communications director who's hosting his own pandemic podcast with former Trump adviser Steve Bannon, told me he thinks Biden is lucky to have Klain. "He's a substantial player and he's well respected, even if we're coming at things from a different point of view." To Miller, Klain has been providing guidance when Biden hasn't been able to. "Klain is the one who has worked in the pandemic space and who's viewed as being a steady policy hand. He's trying to do everything he can do." Although Miller thinks Biden is lucky to have Klain around, he also thinks this is a case of the adviser accentuating what he says are the candidate's own shortcomings. "Ron Klain isn't on the ballot running for president. Joe Biden is."
Like the experienced aide that he is, Klain did his best to keep pulling our conversation back to the candidate, not himself. When I said that the pandemic seems to accentuate Biden's core pitch for a return to normalcy—because who wouldn't, at this point, be ready to turn back the clock to a time before face masks and constant panic?—Klain came back at me with one of the campaign's favorite talking points: No, Biden has always been focused on building a better future.
He reminisced about his own time in the Situation Room with Anthony Fauci, but stayed relatively diplomatic about Kushner. "The track record of some of the things he's done is questionable," Klain, who has never met Kushner, observed. He argued that Americans should pay less attention to the president's son-in-law as a person and more attention to what he said Kushner represents: political influence on the country's pandemic response. To the extent that Kushner is in control, Klain said, "the question is, how does he see the task? How has he been empowered to do the task?" He added, "One thing I understood from day one was I didn't try to tell Tony Fauci how to run clinical trials. I didn't try to use it to play politics. I used my authority to try to coordinate the various agencies of the federal executive branch, and our work with state and local government and our work with the Hill, and our work with our foreign partners, in the effort in a very straightforward way."
Kushner, in a rare television appearance, went on Fox News last week to say America is now on "the other side of the medical aspect of this," and that the White House's response is "a great success story." He made new claims about testing capacity that didn't match the facts. About 10,000 more Americans have died since then, on top of the 60,000 or so who had died already.
Biden has said he would have Klain in charge of the pandemic response—though no one knows what the pandemic, or the response, will look like in January. Long before the coronavirus, Klain was on the short list to be Biden's White House chief of staff. Klain told me he wouldn't speculate on what kind of role he'd want in Biden's administration. There's still a campaign to run, he said. A Biden spokesperson, meanwhile, declined to comment when asked why Klain hasn't been put in an official role, either on the campaign overall or since the coronavirus arrived.
Klain has no title. He never went to the campaign headquarters in Philadelphia. Klain's main role on the campaign had been running debate strategy—he's Democrats' most seasoned debate sensei, in the prep room for every Democratic nominee since Gore, and close enough with Biden that he was in the green room with the candidate each time before he walked out on stage in the primary showdowns. He's starting to formulate thoughts for the fall, though for now it's not even clear whether the two candidates will be able to be in the same studio for a debate, or whether Trump will find some reason to avoid participating. Regardless of the circumstances, the main point, Klain said, will be to contrast the two men as leaders, and as people—which is why he said he's one of the advisers comfortable with the quieter approach the candidate has been taking over the past two months. Keeping with the Biden campaign's thinking from the start, Klain said that there's a difference between online griping and reality—even now, when reality for a lot of people means sitting at home and griping online.
"The president has the podium and he certainly is much more visible than any other political figure. But the Twitter world is a little obsessed with the day-to-day measurement of this," Klain said. "What seems right to me is that the American people are forming a clear impression of the difference between Joe Biden and Donald Trump … Joe Biden may have a smaller megaphone right now, but I still think he's being heard."