How the Pandemic Silenced the Nation's Biggest Governor's Race
Will North Carolina, a major presidential swing state, return to the national spotlight?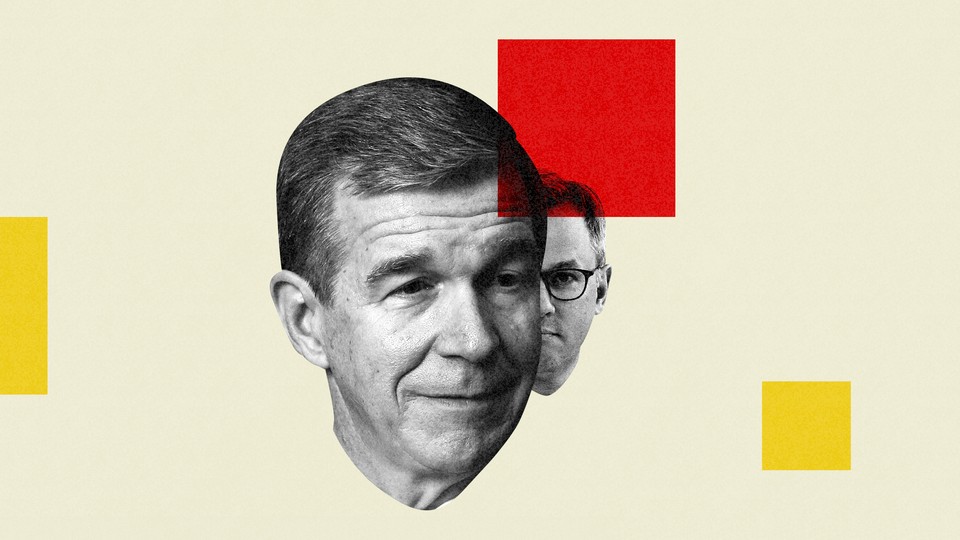 The conservative vying to be North Carolina's next governor has found an unlikely kindred spirit while stuck in a campaign on pause.
"It's probably the first time Joe Biden and I have had anything in common," Dan Forest says with a laugh. Forest is North Carolina's lieutenant governor and the GOP's nominee against Democratic Governor Roy Cooper this fall. Four years after Cooper won by a razor-thin margin, his bid for a second term is the marquee governor's race in the nation this year—the only one, aside from New Hampshire, occurring in a major presidential swing state. Like the Democratic former vice president, Forest is struggling to reach voters from the confines of his home. He's facing an incumbent with a bigger job, a deeper war chest, and a crisis that puts him in front of locked-down constituents nearly every day.
But Forest's challenge in North Carolina is far greater than Biden's across America. Although President Donald Trump's bounce in the polls has already faded, Cooper is enjoying strong public approval for his handling of the coronavirus outbreak. As many as seven in 10 North Carolina voters approve of Cooper's performance, and they seem to back both his decision to shut down North Carolina's economy in mid-March and the slower, more cautious approach to reopening that Cooper has taken compared with Republican governors in the surrounding states of South Carolina, Georgia, and Tennessee. Forest has aligned himself with those GOP leaders and pushed Cooper to lift restrictions faster. "I think everything should be open," he told me when we spoke by phone last week.
Yet Forest appears to be in the minority on reopening, and with recent polls giving Cooper a double-digit lead, a race once expected to be close is looking—for the moment—more like a romp.
"As it stands today, I think everyone would say Cooper is comfortably in the lead," Pope McCorkle, a longtime Democratic consultant who now runs Duke University's Polis: Center for Politics, told me.
Cooper, 62, served as North Carolina's attorney general for 16 years before narrowly defeating GOP Governor Pat McCrory in 2016. He won by just 10,000 votes; Trump carried the state by 3.7 percent the same year. Cooper had benefited from the blowback against a bill that McCrory signed—and Forest pushed—to prevent cities in North Carolina from banning discrimination on the basis of sexual orientation or gender identity. After rushing to strip Cooper of executive powers before he took office, the state's Republican-dominated legislature largely blocked his agenda during his first years in office, regularly overriding Cooper's vetoes until Democrats broke the GOP's supermajority in 2018. Deprived of signature accomplishments such as an expansion of Medicaid or big raises for teachers, Cooper had been planning instead to run, in part, as a check on the Republican legislature. The governor "reined in the crazy, and reined in the extremists," a person close to Cooper told me, summing up the pitch.
The pandemic, however, has given him an opportunity to govern with a freer hand, allowing voters to see him as an executive leading the state and not merely a combatant in battles with the legislature. "The whole election is going to be a referendum on Cooper's handling of coronavirus," Carter Wrenn, a veteran GOP political consultant in North Carolina, told me. "He's got a big advantage in that he's got a microphone. Forest has nothing compared to that."
Cooper issued a stay-at-home order and closed nonessential businesses on March 27. The state has had nearly 21,000 positive cases of the coronavirus and, as of Thursday, 716 deaths—numbers that are comparatively less than states of similar population. On May 8, Cooper moved the state into phase one of reopening, allowing most retail businesses to operate at reduced capacity while keeping bars, gyms, and barbershops closed. He kept churches closed for indoor services until a federal court ruled that they must be allowed to open. Today, the state will enter what Cooper described as a "modest" second phase, in which restaurants and hair salons can operate at limited capacity but bars and gyms must remain closed.
Cooper's recent popularity has put Forest, a 52-year-old in his second term as lieutenant governor, in a further bind. The Republican is urging the governor to reopen, promoting the need to achieve "herd immunity" and suggesting that the virus's dangers to all but the elderly and immunocompromised have been exaggerated. "We know who it is we need to target and protect," Forest told me. But he backed off his criticism of Cooper's decision to shut down and has since been hesitant to attack the governor too harshly. Forest has similarly echoed the sentiments of "Liberate" protesters and, during a Zoom call with organizers, encouraged their demonstrations at the state capitol. But he has also kept his distance—physically and politically—from their rallies. "I don't disagree with what they're doing," he said. "But we are not involved in that."
Forest has been trying to highlight his efforts to help struggling small businesses, to whom he said he's donated $200,000 in campaign funds. He also traveled to South Carolina to help tornado victims with Samaritan's Purse, the Christian humanitarian group run by Franklin Graham. Democrats have criticized the trips, circulating videos in which Forest is seen in close contact with people while not wearing a mask. "That's ludicrous," Forest replied when I asked him about the criticism. "That's just stupid leftist talk, when people think that [you should put] social distancing ahead of compassion for people that are hurting.
"I don't care about getting a virus," he continued. "I can get this just like anybody else can get this. I can get complications just like anybody else. But when there's people out there hurting, I'm going to go out there and help them."
The debate over reopening is anything but hypothetical, even in an election that's more than five months away. A second wave of infections could crest this fall or even next year, when a Governor Forest—if he wins—would be in charge. And while he has criticized Cooper's decisions at times, Forest is less clear on exactly what he would have done instead, or what he would do if there's another outbreak next year.
He favors recommendations for businesses over government mandates. Let churches, restaurants, wedding venues, and barbershops reopen, he says, but give them "guidelines" for maintaining social distance. "I don't think the government should lead with a stick," Forest told me. "It should lead with a carrot and allow these industries to have some personal responsibility and freedom. Then, if you had to for some reason, because somebody was doing something egregious, then maybe you come back with a stick."
But when I asked whether Forest, if he were governor next year, would be willing to shut down the state if his health advisers recommended another "shelter-in-place" order, he was less firm. "That's like having a crystal ball," he replied. "I would say right now, all things considered and all things held equal and maintained going forward, with another round, I would say you'd come forward with recommendations like 'Work from home if you can.'"
Cooper has mostly ignored Forest during the crisis, and his office declined to make him available for an interview for this article. In an illustration of how difficult it's been for the Republican to break through, local reporters have been so focused on the pandemic that the lieutenant governor's criticism has rarely come up at the governor's briefings, Cooper aides say. "There's nothing much he can say that the press will cover," Wrenn told me.
The two men have never been governing partners, and Forest told me that Cooper has shunned his offer to help—not that he was surprised. "Obviously, I'm his opponent. He's not going to reach out to me," he said.
Privately, Cooper's aides are dismissive of Forest. They cite his underwhelming fundraising—the governor had nearly $10 million in his campaign at the end of the first quarter compared with less than $750,000 for Forest. "Dan Forest is definitely not the most fearsome candidate," the person close to the governor told me.
Publicly, Cooper's campaign is trying to tag Forest as an extremist on the pandemic, highlighting his comments downplaying the danger of the virus to young people and suggesting that it had been exaggerated by the media. "He's spewing conspiracy theories and encouraging these radical protesters to march on Raleigh with their AR-15s and everything else," Morgan Jackson, the governor's top campaign strategist, told me. "That's not a guy who's ready to lead. That's a guy [making] a desperate attempt to appear relevant."
As to Forest's call to let younger, healthy people get back to work while protecting the elderly, Jackson noted that at least 4.5 million of North Carolina's 10 million residents had preexisting conditions. "If you're going to be an elected official and you strive to be governor, your job is to look after the 10 million people of this state, regardless of whether they watch Fox News," Jackson said. "If Dan Forest would spend a little bit less time getting advice from doctors who have an MD in Facebook, he might have a better grasp on how to handle this situation."
Republicans in North Carolina have voiced concern about the mismatch in fundraising between Cooper and Forest. But the party has bigger worries than just Forest: The state's senior GOP senator, Richard Burr, just relinquished his post as chairman of the Intelligence Committee amid an investigation into his stock trades early in the coronavirus outbreak. North Carolina's other senator, Thom Tillis, is in danger of losing his reelection bid in November, and the former chairman of the state's Republican Party is under indictment on bribery charges.
Still, Forest's allies say the lieutenant governor should not be underestimated. "He's very popular with the grassroots Republican voters," Phil Berger, the Republican president pro tem of the North Carolina Senate, told me. He noted that Forest's two victories in his statewide races for lieutenant governor were "surprisingly easy." "They apparently know what they're doing," he said.
Plenty of uncertainty lies ahead for Cooper too. Confirmed cases of coronavirus have continued to rise, even as he has slowly begun to reopen North Carolina, particularly in nursing homes and prisons. The state is doing more testing, and Cooper has said that it is still meeting its benchmarks for a phased reopening. Even without a resurgence in cases this fall, the shattered economy will pose risks for any incumbent governor on the ballot.
The GOP will also have its own say in the path that North Carolina takes. On Tuesday, the Republican National Committee sent donors a formal invitation to the party's nominating convention in Charlotte in late August—the latest sign that the president wants to convene thousands of people in the city as a symbol of the nation's reopening and recovery. The political impact of any convention usually fades in a matter of weeks, but in the middle of a pandemic, the legacy of such an event—for Trump and his party, for Cooper's reelection prospects, and for the health of the entire state—could extend through November and beyond.