The Ticket: Mayor Nan Whaley
The mayor of Dayton, Ohio, on how badly America's cities need a bailout, and how painful the impact could be if they don't get one.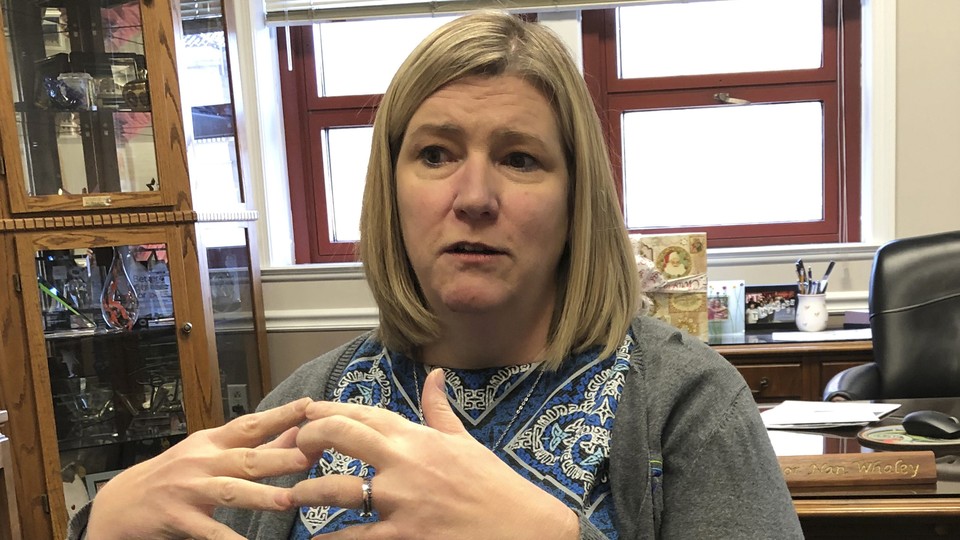 Mayor Nan Whaley of Dayton, Ohio, joins the staff writer Edward-Isaac Dovere on an episode of The Ticket: Politics From The Atlantic. She details how dire the fiscal situation is for many of America's cities—and what the impact could be if they don't get more help from the federal government.
Listen to their full conversation here:
Subscribe to The Ticket on Apple Podcasts, Spotify, or another podcast platform to receive new episodes as soon as they're published.
---
What follows is an edited and condensed transcript:
Edward-Isaac Dovere: Is it already clear in Dayton that there has been a big impact from this?
Nan Whaley: The homicide rates are up like 50 percent in the city, and in cities across the state. I run a call every day with mayors across the state of Ohio and Cincinnati's up about 170 percent.
Dovere: What explains that?
Whaley: Well, we have theories. The underground economy is being affected by COVID. Some of it's boredom, unfortunately. We're also seeing an uptick in our accidental-overdose deaths. Most people that are addicted to opioids, they actually use together. And so it's harder to use together, and their buddy is not next to them to perform Narcan or naloxone. And so we have seen an uptick there. Our mental-health numbers are up, and I think we're just kind of scratching the surface on that. We'll see more after. And then, of course, the unemployment rate is around 20 percent in the county. I think that will get worse in mid-to-late July.
Dovere: There are already local governments that are feeling the hit of this, but like you say, it's probably just the beginning. There's a stat that you have cited: that in 2008 Dayton was the second-hardest-hit city in the country after Detroit.
Whaley: If people don't really know where Dayton is located, it's on the edge of the I-75 corridor, three and a half hours south of Detroit. The Great Migration happened to us the same as Detroit. We were actually called Little Detroit. Our whole system was basically a manufacturing of aerospace and, at that time, automobiles. When the Great Recession happened and the auto industry was collapsing, Detroit was hit, but so was Dayton. We lost around 16 percent of the job numbers. I mean, it's just enormous. And we still have not recovered.
Dovere: Dayton is still, in 2020—and now looking ahead to what's going to come from this—still dealing with 2008?
Whaley: Right. One-third of the regions in the country, and a lot of Ohio regions, did not ever fully get back to the job numbers before the Great Recession. And the Dayton region is one of them.
Dovere: Is there anything to do, or just see what kind of pain comes and then deal with that?
Whaley: We immediately started retrenching in the city organization. For social distancing and for savings, we furloughed a fourth of the workforce. We immediately said: Okay, no expenses that weren't COVID-related. We're trying to figure out what an 18 percent cut will look like. And we're still hoping that we'll get some federal help.
Dovere: One of the things that we are hearing out of Republican leaders in Washington is that there shouldn't be bailout money for affected states. And what they say is blue states should learn to live within their means. And that's gotten a lot of pushback from a lot of places. But what's interesting about your situation is Ohio is not a blue state.
It is a state that Donald Trump won by a lot. And it is a state that has a Republican governor, one Democratic senator, and one Republican senator. But you want a bailout. You want money from the federal government to help take care of the shortfalls. So what are the people in Washington not getting?
Whaley: I think it shows just how out of touch they are about what this money is going toward. For the locals, it's the front lines. It's police officers and firefighters who, by the way, voted for Trump. It's public-works employees and people that pick up the trash. This is the living and dying on the ground that's going on inside cities in Ohio and in America.
For the states, it's about education and health care. And for the cities, it's about frontline services that are saving your life. I think what they're doing is really egregious. Basically they're playing chicken with us. And they do this at their own peril, frankly, because we are talking about workers that are probably likely their voters.
Dovere: You think you're going to have to fire police officers and firefighters in Dayton if you don't get more federal money?
Whaley: Absolutely. Sixty percent of the budget is police and fire. Ohio is a municipal-income state. Seventy percent of the budget of Dayton comes from earnings tax, so if people aren't working, you don't have a budget. It immediately falls out, I think in July or August, after the unemployment runs out.
And all the other cities in Ohio are in the same boat. Anywhere from 15 to 25 percent is where the Ohio mayors are thinking the trouble will be. And when 60 percent of the budget is police and fire, you just can't get to an 18 percent cut without doing something about police and fire. And we've already cut enormously during the Great Recession and before.
Dovere: If you're looking already at a spike in homicides and overdoses, and you're going to look forward to likely cuts to police and fire, what does that mean for the way a city functions?
Whaley: Well, I just don't think it will function well. And it's egregious, frankly. You'll bail out airlines. You'll bail out every other thing known to man, but not police or fire? Are you serious?
Dovere: And it's not like everything is, like, calm otherwise. We're seeing what is happening in Minneapolis with George Floyd, who was killed, and the violence that has erupted after that. One of the things that I have been struck by over the course of the three months of this lockdown is that the social fabric has held as much as it has. Does that worry you?
Whaley: If any mayor tells you they don't worry about what's happening in Minneapolis happening in their city, they're really naive or they're not telling you the truth.
I remember when Freddie Gray happened in Baltimore, Mayor [Michael] Coleman was the mayor of Columbus and he was friends with Mayor [Stephanie] Rawlings-Blake. And so I called and said, "Have you checked in on her? How is she doing?" "Oh yeah, it's very tough, Nan." And he just said: "Because by the grace of God, we all go."
I mean, the social fabric, you do a lot of work on it in your community. But there are things you just don't control. And you have to recognize that too.
Dovere: It's been one year since tornadoes hit Dayton. There was a mass shooting in August. You've spent so much of the last year in a consoler role, helping people get through these tragedies. We have seen a real lack of that on the national level. What do you think, given your experience, needs to be said and needs to be done as people continue to feel the hit of this, whether through a death or job loss.
Whaley: I don't see a lot of empathy in the national dialogue at all right now. And I recognize there's not a lot of women besides the speaker there. I have learned and appreciate the value of vulnerability and leading through being vulnerable. And that means to show that you're human, to show that this is hard on you too, but to be resolved—and honestly resolved—that you're going to get through it.
I long for leadership that shows some empathy. And I long for leadership that, even if I don't agree with it, I can respect. And that's why I do appreciate Governor [Mike] DeWine. We do not agree. Even through the pandemic, I have disagreed with him. But I respect him. And I learned from the shooting that he does have empathy. And I long for that kind of leadership in the federal government. That's, I think, that's what I miss the most.