First Came the Virus. Next Come the Storms.
We will soon enter the most dangerous time of year for natural disasters. But the pandemic has turned disaster planning on its head.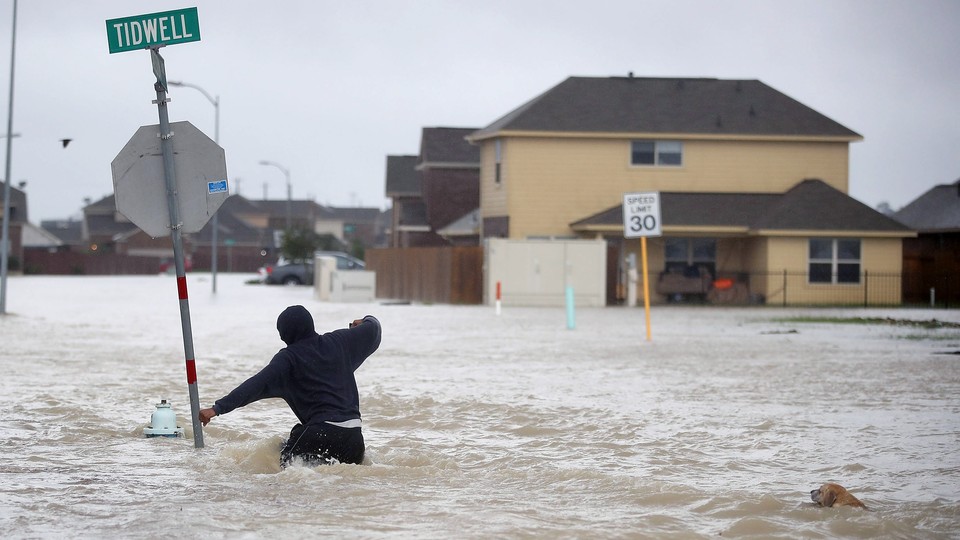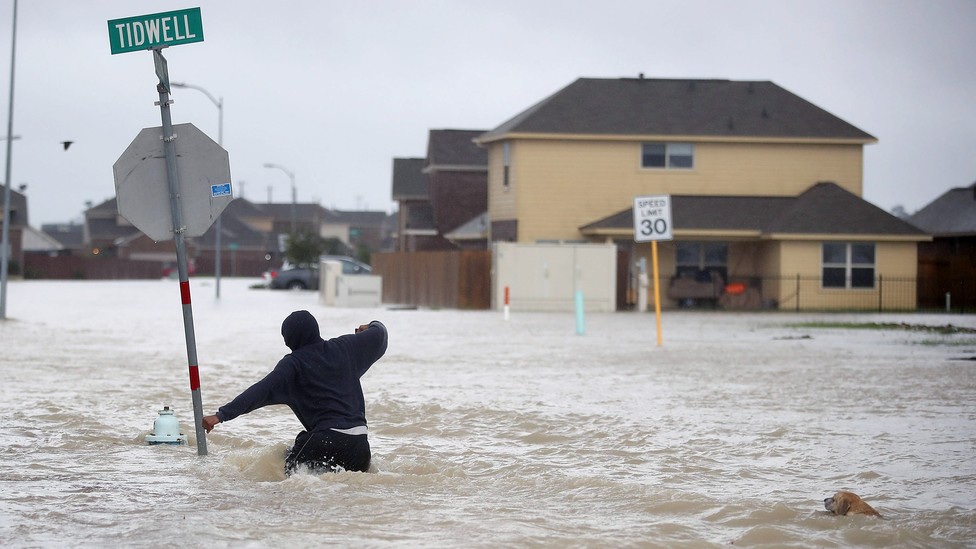 In March, as the country watched a strange new disease spread from coast to coast, leading researchers at Colorado State University released their annual forecast for the upcoming Atlantic hurricane season. Their predictions were not comforting: an "above average" season, with an estimated four major storms (Category 3 or higher) and a nearly 70 percent chance that at least one of those major storms strikes the U.S. coast.
Responding to a major storm amid an ongoing pandemic would present huge challenges. Emergency managers across the Atlantic coast, already engaged in the fight to contain the novel coronavirus, have had to reimagine nearly every aspect of their traditional hurricane-response plans before the season begins on June 1. They must then find some way to communicate these new protocols to an overwhelmed and fearful public. And they must accomplish these feats under more strain than ever before.
"The people that deal with disasters are, to put it in plain English, exhausted," Irwin Redlener, the director of the National Center for Disaster Preparedness at Columbia University, told me. Emergency managers' resources have been depleted by the pandemic, and they may not be able to count on federal support to fill in the gap they will face if a storm does strike.
State and local emergency planners must rethink any task involved in preparing for, responding to, and recovering from storms that requires physical proximity to other people. First, there's the question of evacuations. Even under normal circumstances, deciding whether to recommend or order an evacuation requires weighing the risks of riding out the storm against the risks of putting tens or even hundreds of thousands of people on the road at once. Now the potential for a viral outbreak at a storm shelter has to be factored into the equation. "It may come down to a governor or a mayor saying, 'Okay, I'm either going to leave people in harm's way because of this [pandemic], or I'm going to put them in harm's way by asking them to go to the shelter,'" says Bryan Koon, a former emergency manager for Florida.
Depending on the storm's severity, requiring everyone to stay at home may be safer than getting people out. Evacuation would pose a particular challenge for hospitals and assisted-care facilities, which may have to evacuate patients if they are damaged by a storm. This is a logistical challenge under any circumstances, but it will require significantly more planning, personnel, and resources if the facility is inundated with COVID-19 patients who must be isolated and possibly on ventilators.
Safely evacuating and sheltering people during a pandemic will likely require more space, transportation, and staff than in a typical year. State emergency managers are already considering securing more shelter space to allow for social distancing; testing or temperature checks and separate shelter spaces for those with COVID-19; or even using vacant hotels as shelter sites, rather than the traditional gyms or convention centers. As for physically moving people out of harm's way, "Let's say you would normally need 20 buses to evacuate people from an area that's about to experience a hurricane. We might need 50 buses to make sure that those buses are not overcrowded," according to Redlener.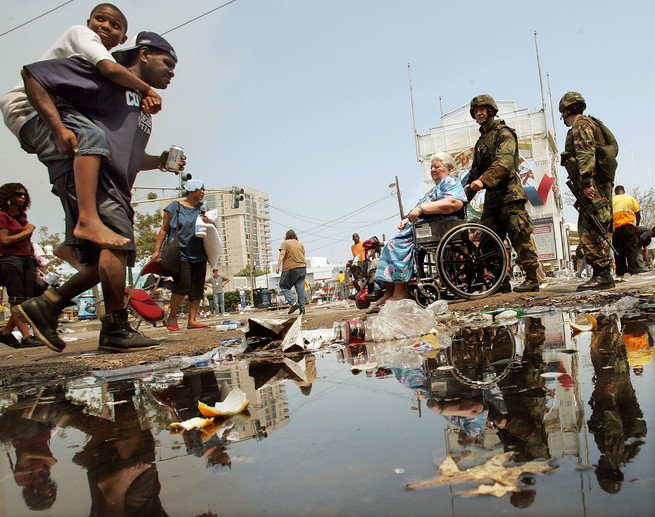 Once emergency managers have revised their hurricane plans to account for the pandemic, they will have to communicate those new plans to the public. "I would start now with communicating to the public about how things may look different this hurricane season than they usually do," Samantha Montano, an emergency-management professor at the University of Nebraska at Omaha, told me.
Even if the message gets out early, the public, fearful of contracting or spreading the coronavirus, may hesitate to follow evacuation orders or go to a hurricane shelter. "How do you tell people, 'Okay, I know I've been telling you to stay home since March, but now you've got to get out'?" Bonnie Canal, the founder of the New Orleans nonprofit Evacuteer, which assists in evacuating vulnerable residents during natural disasters, told me.
Recovering after the storm passes could be the most difficult challenge of all. The pandemic creates a paradox for emergency managers. COVID-19 means they will need more resources than usual to respond effectively to a natural disaster. But the response to the disease has already consumed many of the resources that would be available. The economic fallout of the pandemic has also left many more people without the money to stock up on hurricane supplies, get themselves out of harm's way, or rebuild after a storm.
The people who are tasked with managing the pandemic response are largely the same people who will have to prepare for and respond to a natural disaster. North Carolina's director of emergency management, Mike Sprayberry, told me he hadn't had a day off in nearly 40 days. It's not just government officials, either; much of the response to a hurricane is executed by volunteers and nonprofit organizations. Many people who usually volunteer won't be able to help this hurricane season. The volunteer base tends to skew older, and seniors who are normally active at food banks and other support organizations are at heightened risk of contracting COVID-19. Ongoing recovery efforts from previous years' storms have had to be suspended in states like North Carolina and Texas because of the risk of spreading the coronavirus.
The problem extends beyond the areas that are usually hit by storms. Communities that typically host hurricane evacuees may hesitate to do so for fear of disease. Plus, because the pandemic response is active in all 50 states, those affected by disasters won't be able to rely on other states for help as they normally would. "Florida has gotten a tremendous amount of help from other states in the past, but this is the first time in U.S. history that every state right now has a declared disaster," Jared Moskowitz, Florida's director of emergency management, told me.
The capacity of the medical system during and after a storm is another significant pressure point. In a natural disaster, the system would need to have capacity to treat the injured, Redlener told me. But "right now, the hospital systems are at full capacity in many places. If we had a hurricane in the New York area, like we had in 2012, a few months from now, I shudder to think what kind of stress we'd be under."
The entire emergency-response system is under strain. "It won't take much pressure on this system for it to have catastrophic failure like we saw with Katrina, because the system is stressed as it is," Canal said. "How much pressure is it going to take for the system to collapse? We just don't know. And I don't think New Orleans is different from any other community in that respect."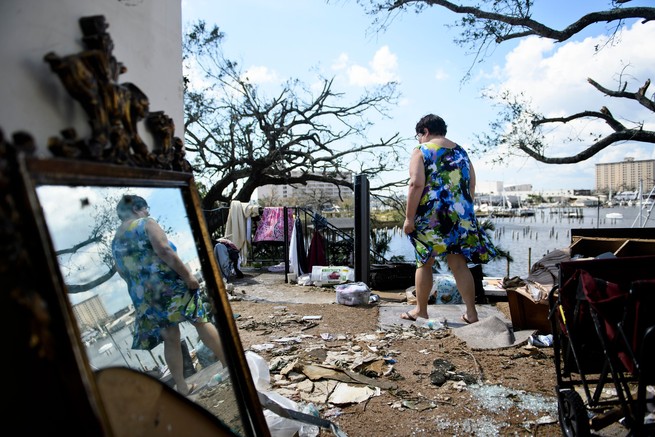 And when the next disaster strikes, we may never fully know the extent of the devastation it causes. Determining the death toll from an ordinary disaster alone is incredibly difficult, as is quantifying the impact of a pandemic. The two occurring simultaneously could make it impossible for researchers to accurately calculate the number of lives lost as a result.
Some state emergency managers are looking to the federal government to help them prepare, and respond, to the next crisis, even if the money isn't available right away. "If the state is hit with a hurricane that causes substantial damage, our cities and counties have to lay out money first to clean up and then to recover," Moskowitz said. He's hopeful that under that scenario, the federal government will fully reimburse the state for its recovery efforts. But if a major natural disaster were to happen on top of the COVID-19 pandemic, there would have to be a "man-on-the-moon-level" mobilization of resources, according to Flozell Daniels, president of the Foundation for Louisiana, a nonprofit that gives grants to disaster-recovery and resilience groups in the state.
Columbia University's Redlener fears the federal government will not be up to the task. "We're dealing with a White House in disarray," he said. "It's led by a president whose calling cards are lack of transparency, dishonesty, and ignorance. So we're not in a good place right now."
"It's not just a matter of the president or the personalities," Daniels told me. "What we've seen is an extraordinary underfunding of critical offices and services, not replacing leadership when they leave, not making sure that staffing is robust in all of the places where we would need it."
Some officials at FEMA fear that staffing shortages would undermine their ability to respond to a disaster, CNN reported last month. "It's not like FEMA has freeze-dried people in a closet that you can just open the door and throw water on and 'Here's FEMA!'" Canal said. Florida's two senators recently sent a letter to FEMA requesting additional guidance on how states and localities should prepare for hurricane season. "As hurricane season approaches, I look forward to collaborating with the Administration to ensure that Florida is best prepared to face this new reality," Senator Marco Rubio told me in an email.
A major natural disaster occurring during this pandemic is not a question of if, but of when and where. As I reported this story, deadly tornadoes touched down across the United States. The National Oceanic and Atmospheric Administration has forecast major-to-moderate flooding this spring in 23 states. And as the story headed to press, the first named storm of the year, Tropical Storm Arthur, skimmed past the Outer Banks of North Carolina, then turned back out to sea. Although the U.S. coast was spared this time, the official start of hurricane season has yet to arrive. More storms will soon form. They may each peter out, one by one. But nature is rarely so kind.