Revenge of the Obamacrats
Obama's top environmental official wanted nothing to do with politics after leaving the government. What did it take to bring her back?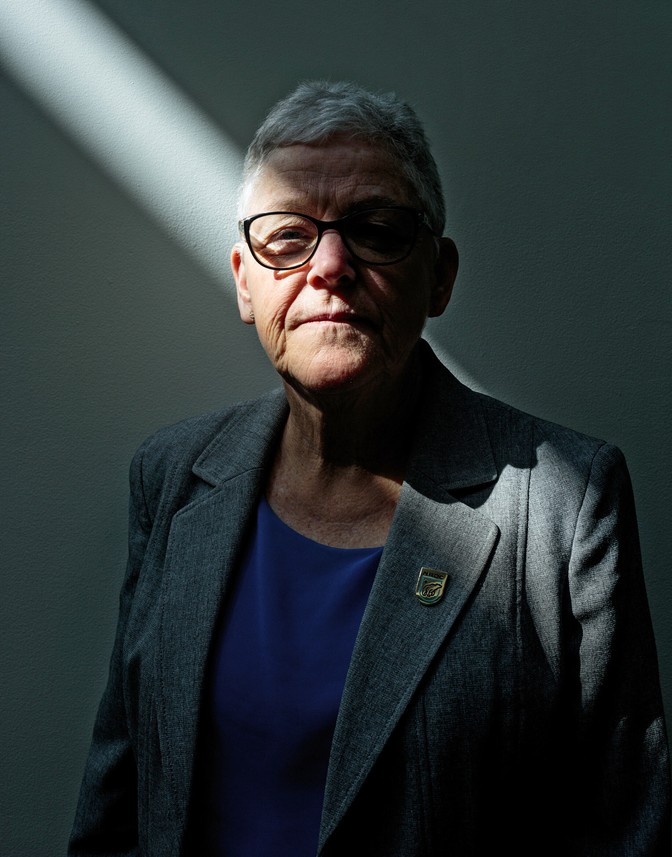 Updated at 9:01 p.m. ET on May 26, 2020
Washington legend has it that bureaucrats and political operatives overwhelmingly stay in issue advocacy or politics after their bosses leave office. But that notion is decades out-of-date. These days, many top officials who leave the D.C. swamp go directly to the private sector—and are paid handsomely to do so.
More of former President Barack Obama's top aides entered the private sector than from any other administration in the past four decades, including those of Republicans George W. Bush and Ronald Reagan, according to Kathryn Tenpas, a nonresident senior fellow at the Governance Institute at the Brookings Institution. Former Obama officials took high-paying jobs at companies including Amazon, Uber, Morgan Stanley, and Lockheed Martin.
Yet as Trump's aggressive rollback of Obama-administration policies has continued, several former Obama officials who went into academia or took private-sector jobs have since returned to politics or advocacy work.
Take Gina McCarthy, who spent seven chaotic years in Washington, four of them as the head of the Environmental Protection Agency under Obama. McCarthy was happy to pass the first years of the Trump administration in Boston, where she got to ride her bike to work every day as a professor at Harvard's T. H. Chan School of Public Health.
But although she had always expected some shifts after Trump won, she hadn't anticipated the speed with which his administration would dismantle environmental protections. Her Trump-appointed successors at the EPA announced changes to federal standards almost daily. By June 2019, they had done away with the Obama-era regulation to curb carbon emissions from power plants, and set their sights on redrafting a rule to allow cars to discharge more polluting gases—a change that the auto industry itself largely opposed. But late last year, when a rewrite of the Mercury and Air Toxics Standard, which limits the levels of mercury emitted from power plants, seemed imminent, McCarthy decided that she was ready to make a change.
So when the Natural Resources Defense Council, a leading environmental-advocacy nonprofit that had been searching for a new president, called her last fall, McCarthy said she was in.
That sort of move is unusual, Jeff Hauser, the founder and the director of the Revolving Door Project, told me. "It's become increasingly rare to see individuals [hold] a high government office and move into issue advocacy. There's become a norm that it is both acceptable and expected that people will leave public service to 'make some real money,'" Hauser said. "That reflects both parties becoming increasingly comfortable with the revolving door [between] private-sector and political appointments."
Yet McCarthy wasn't alone: Last June, former Interior Secretary Sally Jewell became the interim head of the Nature Conservancy, the top environmental-lobbying spender, which takes in more money than the American Cancer Society. Tina Tchen, a former chief of staff to first lady Michelle Obama, initially joined a law firm before taking a job leading the Time's Up Foundation and Time's Up Now late last year. And former administration officials such as Elissa Slotkin and Lauren Underwood ran for congressional seats in 2018—and won.
People who leave the government for the private sector are typically driven by money and opportunity—which explains why so many Obama officials went to Silicon Valley, Max Stier, the president and the CEO of the Partnership for Public Service, told me. "The reality is there are more for-profit opportunities for people than not-for-profit," he said. The former officials who decided, instead, to stick it out in (or rejoin) the less remunerative world of politics and activism were likely spurred on by the dramatic operational and regulatory shifts seen in Trump's White House, Neera Tanden, the president of the liberal think tank the Center for American Progress, told me.
"Many people recognize the existential threat to progressive issues and progressive values [caused] by the Trump administration," Tanden said. "And it has called a lot of people into the battle."
McCarthy's NRDC has emerged as one of the most aggressive challengers to the Trump administration's environmental policies. The organization's political arm, the NRDC Action Fund, plans to spend more than $5 million on federal-election efforts by June. The Action Fund's political-action committee has donated more to candidates this election cycle than most other environmental organizations, topping the former Democratic candidate Tom Steyer's group, NextGen Climate Action. Since Trump took office, the NRDC has sued his administration more than 100 times over a range of deregulatory actions and won more than 90 percent of the cases that have been resolved. Its victories include reinstating a ban on oil drilling in the Arctic and penalties for automakers who violate emissions rules.
"I had never thought that it was going to be as much of a frontal attack on everything the [Obama] administration did," McCarthy told me. "I just couldn't let it go."
The Trump administration's actions on the mercury rule especially infuriated McCarthy. Mercury is a powerful neurotoxin that can lead to impaired vision, muscle weakness, and changes in mental function. Children and unborn infants are the most vulnerable. As Obama's last EPA head and a top air-pollution official at the agency before that, McCarthy was intimately involved in drafting the rule, which she said was broadly accepted by all parties.
"I had been working on mercury standards for 12 years," she told me. "Who doesn't know that mercury is bad for you? It's the origin of the phrase mad as a hatter."
The EPA finalized changes to the mercury rule on April 16, declaring it not "appropriate and necessary." Industry groups and environmentalists alike had opposed alterations. There's "no basis to repeal these important and long-overdue" protections, Exelon, a major utility company, wrote to regulators in a 2019 public comment. The disagreement between the two administrations is based on semantics and legalese more than the regulation itself. Although the Trump administration did not reverse the mercury rule entirely, the modifications were intended to make clear that Trump officials disagree with the Obama administration's basis for drafting it in the first place, and that the new rule is "correcting flaws" in the logic. They say that the costs of complying with the mercury rule would exceed the environmental benefit. Environmentalists worry that the changes could limit regulators' ability to control toxins in the future.
The Trump administration's squabbling over the rule drove McCarthy "absolutely nuts," she said. "That's when I realized what they were doing made no sense from a standard-setting process. It was just to destroy everything that had been done before. It had no explanation otherwise."
Maintaining a healthy environment is a "key component" of Trump's "America first" agenda, an EPA spokesperson countered in an email. "EPA will continue to move forward on this agenda, and we hope NRDC under Gina McCarthy's leadership can support us in this important mission," the spokesperson said.
A lifelong public servant with a thick Massachusetts accent and a blunt style, McCarthy is not a reflexive partisan. For much of her career, she held state environmental-agency positions in Massachusetts and Connecticut—roles in which she served under Democrats and Republicans, including then–Massachusetts Governor Mitt Romney. She came to Washington to work in the EPA's air-and-radiation office in 2009, before Obama nominated her to lead the agency in 2013.
According to Jewell, who served in Obama's Cabinet at the same time as McCarthy, officials' shift to activism is about helping the broader progressive agenda while using the scientific and policy-building skills they developed as government officials. "Those of us who have been privileged to deeply understand what's at stake and what can be done about it feel an obligation to be part of the solution," Jewell told me.
To be sure, McCarthy and her fellow bureaucrats-turned-activists aren't exactly living in poverty. And although compensation in the nonprofit sector (and professional politics) is much lower than in the private sector, tons of money is still sloshing through the system; large nonprofits such as NRDC often spend tens or hundreds of millions of dollars each year.
"It's typical for environmental lobbyists to put a white hat on themselves and act like they are doing something different. But they are a huge environmental moneymaking corporation," said Kathleen Sgamma, the president of the Western Energy Alliance, a group that represents fossil-fuel companies. "I don't know what Gina McCarthy is making, but I'm sure she is making lavish money. That's not coming from environmental activists on the streets asking donors for five bucks … For her to suggest she is doing anything different than a corporate lobbyist is spin at best."
NRDC certainly has the money to push its agenda. Through the group's political arm, McCarthy will have millions to put toward endorsing and advertising for candidates in key 2020 races and promoting the ultimate goal: unseating Trump. The fund budgeted $6.2 million for election and lobbying efforts in fiscal 2018, ahead of the midterms. This money, which also supports voter-turnout efforts, can make a significant difference in close House and Senate races. In 2020, the NRDC Action Fund is planning to more than double its previous budget, and intends to raise and donate $200,000 to candidates through its PAC. McCarthy was originally planning to be a regular figure on the campaign trail in the lead-up to the election, but she had to suspend her spring tour of battleground states because of the coronavirus pandemic. Organizers say that they'll consider a modified in-person tour if it's safe to hold public events before November. McCarthy is also helping the Democratic National Committee draft its official climate platform ahead of the party's convention, which has been rescheduled for August 17.
McCarthy doesn't think of the rollbacks of her work at the EPA—or even the attacks from her critics—as a personal affront. But she sees her job as deeply personal nonetheless.
"We could really risk the future of my grandchildren," she said. "And so you sit there and think, Okay, how old are they going to be in 2050? You know, they're going to be, like, babies still, in the course of life. Everything that I thought I was working towards, which is really protecting my family and other families from damage from pollution, particularly—that was all at risk. And I couldn't sit on the sidelines anymore."