Their States Are in Crisis. They're Declaring Victory Anyway.
For the Republican governors reopening their economies, "bad news may be around the corner."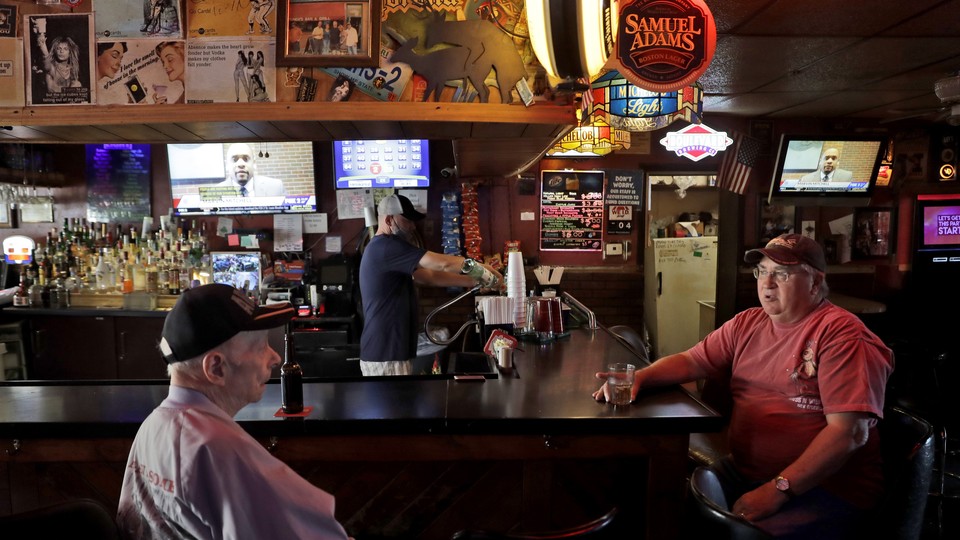 Five Republican governors proudly declared victory over the coronavirus this week and offered up their response as a model for other states to follow. States can have it all, their message seemed to be: both a healthy populace and a thriving economy.
Yet of these five states—Arkansas, Iowa, Missouri, Nebraska, and Wyoming—at least four are seeing an increase in positive test results or contain hot spots for new cases. "It's way too early to do a victory lap," Ross Brownson, an epidemiology professor at Washington University in St. Louis, told me. "There's no measure that any public-health expert would come up with that would say this is a success." The governors' decision to stay "open for business" in recent weeks—as they phrased it in a Washington Post op-ed—as well as their choice to begin loosening the mostly limited restrictions they had in place, will almost certainly result in an increase in coronavirus cases, public-health experts told me.
Most of the states limited only select parts of their economy, and all of them began lifting local restrictions during the first week of May. Theirs is an understandable urge: Small businesses are going under, and people are struggling to pay their mortgage and afford groceries. Many are feeling the economic devastation of the virus, without actually seeing its public-health impact. But experts worry that they're reopening their economies much too fast, and without the necessary precautions. "It would feel really good to go back to our normal lives," Lynn Goldman, an epidemiologist and the dean of the Milken Institute School of Public Health at George Washington University, told me. "Unfortunately, though, these efforts to go back to normal prematurely are going to result in second waves of the epidemic."
Federal guidelines recommend that before states reopen their economies, they should see a downward trajectory of cases for two consecutive weeks; have a robust testing and contact-tracing system; and provide a sufficient supply of personal protective equipment for health-care workers. But most of the states that are reopening fail to meet these criteria, including Iowa, Nebraska, and Missouri, which have a higher number of positive test results than they did two weeks ago, according to data from The New York Times.
As of this writing, three of the U.S. metro areas with the most new cases relative to their population are in Iowa, Nebraska, and Arkansas. Take Iowa, for example. Exactly one month ago, the state surpassed 1,000 confirmed coronavirus cases; this week, that number is up to 10,400. Sioux City, in the northwest part of the state, has the highest number of new cases per capita in the entire country: 13 cases per 1,000 people. Meatpacking plants in Iowa and Nebraska have experienced major outbreaks, including one Tyson pork-processing facility in Perry, Iowa, where 730 workers—more than 58 percent of the plant's employees—have tested positive for the virus, state health officials announced on Tuesday.
It's possible that these states aren't identifying even more cases, because there simply isn't enough testing. All five states rank somewhere in the bottom half of the country's testing capacity, offering 15 to 19 tests per 1,000 people, according to The Atlantic's COVID Tracking Project. Compare that with North Dakota, another Plains state, which is administering 48 tests for every 1,000 people. "If you don't test enough, you can't know what things are going to look like," Lisa Berkman, a public-policy and epidemiology professor at Harvard, told me. And each of these states is still working to ramp up their contact-tracing systems. Iowa doesn't have "an implemented plan for widespread testing, contact tracing, and PPE in the community," said Eli Perencevich, an epidemiology professor at the University of Iowa Carver College of Medicine. "We should be getting ahead of this by protecting the workers and not waiting for the outbreak."
In the week since Governor Kim Reynolds opened up 77 of Iowa's 99 counties, experts say they've already seen an increase in positive tests. Cases in those areas used to make up about 5 percent of the state's total, but that share has increased to 20 percent, Perencevich told me, citing numbers from Reynolds's recent press conferences. "It's concerning that the opening-up is increasing the spread," he said.
At least three of these five states might soon see flare-ups in infection, because metro areas with a high number of cases and a high daily growth rate are especially at risk for large outbreaks in the future. According to the Times data, cities that fall under that criteria include Des Moines and Sioux City, in Iowa; Omaha and Lincoln, in Nebraska; and St. Joseph, in Missouri. "[Of the] places that we're really worried about increases, Iowa is just completely on the top of that list right now. Nebraska is not far behind," Berkman said. "This is exactly the wrong time to be opening."
It is also a strange time—and perhaps an unnecessary political risk—for any state leader to be trumpeting a coronavirus win when the pandemic is still raging. Only two of the five states responded when asked why governors decided to write the Post op-ed this week. Governor Asa Hutchinson said in a statement that Arkansas has "consistently been below state and national trend line predictions," and argued that there are also "no hot spots of community spread." (There is a massive outbreak inside at least one correctional facility in the state, and the Arkansas health secretary this week identified several cities as soon-to-be hot spots.) Wyoming Governor Mark Gordon "thinks it would be premature to characterize Wyoming's response as a success, but our state did have some advantages that appear to have helped limit the spread of COVID-19," a representative wrote in an email, citing the governor's mid-March warning about the epidemic, the state's small population, and its rural landscape.
The desire to reopen the nation's economy is shared by the president. Donald Trump has cheered on states that want to return to normal quickly, despite the fact that most reopening states have ignored White House guidelines. His administration projects that more than 3,000 Americans could be dying every day from the virus by June 1.
In the Post column, the governors assure Americans that their "contribution toward reopening our nation's economy is stable, safe and durable." But public-health experts told me that precisely the opposite is true. "They're aspirationally on a roll when, in fact, bad news may be around the corner," Berkman said. "They're headed for trouble."