How Cities Are Taking Advantage of the Coronavirus Shutdowns
Empty streets are allowing construction crews to complete long-needed infrastructure projects at record speed.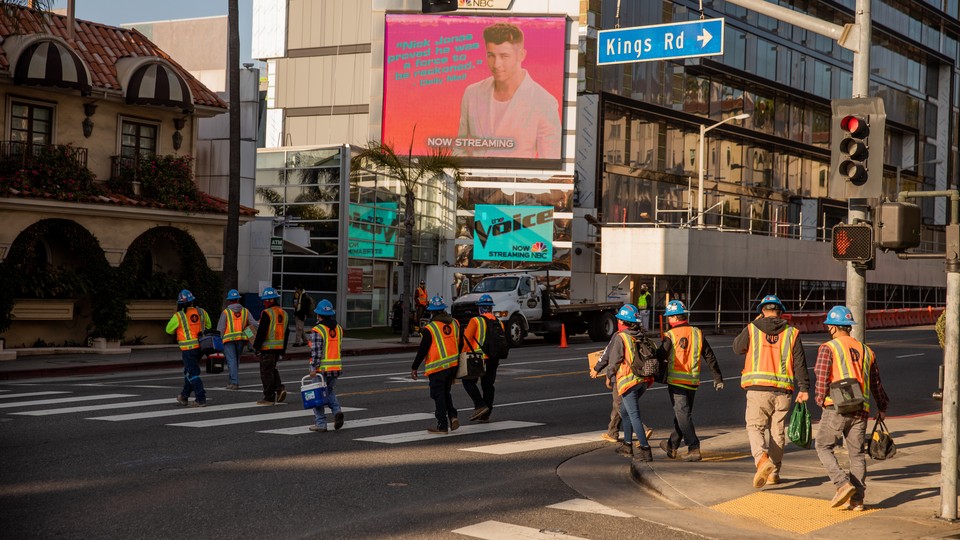 In normal times, it's faster to walk along Seventh Street in downtown Los Angeles than to drive. The traffic is so constant—some 16,000 cars a day—that closing the street for repairs was virtually unthinkable. Aside from fixing dangerous potholes, officials in America's most notoriously car-clogged city hadn't repaved the cracked, uneven roadway in more than a decade and weren't planning to do so anytime soon.
Then came the coronavirus pandemic and its resulting statewide lockdown, which cleared Los Angeles's polluted air as well as its congested streets. California allowed construction to continue, and city officials seized an opportunity too serendipitous to pass up. Crews resurfaced a crucial half-mile stretch of Seventh Street in two days—less than half the time it would normally take, and without the traffic headache it would otherwise cause. "It looks amazing now," crowed Adel Hagekhalil, the executive director and general manager of Streets LA, the city agency responsible for the upkeep of Los Angeles's 23,000-mile road network. Like a proud father, Hagekhalil texted me before-and-after photos of the Seventh Street project, and of heavily protected, socially distancing construction workers laying down fresh pavement on an otherwise deserted street in broad daylight.
It's a rare—admittedly modest—bright spot amid the death and economic decay of the pandemic: In many parts of the country, the elusive Infrastructure Week is here at last. Cities and states are taking advantage of reduced air, train, and road traffic to speed up construction projects that either were under way or planned for the summer months. Crews that are usually relegated to overnight hours are now working during the day as well. And instead of delays and cost overruns, they're completing jobs ahead of schedule and, in many cases, significantly under budget.
"They can go a lot further, a lot faster, if they don't have to be interrupted," said Sean McGarvey, the president of North America's Building Trades Unions, which comprises 14 unions in the construction industry. "They're trying to make big gains while we're in the situation that we're in."
In Los Angeles, the city has already moved on to resurfacing dozens of other heavily trafficked arteries, so that when residents finally emerge from their forced hibernation, they'll be driving over new roads that are smoother and safer than they were before.
Florida officials announced that they would accelerate highway projects by as much as three months. New York's Westchester County Airport, barely operating during the pandemic, is shutting down entirely to repave a runway it had planned to tackle later this year. It hopes to complete the project in just one month instead of four. And in the Bay Area, California's Department of Transportation had warned that a July project to replace a 70-year-old bridge deck traversed by nearly a quarter million cars a day would result in hour-long backups. Instead, it finished the job last week in half the scheduled time, and the cars still on the road had to wait just an extra 10 minutes to use a detour.
Leaders abroad are making a similar bid to turn a crisis into an opportunity. Officials in Jerusalem are speeding up infrastructure work across the city. And in Italy, a country ravaged by the coronavirus, workers have nearly completed the replacement for a Genoa bridge that killed 43 people when it collapsed two years ago. Italian officials hailed the project, on which construction continued during the pandemic, as a symbol of national resilience.
Not every American state is expediting infrastructure projects during the pandemic. Some have shut down most construction projects along with other nonessential businesses, and others are simply trying to keep work on schedule rather than speed it up. But because the construction industry already operates under strict safety regulations, with workers who usually wear masks and gloves, it will be one of the first sectors allowed to reopen in states where projects were halted. (Early on during the outbreak, the Trump administration was urging construction businesses to donate their N95 masks to hospitals to help with shortages in protective equipment.)
The mini boom in construction is keeping paychecks and some economic activity going in certain areas, but health and safety remain a top concern for union officials. McGarvey, who is a member of President Trump's advisory committee on reopening the economy, told me his members are still waiting for the administration to issue a temporary infectious-disease standard for construction. "It just hasn't happened, and it's wholly disappointing," he said.
In lieu of formal federal protocols, the NATBU issued early guidance to its members and contractors for additional protective measures on projects, including setting up multiple entrances and exits to prevent bottlenecks and ensuring that job sites have running water so workers can frequently wash their hands. "Guys have gotten used to it," McGarvey told me. "A few weeks ago, there were a lot of folks who weren't comfortable. Our absenteeism was high. But as our safety protocols got put in place, and people gained confidence that they were protected, that's greatly subsided."
However, he added, "human nature is human nature, and there are still folks that aren't comfortable even with the proper protective equipment. And for those, we encourage them: If you're not comfortable, don't go to work. It's a dangerous occupation to begin with, and we need you focused."
The relative good times for construction are unlikely to last long. Although Trump has mused about making a $2 trillion infrastructure bill part of a future economic-recovery package, he and other Republican leaders are resisting an infusion of federal aid to help states and cities close the enormous budget holes that have opened as a result of the pandemic lockdowns. Major public-works projects were a centerpiece of the New Deal in the 1930s, and new infrastructure investment, particularly in the green-energy sector, made up a significant portion of the 2009 economic-stimulus package. On the surface, a zeal for infrastructure is one thing Trump has in common with his predecessor. But the strategist who pushed for a huge infrastructure bill early in the Trump presidency under the guise of economic nationalism, Steve Bannon, has long since given way to more conservative advisers who take a dim view of big spending measures.
Without help from Washington, states will likely cut back. The projects that jurisdictions are speeding up now are ones that were already funded. But the same reduction in traffic that makes it easier to carry out construction now is sapping states of the gas taxes, bridge-and-tunnel tolls, and other revenue needed to do more in the future.
"You can just see how things could freeze up," says Casey Dinges, a senior managing director with the American Society of Civil Engineers, a trade group. "If all these jurisdictions are worried about their revenue streams," he told me, "things are going to slow down or stop pretty soon."
For cities like L.A., the grim budgetary outlook is all the more reason to tackle as many projects as they can now—especially if they can save money in the process. Hagekhalil told me the city's accelerated repaving program will yield cost reductions of 25 to 35 percent, in part because it is simultaneously reducing street cleaning and other work in residential areas while people are staying home. The city is also using this time to bolster the busiest commercial corridors in other respects—by installing hand-sanitizer dispensers at bus stops and other transit shelters, planting trees, and repairing sidewalks. The improvements in L.A. and elsewhere are small compared with the horrifying scope of the pandemic. But, Hagekhalil argued, they are meaningful, because they're "providing a ray of hope for our residents to see there is a light at the end of the tunnel."