Nuns vs. the Coronavirus
At a Catholic nursing home in Delaware, one-fifth of residents have died. The nuns who run the facility are grappling with their calling.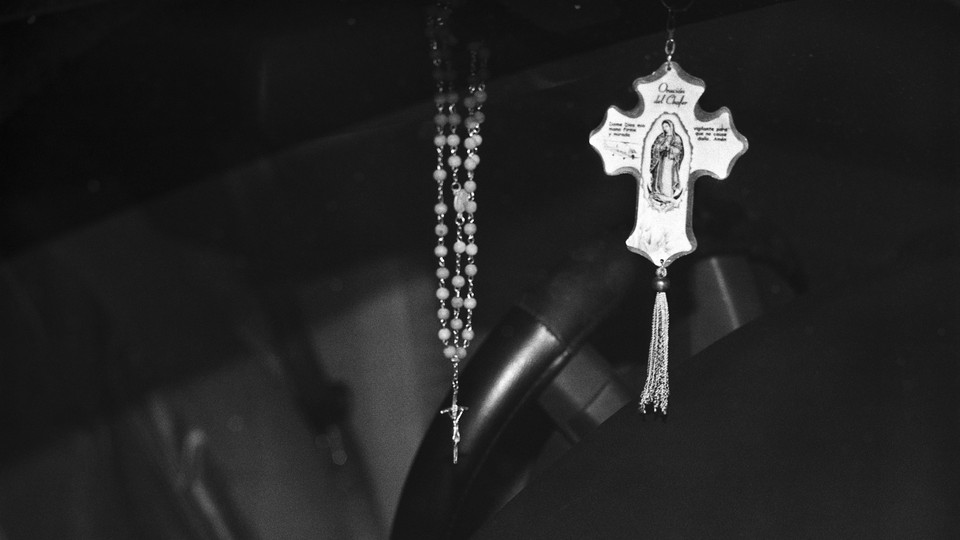 Until last month, Florence Facciolo and Karen Malzone were the dining-hall queens of their Catholic nursing home in Newark, Delaware. Karen, a mirthful woman in her late 70s, would use a walker to shuffle over to their assigned table, which was adorned with a fresh tablecloth for each meal and a new centerpiece every season. The two women would pass several hours laughing about nothing. When they got in trouble for being too raucous, 87-year-old Flo would give a "Who, me?" look and point at their third seatmate, Pat Klevence, the quiet one, who would just shake her head and smile from her wheelchair.
Karen was the first to get sick, catching a cough in early March that wouldn't go away. After 10 days in isolation, she seemed to get a little better, but things at the Jeanne Jugan Residence, a facility run by an order of Roman Catholic nuns called the Little Sisters of the Poor, were getting worse. At first, residents were seated at opposite ends of each table, then alone. Before long, they were eating meals in their rooms. Confined to her living space, Karen dogged the nurses and cleaning staff for updates about her neighbors on Saint Joseph's, one of the facility's two nursing floors. She peeked her head out of her room and saw that a STOP sign had been posted on her door, warning people to check in with the nurses' station before entering. The same sign had been posted on Flo's door across the hall, and Pat's had one too. Oh God, Karen thought.
One in every seven patients in the United States is seen at a Catholic hospital, according to the Catholic Health Association, and similar proportions of the elderly are cared for in Catholic residential homes. Small facilities run by religious orders, including the Little Sisters' network of more than two dozen homes in the U.S., were already under financial pressure before the pandemic; like many Catholic providers, they fill a major vulnerability in the U.S. health-care system, taking on a significant number of poor patients on Medicare or Medicaid. Many of these facilities are staffed by aging priests and nuns, who are themselves at high risk of infection.
The Jeanne Jugan Residence, named for the founder of the Little Sisters, was the first facility in Delaware to face a COVID-19 outbreak. Over a few weeks in March and April, roughly one in five residents died, and many others fell sick. The staff, along with the 11 sisters who live there, worked frantically as the virus spread through the home, with one resident after another rapidly deteriorating. At one point, three people died in a single day. So far, 11 people have died of complications related to presumed or confirmed cases of COVID-19.
In many ways, the Little Sisters were founded for a moment like this: The nuns take a special vow of hospitality, promising to accompany the elderly as they move toward death. But like other long-term-care facilities in the U.S., the Little Sisters home in Delaware was blindsided by this pandemic. Even those most at peace with death have been deeply shaken by COVID-19.
Sister Raymond Elizabeth Kortenhof describes herself as a "lifer" in the Little Sisters. She first volunteered with the order when she was 11, and soon found herself falling in love with God, who directed her to care for the elderly. "We're in the antiques business," she told me. "People like antiques. But they don't necessarily like old people." Kortenhof, who has rosy cheeks and wears dark, wiry glasses, likes to joke about slipping the residents cocktails and cheese puffs. She's a "certified character," one resident's son told me.
Kortenhof oversees one of the home's nursing units, so she experienced the sudden onset of the virus up close. Residents started getting fevers and coughs; their oxygen levels dipped. Many of the home's 66 residents fit squarely into the Centers for Disease Control and Prevention's description of the people most at risk for COVID-19: over the age of 65 and struggling with lung or heart conditions or other chronic illnesses. Staff members scrambled to secure the supplies they needed to protect themselves and the residents, putting out calls on Facebook for donations of N-95 masks and money. As the home went into lockdown, the normally bustling hallways filled with rockers went quiet.
The first death came on March 26, and more followed in quick succession. There was Father Hilary Rodgers, a 75-year-old retired priest who spent decades as a Franciscan friar. There was Lucille Williams, a mother of six who would have been 95 in May, and who had recently been crowned queen of the residence's Mardi Gras celebration. Many of the deaths were unexpected. One nursing assistant told me that staff might check on a resident at 8 p.m. and deem her stable, only to find her dead when checking on her again at 8:30. For safety reasons, family members were not allowed into rooms to visit their sick loved ones, even as they approached death. Residents' children and grandchildren took to standing outside the windows of the first-floor Holy Family unit, shouting conversations through the glass or holding up signs that residents could see from bed. Jack Williams, Lucille's son, made one that said Dad is waiting for you. He was too nervous about upsetting his sisters to use it.
Inside the home, the sisters and staff were in shock. Every time they tried to grieve the death of a resident, a new person would die. "It felt like we were robbed," Kortenhof said. "We may have 13 deaths over a year. We had 13 deaths … over a period of three weeks," including the 11 COVID-19–related cases and two of unrelated causes. Typically, deaths at the home are slow and gentle, with residents surrounded by family and the sisters sitting by their bedside, holding a prayer vigil in three-hour shifts. COVID-19 has taken away all the normal rituals that might happen close to the end of a resident's life. Priests cannot visit to take confession or anoint the dying. Because COVID-19 is so contagious, the sisters have to don personal protective equipment over their habits and veils anytime they enter a sick resident's room. "One man, I was praying with him awhile with full garb on: rubber gloves, goggles, masks, gowns," Kortenhof said. "It's just so unnatural for us."
A few weeks into the outbreak, the nuns started getting sick. Kortenhof and three other sisters went into isolation, leaving the residence with even fewer hands. She found it "torturous" to get messages about residents dying while she wasn't there. "If you don't have a strong faith, this thing would just succeed in crushing you," she said.
Holy Week passed heavily. The deaths had become a drumbeat, and the sisters and staff were exhausted. Volunteers from the nearby Christiana Hospital came to help with equipment and care, visiting residents to take their temperature and measure the oxygen in their blood. Alone in their rooms, many in the home tuned in to channel 50, a live feed of the facility's chapel. Each morning and afternoon, sisters who were not sick would come in to pray the rosary or recite the Divine Mercy, kneeling far from one another to maintain social distance. The channel was a small thread connecting residents in isolation, a way of being together in days of solitude.
In her room on Saint Joseph's, Flo would often stay up until 2 a.m. trying to finish her prayers. For a while, she had run a fever, suffered from diarrhea, and kept coughing, but her symptoms didn't last long. Surrounded by statues of Jesus and Mary, beneath pictures of her six kids, 23 grandchildren, and 12 great-grandchildren, Flo prayed for courage, for the health of the staff, for everybody who was sick in the home. She especially prayed for Karen, her friend from the dining hall. "I was really worried about her. We have different things wrong with us," Flo told me this week, her voice quiet over the phone. For weeks, she didn't have much information about how her neighbors were doing, even those who lived just feet away. After a month of separation, toward the end of April, Flo finally left a couple of messages on Karen's phone.
Since then, the two women have spoken just once, mostly about nothing. They aren't afraid of death, but they don't want to talk much about it. Karen told me that she didn't ask Flo about the coronavirus outbreak, because she was scared she'd start crying. Flo didn't ask Karen about it either. "Maybe a part of me didn't want to know," Flo said.
Karen constantly imagines what it will be like to return to the dining hall when the outbreak is over. Her table, like so many others, will be a little emptier: Pat, who was 87, is among the residents who have died. There was no memorial service where the women could say goodbye to their friend. Pat's son, a priest in a Delaware beach town, was not even able to celebrate Mass at her funeral.
Both Flo and Karen are lifelong Catholics, and they believe firmly in the promise of Christianity. "When you're people of faith, heaven is not a scary place," Karen said. "It's a place you're looking forward to, that you've been working for all your life." The residents encourage one another. They're ready to go home, she said. "Just maybe not today."