How New York Explains the Other 49 States
Governor Andrew Cuomo's lockdown has divided the Empire State.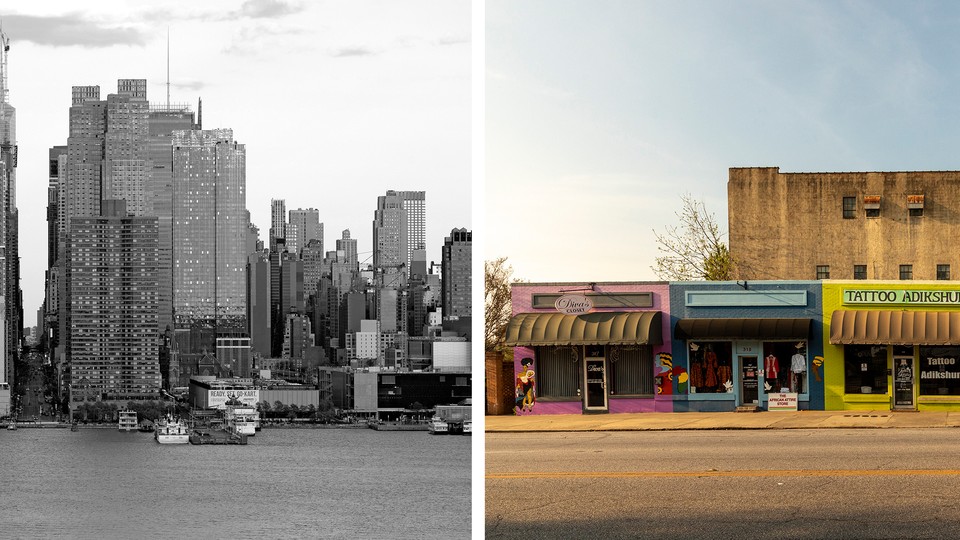 The high-stakes dispute over how—and when—to reopen the economy has arrived in the national epicenter of the coronavirus outbreak: New York.
COVID-19 has ravaged the Empire State; its 337,000 confirmed cases are twice as many as any other state in the country has reported. But as in so much of America, the outbreak has not touched New York's many corners equally, and the fraught debate over reopening follows a familiar political and regional divide.
The majority of the state's cases are concentrated where the majority of the people live: in New York City and its surrounding suburbs to the north in Westchester and east on Long Island. Much of the state's upstate region has been spared by comparison.
Governor Andrew Cuomo plans to relax restrictions in some areas of the state when his stay-at-home order expires on Friday, but Republicans want him to move faster, and complain that the popular Democrat is punishing the upstate economy for downstate's concerns.
The governor has won widespread praise and soaring approval ratings for his public messaging during the crisis but is now facing criticism over his handling of nursing homes and his initial delay in issuing a statewide stay-at-home order. Though Cuomo easily captured a third term in 2018, he has, like his predecessors, struggled to manage the divergent needs of upstate and downstate New York. Progressives in New York City grouse that the governor has sold out the cash-strapped subway system to maintain support elsewhere, as when the Metropolitan Transportation Authority—an agency the governor controls—sent millions of dollars to upstate ski resorts. Conservatives, meanwhile, have accused the Queens native of neglecting the state's red upstate counties, which have struggled economically for years.
"We never hardly see him here," says Robert Hayssen, the chairman of the board of supervisors of Seneca County, in New York's Finger Lakes region.
In interviews over the past week, Republicans have griped that while Cuomo is ever-present on television, he rarely consults county leaders directly. And although some localities acted earlier than Cuomo to close schools and enforce social-distancing before state-level orders took effect on March 22, the governor prevented those localities from ending their policies before the state-level orders were rescinded. "Upstate, the health professionals and government leaders have done the right thing, and because of that they're far more ready to open," George Pataki, a former three-term Republican governor of New York, told me. "But this administration seems to have its entire focus on New York City and the metropolitan area, and whatever's good for them is good for the rest for the state as well. It just doesn't work that way."
To city residents, prioritizing the downstate region is more than justified by its outsize contribution to the state's economy and revenue base—not to mention the city's precarious status as the national epicenter of the coronavirus outbreak. But the pandemic seems to have only increased the cultural divide between upstate and downstate, just as it has exacerbated the gap between urban and rural communities nationwide.
"The diversity of our state is amazing, but at times that diversity can be problematic," Representative Tom Reed says.
A 48-year-old Republican who is mulling a run for governor in 2022, Reed was speaking to me from his house in Corning, a home built in 1921 by his grandfather. Corning, a small city of 10,000 surrounded by farmland, is a world away from Times Square. It's so far, Reed likes to tell his fellow congressmen, that when he is standing on the floor of the House of Representatives, in Washington, D.C., he is physically closer to New York City than he is when he returns home on the weekend. "It blows members' minds when they understand what I'm saying," Reed said. "People don't realize how big the state is."
Corning, which is home to the eponymous glass-making company, has had just 10 total confirmed cases of COVID-19. Reed told me there's "anecdotal" evidence that the virus might have quietly swept through the area early in the year because of a year-long contract that Corning Inc. had to build a $1.8 billion facility in Wuhan, China, which sent many of its employees back and forth from the original epicenter of the pandemic. (A second local official, Mayor Svante Myrick of Ithaca, told me this was "possible"; a senior adviser to Cuomo told me the governor's office was unaware of the connection between Corning and Wuhan.)
Reed told me that businesses in his district are ready to get back to work. He said the state should look to Sweden, which broke with nearly all the rest of Europe and did not shut down its entire economy to stem the pandemic's spread. "They've achieved herd immunity quicker than we have in America," Reed said.
It's an odd endorsement of a country typically hailed by Senator Bernie Sanders as a paragon of democratic socialism. Reed said his admiration for "the Swedish model" was based on the country's "relatively sane" mortality rate despite keeping much of its economy running. "What I have learned throughout this entire time with pandemics is that the science is important, and that is something we shouldn't discount just because it is coming from a country that maybe has an underlying socialist agenda that I disagree with," he told me. Reed's belief in Sweden's response might be misplaced—the country's death rate is higher than many European nations that did lock down, and its economy is still contracting.
Yet his search for a path back to normal, however politically curious or unlikely it might be, is understandable. Like many other small towns in the U.S., Corning has suffered more from the economic crisis wrought by the closure of businesses than from the public-health challenge of the coronavirus. A fifth-generation family farmer in Reed's district committed suicide recently, he told me. And though the congressman wears a mask when he goes out, Reed said he "broke social distancing" to comfort a man bereft over the closure of his antiques store. "I just hugged him," Reed said. "I felt so bad. His whole lifework, his whole business, his whole life purpose was destroyed because of the virus."
Reed last week announced a partnership with Quest Diagnostics to provide COVID-19 testing capacity for the western region of the state that covers 3 million people. The deal, he said, would allow the area to meet a key requirement Cuomo set for regions to enter the first phase of reopening. That initial phase permits construction, manufacturing, and landscaping to restart; retail stores to operate curbside pickup; and certain recreational facilities like tennis courts and drive-in movie theaters to resume.
Cuomo said three regions, including the Finger Lakes, were on track to begin reopening on Friday. But in Seneca County, Hayssen told me his community should already be in the first or second phase. "These rural areas are ready to open up," he said. "They're itching to open up. And they all believe that the governor is not moving fast enough to help us."
The big business in Seneca is tourism; the region's wineries, casino, and large outlet mall all attract visitors from afar. All are closed. "We're on the verge of bankruptcy here, all these businesses," Hayssen told me.
On Monday, Cuomo defended his conservative approach to reopening the state.
"We're not the first to reopen. And that's a good thing, because you can look around and learn," he said at his daily briefing, referring to both states and countries that have arguably moved too quickly.
The governor's senior adviser, Rich Azzopardi, was even blunter in responding to Cuomo's critics on the right. "We are not going to succumb to political pressure," he told me. Azzopardi cited polls in which respondents overwhelmingly backed the continuation of stay-at-home orders. "They look to lead, and they look back and there's nobody following them," he said of critics like Hayssen and Reed. "The emperors have no clothes."
As elsewhere in the U.S., the debate over reopening in the nation's hardest-hit state tends to fall along partisan lines. Hayssen is a conservative whose Twitter profile features a photo of him and President Donald Trump giving a thumbs-up together. Reed has carved a moderate profile in Washington, where he is a co-chairman of the bipartisan Problem Solvers Caucus, but he has positioned himself against Cuomo back home.
Svante Myrick, 33, is the mayor of Ithaca, a liberal college town in the state's youngest, healthiest county that's been devastated economically by the suspension of in-person classes at Cornell University and Ithaca College and the cancellation of the schools' graduation ceremonies. Like in Corning and Seneca County, the spread of the virus has slowed to a trickle; Ithaca's hospitals are empty, but so are its bars, restaurants, and businesses. Last week, Myrick had to lay off one-quarter of the city's workforce. "It's tough, man, it's tough," he told me. "We were built on education and tourism here, and both have just stopped."
Ithaca's politics actually resemble Sweden's—or at least Sanders's: "There's Democrats like me and then there are Socialists. That's the two political parties," Myrick joked. Yet when I asked him if he was ready to reopen, he replied: "Not really."
"It seems like the answer would be 'yes,' right?" Myrick continued. "We're safe, we're healthy, let us reopen." The problem, he explained, is that "our economy—and I think this is true of most economies in the U.S.—is one that only functions when it's connected." If Ithaca reopens, and people don't visit, or go out to eat, then the layoffs start again.
"If there were a thing worse than having no party at all, it's throwing a party but nobody shows up to it," Myrick concluded. "So it would be better if we opened in an environment where everybody in the country feels comfortable opening, not just when we feel like we're safe enough."