How New Jersey's Governor Figured Out Trump
Phil Murphy discusses the state's efforts to mitigate its coronavirus infections and lower its death rate, the second-highest in the country.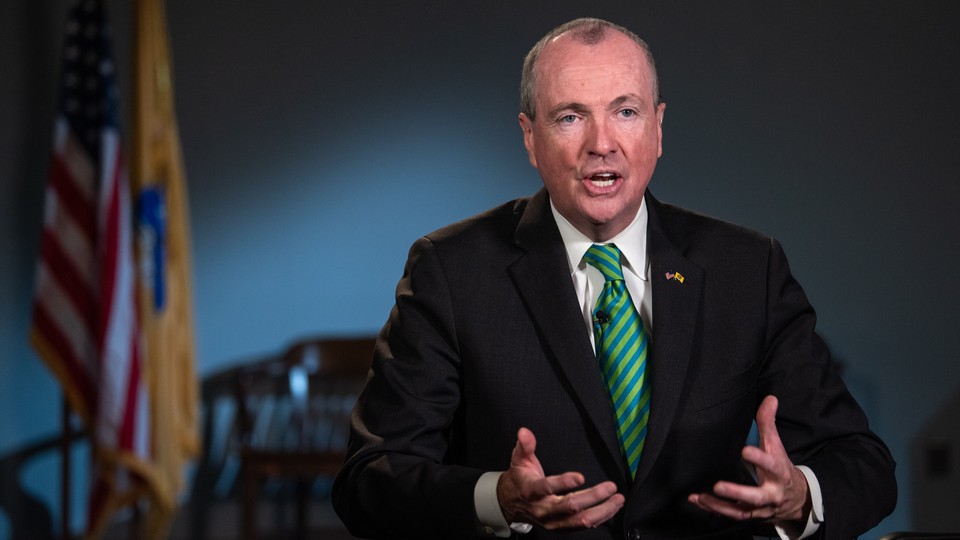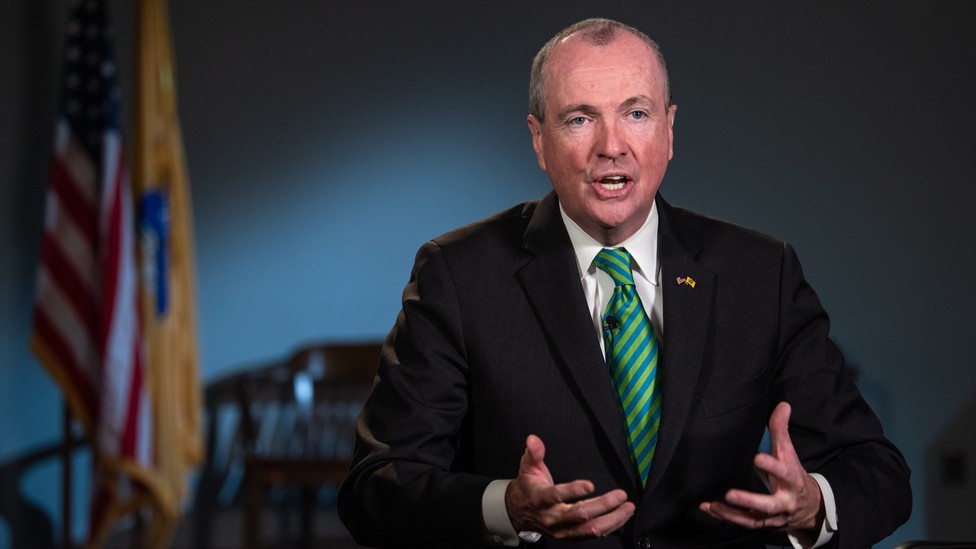 Updated at 10:30 a.m. ET on May 4, 2020.
Phil Murphy's cellphone rang and rang. He ignored the first two calls. Then an aide told the New Jersey governor that the caller had tried to reach him through his family. It was President Donald Trump. Murphy had to take it.
The coronavirus pandemic has turned many of America's governors into national figures. Andrew Cuomo's daily group-therapy sessions have become must-watch TV. Gavin Newsom's performance has persuaded even East Coast media to pay attention to California. Florida's Ron DeSantis took a hands-off approach in the first weeks of the outbreak, and has since struggled to show that he has the situation in his state under control. Gretchen Whitmer's handling of Michigan's crisis has prompted talk that she could become Joe Biden's running mate. Ohio's Republican governor, Mike DeWine, has led an effective, depoliticized response that's won praise from members of both parties.
Then there's Murphy. New Jersey has the second-highest COVID-19 death toll in the United States, and as Murphy pointed out this week, the virus has killed more people from the state than were lost in World War I, the Korean War, the Vietnam War, both Gulf Wars, the Afghan War, the Iraq War, Superstorm Sandy, and the September 11 attacks—combined.* But despite being a liberal Democrat who has for years railed against Trump, Murphy has kept both a lower profile and a better relationship with the White House than his neighbor in Albany has.
Murphy found out about New Jersey's first confirmed case of the virus on March 4, when he was in the hospital himself, lying in bed in the recovery room after having a tumor removed from his kidney—so he's high risk. Before he was governor, he made enough of a fortune working at Goldman Sachs to self-fund his 2017 campaign, and still has friends throughout the finance world either urging him to reopen the economy or warning him to keep people sheltering in place. He's a former finance chair of the Democratic National Committee, and is feeling stressed about bringing people together for a delayed convention in August—or possibly canceling the event. And he's a former ambassador to Germany, so he thinks often about the world order and how much it's changing.
Murphy's assessment of America's response so far: "I mean, we just were not ready. I'm not sure I understand all the reasons why we weren't ready, but I know we weren't ready."
We spoke for the latest episode of The Ticket podcast:
Subscribe to The Ticket: Apple Podcasts | Spotify | Stitcher | Pocket Casts (How to Listen)
---
This transcript has been edited and condensed for clarity.
Edward-Isaac Dovere: You're high risk for infection. How does that perspective inform your thinking?
Phil Murphy: Each day we read out a few of the obituaries and memorialize some of the lives lost, [so] that it never becomes just a question of numbers, that it's always about specific human beings and lives lived. So I don't think it ever would have been abstract, but boy, I'll tell you, having lived through a challenging health crisis myself and now going through this, it certainly made it even more real and more tangible than it otherwise would have been. It's in the back of your mind. I don't dwell on it. It's just a reality that I accept.
Dovere: There have been protesters in New Jersey and other states demanding that the governments reopen businesses. What would you say to them, and others who say it's time to reopen?
Murphy: I appreciate folks' right to protest. I appreciate the fact that they may be fed up with cabin fever, all of that. Who doesn't want to get the economy back on its feet? We've been crushed with unemployment. Small businesses getting crushed completely. But we have to continue to make decisions based on the data, based on the science, based on the facts. We have to make sure we don't jump the gun and that we don't transpose the steps. It's health-care recovery first, then it's the economic recovery.
Dovere: You're a Democrat who's managed to get along with the president through this. How?
Murphy: I've spent an inordinate amount of time, as you can imagine, with the White House and a fair amount of time with the president himself. New Jersey is—with New York and Florida—one of the three states he knows the best. He's got family. He's got investments. He's got a place where he spends a lot of his warm-weather weekends in spring and summer. I've gone through painstakingly with the president, with the vice president, with their teams, exactly what the toll has been on our state, how it has unfolded. At least here, I believe he understands that we're not remotely near the end zone.
It's very much "We need you, Mr. President; can I get your help with the Army Corps?" A couple of weeks ago, ventilators. We talk about "How's it look out there?" Hospitalizations. "What are you seeing?" He knows that I've had health issues, so to his credit, he will almost every time ask me how I'm feeling, which obviously I'm grateful for.
The vice president is also very much involved in a lot of the very specific conversations. I would remind folks to distinguish between fact-based, getting installments of what we need, versus having everything we need. Those are two different realities. But the fact of the matter is, there's no call we've placed that has gone unanswered. Even if we don't like the answer, we get an answer.
Dovere: Why do you think that's so different from how the president acts in the briefings?
Murphy: I don't watch the briefings. … I watch news shows at night, and I watch highlights. I'm not denying that I know they exist. I don't have those sorts of conversations [like happens in the briefings] privately. Maybe they will happen, but they have not happened.
Dovere: When you see America leading the world in infections and deaths, what does that tell you?
Murphy: We weren't prepared as a country, as a testing matter. And we're going to need to do a 9/11 Commission-like postmortem on where we were, where we are, where we need to be. But a lot of the stuff that we're not going to be agreeing on is outside of the purview of the fact that the house is on fire right now. And I need help with the fire brigade.
Dovere: The White House has suggested that state aid might be tied to forcing states to reopen. What would that mean for your state?
Murphy: I want to open. I'll be the happiest guy in America, never mind New Jersey, when we open. But here's the problem with the state aid: We've got expenses which are through the roof. Revenues that have fallen off a cliff. And we're helping everybody from "You lost your job" to "You're in the hospital" to "You're a small business and you're going up on the rocks." I don't know that folks really think this through right now, but in particular, for folks who are on the fiscal year that we're on—we're [in] a mid-year, mid-calendar fiscal year, and a lot of states are—if we don't get state aid in big numbers, we'll have an Armageddon in terms of services that we can't provide, layoffs that will be widespread. It will bring us no joy to do any of that. But we'll have no choice. We can't print money. I've got a constitutional requirement to balance the budget. The state aid is desperately needed.
Dovere: If the president calls again and tells you he wants you to open the state, what do you tell him?
Murphy: So far that conversation has been respectful of the realities in New Jersey. It has not been associated with any financial aid coming at us out of Congress or elsewhere. … If we're putting lives explicitly at risk, I can't hit the "go" button. And nobody's told me to do that, by the way. And I hope it stays that way.
Dovere: If you were in your old life at Goldman Sachs, how would you be thinking about investment right now?
Murphy: Listen, I'm not going to give folks investment advice. First of all, I'd be working from home, which I'm not at the moment. … I'm not just saying this to be positive. Anybody looks at equities over multi-decade periods. In other words, you're not trying to buy or sell to make money quote-unquote this week or today. But you're looking at what life looks like over a long period of time. And you make that graph on as long-fused a timetable as possible. You're going to find that you were smart to hold equities. That's just always the case. And I know that's a long-term reality. I'm not suggesting I've got a good answer for you what you do from this week to the next. But we are going to get through this. It's just the wild cards here are truly wild cards. I just don't know when.
Dovere: What do you think an economic recovery here will look like?
Murphy: A hurricane, as bad as it is—and God knows we've paid a big price in New Jersey for things like Superstorm Sandy and other natural disasters—but they come, they go, you go through a rebuilding process. You try to get folks back on their feet. This is more complicated. This is a profound moment in our history as a nation. I mean, we just were not ready. I'm not sure I understand all the reasons why we weren't ready, but I know we weren't ready.
Dovere: You're a former Democratic National Committee finance chair. You've been to a lot of conventions. Should the convention happen this summer?
Murphy: It was postponed. Maybe that was a good interim step. You know, we've done some interim steps like that when you don't have all the facts that you want to have. I do look at the adjacencies, though. There aren't a lot of things with mass gatherings associated with them in the summer that have not been postponed. Baseball may be played. I hope it is played, but they've talked about even baseball being played with no fans. … I hope we're in a place where, based on the facts, the science, the data, that they can go ahead.
Dovere: There are people who are scared about what the future holds, given what we've seen the last two months. Are you?
Murphy: I am not scared. I would not use that word. And by the way, let's not forget that this is the United States of America. We truly are an exceptional nation. And when we seem to be up against it—forget how we got up against it—we have, time and time and time again, beaten back and found our way through to victory, whatever that may mean. I'm an optimist at the end of the day for, notwithstanding the toll, which is enormous in our state. Multiple wars added together, multiple 9/11s added together. So it is daunting. But I believe with all my heart, we get through this. What I can't tell you is when. I know we'll have casualties; we've already had thousands, and we'll have more. Sadly, I can't tell you when we, at the end of the day, "win." And it could be a lot longer than any of us want. But we will get through this. And we have no choice but to fight. And we will fight on, period. And we'll fight until we win it.
---
* A previous version of this story misstated that Governor Phil Murphy compared the number of coronavirus deaths in New Jersey to the number of residents killed during World War II.