The VP Choice Everyone Is Missing
Former National Security Adviser Susan Rice has a powerful backer and an array of experiences that complement Biden's.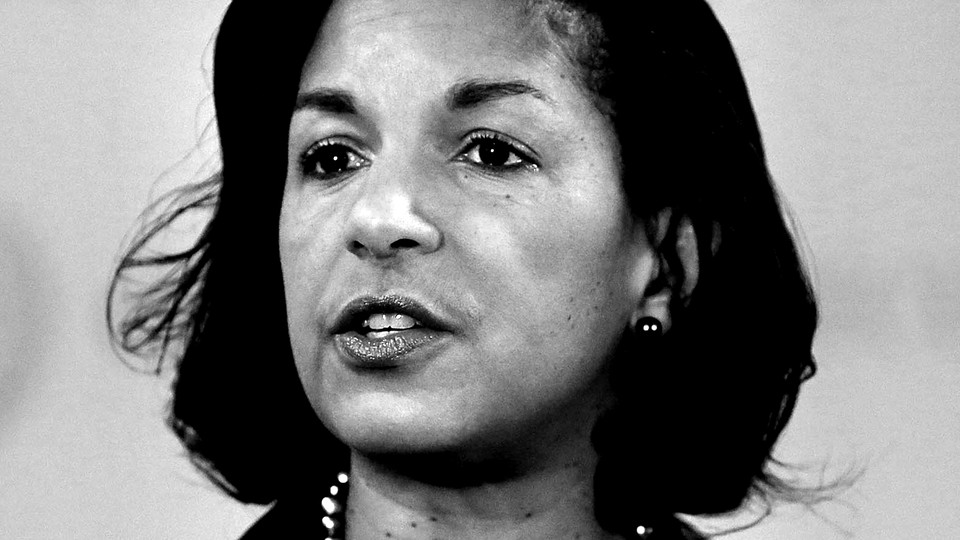 Updated at 10:30 a.m. ET on May 29, 2020
Joe Biden's concern about the national-security impact of the coronavirus has led him to weigh picking the Obama-administration national security adviser Susan Rice as his running mate, according to several people who've spoken privately with the presumptive Democratic presidential nominee in recent weeks.
Rice is well known in Washington, but has a much lower national profile than most of the other women being considered, and comes with few conventional political upsides. She isn't particularly likely to be selected, people inside the campaign say (some who have spoken about her with Biden see her as a more likely pick for secretary of defense or secretary of state), and Rice has told confidants that she knows that.
But the interest Biden has expressed in Rice reflects his concerns that the ongoing economic and public-health crisis the U.S. faces may require him to pick a strong national-security hand as his running mate.
That perceived need for someone with national-security experience is also why Jim Clyburn, the South Carolina congressman and majority whip in the House who made a powerful endorsement of the former vice president, included Rice on the list of suggestions he gave Biden, Clyburn told me.
"I just don't know how the country will look in the next several months, but it would seem to me that we have a lot to do in this country, not to just restore the confidence in the American people, but we've got to restore confidence around the world," Clyburn said. He told me he'd leave Biden to make a decision based on personal dynamics and polling, but "I don't know that there's another African American woman in the country, or any woman other than maybe Hillary Clinton, who has the stripes that she has on foreign policy."
Before Rice became national security adviser, she served as Obama's first United Nations ambassador. But although she has advised three presidential campaigns, she has never run for office herself. She's also the star of Republican fever dreams about a Benghazi cover-up, and now the "unmasking" of Michael Flynn, her successor as national security adviser who was caught making assurances to the Russian ambassador. Supporters of Donald Trump have seized on an email she wrote to herself on the day of his inauguration, detailing an Oval Office meeting several weeks earlier with Biden, Barack Obama, and then–FBI Director James Comey discussing concerns about Flynn's contact with Russians. Trump allies have insisted that the email, which appears to be purposefully memorializing the conversation for later reference, was part of a larger attempt to frame Flynn, though this is an idea that exists only in the ambiguous conspiracy of half-cooked allegations Trump calls Obamagate.
Biden's usual instinct is to avoid antagonizing his political opponents, which picking Rice clearly would. His campaign has shown some willingness to ignore conspiracy theorists: Andrew Weissmann, the top deputy to Special Counsel Robert Mueller in the Russia investigation, was scheduled to headline a Biden fundraiser on June 2, for example. But the campaign canceled the event this morning after the Trump campaign criticized it.
Rice told me that she's ready to be picked, if that's where this process lands.
"I am honored, honestly, and I'm humbled that I might be being considered," she said, "and I really truly care only about doing all I can to get Joe Biden elected and Donald Trump retired, because I truly deeply believe that the fate of our country depends on it." She added, "I'll help in whatever way I can and if that's licking envelopes and raising money, that's fine, and if it's serving in a much more senior capacity, if that's what Vice President Biden thinks makes sense, that's fine, too."
She declined to comment when I asked her how Trump's "Obamagate" claims might factor into the running-mate selection process.
Biden has a variety of personal and professional connections to some of the other women his campaign is looking at, a group that includes several governors as well as Senator Elizabeth Warren, who set up the Consumer Financial Protection Bureau before running to represent Massachusetts, and Senator Kamala Harris, who ran a huge office as attorney general of California. But Rice is the only one of these possibilities whom he's worked with every day, during the eight years they both spent in the Obama administration, and none of the others has Rice's level of experience in the executive branch, or in crisis management. Biden believed that reconstituting the gutted federal government after Trump was going to be a massive undertaking even before the coronavirus became a pandemic. In her own memoir released last year, Obama's second UN ambassador, Samantha Power, wrote, "Susan was said to have a 'black belt' in bureaucracy," and recounted early advice from her: "Act like you are the boss, or people will take advantage of you."
Rice is the rare government official who has gotten intense national political exposure without ever running for office. And she may be one of only two nonelected black women with that sort of experience, the other being the Republican Condoleezza Rice (who's of no relation). Susan Rice has earned respect, but also enemies, for her often impolitic, cut-the-crap demeanor. Still, the closest she's come to the kind of political barrage that any running mate would have to survive is her 2012 morning of five Sunday-show appearances a few days after a coordinated attack on two U.S. government facilities in Benghazi. At the time, she said the violence had started with a "spontaneous" demonstration brought on by the reaction to what was seen as an anti-Muslim video; she has since said she was going off the American intelligence available at the time.
Rice has expressed regret for agreeing to the appearances in the place of then–Secretary of State Hillary Clinton and then–National Security Adviser Tom Donilon. "I do believe that Hillary Clinton and Tom Donilon appreciated what I did not: The first person to tell the public about a highly political tragedy was likely to pay a price," she wrote in her book, Tough Love, which was released last year. That price may have included getting passed over a few months later when Obama was picking Clinton's replacement as secretary of state. She's since grimly joked privately that the experience has left her battle-hardened.
As the vetting process begins, Rice is getting to flex some of her crisis-management experience, co-chairing the Washington, D.C., advisory commission on reopening the district amid the pandemic. The group issued an 80-page report last week that includes several extremely stringent recommendations, such as that schools in the city not go back to full capacity and schedules until a vaccine is widely available.
That's all potentially helpful experience in an administration. But first, Biden has to beat Trump, and he has to think about whether picking Rice would win him any votes. Obama has advised him to pick a running mate whose strengths complement his own, and some of the people he discussed Rice with pressed him to remember that advice. Biden, like Rice, already has extensive foreign-relations, national-security, and institutional experience; he lacks some of the constituencies and skill sets that other potential running mates have.
"I want to make sure that wherever I speak to, whoever I have, has some qualities that I don't possess, as well as is willing to, in fact, tell me the truth, but also do it in a way that is between the two of us—between her and me—so that they can, in fact, be completely candid with me," Biden said at a fundraiser on Wednesday. "I want to have people around me that have strengths and capacities I don't."
Depending on how rough of a situation the country is likely to be in when and if he wins, and where Biden decides he wants to focus, doubling up may be appealing, Jim Clyburn told me.
"If Biden feels that he is the best person to restore the faith of the world community in the United States, then he may look to having a very strong domestic person as the VP," Clyburn said, noting that that person could be Rice.
Biden's campaign declined to comment on his running-mate search.