Big Cities Won't Snap Back to Normal
And as long as they're closed for business, the economy will remain stalled too.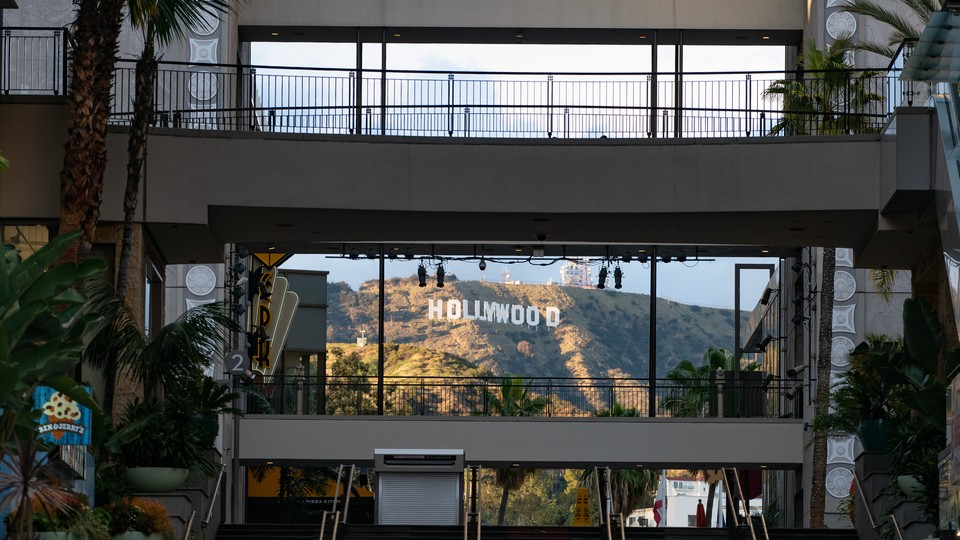 President Donald Trump's promise to begin reopening the economy in the coming weeks faces an immovable obstacle: The big cities that drive America's economic growth and innovation are the same places straining under the heaviest burden of the coronavirus outbreak.
The counties confronting the largest number of cases are primarily large urban centers that account for a disproportionate share of America's gross domestic product and jobs, according to a new analysis conducted for The Atlantic by the Brookings Institution Metropolitan Policy Program. As of Tuesday morning, the 50 counties with the most cases accounted for more than one-third of the nation's economic output and nearly one-third of its jobs, Brookings found.
That dynamic underscores the implausibility of Trump's repeated claim that jobs and growth will come back "very quickly" once the worst of the outbreak passes. So long as these regions are largely sidelined, the national economy will remain mostly stalled too, no matter what happens in smaller places now facing less-urgent threats.
"The U.S. recovery is dependent on the recovery of these places," Mark Muro, the MPP's research director, told me flatly. "If we want to have a discussion about when to restart the nation's economy, we better check in with the nation's major economic hubs … because they are literally, at this point, the most paralyzed, contending with the greatest number of life-and-death cases and the greatest stress on their core systems, starting with public health."
In interviews with me this week, the mayors of several of those big cities told me that it will take much longer than a few weeks to restart their economy—and that even when economic activity resumes, the process will be gradual and halting.
In other words, they counsel, Americans shouldn't expect the equivalent of a V-E or V-J Day when the virus is vanquished and life goes back to normal, as if turning on a light switch. Instead, the mayors envision something more like a dimmer switch that gradually grows brighter.
Los Angeles Mayor Eric Garcetti told me that he believes the city's shelter-in-place order will need to remain in force at least through mid-May, two months after he issued it. "Easily, the worst thing you can do is kind of crush people's hopes by setting up early expectations [of lifting restrictions], when we are going to be in this for a long haul," he said. "The best thing" people can do is understand that the outbreak "won't come in one fell swoop and one wave—and prepare for that." That means that any easing of restrictions on economic and social activity later this year will be gradual, Garcetti said.
Or as Dallas Mayor Eric Johnson put it: "No one can be sure, but I have a hard time imagining that there will be a day when everything goes back to normal: just one day everyone is sheltering in place, businesses are closed; the next day, it's all over." His city is operating under strict shelter-at-home regulations. "What I can more easily envision is a gradual unwinding of the most restrictive emergency orders or regulations and a ratcheting back to normal."
And even that gradual process, Johnson told me, is unlikely to start as soon as the president hopes.
"I'm not certain by any stretch that we will be out of the woods by April 30," he said. "I think that's for public-health experts to prognosticate about, and it's going to be up to the virus to determine when we are out of that."
Two intersecting trends explain why these large metropolitan centers are positioned to play such a pivotal role in the pace and extent of any economic recovery from the outbreak.
One is long term: As the nation transitions deeper into an information-based economy, skilled workers, venture-capital investment, scientific research, and new-business formation are all concentrating more heavily in the nation's biggest urban areas. Those regions include many cities, from Seattle to New York, that appeared to face terminal decline during the final decades of the 20th century. As Muro and his colleagues have repeatedly documented, those areas now account for a growing share of the nation's total economic output and jobs.
"Sure, there are important [economic] clusters everywhere," Muro said. "But ultimately, if we've learned one thing in this decade," it's that the American economy is now powered by "the intense concentration of advanced economic activity" in the biggest cities, "and the multiplying effect of that concentration" on productivity.
The other trend is near term: The coronavirus outbreak is most intense in those same urban centers. While epidemiologists are somewhat divided on whether the virus will reach heavily into small-town and rural areas, Deborah Birx, the Trump administration's outbreak coordinator, said on Meet the Press this week that "every metro area should assume that they could have an outbreak equivalent to New York."
To understand the effect of these intersecting dynamics, Brookings, at The Atlantic's request, analyzed the economic impact of the hardest-hit counties. It tracked the incidence of disease by county as of Tuesday morning, according to a database updated several times daily by The New York Times. Then, Brookings used federal Bureau of Economic Analysis data to calculate counties' contribution to the nation's total economic output and job pool. The results dramatically underscore how heavily the burden of disease has fallen on the big communities that drive America's economy.
While there are about 3,100 counties in America, the 15 counties buckling under the largest number of coronavirus cases account for just over 16 percent of the nation's economic output, and nearly 13 percent of its jobs, or nearly 26 million jobs in all, Brookings found. That list includes New York City and the surrounding suburban counties of Westchester, Nassau, and Suffolk in New York State; Bergen in New Jersey; and Fairfield in Connecticut, as well as the counties centered on Chicago, Detroit, Seattle, Los Angeles, New Orleans, and Miami. These counties alone generate $3.3 trillion of the nation's $20 trillion economic output.
The impact grows from there. The 50 counties with the most cases account for 36 percent of the nation's total output and 30 percent of its jobs—some 60 million positions. That list brings in the counties centered on other major cities—including Boston, Philadelphia, Indianapolis, Atlanta, Houston, Dallas, Denver, Phoenix, San Francisco, and San Diego—as well as Macomb and Oakland Counties, two suburbs of Detroit, and Santa Clara County, the heart of Silicon Valley.
The 100 counties facing the most cases generate 51 percent of the nation's total output and 44 percent of all its jobs—more than 88 million. That longer list includes Washington, D.C., and the counties centered on St. Louis; Salt Lake City; Charlotte, North Carolina; Hartford, Connecticut; and Columbus, Ohio, as well as the suburbs of major cities such as Chicago, Philadelphia, and San Francisco.
The distribution of the caseload also helps explain the continuing political divergence around the outbreak. The Brookings analysis found that in 2016, Hillary Clinton won more than three-fifths of the vote in the 100 counties facing the most cases. (Those 100 counties accounted for more than three-fourths of all U.S. cases as of Tuesday morning.) That illuminates the continuing partisan divide: Though Americans in all political camps have displayed increasing concern about the coronavirus in public polling, in surveys released over the past few days, self-identified Republicans were still much more likely than Democrats to say that Americans are overreacting to the virus, and less likely to say that it has changed their life in a major way.
One irony, as Muro and others have noted, is that many of the same traits that have elevated these cities to the very top of the country's economic ladder have increased their exposure to the virus. The highest-flying cities are almost universally among the nation's most globally connected—the most likely not only to receive foreign visitors but to have residents who travel internationally. "Everything that makes them powerful and irreplaceable also exposes them to the vicissitudes of a globally connected economy where viruses can be both technological and human," Muro said.
For the mayors I spoke with, the road to restarting economic activity is murky. While Trump keeps identifying dates for possible restarts—first Easter, now April 30—they uniformly resist definitive proclamations, arguing that the pace of reopening will depend on the course of the outbreak. "The truth is we just don't know … and we should be okay with telling the public that," Johnson said.
Any restart will inevitably vary industry by industry, several of the mayors told me. Garcetti is optimistic that the entertainment industry, for one, may resume activity sooner than most others. "I see them as a place that has the resources, the family-like, club-like [dynamic] that people know who they are working with [that] they may have the ability to get back on their feet faster than others," he said.
Garcetti is less confident that tourism, another key industry for L.A., will recover quickly even after the restrictions are lifted—which he worries will mean continued hardship for the many low-paid workers in that sector. In Miami, also heavily dependent on tourism, Mayor Francis Suarez shares those concerns. But if anything, he told me, he's facing pressure from workers in the tourism industry to tighten restrictions.
"A lot of employees are calling me complaining that they are being forced to go to work and being exposed to health risks," he said. "It's a little counterintuitive: You would think that people who live paycheck to paycheck would be desperate to get back to work, and what I'm seeing is exactly the opposite."
One potential source of protection for some cities is that a significant portion of their workers are white-collar professionals who are working remotely and still receiving paychecks that generate tax receipts. That's the case in Columbus, a growing center of finance, education, and medicine. There, retail, manufacturing, and logistics are disrupted, "but many of our largest employers have folks working," Mayor Andrew Ginther told me. "They are working remotely and are continuing to pay income-tax revenues."
But overall, all of the mayors I spoke with are preparing for a lengthy siege that may include a subsequent wave (or waves) of disease later this year. "The last thing we ought to do right now is to take our foot off the gas in terms of stay-at-home orders," Ginther said.
The mayors also said they are relying heavily on local public-health and hospital officials to make decisions in the absence of stronger guidance from the federal government. Garcetti seemed to speak for all of them when he told me, "To me, it's a very lonely place," especially when deciding "when we turn the spigot on and how we do that."
One of the toughest decisions looming for local leaders will be when to permit the resumption of the large-scale sporting events that contribute so much to both the economy and the identity of their city. The coronavirus has already forced the suspension of professional basketball and hockey, and a delay in starting Major League Baseball. None of the mayors I spoke with said they could commit, at this point, to allowing even college and professional football games to go on in the stadiums within their jurisdictions. Those seasons are due to begin in late summer.
Johnson offered an "educated guess" that bans on major sporting events will be "one of the last restrictions to go … Those seem to be the most likely way you could undo what good you've done—allowing people to go back into a confined space with 50,000 people in it."
Garcetti was even more dubious that Los Angeles would host baseball or football games this fall unless somehow scientists develop either a vaccine or a foolproof testing system by then. "My strong sense is that we will see a second spike of this in October, November, December … And if that's the scenario, I can't imagine that public-health professionals are going to say, 'Let's put tens of thousands of people back together in a stadium,'" Garcetti said.
Trump would likely view starting the National Football League schedule on time this fall as a powerful symbol of the country returning to normalcy just a few weeks before the election. And the many political conservatives among the league's owners would likely be inclined to support him, as one former league executive—who talked to me on the condition of anonymity in order to speak candidly—told me this week. But depending on the outbreak's course, that could steer the NFL into direct confrontation with the mostly Democratic leaders in the jurisdictions where their stadiums are located.
That potential collision marks just one of the many ways in which the nation's economic (and even spiritual) recovery will be determined above all by what happens in the big cities now bracing for the most furious onslaught of the disease.