The Most Important 2020 States Already Have Vote by Mail
But the battle over expanding access is only getting started.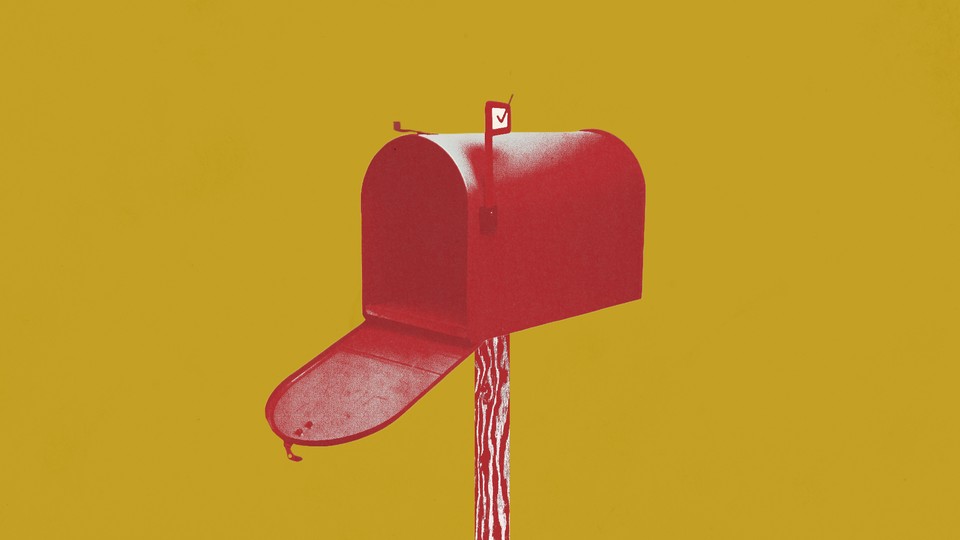 In the states that will likely decide the 2020 presidential election, Donald Trump has already lost his newly declared war against voting by mail.
All six of the swing states that both sides see as the most probable tipping points allow their residents to vote by mail for any reason, and there's virtually no chance that any of them will retrench their existing laws this year. That means that, however much Trump rages, the legal structure is in place for a mail-voting surge in those decisive states: Florida, North Carolina, and Arizona in the Sun Belt and Michigan, Pennsylvania, and Wisconsin in the Rust Belt.
Such an increase "is going to happen" in states across the country this year, says Wendy Weiser, the director of the Democracy Program at the Brennan Center for Justice. "The president can't prevent it from happening, his protestations notwithstanding. Voters are going to choose that option, and jurisdictions are going to need to make that option widely available in order to protect public health and administer their elections."
That doesn't mean Trump's new crusade will have no effect. It's so far stiffening Republican opposition to plans for furthering expand mail-voting access in response to the coronavirus pandemic. Those proposals include calls from Democrats and election-law reformers to preemptively mail all eligible voters a ballot, as five states do now, or to require all states to allow their residents to vote absentee for any reason. In the 28 states that already allow this "no excuse" absentee balloting, partisan struggles are nevertheless looming over whether to make the voting process easier.
But experts in voter turnout and mail voting anticipate that however these fights play out, the share of Americans who cast ballots by mail in November may roughly double from the previous presidential election, from just under one-quarter in 2016 to about one-half this year. Jocelyn Benson, Michigan's secretary of state and a Democrat, expressed a broad consensus among local officials when she told me, "We will certainly see people voting by mail more than ever before in our state."
This shift will create enormous logistical challenges, particularly in states where relatively few people historically have used the option. But contrary to the president's warnings, the evidence suggests it is unlikely to provide a clear advantage for either party. Using data from the large post-election poll known as the Cooperative Congressional Election Survey, the Massachusetts Institute of Technology political scientist Charles Stewart found that roughly the same share of Republicans and Democrats voted by mail in 2016.
"When you have a system of elections that have multiple methods by which people can vote—mail, in-person early voting, or Election Day—the mail ballots tend to be the most Republican of the group," says Michael McDonald, a University of Florida political scientist who specializes in voter turnout.
This mid-pandemic debate about voting by mail is muddied, in part, because Trump has been so unclear about exactly what form he objects to. All states allow one of three types.
Five states, the smallest grouping, are "all mail" states: Washington, Oregon, Colorado, Utah, and, starting this year, Hawaii. There, all eligible voters are mailed a ballot to their home. (California allows its counties to use such a system, but has not yet applied it statewide.) These states preserve some in-person options on Election Day, but in those that used this system in 2018, at least 90 percent of voters cast their ballot by mail.
The largest group is the 28 states that allow for "no excuse," or "no fault," mail balloting. The procedure still adds one hurdle: Voters must affirmatively request a ballot. But some states in this cohort, such as Arizona, do allow residents to join a list that automatically receives absentee ballots for every election.
The final group, 17 states, allows voters to obtain a mail ballot only for cause. According to the database maintained by the National Conference of State Legislatures, eligible causes include age (about half of the states allow older voters to obtain mail-in ballots on request) and studying at college outside of one's home county (also a justifiable reason in roughly half of the states). All 17 also allow residents to request mail ballots because of illness or disability, a provision that could allow for broader access this fall. But it could also prompt extensive legal fights if election officials resist interpreting such provisions to include the coronavirus outbreak.
None of the five all-mail states (or California) are expected to be close in the coming contest between Trump and former Vice President Joe Biden, though the Trump campaign holds distant hopes of contesting Colorado. Of the 17 states that require voters to justify an absentee ballot, only New Hampshire and Texas could fit the category of potentially competitive states in the presidential race; the former still clearly leans toward Democrats, while Republicans remain favored in the latter.
The genuinely key states for November all fall into the middle category, allowing no-excuse mail balloting. They include not only the six noted above, but even a second tier of possibly competitive states, such as Iowa, Georgia, and Ohio (which Democrats might try to contest with smaller chances of success), and Minnesota, Nevada, and New Mexico (which Trump still hopes, at long odds, to contest).
The entire debate over voter access this fall would probably look very different without big recent changes to the law in two of the most crucial swing states: Michigan and Pennsylvania. Both states used to require voters to have an excuse for requesting a mail ballot. In November, both will use a no-excuse vote-by-mail system for the first time in a general election.
The irony in the president's new offensive is that in many of the no-excuse states, Republicans have historically outpaced Democrats in organizing their supporters, especially older white voters, to vote by mail. In Arizona, for instance, Republicans outnumber Democrats on the state rolls of voters who have signed up to automatically receive a mail ballot. Arizonans over 50, a conservative-leaning bloc, also significantly outnumber those under 40. Voting by mail there has traditionally been "a Republican advantage," Charles Coughlin, a veteran GOP consultant in the state, told me. "It was a program we have perfected over time because we chased it, and we made it happen." The same is true in Florida.
Operatives in both parties say Democrats have narrowed the gap with Republicans since Barack Obama promoted voting by mail in his two presidential campaigns. For instance, armed with the new no-excuses law in Pennsylvania, the state Democratic Party is "turning our entire organizing effort into encouraging people to vote by mail," says Brendan Welch, the party's communications director. "It's very clear that it is the safest way for people to vote in these circumstances."
But generally speaking, Democrats have prioritized in-person early voting instead of mail balloting, such as the traditional "souls to the polls" pushes at African American churches the Sunday before Election Day. Seth Morris, the voter-protection director for the North Carolina Democratic Party, told me Democrats there are determined to preserve these practices. They aren't seeking a complete shift to voting by mail in response to the outbreak.
"We don't really want that to happen," he said. "Particularly in African American communities, people like to go vote, and they trust that process a lot. In the states that have gone to universal vote by mail, it took them years … And I don't think anyone here wants to do that."
Congressional Democrats want to set national rules for November's election—to require all states to either permit no-excuse absentee voting, or mail ballots to every eligible voter if a national health emergency is declared close to Election Day. But given that such legislation has virtually no chance of clearing the Republican Senate—much less winning Trump's signature—the partisan battles to come will play out primarily in the states and the courts. Early signs indicate that this struggle will unfold along three broad fronts.
The first front is about whether states should expand access to mail ballots at all. In states that require a justification for voting absentee, Democrats could press to allow no-excuse access to mail ballots. And in states that already permit no-excuse absentee voting, reform advocates like Weiser expect many officials to advocate for mailing all voters a ballot, eliminating the intermediate step of requiring voters to request one. Earlier this week, Minnesota's Democratic secretary of state, Steve Simon, proposed such a step. Benson, Simon's counterpart in Michigan, told me that many states may ultimately conclude that this is the safest way to conduct a mid-pandemic election.
"The ultimate efficiency—if you have the infrastructure to support it, and you have the voter will and demand behind it—is eliminating the request and enabling citizens to just receive their ballot based on being registered," she said. Benson acknowledged that "it does take some time for the voters' will to get there," especially "if you have leaders questioning the sanctity of the process." But, she added, "I do think, in this unique moment, all [options] need to be considered and on the table in order to be sure that the voters' will is heard in November."
A small number of Republican governors, such as Ohio's Mike DeWine, might pursue automatic mail voting for the general election, but most—if not all—are likely to be dubious. Florida, for instance, "has always been ahead of the curve on the vote-by-mail trend, and we already have a very high utilization," says the GOP consultant Brad Herold, a former executive director of that state's Republican Party. "I don't think there is going to be widespread calls for the state to do more than we are already doing,"
In states with Democratic governors, Republicans are likely to fiercely oppose any efforts to move to an all-mail system, especially if governors try to use executive orders on public-health grounds. Minnesota's Republican Party chairwoman, Jennifer Carnahan, responded to the all-mail proposal there by immediately declaring, "The apocalypse has arrived." The plan is "simply a path to steal the elections in Minnesota this year," she said in a statement this week.
Weiser told me that a preliminary Brennan Center review of state laws shows that most governors "have broad emergency powers" that authorize them to impose "these kind of changes." But Republicans are unlikely to agree and would be sure to fight such declarations in state courts. (If cases reach the U.S. Supreme Court, the same five GOP-appointed justices who stymied Wisconsin's efforts to extend mail voting in its primary this week could eventually vote to block other states' moves too.) A compromise some states could strike is to send all voters a notice reminding them that they can apply for an absentee ballot; Ohio did that for its primary later this month, and Arizona is discussing this approach ahead of the general election.
The second front of conflict will be over the extensive rules surrounding the vote-by-mail process, even in the states with no-excuse absentee voting. "The details matter a ton at the state level," says Phil Keisling, a former Democratic secretary of state of Oregon and the chair of the National Vote at Home Institute, an advocacy group.
Partisan conflicts could erupt over how exactly citizens can request absentee ballots (many don't allow them to do so online); whether the state will pay the postage to return the ballot (Michigan, Florida, and Pennsylvania are among those that don't); and whether, amid the outbreak, states should still require voters to obtain witness signatures before submitting their ballot (as North Carolina and Wisconsin, among others, do). "Probably … tens of thousands of people will have difficulty getting those witnesses," Morris said.
The most contentious subject will be the standards used to judge which ballots are rejected, particularly on the grounds that a voter's signature doesn't match records on file.
Daniel A. Smith, a University of Florida political scientist, has found that mail ballots in that state from young people and minorities are rejected at higher rates than those from older people and white voters—a dynamic that has obvious benefits for Republicans. In some states, Weiser noted, the election officials determining whether to accept a ballot can see on their screen the age and partisan affiliation of the voter they are assessing. Stewart told me he anticipates "a lot of litigation about the rejection of absentee ballots."
Finally, the third front of conflict that experts foresee is not ideological but logistical: whether states have enough money and staff to handle increased demand. Even no-excuse states vary enormously in the use of mail balloting. In Arizona, about three-fourths of votes are cast by mail. In Michigan and Minnesota, it's about one-fourth. In other no-excuse states, the number is far, far lower: Six percent or less of votes in 2018 were cast by mail in Maryland, North Carolina, and Georgia.
This week's primary election in Wisconsin, which has no-excuse mail balloting, previewed the chaos that could be ahead. In both 2016 and 2018, only about 5 percent of the state's votes were cast by mail. Final figures aren't yet available, but preliminary results leave no doubt that amid the widespread health concerns, mail ballots accounted for a significant majority of the total primary vote. That demand overwhelmed the state's system—to the point that thousands of voters apparently did not receive their ballots until it was too late to return them. (The U.S. Supreme Court's late-in-game ruling required that all ballots be postmarked by Election Day.)
States "are not going to be able to manage just the mass requests that are going to come in and then the massive ballots that are going to be sent out," McDonald says. "It's going to be a mess. Wisconsin is the canary in the coal mine. In November, we are going to have a whole flock of dead canaries."
McDonald and other experts say that to handle the increased workload—reflected in everything from the number of ballots a state prints to the number of workers it will need to review them—states will need a lot more than the $400 million Congress has already appropriated to expand access.
And, he added, Republicans resistant to increased funding or other reforms could be too clever by half. There's no evidence that their base, which includes an increasing number of white voters with less education, will easily navigate a complicated vote-by-mail process. "I think Republicans could overthink this and they could hurt themselves come November," he told me. "I hope they come around and realize their voters are at risk as much as the Democrats' are."