How Trump's Foes Get Through His Daily Press Briefings
With booze, junk food, and the love of a beloved pet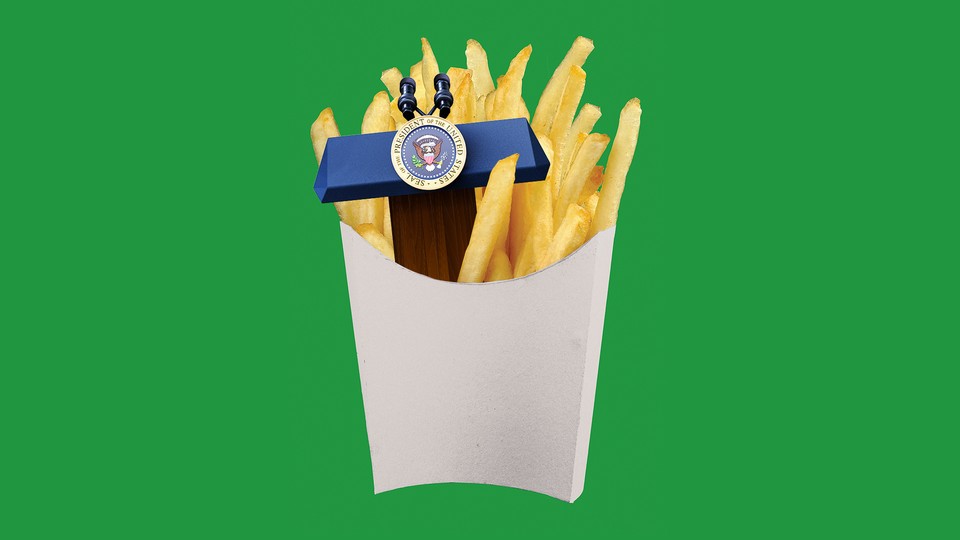 Updated at 1:54 p.m. ET on April 27, 2020.
In the Chicago suburbs lives a four-year-old black Labrador retriever named Mabel, whose happiest part of the day is President Donald Trump's daily briefing.
In the afternoons, Mabel has been accompanying her owner, former Republican Representative Joe Walsh, as he settles into a living-room chair and flips on the television to watch Trump hold forth. When Walsh hears something that upsets him, he grabs one of Mabel's chew toys and flings it across the room in frustration. (He's broken two lamps and a glass vase.) Mabel scoots after it, picks it up, and cheerfully returns it. As the briefing drones on, Walsh hears plenty that makes him upset. So Mabel plays lots of fetch.
"Mabel lives for the daily briefings," Walsh told me. He does not. "Miserable" is how Walsh describes them. But Walsh, a onetime Trump booster who went on to run against him earlier in the 2020 Republican primary, said he feels obligated to watch and chronicle the president's behavior for his Twitter following.
The briefings haven't always made for easy viewing. Trump touts unproven treatments, berates reporters, and insults American governors—all the while insisting that his performance combatting the coronavirus outbreak has been flawless.
On Thursday, after another official gave a presentation about how light and disinfectants kill the virus, Trump blithely speculated whether a disinfectant could be administered "by injection inside, or almost a cleaning." After an outcry, he claimed on Friday that the statement was "sarcastic." By Saturday, he was threatening to pull out of the briefings entirely, saying they aren't worth his time and blaming the press. He stayed out of sight over the weekend. Then on Monday, in a head-spinning change in scheduling, the White House at first canceled the afternoon news conference, only to announce hours later it was back on, with Trump at the helm. It's a fair bet that the free airtime and chance to push out campaign talking points are, for Trump, an irresistible draw.
No one is forced to watch the daily Trump show, of course. But some don't have much of a choice. They're political operatives and consultants, pundits and elected officials, and part of their job is knowing what the president and the high-ranking officials he brings to the podium have to say about the raging pandemic. I wondered: What is it like to tune in if they also, well, dislike the guy? Do they have any strategies or rituals that help them watch the show in its entirety? They do. Some yell at the screen. Others devour junk food or listen selectively for information that's truly necessary, tuning out the rest. "You have to watch it with an animal next to you," Steve Schmidt, a top adviser to the Republican presidential nominee John McCain's 2008 campaign, told me.
Then there's booze. Michael Steele is a former Republican National Committee chairman and an MSNBC commentator. When Trump comes on, the shot glasses come out.
"I start off with a beer and, depending on the magnitude of crazy, I could be on tequila before too long," Steele told me. "It just becomes too much," he said, referring to Trump's appearances. "It's draining to the point past exhaustion."
Democratic Representative Jackie Speier of California, who participated in impeachment hearings last year as part of the House Intelligence Committee, has been watching in a family room in her home. Beside her are bowls of popcorn and chips—"stuff with salt."
"I find myself screaming at the TV a good part of the time," Speier told me. She conceded that there are times when she's had enough and simply gets up and leaves the room. "If I wore a blood-pressure cuff, it would explain why," Speier said.
Hunkered down with her family in Fayetteville, Arkansas, Adrienne Elrod, a Democratic strategist, makes sure to have a glass of sauvignon blanc in hand. "Something to calm your nerves," she told me. It doesn't always work. When Trump told the CBS reporter Weijia Jiang to "keep your voice down" after she pressed him on his handling of the outbreak one day last week, Elrod turned to her 74-year-old father as they were cooking dinner: "Are you fucking kidding me?!"
What did your dad say? I asked. "He agreed and splattered in some expletives that are probably not decent for print," she said.
As I've written before, it's not hard to imagine how a more disciplined briefing might unfold. A president might showcase the work of doctors and nurses risking infection to treat sick patients.
Recognizing the gravity of the crisis, he might focus solely on laying out a realistic plan to ramp up testing and develop treatments based on hard science, dispensing with the self-congratulation and ill-advised forays into epidemiology. No one expects the president to devise a cure; they expect him to marshal resources that make a cure possible. Even Trump's congressional allies have been warning that Trump is misplaying the moment.
Rob Stutzman, a Republican strategist based in Sacramento, California, has come to see the briefings as a TV show. And like any TV show, there are a few cast members he likes, and others he ignores. When Treasury Secretary Steven Mnuchin comes to the mic, Stutzman perks up. Mnuchin has been in the middle of negotiations with Congress over various economic-relief packages. "I see him as an adult doing real policy," Stutzman told me. "I want to know everything that Mnuchin has to say."
The entire spectacle confounds Stutzman. In an earlier life, he handled communications for former California Governor Arnold Schwarzenegger, another Republican celebrity turned pol. Mystifying to Stuzman is why the president would want to go before the cameras day after day and be the public face of an escalating catastrophe. "Arnold would have had the good sense not to be talking about bad news every day," Stutzman said.
"We're into, like, Season 7 of a show that should have been canceled after Season 4," he sighed.
Dissatisfied viewers can always conjure a few plotlines of their own. What follows never happened—and never will. It's a fantasy that Steele quietly spins as he sips his Sapporo and watches: A White House reporter heads into the briefing room on his last day of work. After enduring an attack from the president, the reporter stands up to confront him: "You're full of shit!"
Then comes a national catharsis. Just as people have been regularly applauding health-care workers from their homes, a grateful country rises up, rushes to their windows and entryways, and cheers the act of conscience. "Every household would have people standing up applauding the reporter for saying what we all feel," Steele said.
Anyway, it makes the time pass.