The Real Point of Trump's Coronavirus Press Conferences
The president is inescapable right now. That's by design.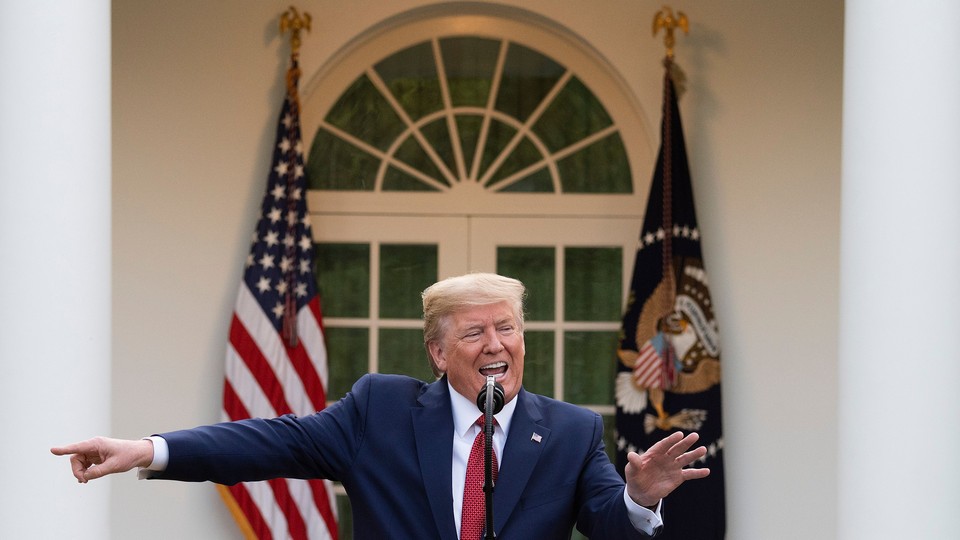 When she finishes her 12-hour shift in the intensive-care unit at Riverside Community Hospital, Katherine Montanino stuffs her clothes into a dirty-linen bag and swaps out her soiled shoes for a fresh pair. Arriving home, she takes a shower before she hugs her family. Then she might flip on the television to see what President Donald Trump is saying about the virus she's straining to avoid.
The 44-year-old nurse from Riverside, California, voted for Trump and might do it again. Yet with her colleagues rationing masks and the number of COVID-19 cases growing, Trump's digressions into partisan politics leave her cold. "It's one of the things I wish he would just stop," she told me. "I understand he's trying to build for the presidential campaign coming up. But it's not the time right now. It's not about him. Honestly, it's about life and death."
A president commands a formidable platform when the nation is under threat. As the pandemic worsens, Trump has been inescapable. His daily press briefings draw millions of viewers. He's cultivated public fights with Democratic governors over scarce supplies. And he's ignited cultural clashes by calling the novel coronavirus the "Chinese virus." As the briefings stretch into their second hour, the wartime president morphs into the aggrieved candidate, who has created a spectacle that a captive audience can't ignore.
One timeline in play is how long it will take before infections subside. Another is the political calendar. The two are entwined. In this new era of social distancing, Trump can't hold rallies as a way to mobilize his base and diminish his rivals. But he's embraced the bully pulpit, and in his hands—and at this jarring moment in the nation's history—it's potentially more valuable than routine campaigning. As the election approaches, he may be more and more tempted to use it for his own purposes. His prospects now hinge, after all, on his handling of the outbreak. His focus in the coming months will be to convince voters that he led a dauntless effort to keep Americans alive.
"Trump's opponent really is the coronavirus," Senator Lindsey Graham, a Republican from South Carolina and a friend of the president's, told me. "If he's seen to have handled this well and done a good job in the eyes of the public, he'd be almost impossible to beat. If he's viewed as having fallen short, he'd be in trouble."
Trump quickly found a substitute for the raucous rallies he's had to forgo amid the crisis, which his pollster John McLaughlin described as "like the September 11 attack and the 2008 financial crisis combined." Two days after he canceled his last rally, on March 11, Trump showed up in the Rose Garden for the first of 24 straight news conferences and press gaggles. He's revived a tradition that he'd previously done away with: the daily White House press briefings, only with himself as emcee. He doesn't skip a day, whether he has anything new to say or not.
"From a purely political standpoint, he can be seen as the commander in chief for up to two hours a day, leading the country through this crisis," Sean Spicer, the president's former press secretary, told me. "In this case," Joe Biden, Trump's presumptive general-election opponent, "is left on the sidelines."
No president has used the bully pulpit quite like Trump in this moment. Before the Great Pandemic came the Great Depression. At the time, Franklin D. Roosevelt used his fireside chats to reassure the country, preparing carefully with his speechwriters, Doris Kearns Goodwin, the presidential biographer, told me. "He wanted to make sure he had the right language, the right message, and the right data coming forward." Trump's news conferences, by contrast, spin off in all directions: ungrateful governors and Facebook followers, impeachment and Biden—lots of Biden.
But imagery could work in his favor. Trump stands behind a lectern adorned with the presidential seal. He holds news conferences in the iconic Rose Garden. Flanking him most days is Anthony Fauci, a public-health expert so admired that his face is now imprinted on bobblehead dolls, and whose mere presence lends authority to a president whom many Americans don't trust to speak truthfully about the threat. (Twitter lights up in alarm whenever Fauci doesn't appear alongside Trump, though a White House aide told me the absences are only because the doctor needs time to rest or work.)
Biden, meantime, is hunkered down in the basement of his Delaware home, sending podcasts into the ether. "Voters in times of crisis want to rally around their leader," Brian Fallon, a Hillary Clinton spokesperson in the 2016 campaign, told me. "To the extent that Trump is out there and on TV every day with all the trappings of the office, he's playing the part. It gets him some of the benefit of the doubt that voters want to confer on their leaders." Even Biden has acknowledged the tough position he's in. "You can't compete with a president," he said at a virtual fundraising event last week. "That's the ultimate bully pulpit."
A disciplined use of that perch would look very different from what the president is doing. Trump could make a brief appearance to rally the country and then exit, leaving the rest to the public-health experts. He could set a time limit. He could decline to take questions unless they deal with life and safety, citing the gravity of the threat.
As chairman of the Joint Chiefs of Staff during the Gulf War, Colin Powell also gave press briefings under difficult circumstances. One of his rules was to keep them short, Powell told me, declining to discuss Trump specifically. "My experience was, you don't need more than 30 minutes to make your point," he said. "If you go more than 30 minutes, you start to talk over yourself; you start to open up your flanks. You get attacked."
Brevity may not serve Trump's purposes. The longer he talks, the more openings he gets to distract from the messy government response or to skewer his foes.
He has repeatedly brought up Biden without ever being asked. On Saturday, after one health expert gave a technical answer about tracking the virus's spread, Trump followed up with a non sequitur: Biden, he told viewers, had praised his January 31 decision to ban travel from China. Something similar happened on March 26. When a reporter asked Trump about his message that Asian Americans shouldn't be blamed for the virus, he veered into a complaint about "Sleepy Joe Biden" and Chinese trade deals. Asked about his credibility during another briefing the week before, Trump again didn't answer. Instead, he said he was beating "Sleepy Joe Biden by a lot in Florida." (In his opening remarks at yesterday's briefing, Trump mentioned that he and Biden had talked amicably about the crisis in a 15-minute phone call earlier in the day.)
Incentives to further politicize the stage will only grow. As the general-election race begins in earnest, Trump may be more brash about slipping in the talking points he can no longer deliver to thousands of cheering MAGA supporters. "The purpose of these should be to provide factual, important information to people in a crisis—information they can trust," says David Lapan, a former Trump-administration spokesperson at the Department of Homeland Security. "That gets diluted when they turn these into mini rallies."
Stephanie Grisham, the White House press secretary, told me that Trump "thinks it's very important to be the face of this in terms of comforting the country, telling the country what we're doing, and trying to be as transparent as possible."
People's patience may be waning. After early poll numbers showed that a majority of Americans approved of Trump's response to the outbreak, his ratings have started to slip. An ABC News/Ipsos poll showed only 47 percent approved of his efforts, with 52 percent disapproving.
By contrast, New York Governor Andrew Cuomo, who also has been holding televised daily news conferences during the crisis, enjoys 87 percent approval. That's the sort of rating leaders normally get at the early points of a national crisis—a level Trump has not been able to match.
Trump isn't about to stop talking; the cable networks won't stop filming. One person who will be watching is Montanino. She told me that a friend's husband recently died from the disease and that she's seen more people getting sick. There's something she'd like to hear Trump say, an unadorned message free of any politics: "I don't have this under control, but we as a nation will get through this," and then, perhaps, step aside for the experts to give life-and-death answers.