Stacey Abrams's Remarkable Campaign for Vice President
Joe Biden has committed to choosing a woman as his running mate—and Stacey Abrams has a case to make for why she should be his pick.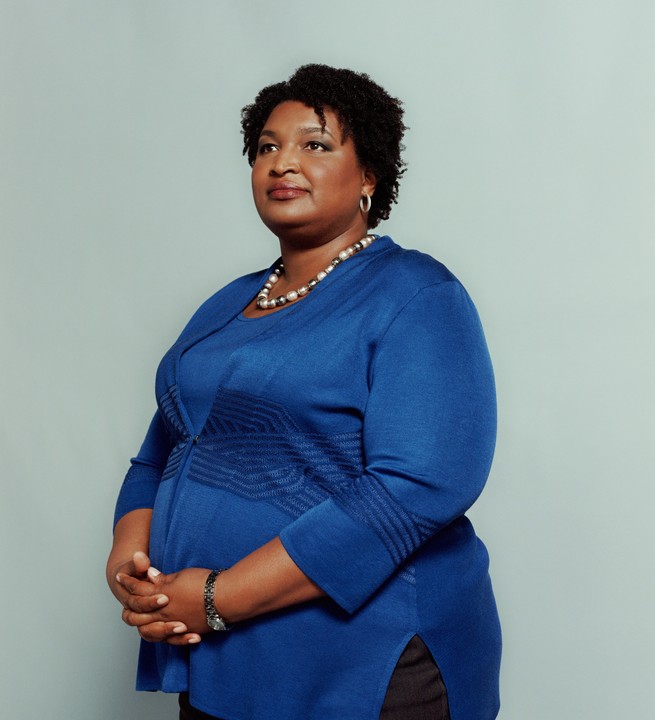 Stacey Abrams has a theory about how Joe Biden can beat Donald Trump: Pick her as his running mate.
"We have to win the election. And I would point out that I ran the most successful campaign to engage the communities we need to build the broadest coalition necessary in 2020, because what we are going to see on the ground is that this is going to be a campaign unlike anything that's been run before," Abrams told me.
The voting-accessibility advocate and former Georgia House minority leader called in to The Ticket from self-isolation in Atlanta. Listen to our full conversation here:
Subscribe to The Ticket: Apple Podcasts | Spotify | Stitcher | Pocket Casts (How to Listen)
Abrams pointed to her run for governor of Georgia two years ago: "If you look at what we were able to accomplish in Georgia, the growth of the numbers and the composition of the voters, I would put my capacity to win an election as the VP running mate alongside anyone's."
This is an unusually direct statement from an aspiring vice-presidential pick.
Abrams would be an unusual pick for such a big promotion, especially in the new coronavirus era, when every big job in government just got bigger. So she's running an unusual campaign—strategic interviews with Pod Save America and Elle; fans talking her up in a New York Times op-ed and behind the scenes; an appearance on The View in which she said she thought Biden would be smart to pick a woman of color. Oh, and she also happens to have a conveniently timed and titled new book coming out in June: Our Time Is Now. "If and when questions come up about her ambition or her potential political future, she answers them honestly, which is something she's done her entire life," argued her spokesman Seth Bringman.
Abrams is a little more circumspect about a recent phone call with Biden. The personal dynamic Biden had with Barack Obama is clearly important to him. So what's Abrams's relationship with Biden like? "I can speak for me," she said, choosing her words carefully as she discussed how much she respects the presumptive Democratic nominee. The ticket didn't come up, she said. Biden's campaign confirmed that he called Abrams, but didn't say more. According to several people familiar with the campaign's running-mate selection process, Abrams is not currently a likely choice.
"Stacey" has become a one-name celebrity to some Democrats despite losing her 2018 bid for governor. She gave the official Democratic response to President Donald Trump's State of the Union in January 2019, and when she's included in events that feature governors, senators and other elected officials, she's often treated like the headliner. It's hard to ignore, though, that her most significant job in government to date was being the minority leader of the Georgia House, where Democrats dangle on the edge of a superminority. That's an especially important factor for the 78-year-old Biden, who, if he wins, would be the oldest person ever elected president.
But Abrams has a case to make. She tripled turnout among Latinos and Asian Americans in the Georgia governor's race. The 40 percent jump in African American turnout was the highest such bump in state history, she told me. Biden, she said, "is an extraordinary candidate, but I believe that campaigns require a broadening of capacity, simply because one person can't do everything in a campaign. That's why you have running mates."
People have been chattering about her prospects for so long that it's become an inside joke. At a Bloody Sunday anniversary commemoration in Selma, Alabama, at the beginning of March—when Abrams was given a central place of honor, on the pulpit of the famous Brown Chapel—the Reverend Al Sharpton looked over at her and Biden and joked that he was glad to see "our vice president. I'm talking about Stacey, not you, Joe." (Biden mouthed, "I know.") Sharpton is now planning to officially back her as his choice for Biden.
"Stacey's assets are that she can excite a lot of young people. She proved in Georgia that she can get white and black voters," Sharpton told me today. "I have not at this point endorsed, but I am very much impressed with her."
Abrams told me she knows people have questions about her qualifications. Her answer is that she's "spent the last 20 years thinking about international issues independently and been to 16 countries doing policy work ... as an inquisitive young person and then as a legislator." For foreign-policy experience, that's a stretch. Then again, Barack Obama and Mitt Romney both took trips to Europe as presidential candidates to show that they knew how to meet with foreign leaders, and it's not like Mike Pence was or is known for his globe-trotting worldliness. "I'm the only person I know of that's in this conversation who has successfully run multimillion-dollar nonprofits, for-profits, and have led teams at the state and the local level," Abrams added.
Putting Abrams on the ticket would be so much easier for many people to wrap their head around if she'd won that governor's race in 2018 and become the first black woman in history to run a state. She says that what she's done since losing then qualifies her to be vice president. "It's not simply the title before your name. It's the work that you have done. And I would put my CV against anyone else's CV in terms of seeing not only what I was called to do, but what I accomplished and my ability to scale that. Because the reality is, until you've been vice president, no one has ever done a job that large."
---
Abrams's current job is leading several organizations: Fair Fight, which is focused on voter suppression, a factor she and many others believe contributed to her 2018 loss; Fair Count, which works to boost participation in the 2020 census; and the Southern Economic Advancement Project, whose mission is to address issues related to racial, sexual, and economic inequality. Fair Fight has set up voter-protection teams in 18 states and raised $20 million; all the major Democratic candidates met with Abrams about voter suppression.
Abrams has this line I've heard her use—that as a black southern Democrat, she always assumes the worst. She told me I had it wrong. "I'm an ameliorist. I think the glass is half full, but probably poisoned." That's how she explains what happened in Wisconsin at the beginning of the month, when state Republicans, supported by the president's rhetoric and a Supreme Court decision, denied full access to voting by mail, despite major public-health concerns. "That's the poison in our process," Abrams said. But she's optimistic about all the people who showed up to vote anyway, who stood in line wearing masks and helped create a backlash that gave a liberal candidate a surprise victory in the state Supreme Court race.
Abrams is pushing for a major vote-by-mail expansion, but she acknowledged that this won't help everyone. Her organizations are also adapting their efforts on voter education and ballot access to the new coronavirus reality. Safe voting during a pandemic "means you want to diminish the number of people who have to be in line," she told me, "but you have to recognize that there are going to be people who have to go inside; who have to go into a polling place for the disabled … There are some who are homeless, some who are housing-unstable. There are going to be people who have no choice but to be in line. There are those who have language barriers who need to be in the polling place."
"This is about making [voting] safe and accessible, because we live in a nation that is governed by the people," Abrams added. "And if the people cannot participate in their governance, we are shifting towards authoritarianism."
Every time Abrams speaks about voter suppression, she's invoking her own history. In 2018, her Republican opponent was Georgia's secretary of state. In that capacity, Brian Kemp oversaw a purge of 1.4 million voters because they hadn't shown up at the polls frequently enough. Kemp's margin over Abrams was a little less than 55,000 votes. She never conceded. "I acknowledged the legal sufficiency of the outcome, but I challenged the rules that permitted it to be conducted in the way it was conducted," she told me. It's a regular cheer line at Democratic events to say Abrams should really have been sworn in as governor. It's also a regular talking point for Republicans who say Democrats are sore losers.
"We live in a nation where trust is important, but we have always believed that trust is not an excuse for ignorance or for believing that everything was done the way it should be," Abrams said. "We can't simply presume that every actor is a good actor, especially for young people, especially for people of color. We have to do more."
Ironically, some of the whispered opposition to Abrams as Biden's potential running mate is coming from within the Congressional Black Caucus. Some say that her selection would amount to the candidate saying that he looked at their 54 members, half of whom are women, and decided none was good enough.
But, with the exception of Senator Kamala Harris, no female member of the Congressional Black Caucus has anywhere near the kind of national name recognition that Abrams has. And that's what this comes down to. When Jim Clyburn, the powerful representative from South Carolina—whose endorsement is widely credited with helping save Biden's candidacy—says that he thinks a black woman should be on the ticket with Biden, everyone knows that he is essentially talking about a choice between Abrams and Harris (though he has raised doubts about Abrams's experience and has also floated other possibilities, including Atlanta Mayor Keisha Lance Bottoms).
Over the past week, I've run Abrams's arguments for herself by a number of top Democratic politicians, aides, and other officials. I've gotten a lot of "huh"s and "okayyy"s, especially about what she cited to me as her foreign-policy credentials. They're struck by how aggressive a push Abrams is mounting, warning that her effort could backfire by making the Biden campaign feel pressured. But every one of those warnings came with some version of this thought: She would excite people in ways that many other potential candidates would not.
Don't expect Abrams to change her approach as Biden forms a running-mate selection committee and starts vetting potential picks.
"I know where I sit in the space, and it is disingenuous and a disservice to women, to people of color, and to women of color for me to be dismissive of or coy about where I would like to serve. It is my version of You can't be what you cannot see and People won't reach for things they don't believe are possible," Abrams told me. "But that's not the same as telling the VP who he should pick. My job is to do the work I know how to do."