New-Voter Registration Is Plummeting
And Democrats aren't the only ones who could lose out.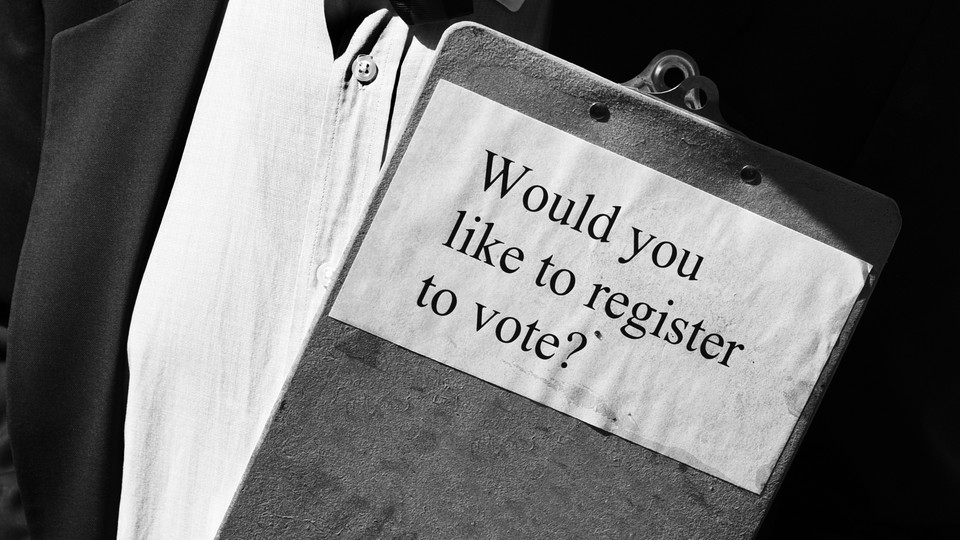 Gamers playing Nintendo's Animal Crossing encountered an unusual sight late one afternoon last week.
The massively popular online video game allows participants to customize their appearance, and in their onscreen avatar, some of the players were sporting political swag. A few wore T-shirts with the name NextGen or NGA, for the liberal organizing group NextGen America. Some wore hats that read Vote. And some stood beside virtual booths, like the kind you'd see at a carnival, that advertised the Tom Steyer–backed organization.
NextGen, which Steyer, the erstwhile presidential candidate, founded in 2013 to engage young voters, recruited the players by posting notices on Twitter and in Facebook groups devoted to the game. About 60 users agreed to tout the group's cause as they played; one even built a podium and delivered a short address through the chat function about the importance of registering to vote.
The Animal Crossing event took place the day before Earth Day, when NextGen normally would have held an in-person voter-registration rally, likely featuring remarks from a political leader, says Mark Riffenburg, the group's director in Nevada, who helped organize the event. Instead, with such outreach shelved by the coronavirus outbreak, the group tried to broadcast its message to the many players who spend hours inside the game building digital neighborhoods, buying and selling virtual crops, and interacting with anthropomorphic animals. At political events, Riffenburg says, "you are used to having a senator. But now it is a squirrel."
NextGen's gaming push is only one of the many ways the pandemic has forced both parties to reimagine one of their core activities during any presidential-election year: registering new voters. The outbreak has eliminated all of the face-to face techniques that both sides usually rely on: door-to-door canvassing, setting up tables in college quads or Walmart parking lots, and sending out volunteers with clipboards to buttonhole attendees at political rallies.
The elimination of these traditional tactics is forcing organizers to shift almost completely toward online, mail, and phone efforts to reach new voters. Republicans are confident that will provide a tactical advantage to the GOP, because President Donald Trump's campaign has invested so heavily in its digital operations—and some Democrats fear they may be right.
But after a year that began with predictions that turnout for the presidential race could reach its highest level in more than a century, both sides may struggle to meet their ambitious goals for identifying and registering new voters. In March and early April, new registrations plummeted in many states compared with the same period in 2016, according to new data provided exclusively to The Atlantic by TargetSmart, a Democratic voter-targeting firm. "Registration will almost certainly be diminished, potentially by millions of voters, when all is said and done," says Tom Bonier, TargetSmart's CEO.
Though many observers assume that Democrats have the most at stake in expanding the electorate, studies have shown that nonvoters don't express a strong preference for either party. White voters without a college degree, Trump's core group of supporters, constitute a majority of all eligible nonvoters in seven contested swing states, and more than three-fifths of them in the battleground states across the Rust Belt specifically, according to a survey released last week by the Voter Participation Center, which focuses on registering minorities, single women, and other Democratic-leaning constituencies.
In those battleground states, the poll found that unregistered African American voters expressed more interest in voting than unregistered white voters did. But it also revealed that nonvoters overall held at least as negative a view of the presumptive Democratic nominee, Joe Biden, as they did of Donald Trump. That suggests both sides are leaving a large number of potential voters on the sidelines as registration activities are disrupted, notes Page Gardner, the Voter Participation Center's founder and board chair. These lost weeks, she says, are imposing "an incredible opportunity cost on both sides."
Key Republican and Democratic institutions working on registration say they have not yet lowered their expectations. "We set out in the beginning of this year to register 2 million new voters, with a focus on registering people of color and to have a minimum of 30 million voter contacts," says Alexis Anderson-Reed, the CEO of State Voices, which works with affiliates in 23 states to promote turnout among Democratic-leaning constituencies. "That is still our goal."
Rick Gorka, the deputy communications director at the Republican National Committee, would not identify a specific goal for the joint RNC–Trump campaign registration effort. But he likewise says it has not trimmed its ambitions. "What this shows is which campaign is ready for the unforeseen," he says. "We were ready to shift. We made the decision on March 13 to take everything virtual … and we haven't missed a beat."
But the state figures collected by TargetSmart show how difficult it may be for either side to reach its benchmarks. In most states, registration plummeted in March compared with the same period four years ago.
Washington State, an early epicenter of the outbreak, registered only about one-third as many voters last month (24,000) as it did in March 2016 (just over 75,000). In Georgia, only about 31,000 new voters registered last month, well below half the March 2016 total of nearly 75,000. In several states, the numbers fell by about half, including in Texas, North Carolina, Maryland, Missouri, Virginia, and Kansas. Pennsylvania and Colorado saw a decline of about two-fifths.
A few states that held presidential primaries in March or early April bucked the trend. Compared with 2016, TargetSmart found that registration increased in Michigan, Minnesota, California, and even Wisconsin, whose April primary was heavily disrupted by the outbreak.
But many of those gains may have come before the states fully locked down their economy as March proceeded; the limited data available for April continue to show registration plummeting. Through the first week of April, California registered fewer than one-tenth as many new voters per day as it did in April 2016. In Iowa, registrations are running at one-fourth the daily average for the month four years ago.
As TargetSmart's figures show, the highest level of voter sign-ups takes place in the summer and (especially) fall of each election year. But even so, the disruption of the spring registration season could be a major blow to the groups doing this work: About 40 percent of all new registrants in 2016 signed up between January and June. And no one has much confidence that even in the fall, registration drives will be able to use the traditional face-to-face techniques.
"We lost some of the most powerful tools in the tool chest," says Evan Roth Smith, a co-founder and partner at Slingshot Strategies, which works on Democratic-leaning voter-registration efforts in Florida. "We lost all site-based [registration]. We lost all in-person. We lost all door-to-door. We lost all events."
The elimination of those avenues is more unnerving for Democrats than Republicans. The lockdowns have denied the GOP the big Trump rallies the party uses to sign up voters and enlist volunteers. But generally, Republicans' efforts have relied less on in-person contact, partly because their voting base is now so concentrated in less densely populated areas of the country.
In Wisconsin, for instance, the outbreak "is not a dramatic disruption when you think about how Republicans go about" registering voters, says Mark Jefferson, the executive director of the state Republican Party. The GOP's targets, he says, are located "predominantly [in] suburban and especially rural" communities. "When you've got an electorate like that and that's where you are going," Jefferson continued, "it is almost impossible to go door-to-door. It requires good digital and good mail, or you are not going to be effective."
In terms of registering new voters, he says, in-person canvassing "is a key component" for Democrats, but "never was for us."
Along those same lines, Gorka, the RNC official, says the GOP's heavy investments in digital technology and voter-data acquisition have positioned it to quickly adapt. The RNC is spending mightily on digital advertising aimed at driving potential new voters to two online portals they have built to help people register. It has also created digital tools it can use to track their progress through the registration system—and to nudge the potential registrants, if necessary, with phone calls from volunteers. "For us to have spent the last three cycles building out these online platforms and trainings, it allowed us to seamlessly transition," Gorka says.
Democratic groups more openly bemoan the loss of in-person organizing. "It is insanely disruptive," says Ben Wessel, the executive director of NextGen America. The group planned to register nearly 300,000 young people this year, with half coming "from face-to-face conversations." Now, he sighs, "that is just not going to be the case anymore."
About one-third of all the in-person sign-ups the group expected to amass this year would have come solely from reaching students during orientation week this fall on college campuses. Now it's unclear whether it will be safe for the group to set up tables outside dorms—or whether students will be moving into dorms at all. Likewise, he says, NextGen typically would have a heavy presence at gay-pride parades around the country in June; now it's unlikely that many (or any) of those events will occur.
"We are still working with [LGBTQ] Instagram influencers to share our links as part of their Pride celebrations, but that's pretty different than thousands of heaving masses in the streets of Detroit or Charlotte," Wessel says.
For liberal-leaning groups, the question is how effectively digital efforts, as well as phone and mail, can replace their usual in-person contacts. "We have had to completely shift our programming and tactics," says Anderson-Reed of State Voices. With its organizers reassigned, the group has already deployed so many texts and phone calls to potential registrants that it has consumed its annual budget for both activities; it's now raising additional money to support more of that outreach. The group is also ramping up programs to mail registration information to every household in certain low-income zip codes.
In some ways, Anderson-Reed says, the outbreak is encouraging liberal voter-registration groups to accelerate a transition that will be necessary anyway, as Americans spend more of their lives communicating and interacting digitally. "There is nothing that can replace face-to-face interaction, and we know that," she says. "However, we also know that more folks are engaging online … We are trying to look at this as having the largest impact we can this year and as an opportunity to strengthen our digital online organizing for the future. I think this is like a huge wake-up call."
Though it reached a relatively modest number of people, the NextGen effort to engage young gamers through Animal Crossing offers one example of where that thinking can lead. The idea grew from a straightforward realization: Amid the lockdowns, the young people the group targets are shifting where they spend their own time. To reach them, the group needed to follow along. "The really key thing for me," Riffenburg says, was thinking about online destinations "in the same way our organizers thought about tables outside the student union," as "innately places where people gather."
Crisaly Marquez-Santos, the group's digital director, then had the idea of using Animal Crossing. Not only does it have a large audience, but it also allows for the kind of customization that would permit NextGen to deliver its message. The group is now exploring other games to target.
Gardner and Bonier say it's unlikely the Republican and Democratic parties can register enough new voters later this year to offset the lost opportunities this spring. But analysts on both sides caution that doesn't doom the earlier predictions that significantly more Americans will vote in 2020 than in 2016. Some groups are already shifting their efforts from registering new voters to encouraging higher turnout among existing ones. And Gardner notes that the increased focus on voting by mail this year could bring in millions of registered voters who don't usually cast a ballot.
The growing reliance on absentee voting will force both sides to devote more resources to help guide voters through the often complex process of requesting and returning mail ballots and ensuring that their state has counted them. That's just one aspect of the sudden lurch toward a digital-first approach that is likely to define this coronavirus election. "Those kinds of technologies are going to be used a lot more now," Gardner says, "and people are scrambling to figure out the way to best take advantage of all of them."