An Unprecedented Divide Between Red and Blue America
The pandemic could exacerbate a major Trump-reelection vulnerability: his weakness with urban and suburban voters.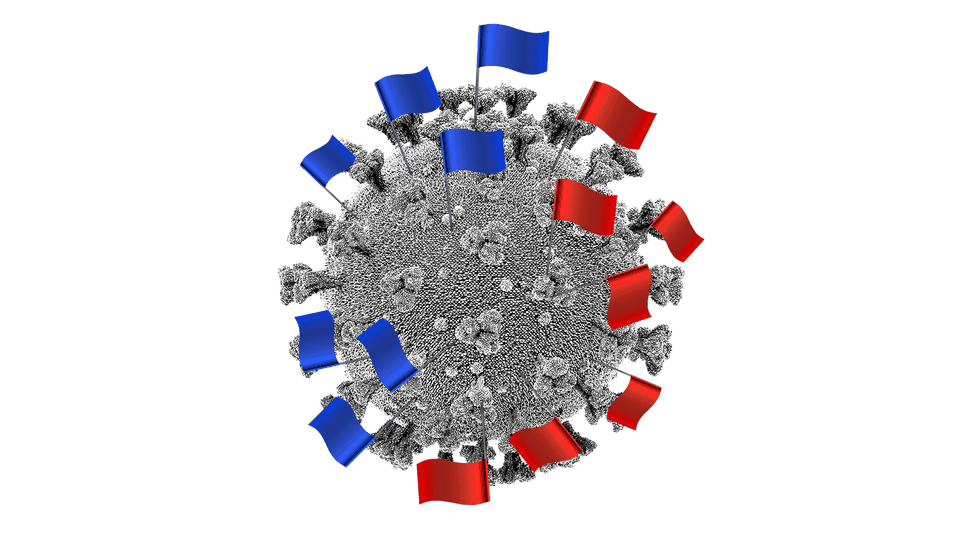 Updated on April 16, 2020 at 3:59 p.m. ET
The coronavirus pandemic appears destined to widen the political divide between the nation's big cities and the smaller places beyond them. And that could narrow Donald Trump's possible pathways to reelection.
In almost every state, the outbreak is spreading much more heavily in the largest metropolitan centers than in less densely populated areas, even when the figures are adjusted on a per capita basis, according to a new analysis by the economist Jed Kolko provided exclusively to The Atlantic.
That pattern threatens to exacerbate one of Trump's most conspicuous political vulnerabilities: his historical weakness in big metropolitan areas that are full of the minority and white-collar white voters most skeptical of him. From the Virginia governor's race in 2017, to a sweep of suburban House districts in 2018, to the upset victory in Kentucky's gubernatorial race last year, Democrats have consistently posted significant gains in these areas under Trump. The pattern continued in the unexpected Democratic victory this week in a highly contested state-supreme-court election in Wisconsin, a state that could be the tipping point in the 2020 presidential race.
The question for Trump this fall will be whether he can offset that weakness by matching or building on his dominant advantage in exurban, small-town, and rural communities. In Wisconsin this week, the GOP lost ground with those voters too, but by and large, polling still shows Trump holding a strong position among them. And because most rural communities are facing fewer cases of the disease so far, they may be much more receptive than big-city leaders and voters to Trump's calls to reopen the economy as quickly as possible.
These political, public-health, and economic trends all point toward the same possibility: Just as the disease is unfolding very differently in larger and smaller places, the gap between voter preferences there in the presidential race could reach astronomical, and possibly unprecedented, heights.
Epidemiologists and other medical experts disagree on whether the disease will ultimately besiege smaller places to a greater extent than it has so far. But there's no question that it's exacted its heaviest costs on major cities and their inner suburbs, including New York City, Detroit, Chicago, Boston, New Orleans, Los Angeles, and Seattle. "Densely populated urban areas are uniquely vulnerable to rapid spread of the virus," said Larry Levitt, the executive vice president for health policy at the nonpartisan Kaiser Family Foundation.
The research conducted at The Atlantic's request by Kolko, the chief economist at the employment website Indeed, quantifies that dynamic. Using a comprehensive county database maintained by The New York Times, Kolko calculated the number of coronavirus cases per million people within four different regional categories: those in large metropolitan areas of at least 1 million people; those in metros of 250,000 to 1 million; those in small metros with less than 250,000; and those in counties outside of metro areas. The consistent result was that, in most states, heavily populated areas are suffering many more cases per person.
Perhaps the most extreme example: The counties in New York State that fall under the largest metro category—New York City and its environs—have 12,454 cases per million residents. That's compared with 3,304 in New York's midsize metros, 1,556 in the smaller metros, and 915 in the nonmetro counties. In Michigan, where the Detroit area has been ravaged by the disease, the caseload drops from 4,787 per million residents in the largest counties to 1,000 per million in the midsize metros, 874 in the smaller metros, and just 346 in the nonmetro counties.
Similar patterns apply across a wide range of states. In Illinois, where the coronavirus has battered Chicago and its closest suburbs, the largest metro counties are experiencing seven times as many cases per person as the midsize metros, and more than eight times as many as the nonmetro counties. In California, where both the San Francisco and Los Angeles areas have been hit hard, the largest metropolitan counties have more than three times as many cases per capita as the small metro and nonmetro communities. A similar pattern is also evident in Ohio, Wisconsin, and Pennsylvania across the Rust Belt and North Carolina, Florida, and Texas across the Sun Belt, Kolko's data show.
The few exceptions were states that have suffered large outbreaks in rural areas, such as Georgia (where the caseload in small places is as heavy as in the big cities) and Arizona (where the caseload in nonmetro counties has exceeded that of the biggest places).
The strains on public-health systems have followed these same tracks. Although the big metro areas typically have much greater hospital capacity than smaller places, they are also facing much greater pressure. Hospital systems in cities such as New York City and Detroit have faced widespread infection among health workers, as well as severe equipment shortages.
Large hospitals have reported a far greater surge in demand for medical equipment than smaller hospitals, according to new research from Premier Inc., a company that manages bulk purchasing for hospitals. In the survey, conducted in mid-March before the worst of the outbreak hit, large hospitals reported that they were using 17 times as many N95 masks as usual, Soumi Saha, the company's senior director of advocacy, told me. Smaller hospitals were using about seven times as many. "The surge in demand that we are seeing currently is truly unprecedented," Saha said.
These contrasting experiences help explain the divergence in attitudes toward Trump's handling of the crisis. In a national Quinnipiac University survey released last week, just 37 percent of adults living in cities and 44 percent of those in suburbs said they approved of Trump's management of the outbreak. By stark contrast, 63 percent of those in rural areas said they approved. In the latest tracking polling conducted by the Democratic firms GBAO and the Global Strategy Group, a majority of Americans in all three regions said Trump failed to take the threat seriously enough at the outset of the pandemic. But the numbers were significantly higher in urban and suburban areas, where almost two-thirds of respondents said he acted too slowly.
Other danger signs are sprouting for Trump in big urban centers. Maricopa County, which includes Phoenix, was the largest county in America that Trump won in 2016. But a new poll, released this week by the Republican firm OH Predictive Insights, found Trump trailing former Vice President Joe Biden there by 13 percentage points. The survey also found Biden leading by nine points statewide, even though Democrats haven't won Arizona in a presidential race since 1996. These results track with Maricopa's movement away from the GOP in 2018, when Democratic Senator Kyrsten Sinema won the ordinarily Republican-leaning county by about four points.
The results in Wisconsin this week offered an even more visceral measure of Trump's continuing risk in major population centers. In the state's supreme-court election—whose timing was extremely controversial, given the pandemic—the liberal Jill Karofsky decisively ousted the conservative incumbent Daniel Kelly.
Karofsky showed formidable strength across the state's population centers, even though they are confronting the most serious outbreaks of the disease. Although the number of polling places in Milwaukee was limited to just five, Karofsky amassed a 70,000-vote advantage in that county. She also carried Dane County, which includes the state capital of Madison, by a crushing 62-percentage-point margin. That's far larger than Hillary Clinton's advantage there in 2016 (48 points) or the Democrat Tony Evers's lead in the 2018 governor's race (51 points).
"Dane County is the fastest-growing county in the state: massive electronic-medical-records [industry], plus biotech—and that's not even counting the big insurance-industry component, the University of Wisconsin, and state government," said Charles Franklin, a law and public-policy professor at Marquette University's law school and the director of its respected public poll. "Not only does [the county] grow, but its turnout rate goes up year after year, and it's even more Democratic from race to race to race."
Karofsky also posted notable gains in two sets of suburban counties that are closely watched during election season. The so-called WOW counties outside of Milwaukee—Waukesha, Ozaukee, and Washington—are perhaps the most Republican-leaning major suburban counties north of the Mason-Dixon line. But, as Franklin noted, Trump won them in 2016 by less than Mitt Romney did in 2012. More recently, former Republican Governor Scott Walker carried them by a smaller margin in his losing 2018 campaign than he did in his winning 2014 race.
This week, Karofsky significantly reduced the GOP's margin in all three counties—not only compared with Trump's wins, but also compared with another state-supreme-court election last year. "In the WOW counties, I believe there is something systematically happening," Franklin said. "Though it has not converted them from red to blue, it has converted them from deep red to less red."
Just as strikingly, Karofsky won all three of the so-called BOW counties around Green Bay—Brown, Outagamie, and Winnebago—which Trump had carried comfortably in 2016, and Walker more narrowly in 2018.
Republicans, with justification, argue that the results may be skewed because the election took place on the same day as the Democratic presidential primary, which may have tilted the turnout more toward Democratic voters.
But these results are consistent with one of the most powerful political through lines of the Trump era: a recoil from his vision of the Republican Party among urban and suburban voters. In 2016, Trump lost 87 of the 100 largest U.S. counties, by a combined nearly 15 million votes. That was significantly larger than Romney's 11.6-million-vote deficit in the 100 largest counties. In 2018, Republicans were routed in suburban House districts not only in metropolitan areas that were already trending toward the Democrats—including New Jersey and Northern Virginia and Chicago, Detroit, and Denver—but also in places where the GOP had previously remained strong, such as Richmond, Atlanta, Houston, Dallas, and Orange County, California.
Geoff Garin, the veteran Democratic pollster, said that since 2018, Trump has not offered any concessions in policy or style to the moderate, white-collar suburban voters who stampeded away from the party.
"I haven't seen anything to suggest that what happened to Trump and Republicans in the suburbs in 2018 has abated, and it's hard to think of anything they've done or even tried to do that would make their situation any better in the suburbs than it was," Garin said. If anything, Trump's volatile behavior during the coronavirus outbreak has highlighted the concerns that many white-collar voters express about his temperament, Garin said: "that he doesn't tell the truth, [that] he refuses to listen to experts, that his whole leadership style is erratic and chaotic when the country needs stable and steady leadership."
In a measure of that vulnerability, national polls released last week by Monmouth University and CNN both found that fewer than 40 percent of college-educated white voters said they approved of Trump's response to the outbreak; the OH poll found Biden leading Trump by 14 percentage points among the same voters in Arizona, another stunning margin.
To varying degrees, Republicans in the Trump era have been able to make up for their suburban decline with commanding margins among exurban, rural, and small-town voters, who are more likely to be blue-collar, white, and Christian. Despite his deficit in the 100 largest counties, Trump won more than 2,600 counties overall in 2016, more than any nominee of either party since Ronald Reagan in 1984.
But since then, there have been hints that Trump might struggle to replicate these results. In the 2018 House races, the share of the total vote won by Democrats increased by roughly the same amount in rural and more urban places compared with 2016, according to calculations by Bill Bishop, a reporter for The Daily Yonder website, which tracks rural issues. Andy Beshear, the Kentucky Democrat, notched some rural gains in his winning governor's race last year, and Karofsky this week notably improved on recent Democratic showings in the rural northwest corner of Wisconsin.
Still, even with those gains, it's not all good news for Democrats. The party won less than 40 percent of the total 2018 House vote in the most rural counties, according to The Daily Yonder's classification system. Big rural margins also helped Republicans oust Democratic senators in Missouri, North Dakota, and Indiana that year. Karofsky still lost most of the counties in Wisconsin's northwest. And the debate over how quickly to reopen the economy could align Trump with many rural communities against most Democrats and public-health experts.
Many big-city mayors are dubious that it will be safe anytime soon to reopen their economies on a mass scale, and they've warned that economic recovery could come slowly. "There may also be bigger challenges getting people back to work in urban areas," Levitt, of the Kaiser Family Foundation, said. "People in cities rely much more heavily on public transportation, and they work and shop in much closer quarters."
"The piecemeal fashion that we entered into these 'stay at home' orders could prove disastrous if we take a similar approach to exiting these orders," Dallas Mayor Eric Johnson texted me on Thursday. "A more coordinated approach to relaxing and ultimately ending these harsh restrictions—whether it is national, statewide or regional—is our best insurance against the virus raging back and making all of our sacrifices for naught."
A divergence in the economic recovery of urban and nonurban areas—coming after a comparable split in their experience with the disease itself—could put Trump in a difficult position. It could force him to generate even bigger margins in small communities to offset a potentially weaker performance than last time in the largest ones. In all these ways, the virus's effect on America is coursing through the channels already cut by its existing geographic and political differences. It should surprise no one if a current this powerful and destabilizing only deepens that divide.