The City That Has Flattened the Coronavirus Curve
Mayor London Breed's early and aggressive moves to contain the outbreak have made San Francisco a national model in fighting the pandemic.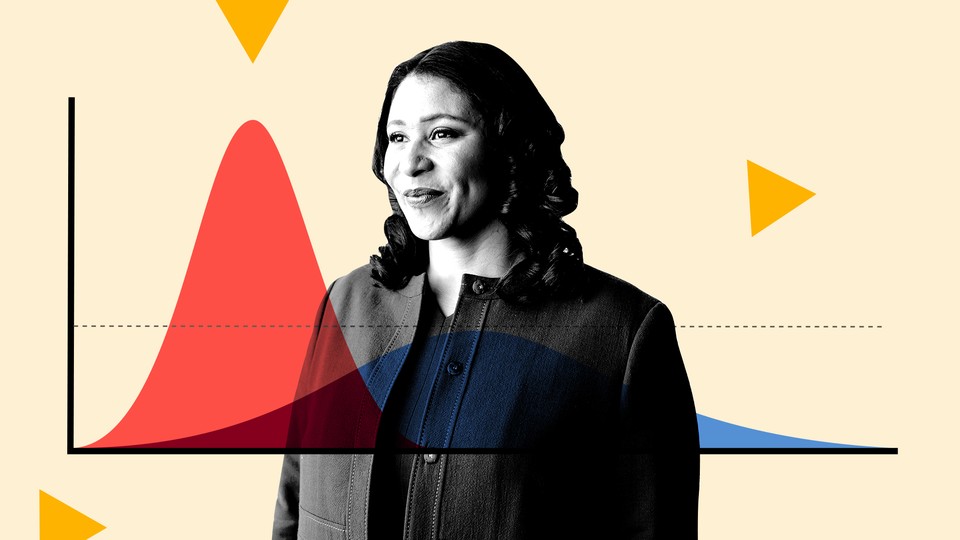 London Breed wasn't going to wait around for COVID-19.
San Francisco had yet to confirm a single case of the coronavirus when Breed, the city's 45-year-old first-term mayor, declared a state of emergency in late February. Two weeks later, Breed's decision to ban gatherings of more than 1,000 people forced the hand of the Bay Area's beloved Golden State Warriors, who this year moved into San Francisco's Chase Center after nearly a half century in Oakland. Her decision, along with the NBA's first positive case of the coronavirus, set in motion a chain of events that effectively shut down all of the nation's major sports leagues.
At the time, Breed heard criticism that she was moving too quickly.
"Not anymore!" she told me with a chuckle when we spoke by phone this week.
Nearly a month after those initial orders to enforce social distancing, San Francisco and the broader Bay Area have emerged as a national model for how early and aggressive action can prevent the explosive rise in cases that has overwhelmed hospitals in New York, where leaders were slower to respond. San Francisco's case count of 857 as of April 10—with just 13 recorded deaths due to the coronavirus—is much lower than that in metropolises of comparable size such as New Orleans, Detroit, Boston, and Washington, D.C. The city's curve is low and flattening, and patients are not flooding into its emergency rooms.
"All evidence suggests that they are doing much better, and the simplest explanation for that is that they did take social-distancing measures very seriously and they did it early," says Emily Gurley, an epidemiologist at Johns Hopkins University, which has been tracking the global COVID-19 outbreak.
San Francisco and California as a whole have struggled much more than New York to ramp up testing capacity, raising the possibility that the relatively low number of confirmed cases paints an overly rosy picture of the crisis there. But epidemiologists and public-health officials say that while positive cases are surely being undercounted—as they are across the country—San Francisco's stable public-health system and low death count offer validation of its success so far.
"We're seeing that our hospital beds are not very full at this point," Yvonne Maldonado, an epidemiologist at Stanford Medical School, told me. "We're just not seeing a big spike there."
"Deaths are hard to hide," adds Cyrus Shahpar, a San Francisco–based director at Resolve to Save Lives, a nonprofit that combats global epidemics.
Breed ordered businesses closed and issued a citywide shelter-in-place policy effective on March 17, at a point when San Francisco had fewer than 50 confirmed coronavirus cases. (California Governor Gavin Newsom followed with a similar statewide order a few days later.) On that date, New York City already had more than 2,000 positive cases. But New York Governor Andrew Cuomo and New York City Mayor Bill de Blasio, reluctant either to shutter schools or issue a stay-at-home directive for the nation's largest city, didn't take similar action for several days. By the time New York City fully shut down on March 22, more than 10,000 cases were reported across its five boroughs.
Breed's aggressiveness was not initially popular. As she ratcheted up the city's social-distancing mandates, prominent San Franciscans began calling one of the mayor's political mentors, Senator Kamala Harris. "London Breed's about to shut down the city," they complained, Harris told me. She told them to trust Breed.
"She took incredible political heat and criticism," Harris said, "and she had the courage to make a decision that she in her gut, based on science and the research she did, told her this was the right thing to do for her people, even when other people couldn't see it yet."
The economic hardship a shutdown would cause was not lost on Breed. She was raised in a public-housing project by her grandmother, from whom, Harris said, Breed inherited a practical streak. Breed's sister died of a drug overdose, while her brother is currently incarcerated on a 44-year sentence for manslaughter. "Her grandmother was a tough lady," recalled Harris, who has known Breed for years. "She was practical, practical to her core."
"Hindsight these days is not years later; it's weeks later," the senator said. "So hindsight tells us London Breed was really smart. She did the right thing at the right time, even though it's not what people wanted to hear."
To some extent, the divergent paths taken by San Francisco and New York, two cities linked by a lack of affordable housing and yawning wealth gaps, mirror a broader divide between the nation's East and West Coasts. Washington State, where a cluster of coronavirus cases at a nursing home made the state the early epicenter of the disease in America, has had more success than many other states containing the outbreak in the month since it first erupted there. The governors of Oregon and California have even loaned ventilators to New York and the national stockpile since their supplies haven't been depleted.
Epidemiologists told me that San Francisco and other West Coast cities likely benefited from the Trump administration's late-January restrictions on travel from China, while the president's delay in banning flights from Europe, which he didn't do until mid-March, hit New York hard. (New research backs this up, indicating that most of New York's early cases came from Europe in mid-February, The New York Times reported on Wednesday.)
"New York was like Italy, and San Francisco and Washington State are more like, not necessarily the South Koreans, but some of the Asian countries that have had slower growth rates," Shahpar, a former leader of global rapid response at the Centers for Disease Control and Prevention, told me. "Really, it's about early identification of a problem, saying, 'We're going to be more proactive than reactive.'"
It's that difference in decision making—proactive versus reactive—that has separated leaders at all levels of government during this crisis. "This virus has been ahead of us from day one," Cuomo lamented on Thursday, as he announced that, once again, New York had seen a daily record—799—in coronavirus deaths.
That may be true for Cuomo and de Blasio, who dragged their feet, not to mention Donald Trump. But it is not true for Breed.
Public-health officials in San Francisco began monitoring the coronavirus outbreak around the holidays in December, Mary Ellen Carroll, who runs the city's Department of Emergency Management, told me. By late January, Breed had activated San Francisco's emergency-operations center in preparation for an outbreak—the first such move in any major city in the country. The mayor has since relocated the command post to the Moscone Center, a sprawling complex where top city officials can work in-person while social distancing. Everyone, including Breed, wears a mask when they meet, Carroll said.
Breed told me that what got her attention early on was the ghastly photographs and footage coming out of Wuhan, China, showing the region's hospitals overrun by coronavirus patients. "A picture's worth a thousand words—seeing the images of what could potentially happen and then hearing your doctors tell you that we may not have the capacity to handle this situation," the mayor said, recalling a briefing during which her advisers laid out the possibilities for a similar scenario in stark detail. "We have tons of hospitals in San Francisco. What do you mean we don't have the capacity to handle an outbreak of this capacity?" Breed recalled thinking. "That's when I was just like, Oh my goodness, this is serious. And we need to basically sound the alarm in a way that helps us to get ready."
She said that as early as January, she recognized that the federal government was not prepared to offer the needed help to boost the city's supply of protective equipment. On February 25, a top CDC official, Nancy Messonnier, told reporters on a conference call that the coronavirus outbreak in the United States "may be severe" and that people should prepare for disruptions in daily life, including school closures. In D.C., Trump was reportedly incensed that Messonnier was raising such alarm. In San Francisco, Breed declared a state of emergency that very day.
A week later, the mayor was urging her constituents on Twitter to "prepare for possible disruption from an outbreak." That same day, de Blasio was encouraging New Yorkers "to go on with your lives + get out on the town despite Coronavirus."
As mayor of San Francisco, Breed holds a position that two of California's leading Democrats—Newsom and Senator Dianne Feinstein—have used as a springboard to statewide office. But for Breed, it has not been an easy first two years at city hall. She ascended to the job automatically under city law in December 2017, after Mayor Ed Lee's unexpected death from a heart attack. At the time, Breed was the only African American woman leading one of the most populous U. S. cities. But six weeks later, the Board of Supervisors ousted her and installed another lawmaker, a white man, in her place. Officially, the board did not want to give her a leg up in the mayoral election over a member who was running for the job. Some of Breed's supporters, however, say the move smacked of racism.
Breed, a Democrat aligned with the party's establishment wing, won the mayoralty in a close special election a few months later, defeating two more progressive candidates with the help of tabulations from San Francisco's system of ranked-choice voting. She won election to a full term in 2019, but spent much of the year battling progressives on the city's pervasive homelessness problem and in local elections where candidates she endorsed were defeated. (Breed backed another losing horse in the presidential race, endorsing former New York City Mayor Michael Bloomberg midway through his short-lived bid.)
"It was a tough year last year," concedes Andrea Dew Steele, a Breed ally and the founder of Emerge America, a national advocacy group that recruits and trains Democratic women to run for public office. "She didn't have the coattails that many of us would liked to have seen."
Breed's performance responding to the coronavirus outbreak could make those earlier stumbles soon forgotten. Steele bemoans the fact that the mayor has yet to get the credit that "darlings" such as Cuomo have, despite more impressive results. In public, Steele told me, Breed has been both calming and commanding. "She's quite matter-of-fact about why she did what she did. She listened to the experts and she took action," Steele said. "She wasn't equivocating about her decision."
By her own admission, Breed had no particular experience with pandemic response prior to the coronavirus. The disasters San Francisco spends the most time practicing for are earthquakes and fires, although it did have an epidemic-response plan on hand. "This is not one we had practiced. But it is one that we were prepared for," Breed said.
Breed may be relatively new to public-health crises, but the officials she has leaned on—Grant Colfax, a former director of HIV/AIDS policy in the Obama administration; Tomás Aragón, the county's public-health chief; and Carroll—have decades of experience. Colfax began his career in the 1980s during the height of the AIDS epidemic in San Francisco, and the epidemiologists I spoke with said the lessons from that period likely contributed to the city's fast response to the current outbreak.
"I think they remember how hard it was when we didn't close down the bathhouses and saw what happened to the epidemic at that point," said Maldonado, the Stanford epidemiologist.
Officials in San Francisco are cautious about their initial success, cognizant that it could be fleeting if the city lets up too quickly on social distancing. "We are not in any way breathing a sigh of relief at this point or declaring victory in any way," Carroll said.
Breed is concerned about the city's large homeless population, and in particular those addicted to drugs who are not cooperating with social-distancing practices. The city has expanded shelter capacity to spread out people living in them, as well as invested more money in cleaning shelters. But it has not broken up tent cities of homeless people on the advice of the CDC, and Breed said many workers are now more reluctant to interact with homeless people who are refusing to adhere to social distancing. "It's gonna be difficult," she said. (Breed was right to be worried: After we spoke, the city announced that an outbreak at one of its largest homeless shelters had infected 70 residents and staff with the coronavirus.)
As for her city's overall situation, its relative calm in the national storm, Breed is ambivalent, even nervous. She's worried that good news will beget bad news, that the story of San Francisco's success will lead its homebound citizens to relax at the very moment they must stay hunkered down. "San Franciscans are complying and people have been incredible with following this order. But on another note, there are a lot of folks who are not," Breed admitted. "And I am not comfortable letting up."