What the 'Liberate' Protests Really Mean for Republicans
While some members of the GOP want to end the coronavirus shutdowns immediately, others are grappling with the complexities and risks of reopening the country.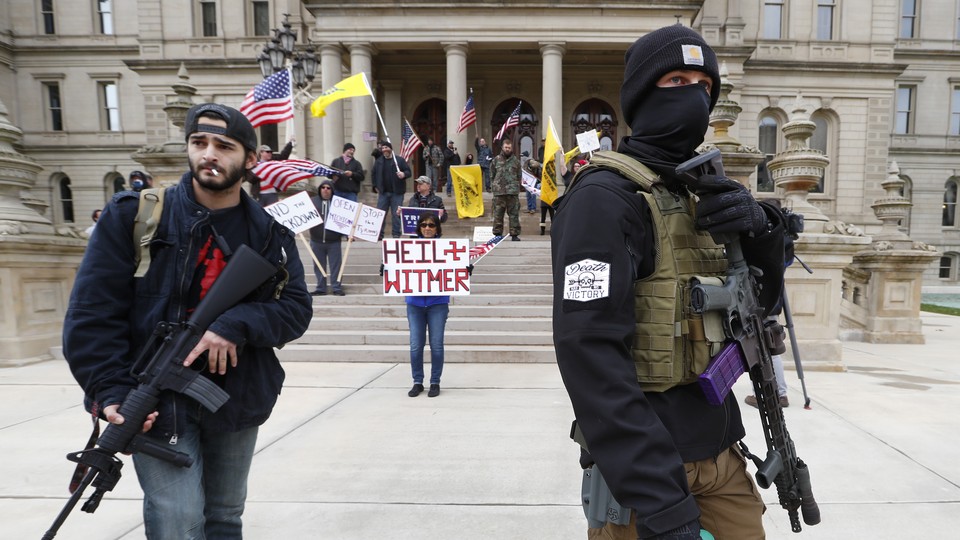 "God bless 'em."
Those were Representative Jim Jordan's words for the thousands of protesters who have descended on state capitols, holding up MAGA signs, openly flouting social-distancing guidelines, and demanding an end to the economic shutdowns aimed at slowing the spread of the coronavirus.
The Ohio conservative is cheering them all from afar.
"I applaud these people for speaking up and defending liberty," Jordan told me by phone yesterday.
Jordan, 56, is a leader of the House Freedom Caucus, the top Republican on the House Oversight Committee, and one of President Donald Trump's staunchest allies in Congress. He's also an absolutist in the raging debate over when—and how—to reopen the economy while protecting public health in the midst of a pandemic. "I'm ready for this to start happening, like, yesterday," Jordan said.
While Trump has egged on the demonstrators and urged governors to phase out stay-at-home orders, Democrats have assailed the protests as conservative-backed stunts that are endangering people's lives. Jordan attributes the anger to governors and mayors who have, in the minds of conservatives, gone overboard in their efforts to enforce lockdowns by threatening to break up religious services and encouraging citizens to "snitch" on businesses and neighbors. "This is ridiculous," he said. "Americans understand that, and that's why they're speaking out."
Jordan is not one of the many members of Congress who have either contracted the coronavirus or had to self-quarantine because they were exposed to someone who did. He's been shuttling back and forth between Ohio and Washington, D.C., for the past several weeks, frequently the only paying customer on an otherwise empty flight. (No, he does not wear a mask, he said.)
Jordan sees the "essential" side of the economy—health-care workers, first responders, grocery stores, trucking companies—figuring out how to work through the pandemic and wonders why other businesses can't do the same. "If that can all happen, we need to get the rest of the economy up and moving, putting in place the same kind of safeguards," the congressman told me. "What I know is it's time to get back to work," Jordan said. "Let's do it now."
---
If Jordan, along with Trump, occupies one extreme of the debate over shutdowns, Representative Bill Huizenga finds himself somewhere in the middle.
"I'm ready to go get a haircut," he told me on Tuesday.
It was a political statement as much as it was an acknowledgment of the basic necessity of modern grooming: Like other politicians who must be ready to go on TV at a moment's notice, Huizenga gets his gray locks snipped more frequently than most, and he hasn't gotten a haircut since he left Washington last month.
The 51-year-old Michigan Republican is not calling for a full-on immediate return to normal, but he wants his governor, Democrat Gretchen Whitmer, to relax some of the restrictions she's ordered and begin at least a phased, regional reopening of the state's economy. That's in line with what Trump has advocated, and some conservative governors have heeded his call. In Georgia, Governor Brian Kemp announced that beginning tomorrow, businesses including bowling alleys, tattoo parlors, nail salons, and, yes, barber shops can reopen as long as they practice social distancing and screen employees for signs of illness.
Whitmer hasn't done the same in Michigan, a state with one of the largest per capita outbreaks in the country. Last week she expanded restrictions on businesses and personal travel, a decision that prompted protests and drew criticism from Republicans, including Huizenga. Whitmer denounced the demonstrators, saying they "endangered people's lives."
Huizenga represents a district that starts outside Grand Rapids in the western part of the state and runs north along the coast of Lake Michigan. He's a mainstream conservative in the modern Republican Party. A friend of former Speaker Paul Ryan, he's neither an aisle-crossing moderate nor a staunch ally of Trump's. And while he wasn't about to join the demonstrators in Lansing, he wasn't wholly condemning them either. "I wasn't surprised that it happened," he told me, adding that he did wish that the protesters had listened to pleas that they adhere to social distancing while exercising their First Amendment rights.
The Washington Post has reported that the organizers of the Michigan protests included a conservative state lawmaker and a longtime political adviser to Education Secretary Betsy DeVos. A family of gun-rights activists with ties to the libertarian former representative Ron Paul is behind similar demonstrations in other states.
Yet Huizenga, who first won election to Congress in the Tea Party wave of 2010, dismissed the suggestion that the demonstrations were mere Astroturf and unreflective of public opinion. "I've seen Astroturf and I've seen organic," he told me. "Everything I saw was organic. Once it started happening, then certainly people started throwing some fuel on the fire, but I believe the origins of this were just pent-up, frustrated Michiganders going, 'Wait a minute, this doesn't make sense with what we are experiencing and living with.'"
Huizenga's district includes some of Michigan's "richest zip codes," he told me, as well as the state's poorest county. It has not escaped the pandemic by any means—there's been an outbreak at a meat-processing plant and a prison, and one small town has accounted for half of the cases in an entire county. But the district's hospitals have the beds, ventilators, and personal protective equipment they need, Huizenga said.
In weekly tele-town-hall meetings, Huizenga's staff has conducted surveys of viewers: The majority—77 percent of more than 800 respondents—in the most recent informal poll opposed the state's expanded restrictions. "It was all anybody wanted to talk about," he said.
As we spoke, Huizenga seemed to be searching for a middle ground—"common sense" was the refrain he kept returning to—in the debate now raging over when and how to reopen America, over how to balance the immediate public-health crisis with the ever-deepening economic hole into which it has plunged the country. Like most congressional Republicans, Huizenga does not make a habit of criticizing Trump. "I think he's done as good as he could possibly do. I think he's done well," he told me. Gingerly, he faulted the federal government—under both the Obama and Trump administrations—for not sufficiently replenishing the national stockpile of medical equipment and supplies in recent years. And he placed equal blame on the president and Whitmer for their recent public bickering over the coronavirus response.
"Turning this into a political football does not help anybody, whether it's the governor or the administration," he said.
The congressman criticized Whitmer for ignoring the voices of Michigan residents outside the state's southern population centers, and he said her most recent order went "too far." A big part of the opposition stems from perceptions that the rules are inconsistent, even arbitrary. Take fishing, for example. Rowboats are allowed, but not motorized vessels. It's not an idle distinction. "The people in Lake County," Huizenga said, referring to Michigan's poorest county, "they aren't just going fishing recreationally. That's what they survive on."
Yet Huizenga is faulting only the details of Whitmer's orders, not her underlying shutdown of the state. "I agree with the shelter-in-place in general and with doing social distancing and all those things," he said.
Like governors on the East and West Coasts, Whitmer has partnered with leaders of the states near Michigan to plot a regional approach to reopening the economy. "Moving too soon or too fast could very likely lead to a second wave of Covid-19," she warned in a New York Times op-ed this week. "This would be catastrophic for our families, our health care systems and our businesses."
Huizenga wants to see Whitmer apply that regional approach within Michigan so that less dense, less affected areas of the state can reopen faster. And he wants leaders to get away from the essential and nonessential designations for businesses and instead prioritize the standard of whether a business can operate safely, whether that means social distancing or requiring both customers and employees—as in a barber shop—to wear masks. "If we can rationally go to the grocery store, can we not rationally figure out how to get our hair cut?" he asked.
A haircut is one thing, but Huizenga is drawing the line at a fast return to other, more crowded mainstays of American life. I asked him whether he'd go see a movie right now—even if it were allowed. Nah, he said. Not yet. "I got Netflix and Disney+ and Amazon Prime," he replied. "I'm good."