America's Elections Won't Be the Same After 2020
The chaos of this year could radically—and permanently—change how Americans vote.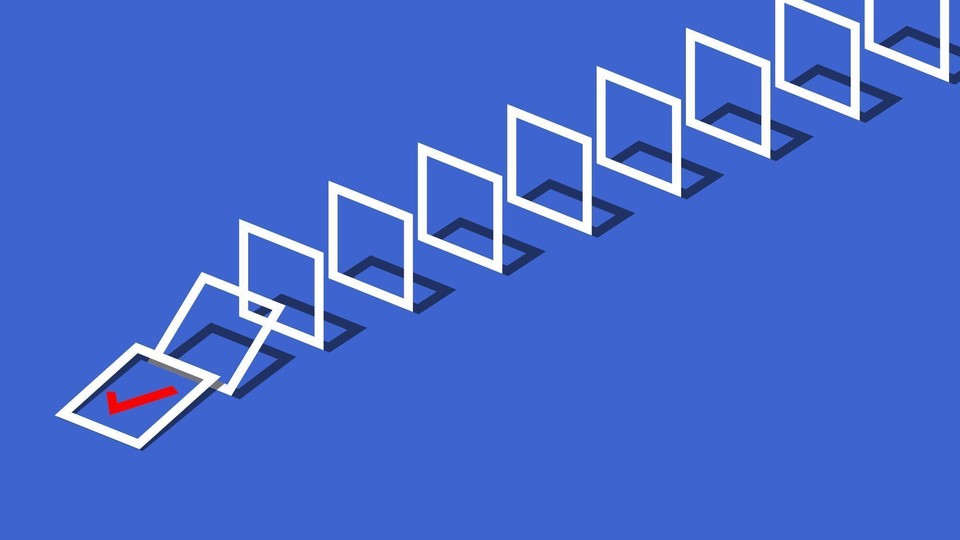 This year's Democratic presidential primary was tumultuous from beginning to end—starting with a record field of two dozen major candidates and ending in the middle of a pandemic.
But its lasting legacy could be far more fundamental: The chaos of the 2020 election season could radically, even permanently, change how Americans vote.
By November, a majority of the country—and possibly the overwhelming majority—could cast their ballot by mail for the first time. In the years to come, more and more voters will pick their candidates not by selecting one favorite, but by ranking several under a system designed to give people more choices and less chance for regret. And by 2024, the final vestiges of a 200-year-old tradition—caucuses—could be gone, buried for good by the debacle in Iowa that launched this year's nominating process.
"I have this very sinking feeling that life in America will never again quite be the same," says Phil Keisling, the former Oregon secretary of state who oversaw elections when the state switched to a vote-by-mail system in 1998. "Election systems have to evolve too."
In just the past few months, ideas that languished in relative obscurity, with little hope of overcoming the political gridlock, have moved into the mainstream. "We may be entering a new era in which we look back a few years from now and see a transformation in the way we do democracy in our country," says Nick Troiano, the executive director of Unite America, an advocacy group promoting electoral reforms such as voting by mail and ranked-choice voting.
Democracy in America has already changed so much that the way citizens vote today would be unrecognizable to the nation's Founders. Women and African Americans secured the franchise just in the past century, after decades of repression and long, painful campaigns for equal rights. The secret ballot—a custom now cherished as inviolable—did not become the norm across the U.S. until well into the 1800s. More recently, the expansion of early voting has elongated elections by days and weeks, challenging the very concept of Election Day.
The coronavirus pandemic, which all but ended the Democratic primary this spring, is likely to prompt the most rapid and consequential shift of all. Yet the moment that first prompted this period of change was not a deadly virus but a predictable meltdown: the failure of the quirky voting tradition that opens the presidential vote every four years.
Two months ago—or was it two decades?—procedural changes caused pandemonium in Iowa's first-in-the-nation caucus, and a technical glitch in a new reporting system led to major delays in the reporting of results. The final delegate tallies weren't posted for 24 days. It was, by most accounts, a total failure. And that failure, combined with existing critiques of the caucus as both undemocratic and unrepresentative of the nation's demographics, makes it highly unlikely that the tradition, at least in its current form, will ever happen again.
This year's event was probably "our last hurrah," concedes Kurt Meyer, the chairman of the Mitchell County Democrats. Other state officials predict a total transformation: "There's a good chance we'll be first again," says Sean Bagniewski, the chair of the Polk County Democrats. But it might be "an all-day caucus with satellite [voting sites] and a mail-in ballot option."
The leadership of the Democratic National Committee has been more cautious in declaring the death of Iowa's tradition, perhaps wary of sparking a mid-election brawl with Democrats in a state the party hopes to contest in the fall. DNC chief Tom Perez said in February that there would be "a conversation" about Iowa's future role in the primary process. But, aside from that, there has been no official word from either the DNC or the Iowa state Democratic Party on the status of the caucus. (Neither institution replied to requests for comment for this article.)
Howard Dean, the former chairman of the Democratic National Committee, predicts that the caucus's future depends on November's results. "If [Donald] Trump wins reelection, Iowa and New Hampshire will be toast," he says. If Joe Biden wins, "my guess is he won't want to rock the boat and make those changes."
The state has a great deal riding on the continuity of the caucus, including increased visibility and revenue for Iowa's businesses. To replace it would be a huge undertaking: Shifting from a caucus to a primary would require buy-in from and coordination with the state GOP. The DNC, for its part, would need to approve the move before determining which state would replace Iowa in the lineup, and whether to start a rotating primary system.
Outside Iowa—and even within the state—there's long been grumbling about its prominence in the primary process; it's too white and too rural to hold so much sway over the election, critics say. Then there's the problem with the caucus itself: It is the most exclusive form of democracy in America, forcing voters to show up in person at a designated time on a weeknight in the middle of winter. It's inaccessible to a large swath of would-be primary voters, including people with disabilities or inflexible work schedules. Caucuses in general attract a fraction of the turnout that primaries do, going against the Democratic Party's stated goal to expand access to the ballot. With a slate of recent reforms, the DNC succeeded in pushing several states to switch from caucuses to primary systems between 2016 and 2020, but the committee left Iowa in its jealously guarded perch, after the state agreed to implement certain accessibility measures.
"There's no more reason to have caucuses," says Julián Castro, a former presidential candidate and secretary of housing and urban development under Barack Obama. Castro has been criticizing Iowa's status for months, and says he intends to encourage party leaders to embrace change. "Most of the DNC members are levelheaded enough," he predicts, "that they will do the right thing: Rearrange the primary calendar and get rid of caucuses."
The dysfunction of the Iowa caucus is nothing compared with the nightmare scenario brought on by the coronavirus pandemic: This spring, thousands of voters in states across the country have been forced to choose between participating in democracy and protecting their health. The result? From now until November, most Americans could be voting from their home, many for the very first time. And once they start voting by mail, they may not want to stop.
A record number of voters are requesting absentee ballots for the primary, and multiple states have already relaxed their absentee-voting rules. The election today in Ohio is an all-mail primary. In New York, a state that until recently had some of the most restrictive absentee-ballot rules in the nation, Governor Andrew Cuomo has signed an executive order directing election officials to mail every registered voter an absentee-ballot application in advance of its primary elections in June.
States also need to start preparing for the likelihood that the U.S. will see a resurgence of the coronavirus in the fall, vote-by-mail advocates say. General elections have much higher turnout than primaries. Even Americans who aren't yet thinking about the mechanics of voting in a pandemic could clamor for a chance to vote remotely in November. Already, roughly one-third of the country votes by mail. Every state in America has some sort of absentee option, including the six swing states that will likely decide the 2020 presidential election. And a number of states are well positioned to transition to all vote-by-mail. In Arizona, for example, which could end up playing a critical role in the upcoming general election, the majority of ballots are already mailed in every election.
Still, there are significant barriers to implementing a vote-by-mail option for every voter in every state. A dramatic increase in mail-in ballots could overwhelm election systems, or even the cash-strapped Postal Service. Congress has allocated some $400 million to help states expand their capacity for absentee voting, but it likely won't be enough to smooth out the kinks in every state. And there are more fundamental logistical obstacles to voting by mail that might not be obvious to many voters.
"We've seen what happens in the health field with supplies of masks and ventilators" when a pandemic hits, says Tammy Patrick, a senior adviser to the elections program at the Democracy Fund, a bipartisan organization dedicated to voting reform. "On the election side, it's envelopes and voting machines and central tabulators. There are only a handful of vendors that provide that equipment."
Perhaps a bigger obstacle to widespread voting by mail is a lack of consensus between the two parties. The president—who voted by mail last month in Florida's Republican primary, but recently described the practice as "a terrible thing"—has called on his fellow Republicans to oppose it, claiming without evidence that voting by mail hurts GOP candidates and is susceptible to fraud, a common Republican argument.
Patrick says that concerns about fraud in particular are overblown, explaining that many states have ballot tracking, signature verification, and other strategies to prevent it. "Politics is getting in the way of ensuring people have access to the ballot," she says. "Even states that are best positioned are taking it upon themselves to not do what's right for voters."
Still, with the pandemic forcing people to rethink their voting habits, those habits could wind up changing forever. "The question will be, with all these voters voting by mail," Patrick asks, "will they like it and do it next year and the year after that?"
Barely two weeks after ending his unsuccessful campaign for the presidency, Senator Michael Bennet in February introduced legislation to encourage ranked-choice voting across the country.
No, Bennet told us, the endorsement was not a loser's lament. "I don't think in my case it would have made a difference," the senator chuckled. "I probably would have gone from 1 [percent] to 3 [percent] as a result of it. But I believe just as a citizen of this republic, having elected representatives be people that reflect the will of the majority is very important."
Unrelated to his exit, ranked-choice did gain a jolt of momentum in the weeks after he left the race. The widespread adoption of early-voting procedures over the past two decades has helped encourage voter participation by making the process more convenient for people who want to avoid long lines at the polls on Election Day. But in the unique rolling primary of a presidential nominating contest, early voting has created one troubling unintended consequence: wasted votes.
As candidates drop out of the race, millions of Americans who already cast ballots for them discover that they've spent their one choice on a failed contender. Never was this dynamic more starkly illustrated than when Senator Amy Klobuchar of Minnesota and Pete Buttigieg, the former South Bend, Indiana, mayor, each withdrew from the race in the final 48 hours before polls opened on Super Tuesday, after many Democrats had already voted.
According to research from FairVote, a ranked-choice-voting advocacy group, more than 2.2 million primary voters cast their ballot this year for candidates who ended up dropping out of the race by the time the count was done—some 8.7 percent of the total votes cast in the entire primary to date. In the 2016 Republican primary, about 600,000 votes were wasted on withdrawn candidates, FairVote's president, Rob Richie, says.
"Give them a backup next time," Richie argues. A handful of states—Alaska, Hawaii, Kansas, and Wyoming—actually adopted ranked-choice voting for their primaries and caucuses in advance of 2020, but because Biden is now the lone remaining candidate, those upcoming elections will be moot even though the votes will still be held. Pre-pandemic, a record 75,000 Nevadans cast early ballots for the first time using ranked-choice voting, with few complaints.
Millions more Americans will soon use the system after New York City residents approved the use of ranked-choice voting for its primary elections. In Utah, Republicans used ranked-choice voting at their state nominating convention, which took place virtually because of the coronavirus pandemic. And just last week, Governor Ralph Northam signed legislation that will allow local governments in Virginia to adopt the format.
"It is not impossible to imagine how a majority [of], if not all, states could be using such a system by 2024," says Unite America's Troiano. "It's better. In many cases, it's faster. It's cheaper. The outcomes are more representative. That has happened at lightning speed."
Bennet said he came around on the idea after seeing Maine become the nation's first state to adopt ranked-choice voting for its state and federal elections. Advocates for ranked-choice voting extol its benefits in large-field races, because it ensures that the winner will have received more than 50 percent of the vote without the added hassle and expense of a runoff election, which many states and cities still use. As with voting by mail, the biggest challenge its supporters have is convincing Republicans that ranked-choice voting offers no partisan advantage to either party. With a few exceptions, most of the cities that have adopted the format are places where Democrats dominate.
Maine will use the system this fall in its presidential vote, which would be another first—so long as a GOP effort to stop its use doesn't succeed. Though the reform was initially a bipartisan effort, Republicans in Maine have turned fiercely against ranked-choice voting, in part because its adoption was seen as a reaction to the election (and reelection) of Governor Paul LePage, who won both of his races despite never securing a majority of the vote. "It's the most horrific thing in the world," LePage said of the system in 2018.
Advocates like Richie are eyeing the 2024 presidential primaries as a way to expand the system across both parties. Without an incumbent on the ballot, Republicans will presumably have a large field and an incentive to avoid the wasted votes they saw in 2016 after Senator Marco Rubio withdrew from the race after balloting in Florida, Ohio, and Louisiana had already begun. At the time, some in the party floated the idea of turning to ranked-choice voting in 2020, but that internal GOP discussion faded once Trump won the general election. "There is a rich level of interest that I think will flower up again once they are looking at an open seat," Richie says.
Voting-reform advocates have still a grander dream—a future system that combines ranked-choice voting with the dramatic expansion of early voting and mail-in balloting that is already under way.
Twenty years ago, American voters endured a historically messy election. Weeks of recounts undermined the public's confidence in the fairness of America's election systems, threw into question the role and integrity of the Supreme Court for many, and provided the turbulent starting point for the two-term presidency of George W. Bush. But reformers took at least one big step to try to ensure that chaos wouldn't happen again: They ended the use of punched-card ballots, whose murky results led to confusion in Florida.
"In the same way that 2000 led to no more hanging chads," says Sylvia Albert, the director of voting and elections at Common Cause, a nonpartisan good-government organization, "I would hope that this election leads to proper investment and modernization in our election system."
The changes that this primary and pandemic have set in motion could mean that by the time the next presidential election rolls around, far more Americans could choose their candidates in their own home, on their schedule—with fewer risks, and fewer regrets.