This Is How Donald Trump Will Be Remembered
Zero-sum politics doesn't work in a pandemic.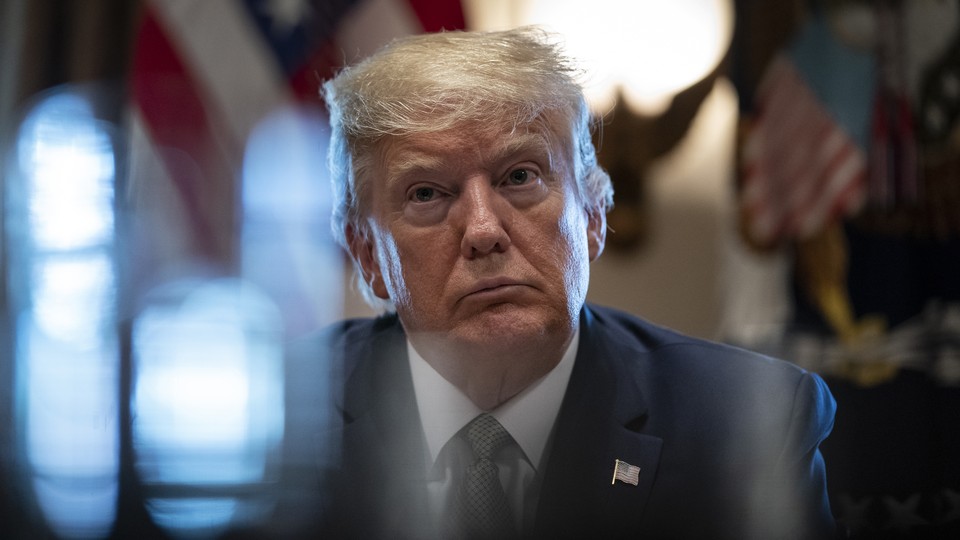 None of the crises surrounding President Donald Trump over the past three years has been as calamitous as the one he now faces. Impeachment was largely a political problem with a predictable end; the government shutdown wasn't going to last indefinitely. But the coronavirus is something else entirely: a mortal siege. It could sink the economy and, under certain horrid scenarios, kill as many as 2 million Americans. It's already made the country Trump leads in some ways unrecognizable.
A threat so grave handed Trump a history-making opportunity that eluded many of his predecessors. He'd become a wartime president, with a chance to refashion his legacy. That moment has come and is likely gone. For weeks, he downplayed the danger. He denied responsibility for a shortage of tests that are crucial to tracking the virus's spread. Only in recent days did his administration begin exhorting Americans to avoid restaurants and stay home from school, steps that state and local officials have already been putting in place on their own.
"This is Trump's Churchill moment," Steve Bannon, the president's former chief strategist, told me. "This time will define his presidency."
Last month, I wrote that the crisis was one that Trump seemed ill-prepared to meet. At the time, 15 cases were reported in the United States. With the tally now at 6,500 and counting, the reasons he's faltered have sharpened. He elevates hyperbole over fact, seldom admits a mistake, and practices zero-sum politics. Though useful in his political ascent, these same instincts undermine the necessary mission of unifying a shaken country and rallying Americans stuck in their homes. And they make it difficult to see how the federal government can effectively lead the country out of this bog.
"There are times when you really need a president—and those are the ones that have forged our great presidents," Doris Kearns Goodwin, the presidential historian, told me. "A crisis allows them to mobilize the country in ways that ordinary times do not. It's not like a crisis allows you to become a great leader, but it offers the chance. It also offers the chance for great difficulty."
Every so often, there's a hint that Trump may understand the moment. Watching his news conference at the White House on Saturday, I felt surprised, in a good way, when he said, "We're all in this together." It's an anodyne comment that any president might make. But coming from Trump, it sounded almost like an epiphany. Relief was fleeting. An enduring pattern of the Trump presidency has been that his magnanimity never lasts. Inevitably, his grievances resurface and he reverts to the hard-edged partisanship that feels utterly inappropriate during a crisis of this scale. Here, that took only a day.
With schools and churches shutting down, he took aim Sunday at Senate Democratic Leader Chuck Schumer and that top-of-mind scandal: Hillary Clinton's emails. More recently, he's toggled between praise and criticism of New York's Democratic governor, Andrew Cuomo, whose administration is battling the largest concentration of COVID-19 cases in the country. Cuomo's state has been collaborative (Saturday). Cuomo needs to "do more" (Monday). Cuomo is doing "a really good job" (Tuesday).
"Could he change? Yeah. But that would require a personality transplant," John Podesta, the former White House chief of staff under Bill Clinton and an adviser to Barack Obama, told me.
As the number of cases has grown, the White House's approach has seemed improvised, as ever. Trump first tapped his secretary of health and human services, Alex Azar, to head the coronavirus task force, but then moved Azar aside and made Vice President Mike Pence the public face. Needing more help for Pence, his chief of staff, Marc Short, approached Jared Kushner, Trump's son-in-law and influential senior adviser, on March 11 and asked him to get involved, an administration official told me.
Kushner has since helped shape the administration's response, redirecting aides who were working on a Middle East peace plan and other projects and corralling officials from other agencies to assist the task force. He urged Trump to invoke a national emergency and to preside over the regular press briefings now taking place, the administration official said.
"This is the top priority," Peter Navarro, a Trump trade adviser and member of the task force, told me. "There is no other priority. Everybody in the administration gets it. And everybody who didn't get it gets it now."
Inside Trump's orbit, though, there's still no clear consensus on the wreckage the virus will cause—not to mention what, exactly, the federal government should be doing to stop it. Trump now concedes that a recession may hit. But even his former advisers offer a more ominous forecast. Kevin Hassett, who chaired Trump's Council of Economic Advisers, told CNN on Monday that the chances of a global recession are "close to 100 percent." Next month, the U.S. economy could show a loss of 1 million jobs, he said.
Another ex-counselor was similarly blunt. "We are in a recession right now," Stephen Moore, a former Trump campaign adviser whom the president had (controversially) considered for a seat on the Federal Reserve Board, told me. "The economy is at a complete standstill right now. This changes everything politically and economically."
At times, Trump has seemed in denial, as when in late January he erroneously insisted that his administration had "control" of the crisis. More recently, his tone has darkened. Though on Monday he rated his performance a perfect 10, he allowed that the virus is "not under control" anywhere. Yesterday, a president who had once suggested that the virus may be no worse than the flu said he'd known all along that it was a full-fledged pandemic. "I've felt it was a pandemic long before it was called a pandemic," he said.
It's natural for a president to offer reassurance in scary times. And it's certainly the case that every president facing reelection wants to demonstrate that he's making the problem better and not worse. Yet in fraught periods, some past presidents made a point of leveling with people about the perils.
Franklin D. Roosevelt's inaugural speech, delivered in 1933 amid the Great Depression, is often remembered for its poetic rallying cry: "The only thing we have to fear is fear itself." Goodwin, though, pointed to another line in the speech that is often overlooked. "This is preeminently the time to speak the truth, the whole truth, frankly and boldly," Roosevelt said. And he did, delivering a "fireside chat" the following week laying out plans to revive the economy.
"This is different than [just] an economic crisis, but the idea was, you tell the truth and you say what you're doing and you explain it so simply that people understand it," Goodwin said.
When Obama spoke to the nation from the Oval Office in 2010 as an oil spill spewed tens of thousands of barrels a day into the Gulf of Mexico, he likened the environmental disaster to an epidemic. He offered no false hope. The disaster would persist for "months and even years," he said.
If one appearance encapsulates Trump's approach, it's his March 6 visit to the Centers for Disease Control and Prevention in Atlanta. It's hard to imagine a more apolitical setting than a CDC lab making coronavirus test kits, yet Trump showed up wearing a red campaign hat. He called Washington's Democratic governor, Jay Inslee, "a snake." With a raised hand, he shushed Azar to say that "anybody that needs a test gets a test," even though that isn't true. And he mentioned a cruise ship off San Francisco with infected passengers that he was reluctant to bring ashore, because doing so would inflate the tally of COVID-19 cases. "I don't need to have the numbers double because of one ship," he said.
I spoke with a couple of those stranded passengers. One was Kathleen Sterling, a 56-year-old health-care worker from Oregon, who was aboard the stricken Grand Princess. She was traveling with her 81-year-old father, who developed a cough and fever during the cruise. Upset that he wasn't permitted to leave the ship for treatment, she went to the balcony in her cabin and held up a cardboard sign she'd made with colored pens: My Dad is sick. Get him off this ship.
Confined to her room, she saw Trump's comment while watching the news. "We just felt like we were insignificant," she told me. "It was absolutely horrifying that our government was just going to toss us aside and we were just a number to them." Her family was ultimately allowed to leave, and they're now quarantined at Travis Air Force Base in California.
Sterling said she was never a Trump supporter, though her husband had been "on the fence." Following the family's ordeal, "he's done," she said.
For now, Trump has bigger problems than reelection. A rich irony underlies his challenge. The disease's trajectory hinges, in part, on the competence of the same state leaders with whom Trump has tussled. He needs Cuomo, Inslee, and California Governor Gavin Newsom to deliver. All run states with large clusters of COVID-19, and all are struggling to stop its spread.
"He keeps bashing these guys as incompetent. Now, at this moment, he needs them to be really, really competent," Chris Lu, who was a senior official in Obama's administration, told me. "His political fortunes ride on Newsom, Inslee, and Cuomo."
It figures to be a rocky partnership. A governor's powers end at the state border. National crises are presidents' to solve. People need them to sustain morale, much less supply the needed ventilators, test kits, and ICU beds. Whether they succeed is how they're remembered.