The Atlantic Politics Daily: Bernie Sanders's Biggest Threat
Slowly, and then all at once. That's how the 2020 Democratic presidential candidates have departed the race. Plus: Sanders's biggest threat isn't a rival candidate.
It's Monday, March 2. In today's newsletter: Joe Biden, a "unity" candidate? Plus: You probably don't know Kevin Sheekey, but he's been working on Bloomberg's campaign for years.
*
« TODAY IN POLITICS »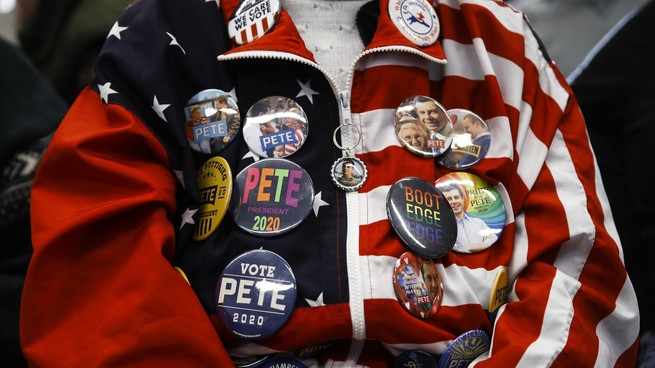 (MATT ROURKE / AP)
Slowly, and then all at once.
That's how the 2020 Democratic presidential candidates have departed the race. In the latest flurry today, those exiting have lined up behind the South Carolina victor Joe Biden.
Shortly before Super Tuesday's tranche of votes, prominent names dropped out in quick succession: Tom Steyer (out February 29), Pete Buttigieg (March 1), and Amy Klobuchar (today).
More moderate college-educated white voters who were among Buttigieg's and Klobuchar's base are now up for grabs. Whether Biden or Sanders wins them over could prove crucial to the race, our analyst Ron Brownstein writes.
—Shan Wang
*
« SNAPSHOT »
(JAMES ESTRIN / THE NEW YORK TIME​S / REDUX)
You probably haven't heard of Kevin Sheekey, but he's the man trying to make former New York City Mayor Michael Bloomberg the next president. Here's how that's going.
*
« IDEAS AND ARGUMENTS »
(DAVID BECKER / REUTERS)
1.  "But there's a fine line between emulation and mimicry, and if voters pick up the wrong signals, candidates risk being viewed as inauthentic."
Pete Buttigieg's speech announcing the end of his presidential bid echoed a 2008 Barack Obama—but while many have tried to mimic him there is only one Obama, politics writer Adam Harris writes.
2. "Americans, in other words, are hesitant to talk about money—except for all the times when they aren't."
Politics, religion, and money are the three topics people generally agree shouldn't be touched at the dinner table. But it turns out that Americans' attitudes about money depend on class and a sense of shame—and could explain why more people aren't upset with inequality, staff writer Joe Pinsker reports.
3. "Since the 1970s, Senator Bernie Sanders...and Joe Biden...have repeatedly directed campaign dollars to close relatives."
While Donald Trump has set a new bar for self-enrichment, the two Democratic front-runners have each benefited their families financially for years: Sanders has paid his wife on the taxpayers's dime and Biden's last presidential campaign spent about a fifth of its cash on companies that employed relatives, Edward-Isaac Dovere reports
*
« EVENING READ »
(Photo rendering by Patrick White)
The president is winning his war on institutions.
When Donald Trump entered office, talk of how the "adults in the room" and institutions that surrounded the presidency would protect American democracy from authoritarian tendencies abounded.
But as our staff writer George Packer writes in the cover story of the April issue of our magazine, Trump is in essence beating American institutions into submission—and the adults are all gone.
The adults were too sophisticated to see Trump's special political talents—his instinct for every adversary's weakness, his fanatical devotion to himself, his knack for imposing his will, his sheer staying power. They also failed to appreciate the advanced decay of the Republican Party, which by 2016 was far gone in a nihilistic pursuit of power at all costs.
---
*
Today's newsletter was written by Christian Paz, a Politics fellow. It was edited by Shan Wang, who oversees newsletters.

You can reply directly to this newsletter with questions or comments, or send a note to politicsdaily@theatlantic.com.

Your support makes our journalism possible. Subscribe here.