The Syrian Sisters Who Refuse to Give Up on America
Their saga shows America's deep malaise about the civil war in Syria and the resulting refugee crisis. Will anything change in 2020?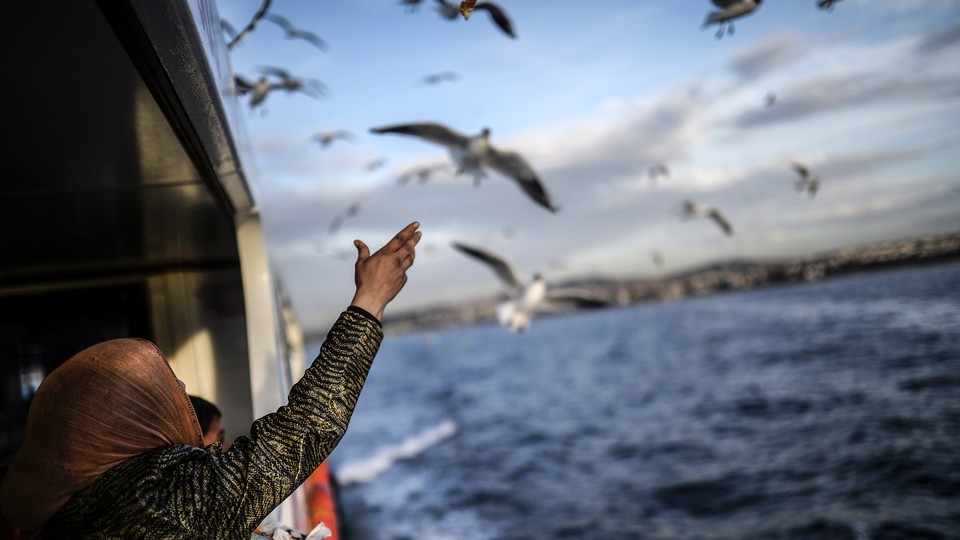 Angela and Leen Albaka have dreamed of America since they were little girls. Daughters of a liberal-minded couple in Damascus, they spent their summers learning English and imagined attending college in the United States. Angela planned to be an engineer. Leen, five years her junior, had already fashioned herself into an American preteen, skateboarding, playing electric guitar, speaking with a flawless accent, and using Millennial slang. Then, like millions of Syrians, the civil war turned them into refugees, and their family ended up in a cramped apartment in Istanbul. Their next move was obvious: They went to a United Nations office and applied for resettlement, hoping to be selected by the U.S.
This set them on a Kafka-esque saga that is reflective of America's long-running failure to address the conflict in Syria—which enters its 10th year today—and the migrant crisis it's fueling. After waiting for years during the Obama administration, the family's application was accepted by the U.S. just before Donald Trump all but halted its efforts to resettle Syrians, and they've been trapped in limbo since. The sisters stand out for how they've refused to give up on their idealized vision of America as the years pass, relentlessly trying to get their case heard, even attempting to reach U.S. presidents and celebrities. They're also a reminder that even as a war that has killed hundreds of thousands recedes from the minds of most Americans, millions of Syrians are still dealing with the fallout from the world's worst humanitarian catastrophe. In just the last month, new fighting in Syria's northwestern Idlib province has sent 1 million people fleeing and reignited the migrant crisis in Turkey and Europe.
Trump, who once obsessed over the threat from ISIS in Syria, has largely ignored the underlying civil war amid abortive attempts to pull U.S. troops from the country. Yet the war and migrant crisis are among the most pressing national security issues America faces—calling into question its ability to grapple with two uniquely difficult and destabilizing problems while also helping to define its values as a country. These are among the stakes of the presidential election in 2020. Interviews with Joe Biden's top foreign-policy adviser and a senior aide to Bernie Sanders laid out visions—for addressing the war, the migrant crisis, and refugees like the Albaka family—that are strikingly different from Trump's.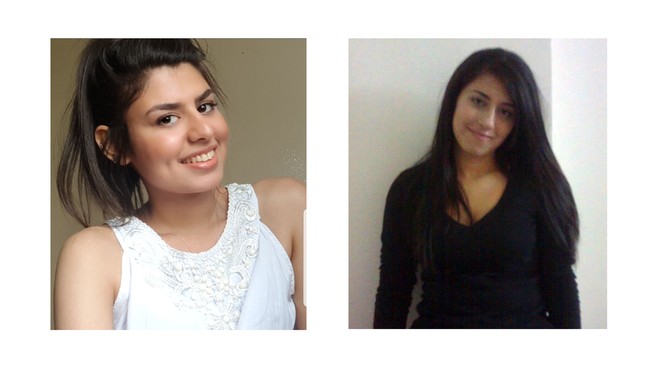 When the Albaka family applied for resettlement in 2014, millions of Syrians were already spread across Jordan, Lebanon, and Turkey. The U.S. government under the Obama administration was deeply involved in the war, sending weapons and supplies to rebels and propping up the political opposition, but it accepted few Syrian refugees; in 2013, just 36 had been resettled in America. The family held out hope, though, and in 2016 they were accepted for a placement in Chicago as U.S. resettlement numbers ticked up to more than 12,000 Syrians. The family completed medical exams and a cultural orientation. Angela checked the weather in Chicago every morning on her phone, and on Google Maps, Leen virtually walked the streets of the neighborhood where they'd be living. Then it all went terribly wrong.
First, their departure was held up by the Turkish government, which was arbitrarily preventing some well-educated refugees from leaving. Crucial months passed. The family was still waiting to receive their tickets to Chicago when they were blocked by the first version of Trump's travel ban, which barred people from seven Muslim-majority countries and temporarily suspended the resettlement of all refugees. "When they told us we were going to the U.S. in 2016, we just left. Our bodies are in Turkey, but our souls are in America," Angela told me. "I don't know how many more years we need to wait."
Trump, however, has shown no indication of changing his policy. A former senior official in his administration told me that Syria is "not a political priority for the president. I think he's like, 'Why am I fixing this Humpty Dumpty equation? I didn't break this thing.'" The migrant crisis, meanwhile, is viewed as "a European problem" in the White House.
When I spoke with the sisters last week, the latest eruption of bloodshed in Syria and rush of migrants to Europe were evoking little more than a global shrug. These stories are so worn that journalists chronicling the futility of covering them has become something of a subgenre. Around 3 million Syrians had been living in Idlib, under Turkish protection, until the Syrian and Russian militaries launched an offensive to recapture it, creating a new surge of displacement. The fighting drew in Turkish troops; 33 were killed in an airstrike blamed on the Syrian government; and the Turkish military responded with days of retaliatory strikes, drawing the NATO member precariously close to a confrontation with Russia. At the same time, Turkey opened its borders with Europe, injecting further chaos into a migrant crisis that has seen the number of people fleeing violence reach its highest point since World War II. Greek authorities have fired warning shots at migrant boats and tear gas at those attempting to cross its land border and herded new arrivals into detention centers. All of this has been just a blip on the news radar.
Speaking by phone from Istanbul, Angela and Leen told me they hope a new American president will lift restrictions on Syrian refugees or Trump will change his mind. As Muzaffar Chishti of the Migration Policy Institute explained, refugee resettlement is the one area of immigration policy where the president has total control, and Trump has used that power to cut the U.S. program to historic lows and erect new barriers to Syrians. "The fact that a president has a lot of leeway in this area," Chishti told me, "means that you can reverse it very quickly." Even a resuscitation of America's resettlement program, though, would do little to address the underlying issues of the wider refugee crisis and civil war. Tackling them would take sustained American focus on what are obviously difficult, long-term issues at a time when the electorate is tired of the idea of devoting U.S. money and resources to problems overseas.
Yet aides to the two main Democratic contenders say the U.S. can still lead the way in finding solutions.
Antony Blinken, Biden's top foreign-policy adviser, who held senior posts in the Obama administration, told me the failure of U.S. policy on Syria is "something everyone who was responsible has to live with." Trump's tenure has made these problems "infinitely worse," he said, but there are ways to reestablish American influence. Some U.S. troops remain in Syria, where they control important oil reserves, and the Kurdish-led force that assisted America's anti-ISIS campaign still claims thousands of fighters. A Biden administration would leverage these assets and work with U.S. allies to try to negotiate a political solution to protect vulnerable Syrians, Blinken said, and also focus on reconstruction. "Our greatest leverage is our ability to mobilize other countries to support diplomacy and rebuilding in a post-settlement Syria," he said. "We're left with a lot of really bad solutions to a complicated and long-enduring problem. I can tell you that we will be caught trying, if nothing else. This administration won't even be caught trying."
To address the refugee crisis, Blinken said, a Biden administration would prioritize sending aid to Syrians in Turkey, Lebanon, and Jordan while also leading by example in reviving America's own resettlement program.
This brings us back to the case of the Albaka family. It's hard to get other countries to develop substantive policies for helping refugees, Blinken noted, when the U.S. is shunning them. A Biden administration would raise the annual ceiling for all refugees to 125,000. (The highest under the Obama administration was 85,000, in 2016, and the number fell to 18,000 this year.) The travel ban would be lifted. The special immigrant visa program for Iraqis and Afghans who have assisted U.S. forces would be boosted, and Syrians would be added to it. But would refugees like the Albaka family be fast-tracked? "The short answer is yes," Blinken said. "Especially for people who have already been cleared—we would make it a priority for them to get resettled."
Matt Duss, the top foreign-policy adviser for Sanders, said in an email that the senator would take similar measures on cases like the Albaka family as well as "immediately rescind the Trump travel ban, restore our refugee resettlement programs and increase them significantly, [and] speed up the processing of asylum applications from Syria."
Without U.S. efforts to address the underlying problems in Syria, he added, the refugee crisis will only continue: "The United States cannot solve these problems, but we can use our considerable power and influence to help focus regional actors and the international community on developing some solutions."
In Istanbul, from their small apartment, Angela and Leen have done everything they can think of to take matters into their own hands, even as they gradually give up hope of finding relief. "Maybe I wrote more than 800 emails," Angela told me. "Angelina Jolie. Oprah. I can't remember them all now. I wrote to Obama. I wrote to Trump. I wrote his daughter." They emailed Dick Durbin, the senior senator from Illinois. Angela sent her messages to Trump on Twitter, Instagram, and Facebook. "I told him that I would love to help him and help Americans to keep America great as it is," she said. "We will work. We will study. We don't want help from any organization or any charity."
Last year, the sisters came up with the idea of making a music video. "I was thinking, with my sister, that we need to do something to grab the world's attention," Angela told me. "If I write a message, maybe no one will care. But if we make a song about it, maybe they will feel it, you know?"
Leen wrote the lyrics. "It took me, like, two days. I was just so angry and mad," she told me. Angela recorded her sister lip-synching around Istanbul. The song and video mimic the style of American pop songs, reflecting two refugees who've spent years living out their U.S. dreams on the internet: Damn I just passed 20 / They say I got plenty of time, but I'm just a number on the line.
The video got more than 8,000 views but has done nothing to change their fortunes.
Angela is 29 now, and just months from getting an engineering degree from an Istanbul university, though she is hesitant to graduate, fearing that the degree might inspire Turkey to block her from leaving. Leen, 22, rarely leaves the family's apartment. She has given up on going to school in Turkey; she was bullied, she said, by the other students in her conservative neighborhood, Turks and Syrians alike, which only furthered her conviction that she's stuck in the wrong place. She has all but abandoned hope in her campaign to get the family to the U.S. "I'll keep trying. But deep inside of me, I know people won't care," she told me. "Because nobody did. If you're dying or not, if you're struggling or not, no one cares. Cruel world."