Joe Biden Is the Candidate of the Resistance
A suburban revolt against Trump helped Democrats win the House in 2018. It's helping the former vice president too.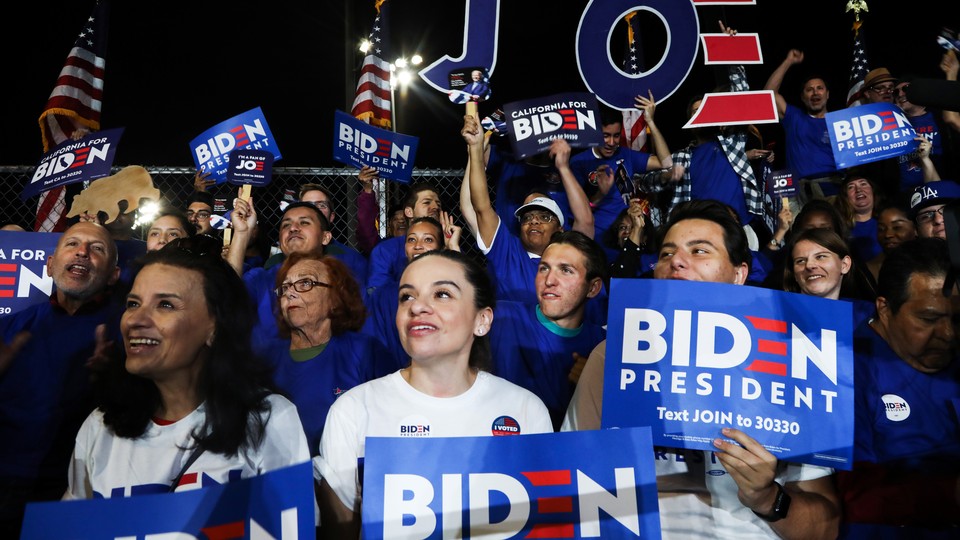 A deluge of voters—including many in the suburbs—filed into churches and community centers across the country to vote for a moderate candidate in an act they viewed as a repudiation of the president.
This is what happened in 2018. And it happened again last week.
Joe Biden's victories on Super Tuesday suggest that many voters are thinking and acting much like they did in the previous midterm elections, when Democrats—thanks to historically high turnout—flipped 41 congressional districts and regained control of the House. Many Democrats say that this is how Biden wins more delegates tonight, and how the party wins in November: through a campaign to enact a more modest agenda and provide a check on Donald Trump—not one that relies on turning out the most progressive voters in the country.
Six in 10 voters on Super Tuesday said they care more about nominating a Democrat who can defeat Trump than about anything else, according to exit polling from NBC News. Those same voters favored Biden over Bernie Sanders by 11 percent. "I've not seen that sense of pragmatism before" the 2018 midterms, says Steve Israel, a former congressman from New York and the former chair of the Democratic Congressional Campaign Committee. For Democrats right now, "it's about one thing: winning."
The midterms are the model to follow in the general election, says Meredith Kelly, a Democratic strategist and DCCC veteran. "Whoever the nominee is will have the excitement of the base—that is driven by Trump," she says. "So then you need to look for the candidate that can build on that and bring in more people" such as moderates, independents, and even some Republicans. This, she says, "is a pattern that works in the era of Trump."
Democrats' pivotal wins in 2018 were in places such as Virginia's Seventh and Tenth Congressional Districts, where Abigail Spanberger and Jennifer Wexton, respectively, defeated Republican incumbents and helped secure the Democrats' House takeover. Last week, in addition to his overwhelming support among black voters in states such as Alabama, Biden won in these exact districts—and similar ones across the country—when he crushed Sanders in 10 of 14 state primaries. Turnout in Virginia, where the former vice president won by 30 points, increased dramatically from 2016, and Biden defeated Sanders with high margins in the suburbs of Washington, D.C.
"One of the things that we saw in 2018 was a particular mobilization of college-educated, upscale, suburban professionals in large metropolitan areas—a lot of the seats in Congress that flipped in 2018 were centered in those sorts of places," says Dave Hopkins, a political-science professor at Boston College. Last week, that group "united very quickly behind Biden."
"You will see Joe pick up lots of swing districts across this nation as we move forward across other contests," argues Representative Terri Sewell of Alabama, one of the vice chairs of the moderate New Democrat Coalition, who has endorsed Biden.
The so-called majority makers from 2018—people such as Spanberger and Wexton—aren't identical to Biden: Many of them are young; many are women; and most arrived in Congress with little to no political experience. But they do have similar sensibilities: They're center-left, not lefty-left. They promised to promote unity and bipartisanship, welcoming the support of former Republicans and more moderate independent voters. They pledged to pursue a staunchly Democratic agenda—expand health care, address climate change—without a political revolution. Sixteen of them have endorsed Biden for president. Theirs are "the ideas that Biden is advocating," says Representative Ami Bera of California, the chair of the fundraising arm of the New Democrat Coalition, who has endorsed Biden. "The way he talks about [politics] is the way Spanberger … or [Representative Elissa] Slotkin talk about it."
Representative Alexandria Ocasio-Cortez and a handful of other progressive freshmen were the most high-profile members elected to Congress two years ago, but progressive candidates overall didn't fare as well as the more moderate ones. Neither did they on Super Tuesday, when down-ballot Democrats endorsed by Sanders and backed by progressive groups such as Justice Democrats lost their primary elections in multiple states.
The Super Tuesday results felt extremely familiar to the people who advised and worked on campaigns for Democrats in 2018. Tyler Law, a California-based Democratic strategist and the former national press secretary for the DCCC, is bullish about Biden's prospects. If he can keep winning with the same groups of people he was able to turn out last week, he'll get the nomination, Law says. And "if Joe Biden carries the states where we won the House popular vote in 2018, we win."
One of the most consequential places voting today is Michigan, where 125 delegates are on the line. Sanders needs to capture many of them to stay competitive in the race. In addition to Biden's support from black voters in the state, two of the districts that Democrats flipped in 2018—Slotkin's district, near Lansing, and Haley Stevens's, near Detroit—are highly educated suburban districts. While Sanders won both of them in 2016, today "that seems almost impossible to imagine," Kyle Kondik, an election analyst at the University of Virginia Center for Politics, told me.
Suburban and exurban voters could also lead to a surprising win for Biden in Washington State, which is also voting today. "Maybe you'd expect Seattle proper to be with Sanders," Hopkins says, "but [in] suburban Seattle, [there are] an awful lot of middle-to-upper-middle-class professional Democrats" who could swing the state to Biden.
Even if he's able to earn the Democratic nomination, a general election would still pose serious challenges for Biden. He'd be running against Trump, instead of against the idea of Trump: Unlike in 2018, the president's name will be on the ballot in November, and all signs indicate that Trump's supporters will show up in full force to defend him. While they were successful in the House, Democrats lost ground in the Senate in 2018, showing the limits of a Democratic wave election. And Biden can't rely on just black and suburban voters to lead him to victory. Wisconsin, for example, is a key battleground state whose demographics aren't overly favorable to Democrats: The Milwaukee suburbs aren't turning blue at the same rate as other cities', and the state has a large rural population that is still pretty pro-Trump, Hopkins says.
Progressives argue that the former vice president's struggle to attract young voters and young people of color to his campaign has dire implications for his nomination. "If you look at the last few decades and beyond of presidential elections, Democrats have not been able to win a general election if they get a nominee who did not earn a lot of support from young people," says Neil Sroka, the communications director for Democracy for America, a progressive political-action committee that has endorsed Sanders.
Tonight's results will demonstrate whether Biden will continue to repeat the results of 2018. If he does, the next question for him is whether he can persuade Sanders supporters and other progressives to join his coalition. To some Democrats, there's a simple answer: "There is nothing more unifying than the effort to beat Donald Trump," Kelly says.