The Social-Distancing Culture War Has Begun
Across the country, social distancing is morphing from a public-health to political act. The consequences could be disastrous.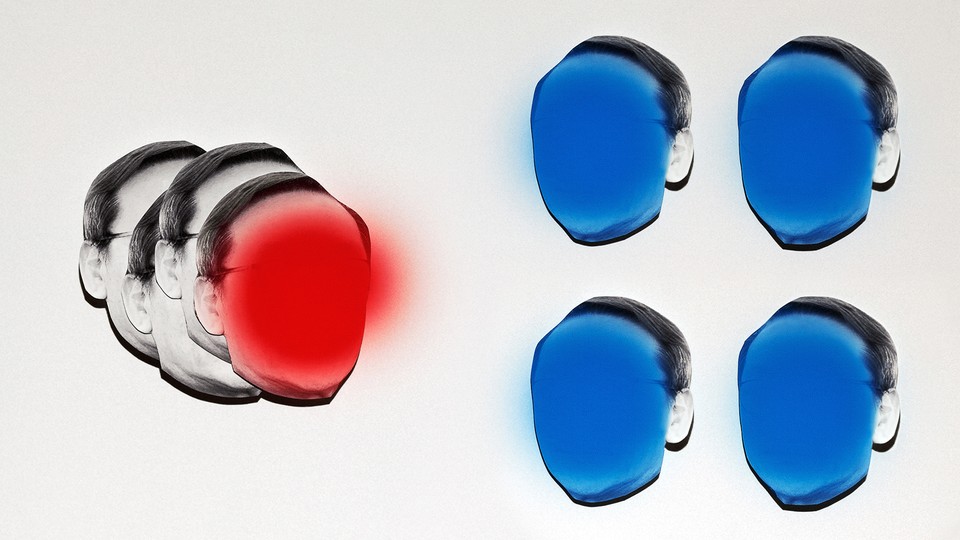 For Geoff Frost, the first sign of the coronavirus culture war came last weekend on the golf course. His country club, located in an affluent suburb of Atlanta, had recently introduced a slew of new policies to encourage social distancing. The communal water jugs were gone, the restaurant was closed, and golfers had been asked to limit themselves to one person per cart. Frost, a 43-year-old Democrat, told me the club's mix of younger liberals and older conservatives had always gotten along just fine—but the guidelines were proving divisive.
At the driving range, while Frost and his like-minded friends slathered on hand sanitizer and kept six feet apart, the white-haired Republicans seemed to delight in breaking the new rules. They made a show of shaking hands, and complained loudly about the "stupid hoax" being propagated by virus alarmists. When their tee times were up, they piled defiantly into golf carts, shoulder to shoulder, and sped off toward the first hole.
Frost felt conflicted. He wanted to encourage the men, some of whom he'd known for years, to be more careful. "I care about their well-being," he told me. "But it's a tough call, just personally, because it's become a political thing."
For a brief moment earlier this month, it seemed as if social distancing might be the one new part of American life that wasn't polarized along party lines. Schools were closed in red states and blue; people across the political spectrum retreated into their home. Though President Donald Trump had played down the pandemic at first, he was starting to take the threat more seriously—and his media allies followed suit. Reminders to wash your hands and avoid crowds became commonplace on both Fox News and MSNBC. Those who chose to ignore this guidance—the spring-breakers clogging beaches, the revelers on Bourbon Street—appeared to do so for apolitical reasons. For the most part, it seemed, everyone was on the same page.
The consensus didn't last long. Trump, having apparently grown impatient with all the quarantines and lockdowns, began last week to call for a quick return to business as usual. "WE CANNOT LET THE CURE BE WORSE THAN THE PROBLEM ITSELF," he tweeted, in characteristic caps lock. Speaking to Fox News, he added that he would "love" to see businesses and churches reopened by Easter. Though Trump would later walk them back, the comments set off a familiar sequence—a Democratic backlash, a pile-on in the press, and a rush in MAGA-world to defend the president. As the coronavirus now emerges as another front in the culture war, social distancing has come to be viewed in some quarters as a political act—a way to signal which side you're on.
Some of the more brazen departures from public-health consensus have carried a whiff of right-wing performance art. Jerry Falwell Jr., an outspoken Trump ally and president of the evangelical Liberty University, made headlines this week for inviting students back to campus over objections from local officials. The conservative website The Federalist published a trollish piece proposing "chicken-pox parties" as a model for strategically spreading the coronavirus. Throughout the conservative media, calls to reopen the economy—even if it means sacrificing the sick and elderly—are gaining traction.
"I would rather die than kill the country," Glenn Beck declared on his radio show.
"Those of us who are 70-plus, we'll take care of ourselves," Texas Lieutenant Governor Dan Patrick said on Fox News.
Dennis Prager, a conservative commentator, even compared outbreak-mitigation efforts to Nazi appeasement: "That attitude, that the only value is saving a life … it leads to cowardice. It has to. No one can die? Then it's not a war."
This dynamic is playing out in small ways across the country. Bret, a sales representative from Plano, Texas, who asked that I not use his last name, proudly told me how unfazed he and his conservative neighbors were by the threat of an outbreak. In his view, the recent wave of government-mandated lockdowns was a product of panic-mongering in the mainstream media, and he welcomed Trump's call for businesses to reopen by Easter.
When I asked whether the virus had interfered with his lifestyle, Bret laughed. "Oh, I'm going to the shooting range tomorrow," he replied.
Was he worried that his friends might disapprove if they found out?
"No," he told me, "around here, I get much more of people saying, 'Why don't you go Saturday so I can go, too?'"
Terry Trahan, a manager at a cutlery store in Lubbock, Texas, acknowledged that a certain "toxic tribalism" was informing people's attitudes toward the pandemic. "If someone's a Democrat, they're gonna say it's worse," he told me, "and if someone's a Republican, they're gonna say it's bad, but it's getting better."
As an immunocompromised cancer survivor, Trahan said he's familiar with commonsense social-distancing practices. But as a conservative, he's become convinced that many Democrats are so invested in the idea that the virus will be disastrous that they're pushing for prolonged, unnecessary shutdowns in pursuit of vindication.
Among experts, there is a firm consensus that social distancing is essential to containing the spread of the virus—and they warn that politicizing the practice could have dangerous ramifications. "This is a pandemic, and shouldn't be played out as a skirmish on a neighborhood playground," Dina Borzekowski, a professor at the University of Maryland School of Public Health, recently told Stat. (For the moment, at least, the scientists seem to have brought the president around: Yesterday, Trump announced he was extending social-distancing guidance until the end of April.)
Of course, not everyone who flouts social distancing is making a political statement. Many have to work because they can't afford not to; others are acting out of ignorance or wishful thinking. Beyond personal behavior, there is a legitimate debate to be had about how to balance economic demands while combatting a global pandemic.
Still, the polarization around public health seems to be accelerating: In recent days, Republican governors in Alabama and Mississippi have resisted calls to enact more forceful mitigation policies. Polling data suggest that Republicans throughout the U.S. are much less concerned about the coronavirus than Democrats are. According to a recent analysis by The New York Times, Trump won 23 of the 25 states where people have reduced personal travel the least.
Some of this is likely shaped by the fact that the most serious outbreaks so far in the U.S. have been concentrated in urban centers on the coasts (a pattern that may not hold for long). But there are real ideological forces at work as well.
Katherine Vincent-Crowson, a 35-year-old self-defense instructor from Slidell, Louisiana, has watched in horror this month as businesses around her city were forced to close by state decree. A devotee of Ayn Rand, Vincent-Crowson told me Louisiana's shelter-in-place order was a frightening example of government overreach.
"It feels very militaristic," she said. "I'm just like, 'What the hell, is this 1940s Germany?'"
But when we spoke, she seemed even more aggravated by the "self-righteous" people on social media who spend their time publicly shaming anyone who isn't staying locked in their house. "It really reminds me of my kids who tattle on their siblings when they do something bad," she said. "I'm a libertarian … I don't really like being told what to do."
---
Related Podcast
Listen to McKay Coppins discuss this story on an episode of Social Distance, The Atlantic's podcast about living through a pandemic: