The Atlantic Politics Daily: A Mid-Apocalyptic Democratic Primary Night
Joe Biden keeps on winning. Plus: Is it time for Bernie Sanders to drop out?
It's Wednesday, March 18. In today's newsletter: What do Biden's past presidential runs tell us about this one? Plus: The coronavirus warning signs that the country missed.
*
« TODAY IN POLITICS »
Joe Biden in the Dirksen Senate Office Building after announcing his candidacy for president in Wilmington, Delaware, on June 9, 1987. (MARK REINSTEIN / MEDIAPUNCH / IPX)
A Primary Night in the Middle of the Apocalypse
Another Tuesday, another big win for Joe Biden. The former vice president wiped out Senator Bernie Sanders of Vermont in Florida, Illinois, and Arizona yesterday, all but ensuring that he'll capture the Democratic nomination. But, as my colleague Russell Berman writes, with the coronavirus pandemic bringing the country to a collective halt, the primary itself has turned into a second-tier story.
Nothing brought home the gravity of the coronavirus pandemic quite so clearly—or fuzzily—as the pixelated visage that appeared on American television screens to claim a series of Democratic primary victories tonight.

Former Vice President Joe Biden was speaking from his home in Wilmington, Delaware, but he might as well have been in a bunker. Biden's campaign had set up a podium and a pair of American flags, but the man poised to face President Donald Trump as the Democratic nominee had seemingly been reduced to what felt like a blurry video on a dial-up modem.
Biden's winning big these days, but his two previous runs for the presidency were spectacular failures. Both times around, he didn't even win a single state:
Biden has long been such an old shoe in American life that it's hard to remember he was once just a middle-aged, middle-of-the-road third-term senator from the small state of Delaware, struggling to become a household politician. As he started his 1988 campaign, he wrote, polls showed that just one in five voters nationally recognized his name, and in Cleveland in 1986, a local television reporter mistook him for Peter Ueberroth, the high-foreheaded Los Angeles businessman who led the 1984 Olympic Games.
Read my colleague Todd Purdum on how, for Joe Biden, third time's a charm.
—Saahil Desai
*
« SNAPSHOT »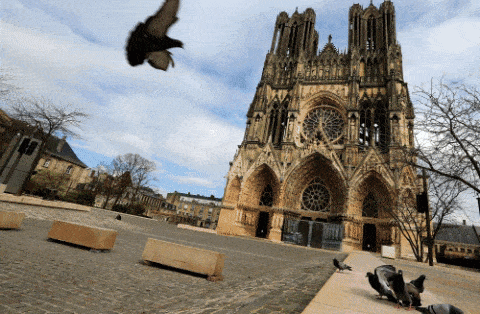 (Getty Images / Reuters / AP)
Millions of people are now living under varying degrees of lockdown in Italy, France, and the United States.
Our photo editor Alan Taylor compiled images of usually bustling public spaces that now stand empty.
*
« ARGUMENT OF THE DAY »
(DREW ANGERER / GETTY)
As far as the Bernie Sanders campaign is concerned, he's still running for president.
But now, Joe Biden has amassed a seemingly insurmountable delegate lead—winning three states outright last night. The remaining primaries look hostile to Sanders (they'll take place in states where Biden's support runs deep, and the COVID-19 outbreak may further suppress turnout).
Now would be the time for Sanders to drop out yet keep his influence on the race, our Ideas staff writer Conor Friedersdorf argues.
"As Congress weighs emergency relief measures, Sanders could exert more influence focusing on policy in Washington, in his capacity as a sitting senator, than in debates with Biden, repeating calls for a democratic socialist future as the public is focused on the next year … or week."
*
« THE CORONAVIRUS READER »
(THE ATLANTIC)
As the U.S. federal government struggles with a proper response to the COVID-19 pandemic, our writers are analyzing the virus's effect on society.
When the history of this virus is written, we'll have to include the many, many warning signs the country missed. We were warned every year since at least 2014, our national security and global affairs staff writer Uri Friedman reports:
When the National Commission on the COVID-19 response materializes, it will differ from the 9/11 Commission in that it will conclude that "the system was blinking red" not just in the inner sanctum of the U.S. intelligence community but out in the open, as well. For years.
You can keep up with all of The Atlantic's most essential coronavirus coverage here.
---
*
Today's newsletter was written by Saahil Desai, an editor on the Politics desk, and Christian Paz, a Politics fellow. It was edited by Shan Wang, who oversees newsletters.

You can reply directly to this newsletter with questions or comments, or send a note to politicsdaily@theatlantic.com.

Your support makes our journalism possible. Subscribe here.